"Never seen anything like this" – USPTO experiences massive surge in trademark applications from China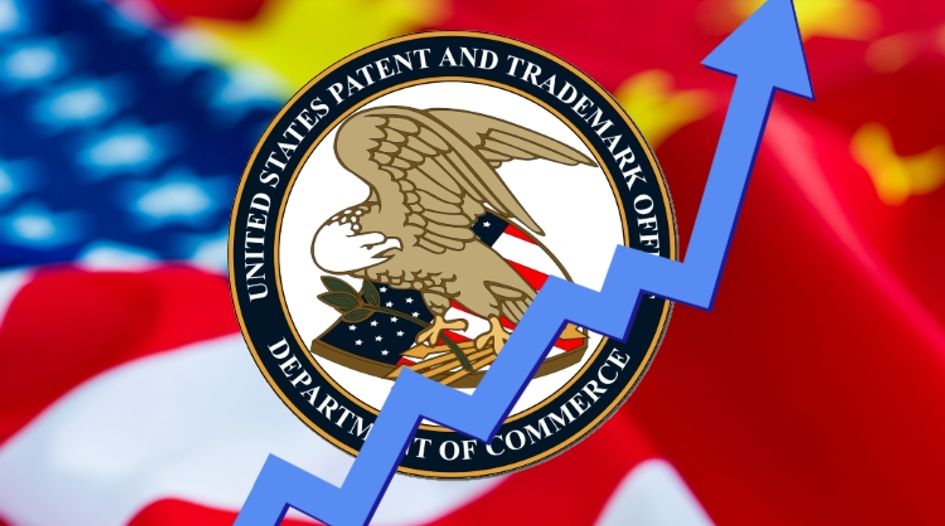 USPTO has seen an "unprecedented" rise in trademark applications from China
Last Friday, nearly 2,000 applications were filed from China – nearly half of daily total
Experts say rise due to impending requirement of a US licensed attorney from Aug 3
The US Patent and Trademark Office (USPTO) experienced a huge rise in trademark applications last week, with an unprecedented proportion of the filings coming from applicants based in China. The move appears to be related to the impending implementation of a rule that will require trademark applicants to use a US licensed attorney. WTR talks with IP experts and the USPTO about how this unprecedented activity could affect all applicants.
According to data compiled by WTR, last week the USPTO received an average of 2,714 trademark applications per weekday. For comparison, in the comparative week in 2018, the USPTO received 1,736 applications per weekday. The rate of filing continued to rise as each day passed – the week started with 2,105 filings on Monday and increased to 3,341 on Friday. Delving into the data, the reason for this stark increase is clear – applications originating from China. The rate of applications from China also rose throughout last week; on Monday, 691 of the applications were from China-based applicants and on Friday it had risen to 1,868. As the graph below shows, the figures are wildly above filing trends from the past couple of months
USPTO daily trademark application count; total and China-based applicants – 1 June to 26 July 2019 (click for full-size)
Indeed, it wasn't just the number of trademark applications from China-based applicants that rose last week – so too did the proportion. As the graph below reveals, last month (June 2019), applications from China made up 14.2% of total daily filings on average. Last week, the daily average proportion of Chinese applicants was a staggering 51% of all applications at the USPTO – with a steady rise since the beginning of the month.
USPTO daily trademark applications: % from China-based applicants – 1 June to 28 July 2019 (click for full size)
This rush of applications from China isn't just apparent when compared to last month. As the graph below shows, the recent rise in trademark applications from Chinese applicants at the USPTO is unprecedented in recent times. From January 2017 to June 2019, applicants from China filed an average of 148 trademark applications a day. In July 2019 (up to the 26th), Chinese applicants filed 430 marks a day on average. Last week, that average stood at 1,227 applications a day.
USPTO: average daily trademark applications from China-based applicants – January 2017 to July 26 2019 (click for full size)
As you can see in the data table below, the rate of trademark filings from Chinese applicants last week is unprecedented in scope – on Sunday (July 28), 78% of all trademarks filed that day originated in China. As US attorney Ed Timberlake joked on Twitter: "Were this rate to continue, applications for registration of trademarks from China might soon exceed 100%."
USPTO trademark applications: week commencing 22 July 2019
| Date | Total trademark applications | Applications originating from China | % applications originating from China |
| --- | --- | --- | --- |
| 22 July 2019 (Monday) | 2,105 | 691 | 33% |
| 23 July 2019 | 2,532 | 1,100 | 43% |
| 24 July 2019 | 2,749 | 1,142 | 42% |
| 25 July 2019 | 2,846 | 1,337 | 47% |
| 26 July 2019 | 3,341 | 1,868 | 56% |
| 27 July 2019 | 259 | 180 | 69% |
| 28 July 2019 | 1,364 | 1,060 | 78% |
We reached out to experts to get their reaction to this massive spike. John Ottaviani, partner at Partridge Snow & Hahn, told WTR that the rise is almost definitely due to the upcoming new USPTO rules that go into effect on 3 August. Those rules, which were confirmed by the office on July 2, will require all applicants not domiciled in the United States to engage US licensed attorneys to file and prosecute trademark applications. This move has been criticised by some foreign applicants, who believe it could lead to a steep rise in costs.
For that reason, then, the rush of applications isn't necessarily a surprise – overseas applicants rushing to get their applications filed before the rule change. "Whenever the USPTO – or any regulatory agency really – imposes stricter requirements for something, a surge of applicants (or an equivalent) is usually seen as the new requirements are pending. It happens in things like patent applications, applications for licensure in regulated gaming, liquor licenses, building permits, and tax structures," Marc Whipple, patent and trademark attorney at Legal Inspiration, tells us. "However, regarding the current ratio of Chinese applications, I've never seen anything like this – it's a massive number. While I did think we'd see [a rise], I didn't really expect one of this magnitude."
The effects of this surge could be felt by all recent US trademark applicants, with Whipple adding that it is "going to make applications take longer to prosecute". Expanding on that, Ottaviani says: "This spike in applications is going to slow down the examination process for all applicants. The USPTO examining attorneys will have greater caseloads and will take longer to initially review the applications – therefore, the average time from application to registration for all applicants will increase."
As well as taking longer due to the sheer number of applications, examining attorneys will also be spending longer on many of the applications that originate from China. The reason for that is due to widespread reports of alleged fraud by some Chinese applicants, especially around the submission of improper specimens of use. It's an issue we first reported on in 2017 and recently published a two-part investigation (part one, part two) into how it continues to be a widespread problem at the office. "I expect the USPTO will scrutinise the specimens from these applications carefully," Ottaviani adds.
While there could be some negative effects, the spike also represents something positive, suggests Whipple. "In the long term, it shows that whether or not this policy is right, the situation it was designed to address is very real, and will doubtless inform policy discussion going forward," he says. "The USPTO's mission, which it works hard to carry out, is to serve consumers by registering trademarks which help them make informed choices. If we have this gigantic surge of marks right before a relatively small obstacle to filing marks, it shows that the concerns that led to the formation of the rule were valid."
Expanding on that point, he adds: "It seems unlikely that the number of Chinese businesses selling goods and services in the US nearly tripled in the last few months. Likewise, I think everyone expects a large drop in foreign filings – including but not limited to Chinese – after the rule kicks in. If we go back to pre-rule levels (or thereabouts), it might be a sign that this was mostly a bunch of one-time opportunists, businesses that were worried but really didn't need to be, or businesses looking to save money on things they were going to do anyway. But if it stays significantly below trend, that will further reinforce the position that led to the rule being introduced."
Talking to WTR, a USPTO representative confirmed that the office is "monitoring the situation carefully" and acknowledged the recent rush of applications. "Overall, considering filings from all jurisdictions, this July – which is not yet completed – is a fairly typical month in terms of application filing numbers. However, based on data going back five years, July was unprecedented in terms of trademark applications from China," the spokesperson said. "The USPTO has no way of knowing why filings from China has increased so significantly in July. If the purpose was to beat the August 3 requirement for US attorneys, foreign applicants (and registrants) will still have to have a US attorney as soon as a first office action is issued, so they will not succeed in avoiding the requirement by filing early."
With a couple of days left before the US attorney rule is implemented, the flood of China originated applications is expected to continue. It will be interesting if the current trademark application peak (3,341 filed last Friday; 56% originating from China) will be surpassed in the days ahead. For all rights holders, this is an issue to watch – both due to potential prosecution delays and because we are in the midst of unprecedented filing activity at the USPTO.