"A never-ending war": top influencer on what brands should know about fakes in China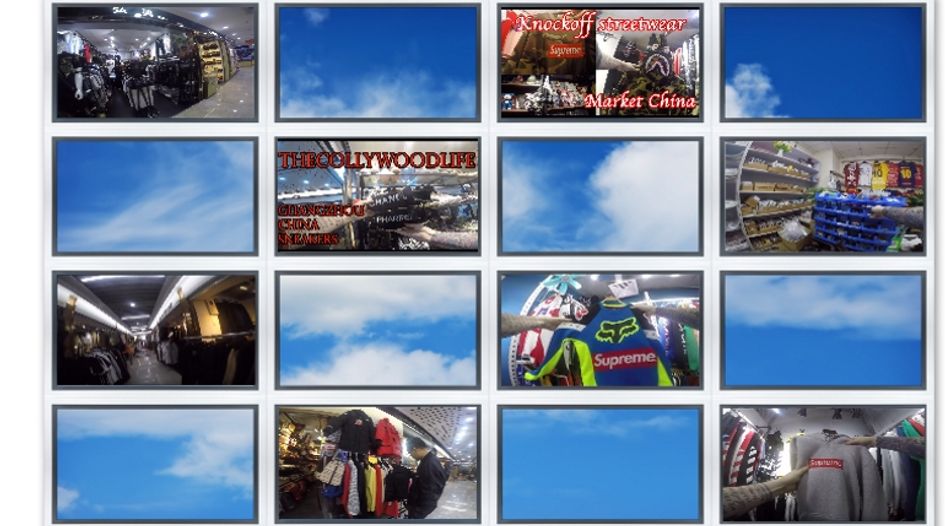 YouTuber 'C3 TheCollywoodLife' publishes videos on fakes in Guangzhou
His videos have a quarter-of-a-million views,  provide unique perspective
Tells WTR that fakes are a "normal part of everyday life in China"
In an exclusive interview with WTR, the video creator behind the YouTube channel 'C3 TheCollywoodLife' – which publishes investigative videos on fakes available in Guangzhou, China – explains why he started filming counterfeit goods in Chinese shopping centres and what brands should know about the culture of fakes in China.
The YouTube channel 'C3 TheCollywoodLife' first launched in mid-2017 and currently has over 250,000 views and nearly 4,000 subscribers. The focus of each video is content creator Colin walking around shopping centres in the city of Guangzhou, south China, and revealing the various counterfeit goods that are openly for sale. Generally, Colin films covertly, although he explained in a recent video that 'shops ask me not to film some days, while other days they welcome me to come and film'. Each video has a disclaimer that the channel does not condone the sale of or production of fake goods, with the claim that the videos are purely for educational purposes and that specific markets/shops are never explicitly named. In the comments section for each video, users most often ask questions or comment on the quality – both good and bad – of the featured fake products.
Talking to WTR, Colin explained that he was born and raised in a suburb of Toronto, Canada, before moving to Guangzhou in 2016 (following a visit with a friend wherein he "fell in love with the culture and decided to pack up and go"). He works as a consultant – including in brand development, marketing and personal shopping of authentic clothing – and describes work on the videos as "just a hobby".
But why a hobby focused on finding fakes? Ultimately, he explains, it's because counterfeits are impossible to avoid in Guangzhou. "I was never interested in counterfeit markets before moving to China as living in North America you can have a great time digging deep into authentic fashion culture," he says. "But when I came to China, I soon found out that, yes, the fashion culture is huge here but it is near-impossible to get things as there are no shops for most brands and if you want to buy 're-sell' the prices are way more than the 're-sell' prices in North America. I was not surprised by the amount of fake goods when I moved here, because everyone knows China is the main place where fake product are produced. However, what I was surprised by was the fact that no-one takes a double-take at your outfit like back home because everyone just assumes everything is fake. Ultimately, the production, buying and sale of fake goods is a normal part of everyday life in China."
Therefore, he decided to film his experience of walking around the numerous fake markets in Guangzhou to show the pervasive fakes culture that exists there. "The videos are also a way of showing what fashion is trending at the moment, as well as showing how people all over the world come to these markets," he adds. "I have big respect for intellectual property and do not condone people that buy the items featured in my videos – my main intention is to have the videos be a catalogue for people to see what was 'in fashion' at particular points in time."
The ability to catalogue current fashion trends is made possible because the fake goods on offer are constantly changing, he explains. If a new product is announced by a major fashion brand, a counterfeit version will soon appear in local markets – often replacing old ones. "Brands come and go here as trends change," he says. "Right now, Nike, Jordan, Adidas, Supreme, Bape, Gucci, and Louis Vuitton are the main ones, but brands like Heron Preston, Philipp Plein, Fendi, Off-White and more are on the rise. New products are stocked a week or two before an official release and tend to stick around for a few months. Older products tend to run out and, unless it is constantly really popular, they are no longer produced. If you have the money and want large orders from a factory, anything can be done."
When it comes to enforcement work, Colin notes that he sometimes sees law enforcement in the markets and notes that things appear to have become "more strict" recently. However, he believes that brands – especially from trendy fashion brands – have an uphill battle to combat fakes. "It's a never-ending war," he states. "If there was a miracle that stopped the product of fakes in China, it would just continue in countries like Thailand, Vietnam and Bangladesh. Personally, I will always suggest that everyone buys authentic products as the quality is worth it and it's more satisfying to know that your item is genuine. But while I don't condone and do not participate in buying fakes, many here do because the real brand costs too much for the average person here."
Colin's perspective is unique in that he is experiencing fakes in China from his position of being a fashion lover brought up in Canada. It's an example of how some people are interested in the culture of counterfeit goods even without buying them, demonstrating that fakes are often seen as 'cool' or 'trendy' due to being intrinsically linked with popular brands. For those tasked with stopping fake goods, perhaps more work needs to be done to turn counterfeit goods into a social stigma; similar, perhaps, to the Japan Patent Office's recent "Buying fake products just isn't cool" campaign.