Nestlé ice cream brand sale, Somalia registry resumes, and IP issues of Greta Thunberg: news digest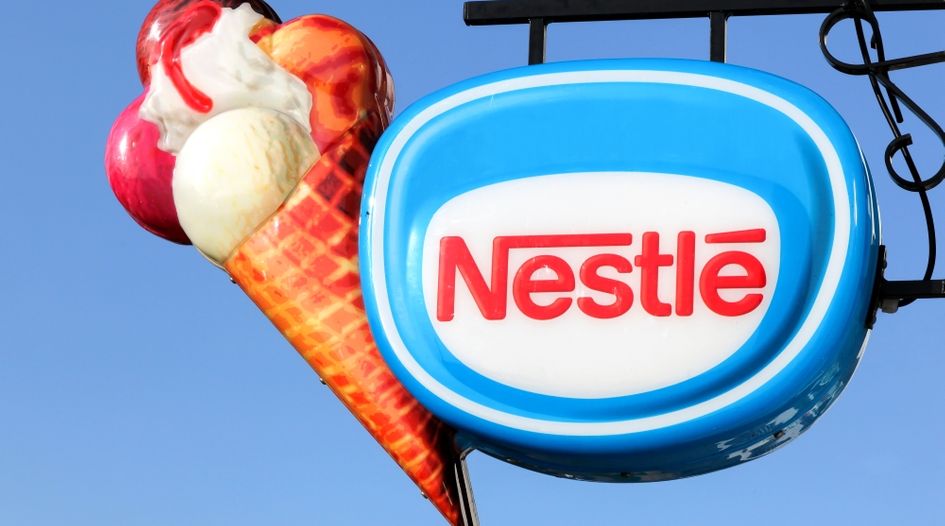 Every Tuesday and Friday, WTR presents a round-up of news, developments and insights from across the trademark sphere. In our latest edition, we look at Swiss IP court data being released, Brand Finance getting certified, Fred putting its intellectual property up for sale, the Austrian IPO launching some new online services, and much more. Coverage this time from Trevor Little (TL), Bridget Diakun (BD), Jonathan Walfisz (JW) and Tim Lince (TJL).
Market radar:
Thunberg wins Time Person of the Year, still faces IP issues – Climate activist Greta Thunberg has been named Time magazine's Person of the Year for leading worldwide protests demanding action on climate change. The announcement has been generally praised, with Thunberg becoming a global icon for the climate change emergency. But she has also faced issues when it comes to her personal IP protection – and it's an issue that could grow in the wake of the Time magazine recognition. As we have previously reported, various trademark applications have been filed around the world related to Thunberg. They include a GRETA THUNBERG logo trademark application filed at the EUIPO, a GRETA logo and FRIDAY(S) FOR FUTURE BY GRETA mark at the German IPO, and a MAKE AMERICA GRETA AGAIN application in the United States. spokesperson for Thunberg has confirmed to WTR that "none of these applications are authorised by Greta or anyone associated with her". These applications prove that as soon as an individual or brand enters the public consciousness, they are at risk of unauthorised trademark applications targeting them. Thankfully, the existence of free-to-use trademark search tools make the monitoring of these easier than ever before. (TJL)
Nestlé sells US ice cream brands in $4 billion deal – Fronerihas purchased Nestlé's US ice cream business for $4 billion. This deal includes the transfer of key brands like Häagen-Dazs to a joint venture that was established in 2016 by the Swiss group. Froneri was launched when Nestlé merged its European ice cream segment in 20 countries with a unit of a French PE firm. It is one of the largest ice cream companies in the world, with a turnover of $2.91 billion last year. Froneri, which already has operations in areas like Latin America and Asia, will now be able to expand into the US and is expected to add $1.8 billion to annual sales. Nestlé currently owns to the rights to Häagen-Dazs in the US, while General Mills sells the brand in non-US markets. Mark Scheider took over as CEO at Nestlé in 2016 and has since prioritised on the company's premium products while divesting underperforming businesses. This is a win-win for the confectionery manufacturer, as brands are given due attention to grow to their full potential. (BD)
Brand Finance gets certified – Brand Finance has become the first brand valuation consultancy to be certified by Austrian Standards to provide brand valuation and evaluation services, the company producing reports and opinions compliant with ISO 10668 and ISO 20671 combined. As background, ISO 10668 requires three types of analysis: legal analysis to prove ownership of brand assets; behavioural analysis to demonstrate the brand equity of brands; financial analysis to determine a financial valuation opinion. Meanwhile, ISO 20671 was released in March 2019 and is intended to provide greater direction for brand valuers in their understanding of the elements, dimensions and indicators of brand strength underpinning the Behavioural analysis required by ISO 10668. David Haigh, CEO of Brand Finance, commented: "For 25 years Brand Finance has been actively promoting the development of valuation and reporting standards for brands. ISO 10668 was the first major breakthrough and has transformed the professional practice of brand valuation. ISO 20671 is another major breakthrough because it indicates what brand management must do and what brand valuers must understand when appraising brands. We have now reached the point where all key companies recognise that brands are real assets that can be reliably measured. We are proud to be the first brand valuation firm offering services totally compliant with both of these ground-breaking standards." (TL)
Fred's puts IP on the market after filing for bankruptcy – Discount retailer Fred's filed for chapter 11 bankruptcy in September this year. Now, they have put all of their IP and other intangible assets on the market. This will include all of Fred's trademarks, customer data, domain names, social media assets and FRED stock ticker symbol. Offers are due today, 13 December. The sale is being facilitated by IP advisory firm Hilco Streambank. The details of the sake for interested parties is listed on the press release here. (JW)
On your marks, entrepreneurs – Startups and entrepreneurs should spend the effort and money to obtain trademarks, which help them succeed in both product and financial markets, according to a paper presented at the recent Financial Management Association annual meeting in New Orleans. Researchers studied the relationship between the number of trademarks held by firms and various aspects of venture capital (VC) investments in them; firms' probability of successful private-firm exits (IPOs or acquisitions); and the IPO and secondary market valuations of the portion of these firms that go public. They also looked at institutional investor participation in these IPOs. They found that the number of trademarks held by an entrepreneurial firm is associated with a greater VC investment amount spread over a smaller number of financing rounds, a greater probability of successful exit, higher IPO and secondary market valuations, greater institutional investor IPO participation, smaller post-IPO equity market information asymmetry, and better post-IPO operating performance. In short, trademark protection pays – and then some. (TL)
Civil rights group issue letter in opposition of Trademark Licensing Protection Act – The Leadership Conference on Civil and Human Rights has authored a letter strongly in opposition to S. 2439 of the US Trademark Licensing Protection Act of 2019. The letter was undersigned by 26 of the coalition's organisations dedicated to promoting civil and human rights in the US. According to the letter, the law is detrimental to American workers. They argue the legislation would allow employers to become another step removed from workers, which would remove meaningful bargaining rights to workers over fairer pay and work conditions. With franchisors in control of such terms but without the liability of the franchisees due to trademark licensing, the letter claims some of the US's most vulnerable and lowest-paid workers in industries such as fast food will be negatively affected. (JW)
Legal radar:
Swiss IP court decision data released – The Swiss Federal Institute of Intellectual Property (IPI) has published statistics on Swiss court cases that concern intellectual property law. The figures reveal the propensity of cases across the IP spectrum, with most court decisions in 2018 being made in the area of trademark law (57%, or 110 decisions in total), followed by copyright law (27%) and patent law (9%). In terms of the most active courts for IP cases in Switzerland in 2018, Canton Zurich topped the list with 21 decisions, followed by Aargau (18), Bern (12) and Geneva (9). Handily, the IPI also released an anonymised overview of all IP decisions across 2018 (in German), which is available as an Excel file. (TJL)
Indie game developers accused of trademark infringement – A number of independent developers who have released games on the site 'itch.io' have been issued takedown notices, reports PC Gamer. Chooseco is accusing the developers of trademark infringement for their use of the phrase "choose your own adventures". So far, four games have been suspended from the platform  – Purrfect Apawcalypse, It's a Date, Choose Your Own Adventure BG and A Series of Choose Your Own Adventure Stories Where No Matter What You Choose You Are Immediately Killed by a Werewolf. However, Purrfect Apawcalypse has been put back on the website at time of writing. Chooseco has previously sued Chrysler in 2007 and Netflix in 2019 for their use of the term. (JW)
Office radar:
Somalia IPO resumes operations – Following a recent shutdown of its services, the Somalian trademark office recently resumed operations. According to NJQ & Associates, the registry has introduced a number of changes, including only accepting single-class applications (with multi-class applications no longer possible) and a doubling in official filing fees to $1,000 per application. (TJL)
Austrian IPO launches new online services – The Austrian Patent Office (APO) has launched a new set of online trademark and design tools. Available from December 9, the new digital services are launched with the support of the support of the EUIPO's European Cooperation Projects. In total, this launch includes 44 new online services at the APO all related to trademarks and designs. (TJL)
First phase of trademark changes in France implemented – The French IP Office (INPI) has confirmed that the first measures concerning trademarks have been successfully implemented, following the passing of an updated law earlier in the year. There are various changes, including the addition of a collective marks system, the ability to protect sound and multimedia brands, and a lower cost for a single class trademark application. However, at the end of November, Richard Milchior from Herald Avocats in Paris penned a WTR guest post on how "tiny details could have huge consequences for brands". (TJL)
DPMA president announces changes – The president of the German Patent and Trademark Office, Cornelia Rudloff-Schäffer, has confirmed a new change regarding legal forms sent to the registry. Specifically, a new practice has been introduced for recording applicants – for domestic legal entities, the name of an applicant (nd the legal form of the company) will now be compared to the entries in the national registers. Therefore, the exact spelling of the register entry will be adopted on applications. This change came into force from 25 November. (TJL)
On the move:
McDonald Hopkins grows Chicago IP practice – Erin R Conway has been appointed to as counsel within McDonald Hopkins' IP department in the Chicago office. Conway has over 12 years of experience in IP prosecution, litigation and licensing. Her practice focuses on the life sciences and FDA-regulated industries. (BD)
Fasken adds partner to Montreal office – Alain M Leclerc has joined Fasken's IP group as a partner and a patent agent. Leclerc specialises in patent prosecution, but also handles litigation, due diligence, strategy, and licensing matters. He is the chairman of the Board of the IP Institute of Canada. (BD)
And finally...
Managing Trademark Assets returns to London – Following the success of this year's event, WTR's  Managing Trademark Assets Europe is returning to London on 28 January 2020. The event provides an opportunity for attendees to hear best practice and insight from leading in-house counsel from the world's biggest brands as they discuss their approaches to critical areas, as well as share their own insights with peers and colleagues. For the upcoming event we are also increasing the interactive nature of the programme, introducing informal, small-group discussions on dispute resolution scenarios - allowing participants to workshop possible responses with their peers and colleagues. Among the other areas to be explored are budget management, dispute negotiation tactics, best practices around diversity and team building, and how to fight counterfeits on a finite budget. To sign up to attend Managing Trademark Assets Europe, click here. (TL)