NBA Properties' Ayala Deutsch named WTR 2021 In-house Leader of the Year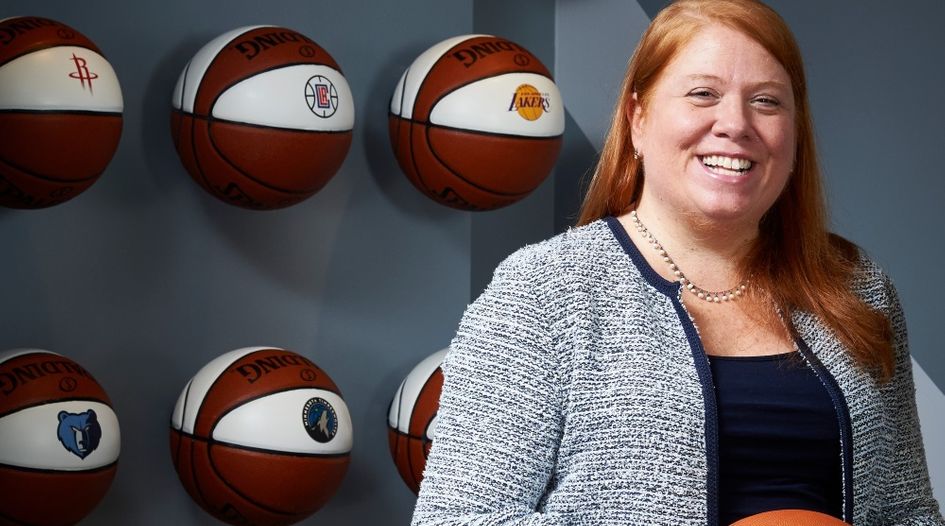 We are pleased to announce that Ayala Deutsch is the recipient of WTR's 2021 In-house Leader of the Year Award. The accolade recognises her stellar leadership at both company and wider industry level.
Ayala Deutsch is executive vice president and deputy general counsel at NBA Properties Inc, the marketing and licensing arm of the National Basketball Association (NBA). In that role she is responsible for managing commercial legal affairs and IP matters for the NBA and its affiliated leagues, including the global acquisition, protection and enforcement of IP rights belonging to the NBA, the Women's National Basketball Association, the NBA G League, the NBA 2K League and their respective teams.
The role is a high-profile one and, as for so many brand professionals across all industries last year, required a pivot to maintain brand protection and support of the business's commercial operations in the face of covid-19 disruption. Impressively, in addition to her 'day job', Deutsch also spent 2020 serving as president of INTA. As such, she was instrumental in helping the association deal with a year like no other.
The In-house Leader of the Year Award traditionally focuses on the recipient's achievements in their day-to-day corporate role, with external positions and activities considered a supporting factor when weighing up the shortlist. Deutsch, however, took wider industry leadership to a new level last year. One nominator stated: "She deserves particular recognition for leading efforts to ensure that the trademark community could remain unified despite the physical distancing and other challenges caused by the covid-19 pandemic."
For INTA, the biggest impact of the pandemic was arguably the switch to virtual events. Opening the virtual 2020 Leadership Meeting in November, Deutsch explained: "One of the most important decisions we had to make was how we host the Annual Meeting in 2020. First, the health and safety of our members and other registrants is always our top priority. Second, INTA is first and foremost a community. No doubt holding a virtual meeting is a remarkable change for us, but here we are together as a community in an engaging, innovative but safe and secure space. And we are here today because as leaders we are guided by our values through the difficult decisions we have had to make."
In short, it was business as usual – albeit in a new format. "We didn't change course, we changed in order to stay on course," Deutsch noted.
Thus, as president, she helped to lead INTA through a tumultuous period and ensure that the association's vital work continued at a time when brands were under the spotlight like never before.
Her presidential task force, set up to explore how to develop all-star IP practitioners, was a key focus. "As brand owners and trademark professionals, we must constantly innovate and evolve with the times to grow professionally and personally and to effect meaningful change in our field and in the world," Deutsch stated. As 2021 INTA President Tiki Dare later reflected, this "created a lot of tools for ongoing professional development, including both substantive skills, like the ones we will suddenly need in in-house practice, and dynamic (or what we used to call soft) skills – things like project management, communications and public speaking".
This dovetailed with INTA's launch of the Women's LeadershIP Initiative in March last year. The project aims to foster the development of strong leadership skills for women in the IP field and empower them to advance their careers to the next level. Speaking at the time, Deutsch explained: "INTA's new women's initiative comes at a pivotal time, when we can leverage the long overdue focus on gender equality that's emerging from all different business sectors and all different parts of the world. By joining together to support women and advocate for change we can help women reach positions of leadership that are well deserved both for their own professional advancement and to make sure we are helping women unlock all that they can contribute to the intellectual property field."
Alongside this focus on professional and personal development, her presidency saw the association continue its digital transformation with the launch of a new website, publish a series of forward-looking reports, continue its advocacy work and develop new platforms to connect the community at a time of travel restrictions and local lockdowns, among numerous other things.
In January 2020 WTR spoke to Deutsch about her goals as president for the coming year. The fact that these were met despite the year being upended by covid-19 speaks volumes about her focus, resilience and leadership skills.
However, the last word is perhaps best left to Dare. WTR spoke to her just weeks before she officially took on the duties of 2021 INTA president. At the time, she concluded: "Ayala has set a really high bar… She is a stellar role model and had to do all of this while [the covid-19 situation] was live and developing, and completely uncertain – when you couldn't see two weeks in front of you. She has accomplished so much this year, responding to change and adversity with tremendous resilience but also retaining her optimism and caring for everyone involved."
Shortlisted:
Bill Budd, Virgin 
Andy Chua, Lazada Group
Colette Durst, 3M
Renee Kraft, Target
Other 2021 winners: