Unauthorised 'Greta Thunberg' and 'Extinction Rebellion' trademarks could pose a threat to climate change activists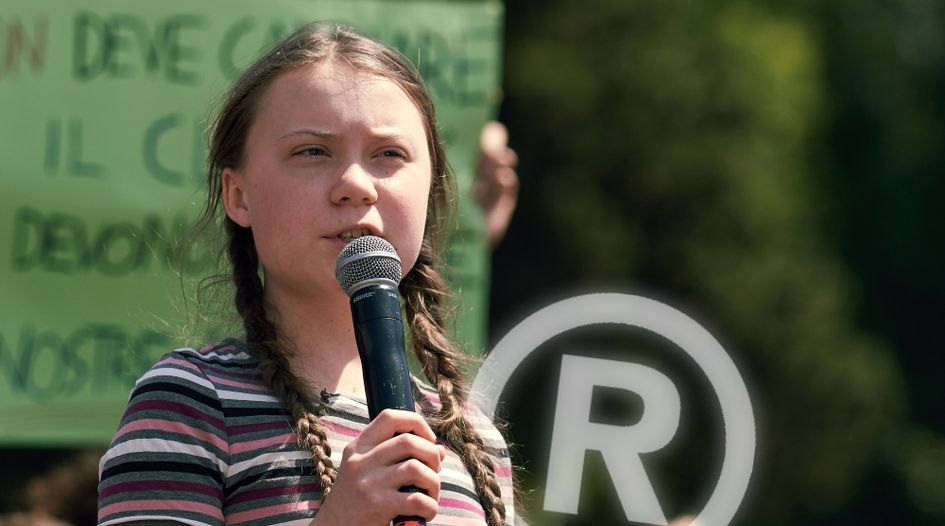 WTR discovers trademark applications in Germany related to Greta Thunberg
Same applicant also filed applications related to Extinction Rebellion movement
IP expert in Germany claims both could face costly court battle to defend rights
Two major figures in the climate change activism movement, campaigner Greta Thunberg and protest movement Extinction Rebellion, are facing a legal battle in Germany due to unauthorised trademark applications. According to legal experts, both trademark applications could reach registration unless canny enforcement action is taken.
Earlier this month, WTR revealed that a trademark application had been filed at the German Patent and Trademark Office (DPMA) for a logo related to Extinction Rebellion, the socio-political movement that aims to use non-violent resistance to compel government action on climate change. The application was filed on 7 August by a resident of German city Frankfurt, Daniel Seiffert. After an enquiry from WTR, a spokesperson for Extinction Rebellion confirmed it was not linked to the application. "Needless to say this isn't an application from the designers or Extinction Rebellion," the spokesperson said. "We're currently looking into this."
However, it now appears that the same applicant has recently filed a number of trademark applications related to Greta Thunberg, the 16-year-old Swedish environmental activist who made global headlines last week after speaking at the UN Climate Action Summit in New York. In total, six trademark applications have been filed in recent weeks that appear to relate to Thunberg: two figurative marks for GRETA logos (here and here), two for a THUNBERG logo (here and here), and two for a logo for 'GTI - Greta Thunberg International' (here and here).
WTR reached out to representatives for Greta Thunberg, and a spokesperson confirmed: "These applications are in no way authorised by Greta or anyone associated with her."
As well as trademark applications related to Thunberg and Extinction Rebellion, Seiffert has also filed for registration of other logos within the same timeframe – a figurative mark for an EARTH FORCE FIVE logo, another for a CROSS ROADS logo and, most curious of all, an application for the term INTERNATIONAL INQUIRIES with a logo featuring fictional and historical figures including Karl Marx, Vladamir Lenin, Friedrich Engels, and movie character ET.
It is unclear, then, what the motivation or intent is behind these filings (we have attempted to contact the applicant, and will update this article should they respond). But they are seemingly unauthorised by Thunberg and Extinction Rebellion and, according to experts, they could all eventually reach registration.
According to Florian Schwab, attorney at law at Boehmert & Boehmert, the ability to defend against the mark during the examination stage could be dependent on the class that the applications are in. In this case, the applications related to Thunberg and Extinction Rebellion are in Nice Class 14 (eg, women's watches), Class 21 (harnesses), Class 25 (eg, clothing), Class 35 (eg, advertising) and Class 41 (eg, publication of printed/electronic matters).
"In Germany, bad faith at the moment of filing was introduced as absolute ground of refusal only in 2004," he explains. "However, in order not to overload the registration procedure, the bad faith assessment ex-officio is limited to 'evident' cases of bad faith at the moment of filing. Bad faith at the moment of filing is 'evident' if – restrictively – the German registry would otherwise, with its eyes open, register a mark which is open for invalidation. Some of the cases in which the German PTO has considered the filing of a trademark consisting of the name or image of a famous (living or dead) third-party being exceptionally evidently made in bad faith include LADY DI, Johann Sebastian Bach, and Marlene Dietrich."
"However, a prerequisite for bad faith is the existence of a potential connection between the relevant famous person and the specific goods/services claimed by the relevant mark," Schwab clarifies. "For example, this was denied – ie, no bad faith – in a trademark application for SNOWDEN (the NSA-officer Edward Snowden) due to the missing relation of Snowden to bakery goods claimed in the relevant mark (this was a decision of the German Federal Patent Court of April 2016)."
With that in mind, and with other considerations commonly taken by the DPMA, Schwab claims that at least some of the Thunberg-related applications could reach registration. "In my opinion, the mere female name 'Greta' should not be blocked ex-officio for bad faith. Concerning 'Greta Thunberg International' (containing her full name, unlikeliness of acting as a licensee, and the background of the applicant as a 'doubtful filer'), this might reach the threshold of bad faith on absolute grounds."
Agreeing with that analysis is Peter Ruess, a partner with Arnold Ruess in Düsseldorf and professor of law with ISM in Dortmund, who tells WTR that the applications related to Thunberg are at particular risk. "What are the chances that the DPMA will approve the marks? Quite high, I think, because the office will just formally review it and a name generally qualifies as a mark."
Therefore, in terms of options that open to Thunberg – and possibly Extinction Rebellion too – when faced with such third-party applications, Ruess says he would "not rely on an opposition" but would instead suggest "sending a warning letter". If that isn't effective, he adds: "I would try and get an ex parte injunction in a German court – or at least some sort of civil action. Chances are they will find someone who will help them with this dispute without a fee to get the spotlight for aiding them in this way."
Ultimately, entities like Thunberg and Extinction Rebellion need to consider some sort of intellectual property protection – because if not, says Ruess, others will. "This is an educational process for these nonprofit entities, but they need to understand that if they want to control their communications, they have to take some precautionary steps. If they don't, as this situation potentially shows, they could end up in court all of the time, all over the world. They might even win, but it's the effort and the money that it takes to do that. For Thunberg, I would recommend an EU trademark, that would cover the issues in this case, and then think about the United States. If she has people that can finance her a transatlantic journey for her, then she will hopefully have people that can help finance at least an EU trademark to protect her personal brand."