Myanmar trademark office opening, Backcountry.com boycott and Facebook rebrand: news digest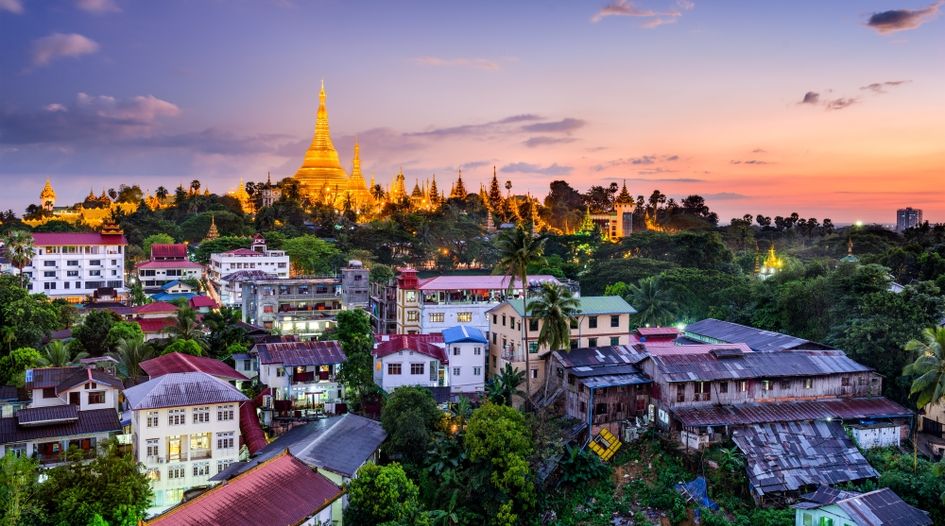 Every Tuesday and Friday, WTR presents a round-up of news, developments and insights from across the trademark sphere. In our latest edition, we look at the destination for the DesignEuropa Awards 2020, Kenya and the UK working together to tackle fakes, Monzo fails in 'hot coral' trademark attempt, Bridgestone winning a lawsuit in China, and much more. Coverage this time from Trevor Little (TL), Bridget Diakun (BD), Jonathan Walfisz (JW)  and Tim Lince (TJL).
Market radar:
Facebook rebrands to strengthen its image – Facebook will launch new branding for its products and services, such as Instagram and WhatsApp, in the coming weeks. While the logo on the main app and website will remain the same, the BBC reports that it will appear in different colours depending on the product, and will appear in capitals with a font with rounded corners. Of the change, Facebook's chief marketing officer Antonio Lucio said: "People should know which companies make the products they use. We started being clearer about the products and services that are part of Facebook years ago. This brand change is a way to better communicate our ownership structure to the people and businesses who use our services to connect, share, build community and grow their audiences." Dave Lee, an analyst at BBC, said that Facebook's traditional approach of distancing itself from its products had made sense because each app was targeted to a different consumer group. Further, it could allow the parent brand to deal with reputational challenges while leaving its subsidiaries unscathed. In June, we reported that Facebook's brand value has grown over the past few years – despite reputational challenges – but its brand strength has steadily declined. This rebranding may indeed be an attempt to rebuild trust with the consumer by disclosing which social media apps it owns (and collects information from). (BD)
Backcountry boycott after trademark lawsuits – Over in the United States, media coverage this week has looked at the backlash against outdoor company Backcountry.com following legal action targeting small business owners that use the term 'backcountry' in their names. Following the lawsuits being revealed by the Colorado Sun, a Boycott Backcountry.com Facebook page has grown to over 10,000 members, while a GoFundMe page was launched to support one business owner, Marquette Backcountry Ski founder David Ollila, who has refused to settle in federal court (it has currently raised over $6,000). "Looking at all the comments online, I see people saying that until this is rectified, they are not shopping there," commented Ollila. "I see this as a great wake-up call to the industry and awareness about what it takes to run a small business and what a fair playing field looks like." The following day, Backcountry.com responded to the backlash, with CEO Jonathan Nielsen writing in an open letter that "we fumbled in how pursued trademark claims recently", adding: "We made a mistake." It's a reminder, perhaps, of the PR heachache that can occur with trademark filing work, and the careful response that needs to subsequently occur. (TJL)
Kenyan and British joint effort targets illicit trade – Authorities from Britain and Kenya are working alongside each other to clamp down on illicit trade, primarily focusing on the Port of Mombasa in Kenya. The gateway to East Africa has recently seen a spate of stolen British cars enter the country. Working alongside the UK National Crime Agency, the efforts will hopefully also tackle any counterfeit trade also entering through this hub. (JW)
Drake the latest celebrity to announce Cannabis brand partnership – Just over a year ago, with Canada set to legalise recreational cannabis, we reported that Constellation Brands had invested $4 billion in Canadian company Canopy Growth Corporation , a move said to be designed "to position Canopy Growth as the global leader in cannabis production, branding, intellectual property and retailing". Part of the organisation's brand strategy is to work with a portfolio of celebrities – for instance earlier this year, in partnership with comedians Seth Rogen and Evan Goldberg, it launched Houseplant, a recreational Canadian cannabis company. This week it unveiled another high profile collaboration, partnering with Canadian musical star Drake to launch the More Life Growth Company, a fully licensed producer of cannabis based in Drake's hometown of Toronto. Mark Zekulin, CEO of Canopy Growth Corporation, explained: "Drake's perspective as a culture leader and entrepreneur combined with Canopy Growth's breadth of cannabis knowledge will allow our new company to bring an unmatched cannabis experience to global markets." More Life is centred around wellness and discovery, with Drake stating: "The idea of being able to build something special in an industry that is ever growing has been inspiring. More Life and More Blessing." We have written at length about the brand opportunities cropping up (pun intended) in the cannabis industry, with celebrity association clearly a way to further raise profile amongst consumers, both old and new. (TL)
The Electric Coin Co reaches trademark agreement with Zcash foundation – The Electric Coin Co (ECC) has announced that, on Wednesday (6 November) it passed responsibility for the Zcash trademark to the Zcash Foundation, an independent non-profit that focuses on financial privacy, Zcash development and community engagement. ECC created and launched the Zcash digital currency in 2016 has now handed it over to the foundation after multiple months of negotiations, at no cost. The company states that the move helps advance two of ECC's primary objectives: to further decentralisation and to honour and protect the community's voice with regard to the future of Zcash. The transfers agreement contains a number of obligations and limitations, with stipulations including that no party has independent authority to declare that a specific chain of Zcash can actually be called Zcash. The company states: "With this trademark agreement, the Zcash Foundation and the Electric Coin Co. have strengthened the brand, fortified legal protections and enhanced the power of the community's voice." (TL)
Legal radar:
Foreo obtains record award, praises China's IP framework – Foreo, a Swedish skintech brand, has been awarded a judgement of RMB 3 million by the Shanghai Intellectual Property Court – a sum the company believes is the largest counterfeit-related payout for design infringement from the court. The ruling found the defendant, Kingdom Zhuhai Company, guilty of infringing FOREO's LUNA design patent with its own KD308 product – with the resulting award covering economic losses and reasonable expenses. The defendant, Kingdom Zhuhai Company, was thought to have made in excess of RMB 35 million from online sales, mainly through the Alibaba and Tianmao platforms. Reflecting on the proceedings, Kelsay Tang, FOREO's global legal director, stated: "Taking the retail price, reasonable profit, and design patent contribution of our LUNA into consideration, the court concluded that our claim of RMB 3,000,000 was solid. Given that IP protection is a relatively new concept in China, not to be confused with patent law which was created in 1984, we are seeing major progress on IP protection over the past years and this case bucks the trend. Within FOREO, we have many cases in China where counterfeiters making fake FOREO products have been incarcerated, a feat we could not achieve without the support of the domestic China legal framework." (TL)
Monzo fails in 'hot coral' colour application – Fledgling online banking company Monzo, which received its banking license in 2017, has had its trademark application for a 'hot coral' colour rejected by the UK Intellectual Property Office (UKIPO). The bright 'hot coral' colour is a signature of Monzo, especially on its popular Monzo bank card. According to CityAM, the trademark application was "an attempt to protect the brand's image against a number of other global companies that have been using a similar shade of orange". The issue of colour trademarks has been widely covered by WTR in recent years, including the long-running attempt by Cadbury to protect a shade of the colour purple. (TJL)
Bridgestone wins suit in China – Tyre company, Bridgestone didn't burn out in court the company announced this week. They received a favourable ruling against Chinese tyre manufacturer Liangshan Water Margin Tire Co. in the Suzhou IP Court. The case began in 2018 when Bridgestone found Water Margin were selling tyres under the Fulisitong brand which resembled their marks. The court ruled in favour of Bridgestone in May 2019, despite the company only announcing the win now. The Suzhou court ordered Water Margin to cease manufacturing and sales activities as well as pay 3.3 million CNY. (JW)
Office radar:
DesignEuropa Awards to be held in Eindhoven in 2020 – The EU Intellectual Property Office (EUIPO) has announced that the next edition of the DesignEuropa Awards will be held in Eindhoven, Netherlands on 20 October 2020. The event will be organised by the Dutch Ministry of Economic and Political Affairs for Climate and the Benelux Intellectual Property Office, and according to the EUIPO, "will be a unique opportunity for participants and stakeholders to know the latest trends in design innovation and intellectual property for creators and entrepreneurs". (TJL)
Myanmar trademark office gets set for launch – A client alert from Kashish Intellectual Property Group has noted that the trademark office of Myanmar is expected to commence work, in form of a 'soft opening' on 20 December 2019. A bulletin from the firm's Myanmar office states that, during the soft launch – which will last three to four months – the office will only accept applications only from the registrants who have existing registrations in the jurisdiction (existing registrants being required to refile). At the end of the soft launch, the office is then expected to open its doors to new registrations. The significant development follows the passing of Myanmar's long-awaited Trademark Law, which was signed into law on 30 January 2019 – a move that WTR covered extensively at the time. (TL)
WIPO publishes mag with highlights from the African conference – The WIPO conference on IP, Innovation and Value Addition for Business Competitiveness and Sustainable Development in Africa has just wrapped up from its base in Harare, Zimbabwe. Held across this week, the conference covered topics ranging from Japan's commitment to promoting IP and innovation in Africa, preparing Africa for the Fourth Industrial Revolution, and gender equality in African agriculture. WIPO has released a magazine featuring highlights of the conference and a foreword from director general Francis Gurry. (JW)
Domain Radar:
Wikipedia creator tests new social media gTLD – Jimmy Wales, creator of Wikipedia, has put some of his eggs in the '.social' gTLD basket, reports Domain Name Wire. Wales has created a new social network called WikiTribune and is making use of the social media gTLD from the onset. WT.social is already running and accepting new users. Whether the '.social' gTLD will become industry norm for social media sites remains to be seen, but this is an interesting step in that direction from a significant player in the industry. (JW)
On the move:
DLA Piper adds life sciences partner to San Francisco office – Michael Sitzman has joined DLA Piper's IP and Technology practice as a partner according to an announcement on the firm's website. Sitzman will serve as the US chair of the life sciences patent litigation practice and will be based in the San Francisco office. (BD)
Airina Rodrigues joins Brownstein's IP practice – Brownstein Hyatt Farber Schreck has hired Airina Rodrigues as a shareholder within its brand management, trademark and copyright protection practice. She handles prosecution and enforcement matters relating to trademarks and trade dress, copyrights, trade secrets, right of publicity, false advertising, patents and commercial contracts. Rodriques also works with clients to draw up commercial agreements and carry out technology transfer transactions. Rodrigues joins Brownstein from DLA Piper and she will be working from the Denver office. (BD)
Eckert Seamans hires IP associate to business division – Eckert Seamans has announced the hire of Michael T Regan to associate within the firm's Philadelphia office. He handles a range of IP matters relating to trademarks and copyrights, from prosecution to licensing and domain name enforcement. (BD)
Haynes and Boone adds patent trial lawyer to Chicago office – Eugene Goryunov has joined Haynes and Boone's Chicago office as a partner within the firm's IP litigation group. He will be leading his office's post-grant review trials practice. Goryunov handles a range of patent litigation matters covering a number of sectors. His appointment is part of Haynes and Boone's efforts to grow its Chicago office, having hired two other IP lawyers recently, Ralph Gabric and Laura Beth Miller. Goryunov was previously a partner at Kirkland & Ellis. (BD)
Lathrop Gage boosts IP practice with experienced professional – In a press release on Lathrop Gage's website the firm welcomed Tucker Griffith to its Boston office. Griffith has over 20  years of experience handling the spectrum of IP related matters including litigation, diligence, transactions and prosecution. Not siloed in his practice, he assists clients with their patent, trademark and copyright needs. (BD)
And finally...
Managing Trademark Assets returns to London – Following the success of this year's event, WTR's  Managing Trademark Assets Europe will be returning to London on 28 January 2020. The event provides an opportunity for attendees to hear best practice and insight from leading in-house counsel from the world's biggest brands as they discuss their approaches to critical areas, as well as share their own insights with peers and colleagues. For the upcoming event we are also increasing the interactive nature of the programme, introducing informal, small-group discussions on dispute resolution scenarios - allowing participants to workshop possible responses with their peers and colleagues. Among the other areas to be explored are budget management, dispute negotiation tactics, best practices around diversity and team building, and how to fight counterfeits on a finite budget. The current registration rate for the event is £395 (excluding VAT). To sign up to attend Managing Trademark Assets Europe, click here. (TL)