Myanmar coup trademark impact; Under Armour drops NFL licensing deal; Boohoo buys Burton – news digest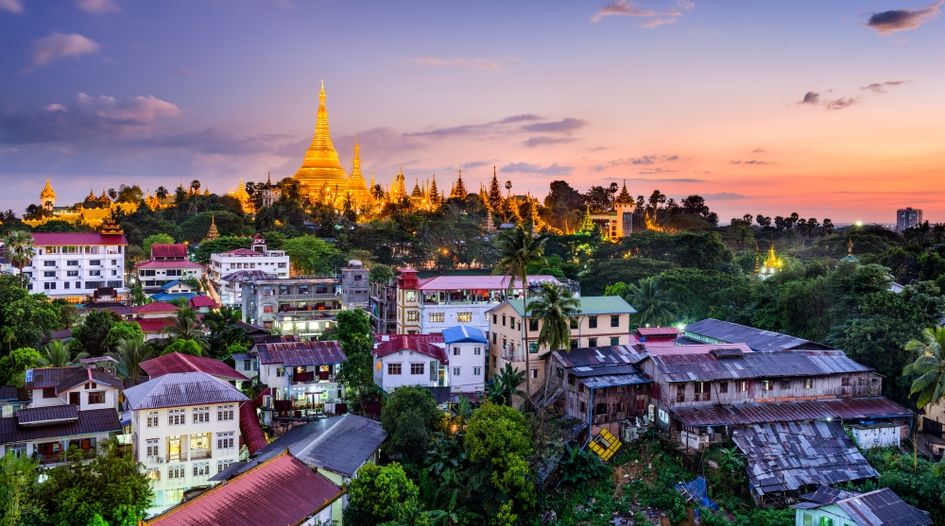 Every Tuesday and Friday, WTR presents a round-up of news, developments and insights from across the trademark sphere. In our latest round-up, we look at a joint EPO-EUIPO report showing the benefits of owning IP rights (especially if you are an SME), L Catterton gaining the upper hand in the bidding war for Birkenstock, how the Victoria's Secret brand could soon be on the market, and much more. Coverage this time from Trevor Little (TL), Bridget Diakun (BD), Jonathan Walfisz (JW) and Tim Lince (TJL).
Market radar:
Joint EPO-EUIPO report shows benefits of owning IP rights (especially if you are an SME) – A new study released by the European Patent Office and EUIPO has found that companies which own at least one patent, registered design or trademark generate on average 20% higher revenues per employee than companies which do not. Additionally, PR-owning companies were found to be paying 19% higher wages on average than other companies. Drilling down, the study, Intellectual property rights and firm performance in the EU, found that ownership of registered designs led to 32% higher revenue and 30% higher wages, while trademarks led to uplifts of 21% and 17% respectively. EUIPO executive director Christian Archambeau reflects: "This study is yet another piece of evidence linking IP rights to economic performance. This is especially true for SMEs, which form the basis of Europe's economy. In a critical context for the majority of European businesses, these results underline the importance of making it easier for small companies to protect their innovations and creativity with IP rights, one of the major goals of our Strategic Plan 2025." (TL)
L Catterton gains upper hand in bidding war for Birkenstock – L Catterton, a PE firm backed by LVMH, has become the top bidder for the German sandal maker Birkenstock, reports Bloomberg. The company's owners are focusing on negotiations with L Catterton as "they prefer the investment firm's track record buying and expanding family-backed consumer brands". An additional benefit is the potential for growth in Asia with the firm having a strong network in the region. CVC Capital Partners has already made a firm offer for Birkenstock and remains interested in a deal. The owners of Birkenstock are seeking a valuation for the company of about $4.8 billion, and a winner could be picked in the coming months. (BD)
Boohoo closes deal with Arcadia – Boohoo has bought the Dorothy Perkins, Wallis and Burton brands from Arcadia for £25.2 million. The purchase only includes the brands and online businesses, and not the shops. "Acquiring these well-known brands in British fashion out of administration ensures their heritage is sustained, while our investment aims to transform them into brands that are fit for the current market environment," said chief executive John Lyttle. "We have a successful track record of integrating British heritage fashion brands onto our proven multi-brand platform, and we are looking forward to bringing these brands on board." (BD)
Victoria's Secret could soon be on the market – L Brands is looking to either sell or spin off Victoria's Secret by August, reports Bloomberg. Offloading the lingerie brand has been a goal for the company for quite some time as Victoria's Secret has struggled to keep up with changing consumer tastes. A disposal would give L Brands the opportunity to focus on Bath & Body Works which has shown strong performance on the back of heavy demand for soap and hand sanitiser during the pandemic. The company is looking at all options for the split "including a spin-off of the Victoria's Secret business into a public company or a private sale of the business". (BD)
Oatly considers US IPO – Oatly is working on an IPO that could come as soon as May. It is considering seeking a value of around $10 billion in a US listing. Founded in the 1990s the Sweden-based brand makes vegan food and drink products. Its popularity skyrocketed in the last few years as more consumers seek plant-based products. Non-dairy alternatives are having a significant impact on the food and beverage industry, and companies with strong branding - like Oatly - are in pole position to reap the benefits of evolving consumer tastes. (BD)
Under Armour drops NFL licensing deal – According to the Financial Times Under Armour has ended its on-field licensing contract with the NFL, a decision that was made prior to the Super Bowl. It is the latest decision from the sportswear brand to trim down its marketing commitments. Last year it canceled two outfitting contracts with the university sports programmes at the University of California, Los Angeles and the University of California, Berkeley, together worth more than $300 million. Under Armour's most recent decision will restrict accessory products bearing its logo from being worn or displayed on the field during games. Sean Eggert, senior vice-president of global sports marketing at Under Armour, told the FT that "we are in active conversations with the NFL to determine alternative opportunities that best serve athletes moving forward and to ensure the best [return on investment] for Under Armour". The value of an on-field licensing agreement is somewhere between $10 million and $15 million per year. And, according to its most recent annual filing, the US sports brand had more than $679 million in total sponsorship obligations at the end of 2019. Under Armour's re-think of its marketing approach could have a tangible impact on its brand, especially considering its withdrawal creates a void to be filled by competitors. Last year when the company retreated from a 2016 agreement to supply Major League Baseball uniforms Nike took over the rights. Now Nike is the official uniform supplier of three of the top four American professional sports leagues (NFL, MLB and the NBA). Adidas supplies the NHL. (BD)
Legal radar:
New Balance scores win against copycat brand in China – New Balance has prevailed in a legal battle against Chinese copycat brand New Barlun in a 1st instance trial. The decision, handed down by the Shanghai Huangpu District Court on 5 January 2021, ordered New Barlun (China) Co and Shanghai Shiyi Trade Co to pay New Balance damages of RMB 25 million - one of the largest sums awarded to an IP owner in the sports sector in the history of Chinese IP lawsuits according to Rouse (New Balance was represented by Chinese firm Lusheng. The court ruled that New Barlun and Shiyi's manufacturing and distribution of shoes marked with the 'N' symbol constituted an infringement against New Balance's trademark rights, as the logo was incredibly similar to the original, both visually and conceptually. Additionally, the defendants were found to have acted in bad faith as they failed to cease infringement after the court had issued an interim injunction order. The judgment has not yet taken effect and therefore the defendants have the right to appeal. Carol Wang, principal and head of Shanghai litigation group at Rouse, commented: "This is not only a win for New Balance but for a wide range of international brands operating in China, as they continue to face the increasing threat of copycats on their business. The judgment further demonstrates China's commitment to establishing a sophisticated and robust IP system that matches other leading countries and will be crucial in attracting international investment." (TL)
Thai new online arbitration system a 'success' – The Thailand Department of IP (DIP) established a new online arbitration service for IP disputes last month. Analysing how the new service has been operating since then, representatives at Baker & McKenzie praise it as saving "both time and costs as well as being suitable and practical for the current covid-19 situation", adding that "the online service will also help to reduce the amount of cases brought before the court". So far, three IP cases have been submitted via the new system – two involving trademarks and one involving copyright. The copyright dispute was resolved within two working days. (TJL)
Office radar:
(For more of the latest coronavirus-related updates from national IP offices, please read our dedicated article which is being continuously updated)
Myanmar coup delaying trademark application number issuance – As Myanmar's governance continues to be interrupted by a military-led coup, the trademark office has experienced some delays – although it is not yet clear whether these are related to the coup. Speaking to WTR, Yuwadee Thean-ngarm, director of Tilleke & Gibbins' Myanmar office, explains: "Currently, the online WIPO filing is still being accepted for trademark filing under the soft-opening period. The issuance of trademark application numbers - which normally takes about a day - has been pending since 1 February. However, this same issue occurred between October and December 2020 because the system was under maintenance." However, Yuwadee continues that the IP office's oversight by the Ministry of Commerce has continued despite the coup. "Dr. Pwint San, who had been the deputy minister of commerce in the government preceding the NLD government that was removed from power, has been appointed to head the Ministry of Commerce. There has been no official announcement of a change of the IP strategy, and we hope to see the situation settled shortly." (JW)
On the move:
Appleyard Lees welcomes new COO and partnership with NorthInvest – UK IP firm Appleyard Lees has announced the appointment of John Kushnick as its chief operating officer. Kushnick will be based in Appleyard Lees' Manchester office. Kushnick is a qualified solicitor and brings experience in operational management. Starting from 1 February, Kushnick will work to advance a firm strategy for further growth based on clients' requirements. In additional news, Appleyard Lees has also partnered with Leeds-based investment non-profit NorthInvest. Dedicated to building a stronger investor and start-up community in the north of England, NorthInvest was founded in 2016 and has received over £9 million in funding in 2020. The IP firm will offer specialist IP support to tech and digital start-ups maximise their intellectual property throughout their entire life cycle. The firm will take part in NorthInvest events throughout the year to connect entrepreneurs with IP advice. NorthInvest founding board director Helen Oldham said: "We're very proud to partner with Appleyard Lees, who can help our network of entrepreneurs and start-ups to understand how best to protect their intellectual property. This partnership marks an exciting step for NorthInvest as we help northern start-ups reach their full potential." (JW)
And finally...
WTR Connect returns next month with five days of strategic content – The second WTR Connect series of digital events will take place the week commencing 15 March 2021. The event will offer more than 20 interactive digital sessions, each designed to facilitate discussion, benchmarking and the sharing of best practice around key topic areas and challenges facing trademark and brand leaders. The theme for the event is 'exchanging cost-effective and resource-efficient best practices' and each day will start with a keynote address from a major industry figure, which is followed by live breakout discussions lasting for a maximum of 60 minutes. Registration is free for WTR subscribers and participants can register for as many sessions as they like across the week, building their own schedule. For event timings, and to sign up to attend, please click here.