MSCHF teases Nike with trademark lawsuit shirt; VW rebrand backfires; ICANN meeting update – news digest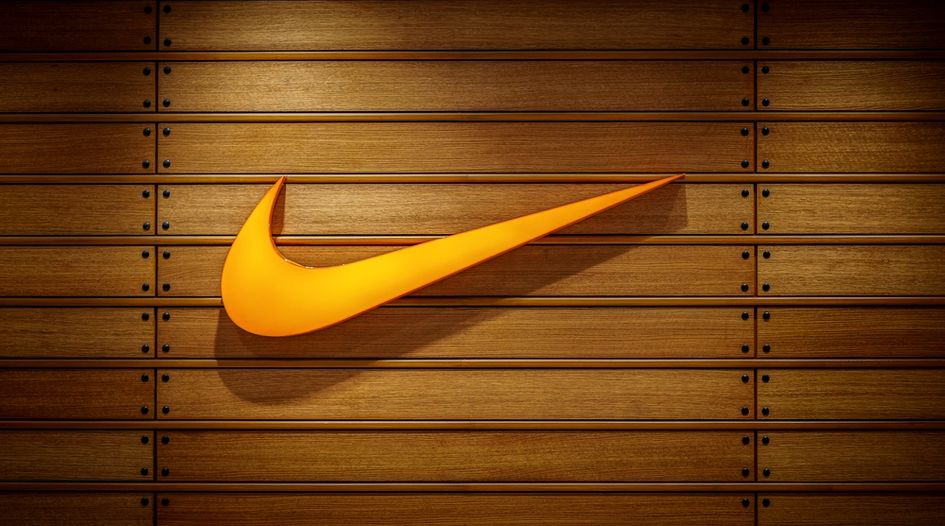 Every Tuesday and Friday, WTR presents a round-up of news, developments and insights from across the trademark sphere. In our latest round-up, we look at the UKIPO tracking illegal online content consumption, US senators urging President Biden to prioritise intellectual property, the USPTO getting back to basics, and much more. Coverage this time from Tim Lince (TJL).and Trevor Little (TL).
Market radar:
UKIPO tracks illegal online content consumption – The UKIPO has published the 10th wave of its online copyright infringement tracker survey, which polls users to track both legal and illegal online content consumption trends. The latest report draws on survey data from 2020, with the pandemic and related lockdowns as background. In terms of key findings, it found that the overall level of infringement for all content categories (excluding digital visual images) stood at 23% – 2% lower than the previous four years. However, in terms of infringement levels, the findings from the qualitative phase showed that while many reported no change in their use of illegal sources, some noted that owing to their general consumption in entertainment increasing, so too did their use of illegal sources. The motivations for doing so remained consistent with those uncovered in the previous wave (2019): a lack of access to specific content on the streaming subscriptions that they use, availability on existing entertainment subscriptions and/or an unwillingness to pay additional costs for content beyond what they already pay for. Reflecting this, the report offers a range of messaging strategies that should be used to deter illegal streaming and content consumption. (TL)
Shimano signals intention to step up anti-counterfeiting efforts – Japanese multinational Shimano has announced that it is launching a global anti-counterfeiting programme to protect its offerings, including for its cycling products. The company states: "In recent years, we have confirmed that counterfeit goods of Shimano Group products and repair parts have been circulating around the world. As counterfeit goods not only cause quality problems (such as accidents and injuries) for the general customers, but also lead to detriments for our customers and business partners, we will take a firm stance to eliminate counterfeit goods." The measures to be implemented include providing information to the relevant authorities to facilitate administrative and criminal investigations against counterfeiters, launching civil lawsuits against counterfeit goods manufacturers and distributors, issuing warnings to customers and proactive takedown actions on e-commerce platforms. The company is also introducing new, 'harder to counterfeit' materials in product packaging and offering QR codes for customers to verify whether a product is genuine. (TL)
Senators urge Biden to prioritise IP appointments – Over on IAM, editor Richard Lloyd reports that US Senators Leahy and Tillis have called on the Biden administration to speed up the appointment process for key roles such as USPTO director, stressing that intellectual property needs to become a bigger priority. Lloyd notes that the legislators have pushed for an expedited process to ensure that a new USPTO director, IP enforcement coordinator and chief innovation and IP negotiator within the Office of the US Trade Representative are in place sooner rather than later. "In recognition of the important contributions intellectual property makes to our Nation's culture and it's economy we ask that you move expeditiously to fill key Executive Branch positions that promote and protect intellectual property rights at home and abroad," the letter states. (TL)
UNH welcomes place on best IP programmes list – The University of New Hampshire Franklin Pierce School of Law has taken fourth spot in the 2022 US News & World Report rankings for the best IP programmes nationwide – the highest IP ranking that the school has earned in over a decade. Dean Megan Carpenter reflected: "We had an incredibly successful year at the law school, despite the challenges we all faced. In addition to enrolling our largest class in the history of the school, we entered our second year offering our first-of-its-kind Hybrid Juris Doctor program in intellectual property, information, and technology law, which allows students to keep their jobs while pursuing their dream of becoming a lawyer. The hybrid program brings our top-flight IP legal education to students in 35 states across the nation. This ranking is another testament to our continuing commitment to and vision for providing the highest-level education to law students. I am so proud of our IP focus at the law school." In joint first place on the list was Stanford and the University of California – Berkeley. (TL)
Facebook tops 'most popular tech brands' list – Research commissioned by Rebootonline.com has analysed online search volumes related to the world's most valuable tech brands, dividing the data by the number of years since they were founded to establish a standardised annual search volume for each brand. On that analysis, Facebook ranks as Europe's 'most popular' tech brand, with a standardised average of 21,869,008 annual searches. The social media site, founded in 2004, is most popular in Ireland (91,359,320 monthly searches), the United Kingdom (81,463,400 monthly searches) and Italy (79,643,310 monthly searches). The top five is rounded out by Google, Instagram, Viaomi and Dell. The study also reveals how the pandemic has affected search patterns for tech brands. Comparing the data sets for March 2019-2020 and March 2020-2021, it found that Apple saw the biggest surge in searches, up 76.3%. Huawei was close behind, with a 71.4% rise. At the other end of the list was Google, which dropped 30.8%. (TL)
Office radar:
(For more of the latest coronavirus-related updates from national IP offices, please read our dedicated article which is being continuously updated.)
USPTO gets back to basics – The USPTO has released a number of newly redesigned trademark basics webpages on its website. The offering – which the office states "is easier to read and understand, more visually appealing, and more intuitive to navigate" – offers those new to the trademark application process information on what a trademark is, as well as an overview of the registration process and how to prepare an application. (TL)
EUIPO announces CP12 published and eRegister live – The EUIPO has announced that, after being unanimously adopted by the management board in November 2020, the CP12 Common Practice/Recommendations on 'Evidence in trademark appeal proceedings' has now been published across the European Union. The first convergence initiative in the area of trademark appeal proceedings, CP12 focuses on delivering a set of recommendations in relation to evidence, in particular, types, means, sources and the identification of relevant dates, as well as structure and presentation, and the treatment of confidential evidence. The Common Communication document, which includes the CP12 Common Practice/Recommendations and accompanying information, was simultaneously published on the websites of the EU IP offices on 31 March 2021. The document is available here in all EU languages. On the same day, one year after the launch of its beta version, the first official eRegister went live. The EUIPO's eRegister provides access to historical records of EU trademarks and registered Community designs. (TL)
Domain Radar:
PE firm acquires Donuts Private equity firm – Ethos Capital has completed an investment to acquire a controlling interest of Donuts Inc from Abry Partners. Ethos Capital's initial investment in Donuts, which boasts the largest portfolio of TLDs, was made in 2020 and facilitated the acquisition of Afilias Inc. This latest investment gives Ethos Capital control of the Donuts board of directors. "With extensive operational expertise and significant experience in domain name and related industries, Ethos Capital is the perfect partner to support our mission of reliability, security, and stability, as well as position us for continued success. We look forward to working with the Ethos Capital team and leveraging their expertise as we enter this next phase of growth," said Akram Atallah, CEO of Donuts. (TL)
ICANN provides update on meeting plans – In a recent blog post, ICANN president and CEO Göran Marby has confirmed that the organisation is extending its suspension of travel and face-to-face meetings until 30 June 2021. Marby explained: "In making this decision, we took into account the latest information and advice from the medical community and available scientific data; the rapidly changing and complex travel landscape; and the fact that countries where we operate and may travel to are in different stages of managing the virus. We consider all travel and face-to-face meetings to be high risk activities right now. This extension to our suspension of travel and face-to-face meetings does not impact the status of ICANN's offices, which currently remain closed, and staff are required to work from home. In our phased approach, each office will reopen on its own schedule." (TL)
Media Watch:
MSCHF teases Nike with lawsuit shirt – Earlier this week, WTR reported on Nike filing a lawsuit against art collective MSCHF relating to a 'Satan Shoes' collaboration with Lil Nas X. The limited-edition trainers have proved controversial since they were announced last week, thanks in large part to the satanic theme and use of human blood in the shoes' sole. The lawsuit seeks various things, including damages and the destruction of the items. Less than 24 hours after the lawsuit was filed by Nike, MSCHF began teasing a 'legal fees' t-shirt. The red shirt is adorned with an image of the first-page of the lawsuit and was priced at $66.60. According to Input Mag: "It is not clear yet whether MSCHF will be able to continue its, well, mischievous ways for much longer. Currently, the tweet announcing its 'Legal Fees' tee has been deleted, and the shirt can't be found on the brand's website or app. [However], according to multiple consumers, who received shipment confirmations, MSCHF has started dispatching the lawsuit-inducing footwear." Indeed, the dispatch of 665 (out of 666) of the sneakers was confirmed in MSCHF's response to Nike's lawsuit, which was published yesterday. (TJL)
VW rebrand stunt backfires – Car maker Volkswagen has apologised after an apparent April Fool's joke about a rebrand appeared to mislead consumers and investors. According to the FT, the company announced earlier this week (but days before 1 April) that it was rebranding its US arm to "Voltswagen" to promote its new electric motors. The new name was treated as authentic by various major media outlets and led to a shift in the company's US-listed share price. However, when the hoax was confirmed, the share price fell and – after complaints from media outlets over the "deliberate release of false information" – the company apologised. It comes as no surprise that consumers, investors and journalists believed the rebrand. The company's US Twitter page changed its name and there was even an official quote from VW's regional chief executive Scott Keogh that the name "signifies a nod to our past as the peoples' car and our firm belief that our future is in being the peoples' electric car". (TJL)
On the move:
Hoole joins Appleyard Lees IP LLP partnership – Chris Hoole, a dual-qualified solicitor and chartered trademark attorney, has joined the Appleyard Lees partnership. Experienced in contentious and non-contentious IP matters, Hoole is based in Cambridge and has a strong UK and international client base that ranges from blue-chip multinationals to start-up entities. He joined Appleyard Lees in February 2015 and, reflecting on his promotion to partner, said: "When I reflect on my career with Appleyard Lees, two words resonate most: trust and knowledge. Despite being the first contentious IP solicitor to join Appleyard Lees, the firm has shown unwavering trust in me throughout. I'm extremely grateful for the support I've received on my journey to partnership, and proud to be part of a growing team supported by some of the country's most knowledgeable IP attorneys." (TL)
Greenberg Traurig adds attorneys – Greenberg Traurig has added five attorneys and a patent agent to its IP and technology and life sciences practices. Joining as shareholders are Prashant Girinath and David Steven Harburger in Boston, and Charles Andres in Washington DC. The group joins from Wilson Sonsini Goodrich & Rosati, where they were members of the patents and innovation practice. Also joining the firm are David G Mata and Cecily Wilbanks (both as associates) in Boston, and patent agent Diana Hendricks. (TL)
Withers & Rogers brings on McBride and Bailey – European law firm Withers & Rogers has brought on Fiona McBride as its new chair and Zoe Bailey as its new head of strategic operations. With 30 years' IP experience (20 of those at Withers & Rogers), McBride is well prepared for the new role. She replaces Karl Barnfather. According to the firm, "people and culture, including diversity and inclusivity, is a key area of focus" for McBride, who is "dedicated to strengthening the firm's brand through the delivery of a people-first approach". Elsewhere, Bailey joins the firm from BDO LLP, where she was chief strategy officer. In a recent comment, new chair McBride said: "Although gender makes no difference to a person's ability to perform a role, mine and Zoe's new positions are an important step in the right direction for diversity and inclusivity in the IP industry, which lacks female representation at a senior level." (TJL)
And finally...
Tracking critical industry trends and challenges: WTR needs your views – WTR is inviting trademark professionals across the globe to participate in the latest benchmarking survey, which focuses on operational management to track the latest trends and identify how practice is evolving. There is no cost associated with taking part in the community project, which is designed to give brand experts – both in-house and in law firms – a benchmark for practice management. As well as revealing key trends in the organisation of the trademark function, including finance, structure and headcount, this year we will explore the impact of the covid-19 pandemic on trademark operations. Responses will be treated with full confidentiality. Only anonymised and aggregated information will be used for publication of the survey results by WTR, and your details will not be used for any commercial purpose, nor be shared with third parties.Completion of the survey should take around 15 minutes. The results will be presented on the WTR platform and respondents will receive key findings. The survey form is available here.