More suspicious low-cost trademark filing platforms discovered after USPTO fraud crackdown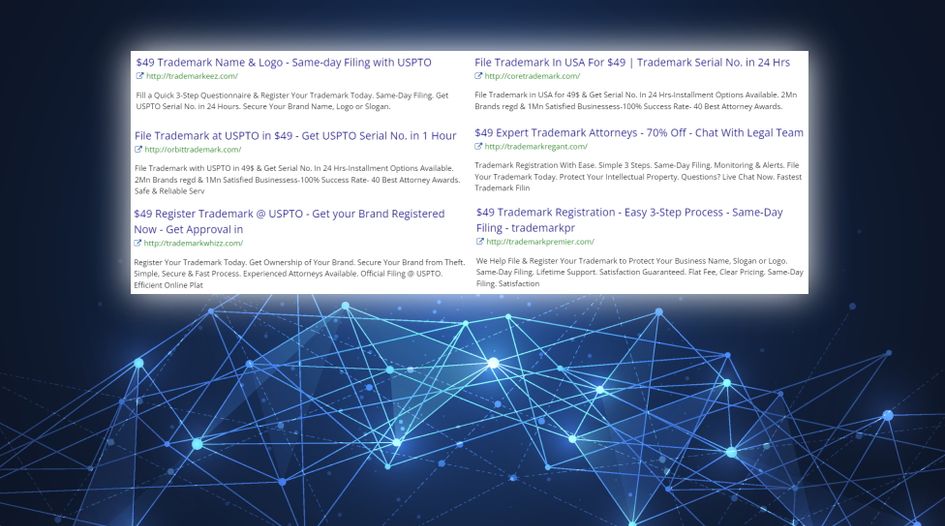 Sites identified with "similar patterns" to entities disciplined by USPTO
The low-cost filing entities are advertising $49 trademarks on Google
Expert claims sites use "absurdist laudatory language" and "fake reviews"
A number of low-cost filing platforms are advertising on trademark-related Google search terms. The entities "follow a similar pattern to entities disciplined by the USPTO", says one legal expert, and should be on the radar of brand owners.
Since February 2021, WTR has reported that the United States has experienced a rise in fraud targeting trademark users via low-cost filing platforms. There was evidence that some of these platforms, including Trademark Terminal, were linked to unusual activity on thousands of US trademark applications and that thousands of dollars were being spent on Google Ads to attract new clients. One victim spoke to WTR about being defrauded out of nearly $150,000. While these platforms claimed to be based in the United States, WTR repeatedly highlighted that they appeared to be based in Pakistan. In July 2021, for example, evidence came to light that directly linked one mass-fraud operation to a Karachi-based IT company called Abtach Ltd. Four months later, the USPTO issued a strongly worded show-cause order to Abtach, accusing it of unprecedented fraud. Last month, Abtach was banned from USPTO practice and had its account blocked by Google.
WTR has now identified at least six new platforms that appear to follow similar patterns to those highlighted by the USPTO in recent months. It is important to clarify that they are not confirmed as being fraudulent or conducting any illegal activity, but their often-striking similarities with past platforms raise suspicion. (WTR has contacted each of the platforms and has received no response.)
The six platforms – Core Trademark ('coretrademark.com'), Orbit Trademark ('orbittrademark.com'), Trademark Eez ('trademarkeez.com'), Trademark Premier ('trademarkpremier.com'), Trademark Regant ('trademarkregant.com') and Trademark Whizz ('trademarkwhizz.com') – were identified via analytics platform SpyFu as currently advertising on trademark-related keywords on Google search. As the examples below reveal, they all share common trends in their advertising techniques – including boasting the ability to secure a trademark registration for $49. In fact, the '$49' figure was nearly always used by the platforms operated by Abtach (examples here). Tellingly, there are also repeated phrases. For example, Trademark Whizz claims in its ad that it offers "official filing @ USPTO", a term that was used on ads by the Abtach-operated platform Trademark Falcon last year.
SpyFu data: recent Google Ads on trademark-related keywords
The websites of the six platforms also share common elements with previously disciplined entities. For example, at least two (Core Trademark and Orbit Trademark) claim to have helped "over 1 million businesses, registered over 2 million trademarks, with a 100% success rate". Going one better, Trademark Premier claims to have helped "2.5 million businesses with over 4 million trademark registrations" (not bad for a website that was registered in November 2021), while Trademark Regant claims to have "helped thousands of businesses and individuals apply for trademarks every year" (its website was registered on the same day in November 2021). Similar filing figures were used by Abtach-operated entities including Trademark Terminal and Trademark Falcon (which claimed "500,000 trademarks filed" on its Google ads).
Further similarities and common mistakes suggest a connection between some of the platforms. For instance, the FAQ page on Trademark Premier includes references to Trademark Eez, suggesting that a copy and paste was made without amending the platform name (screenshot). Elsewhere, both the Core Trademark and Orbit Trademark websites have a near-identical testimonial from "Martina Blanchet", although the image used is of different people (comparison).
Talking this week to WTR, the Ideas Law Firm managing partner Ryan Bethell claims that the entities "follow a similar pattern" to those already identified as fraudulent. "Some of them have addresses that lead to residential areas and aggressive sales by chat box applications on the webpage," he explains. "They offer 100% guarantees and use absurdist laudatory language. They also have fake reviews, sometimes the same as those previously used for different companies, and the reviews never match those that actually appear on TrustPilot."
Indeed, recent reviews on TrustPilot suggest concerning activity. The TrustPilot page for Trademark Premier, for example, includes claims of "fake" reviews and an allegation that the representatives are "scammers". One review claims: "I applied for a trademark for my business and I never received an email or verification that an application was submitted. The phone number on the website is a non-working number and there's a different phone number on their Facebook account. I called to cancel the product using the phone number on my banking statement to request a refund and the 'customer service' department was useless. Do not trust this company!"
Meanwhile, Trademark Whizz has only one TrustPilot review, which again claims that the website is a scam. "These people are quite smart scammers, I am actually impressed," the review states. "They answer phone calls, they answer emails, and they have a street address on their website. They also had enough knowledge of the trademark and copyright filing process... Throughout the entire filing process, I did/could not suspect their intentions. Finally, my experience was that they took about $500 and told me to wait for a few months to receive a filing ID as the whole process will take 12-18 months. When I got suspicious after a few months, I called the USPTO office and they told me that the filing ID is received right away on their online form and there was no filing done for my trademark and copyright certificate whatsoever." On Google, Trademark Whizz has four reviews overall, all of which are one-star. "The website is fake and [a] scam," one user claims. "They don't file any application and [send a] fake electronic certificate with a fake registration number."
The experience of Trademark Whizz users closely follows that of victims of past platforms – where communication often seems legitimate at first but quickly ceases and fake certificates are sent (something also noted by the USPTO's show-cause order to Abtach).
It is unclear whether all of these suspicious platforms are linked to Abtach or whether they are legitimate, newly formed entities. However, Bethell says that Google should be monitoring new  entities cropping up, in case any are not legitimate. "I think Google would be in a position to relatively easily solve it, if they were so inclined," he claims. "They have sophisticated technology that would allow them to flag and review content before allowing them to display paid ads. They could block the IP addresses, assuming the perpetrators are using the same servers. They could also flag all new companies that are advertising on trademark keywords and manually review them prior to displaying ads."
He further notes that the USPTO's new ID verification to access its trademark services "will likely help" to prevent suspicious entities from filing applications – although that will not prevent the scam of charging for trademark services and then ceasing communication. The USPTO's current measures will be "little consolation to the victims of the scam that have already been fleeced because Google served them an ad to a fraudulent company", Bethell notes.
WTR will continue to reach out to these newly discovered platforms and will monitor for entities in the low-cost filing space. Contact us if you have experience with any platforms mentioned in this article or if you have identified any other platforms that may be conducting fraudulent legal activities.