Microsoft phishing problem; USPTO unveils acting chief policy officer; Danone brand review – news digest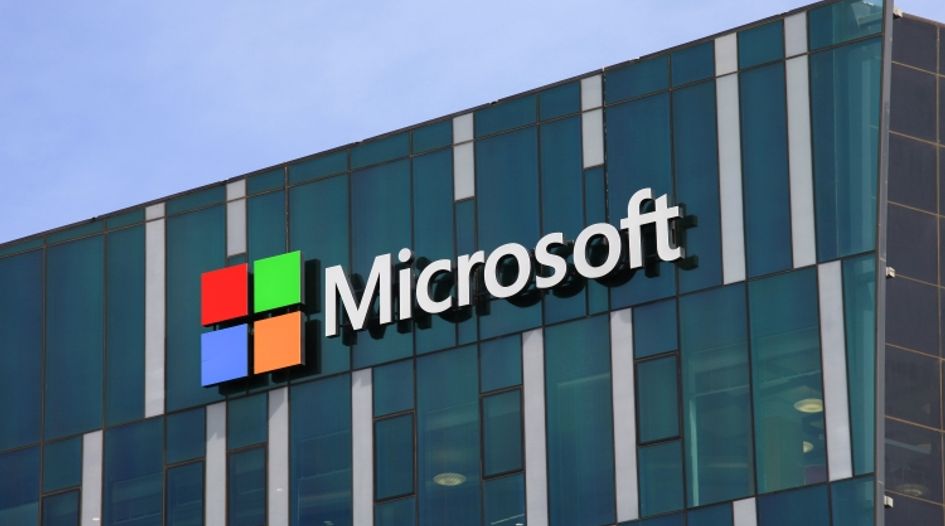 Every Tuesday and Friday, WTR presents a round-up of news, developments and insights from across the trademark sphere. In our latest round-up, we look at the co-founders of Sortify.tm naming and shaming a trademark squatter, the cloud gaming industry on the cusp of IP growth, Italian police taking down a counterfeit wine ring, and much more. Coverage this time from Trevor Little (TL), Bridget Diakun (BD), Joyce Ng (JN), Jonathan Walfisz (JW) and Tim Lince (TJL).
Market radar:
Danone prepares for portfolio review – Danone's is reviewing its entire portfolio for underperforming assets as its share hit a six-year low, reports Bloomberg. CEO Emmanueal Faber is putting businesses that contribute $585 million to revenue up for sale. The company's protein powder brand, Vega, is one of the brands up for sale, and more divestments are in the pipeline. "Danone is way behind the curve," said Duncan Fox, and analyst at Bloomberg Intelligence. "It's been several years of slow growth. The company may need to resort to larger asset sales across its categories for a year of transition in 2021." Danone is not the only major food manufacturer to streamline its portfolio in the face of a competitive grocery market and an increasingly tough economic climate. Coca-Cola is currently carrying out a brand purge, as is Nestle. (BD)
The cloud gaming industry on the cusp of (IP) growth  – A new report from Clarivate, titled 'Cowboys, combat and candy: cloud gaming through the lens of IP', has explored intellectual property and innovations for gaming businesses, supported by research on gaming trends in the UK and US. Most cloud gamers surveyed say they will play 'a lot' (48%) or 'a bit more' (28%) cloud games in the next year, with over 80% of gamers who do not currently play cloud games believing they will start to do so in the next year. According to the research, cloud gamers spend more on in-game purchases per week than non-cloud gamers, while more than half of all cloud gamers prefer paid gaming through a subscription model. Thus the industry looks set for significant growth. In terms of IP, it found that improving the user experience through innovations in cloud infrastructure has seen the most patent activity. As for trademark activity, for major gaming systems the report found that, as the service approaches launch, companies have filed trademark registrations (and if needed, domain registrations), with the public announcement following very quickly, typically within one to three months. As the cloud gaming market expands, though, there could be opportunity for firms seeking to expand their client base.  "In a world that now sees video gaming as its favorite, or at least most lucrative, pastime, cloud gaming represents a huge leap forward," stated Jeff Roy, president, IP, at Clarivate. "By using the behind-the-scenes power of patent, trademark and domain name data to see trends before they hit the market, we have the ability to imagine how this multi-billion-dollar creative industry will shift. Looking at the trends around intellectual property on the business side, we can see that cloud gaming is poised for huge growth over the next 12 months."  (TL)
Italian police take down counterfeit wine ring – Italian police have broken up a ring producing counterfeit Sassicaia wine, according to CNN. This variety is one of Italy's most renowned fine wines and sells for hundreds of euros a bottle. Italian officials said the operation was sophisticated, with wine of lower quality from Sicily being bottled in a warehouse near Milan. The bottles were then adorned with labels and cases from Bulgaria that were nearly indistinguishable from the original. "The bottles and the packaging were perfectly identical to the originals," Dario Sopranzetti, a colonel in the financial police, told reporters. "Even the weight of the tissue paper was the same," he said. An investigation was launched last year when a fake case of the wine was found after falling off a truck. Thus far two men, a father and son, have been placed under house arrest and 11 others have been placed under investigation. Italy has a major issue with counterfeits, with a 2018 report from the Organisation for Economic Cooperation and Development estimating that fake goods cost Italian food and drinks makers 4.2 billion euros in lost sales. According to police, the counterfeiters were labeling the cases under the rare 2015 vintage. They were preparing 1,000 cases for South Korea, where each case could sell for between 1,800-2,400 euros each. It was further found that the counterfeiters were selling a case of the 2015 wine for about 500 euros, which is about 70% less than what the original costs. It is not clear yet how long the operation has been going on, but the group has been producing about 700 cases per month, which brought in around 400,000 euros. (BD)
Microsoft most imitated brand by phishers – According to new research from Check Point, Microsoft is the most imitated brand in phishing campaigns in the third-quarter of 2020. Across all brand phishing attempts studied, 19% featured the imitation of the Microsoft brand, followed by DHL (in 9% of attempts), Google (9%), PayPal (6%), Netflix (6%), Facebook (5%), Apple (5%), WhatsApp (5%), Amazon (4%), and Instagram (4%). In comments following the release of the study, Check Point director of thread intelligence and research, Maya Horowitz, said: "In this past quarter, we saw the highest increase in email phishing attacks of all platforms compared to Q2, with Microsoft being the most impersonated brand. This has been driven by threat actors taking advantage of the mass migration to remote working forced by the COVID-19 pandemic, to target employees with fake emails asking them to reset their Microsoft Office 365 credentials." (TJL)
Legal radar:
Buffalo Bills work with their fans to obtain 'Bills Mafia' mark – NFL team the Buffalo Bills has applied for a trademark for the term 'BILLS MAFIA' at the USPTO, reports USA Today. The name is a long-used nickname of the team that is credited to Del Reid – a supporter who coined the term and has produced shirts and other apparel to promote the group. The team's move to gain the trademark has been conducted with attention to the grass-roots origin of the name, working alongside Reid to obtain the trademark. "Honestly, the fans built this entire movement," Reid said in a promotional video. "We built this movement. The team is now embracing it. It's surreal. It's like a dream come true. We've always said: 'Mafia means family' so it's investing in each other and building each other up and supporting the team and all of that because in Western New York, the Buffalo Bills are the extra family members in every household." (JW)
Sortify.tm co-founder names and shames alleged New Zealand trademark squatter – Narly Kalupahana, a director at Potter IP and co-founder of Sortify.tm posted a screenshot on LinkedIn of a trademark applicant's attempt to obtain multiple luxury marks. The applicant, Rui Wang, has applied for multiple including Hermès, Karl Lagerfeld and Patek Philippe. On the post, Kalupahana suggests their attempts "might not end so well…" and the trademark community on LinkedIn seems to make sure that's the case with one commentator saying they'd informed Hermès' external legal counsel. (JW)
Office radar:
(For more of the latest coronavirus-related updates from national IP offices, please read our dedicated article which is being continuously updated)
USPTO unveils acting chief policy officer – The USPTO has announced that Mary Critharis has been appointed the acting chief policy officer and director for international affairs. Critharis first joined the USPTO as a patent examiner in 1992 and in her new role will serve as a policy advisor to the under secretary of commerce for intellectual property, and oversee the USPTO's domestic and international intellectual property policy activities; legislative engagement, through the Office of Governmental Affairs; education and training, through the Global Intellectual Property Academy; global advocacy, through the IP Attaché Program; and economic analysis, through the Office of the Chief Economist. Critharis will serve in this role as the USPTO continues the process of identifying a permanent replacement for Shira Perlmutter, who was recently selected to lead the US Copyright Office as the nation's 14th US Register of Copyrights. (TL)
Domain Radar:
ICANN responds to European Data Protection Board's public consultation on guidelines on the concepts of controller and processor – The Internet Corporation for Assigned Names and Numbers (ICANN) has responded to the European Data Protection Board's (EDPB) public consultation on its Guidelines 07/2020 on the concepts of controller and processor in the GDPR. The EDPB is an independent European body whose purpose is to ensure consistent application of the General Data Protection Regulation (GDPR) and to promote cooperation among the European Union data protection authorities. As we reported earlier this month, the issue of controllership has been central to discussions over the development for a system of standardised access to WHOIS data.  In ICANN's response to the public consultation, it identified three areas where clarity would be beneficial: A precise attribution of 'control' to particular stages in the processing under a micro-level analytic framework; When and how 'control' is inferred from a contract, absent a party's actual involvement in processing contemplated under any such agreement, and; on the newly introduced concept of "converging decisions." The full response submitted by ICANN org is available here. (TL)
On the move:
Buchalter boosts intellectual property practice with double hire – Buchalter has announced the addition of five new attorneys to the firm, two of which, C Dennis Loomis and Stacey Ravetta, have joined the intellectual property practice group as members. Loomis has over 25 years of experience representing a variety of clients from major entertainment entities to internet service providers. He is a strategic advisor and litigator, counseling clients on matters relating to intellectual property, complex business disputes and transactions. Loomis will be based in Buchalter's Los Angeles office. Ravetta practices in both the intellectual property and corporate team. She helps clients with a range of intellectual property issues, including acquisition, development, due diligence, commercialisation, licensing, as well as business transactions involving IP. Ravetta will be working out of the Seattle office. (BD)
Demarest announces new data privacy and intellectual property partner– Brazilian firm Demarest has announced the arrival of Eduardo Magrani as partner. Magrani joins the intellectual property and innovation, and data privacy and cybersecurity, teams and will draw on his experience in data protection, digital law and intellectual property. Magrani is president of the National Data Protection Institute and founding member of the Data Protection Commission at the Rio de Janeiro Brazilian Bar Association. He was a co-developer of the first comprehensive internet law in Brazil,: Marco Civil da Internet, and is also the author of several books on digital culture. "With the Brazilian General Personal Data Protection Law becoming enforceable in September, companies require and will require continuous adaptation. Reinforcing our privacy area is a strategic step to meet all the demands of the market", says Paulo Rocha, managing partner at Demarest. (TL)
TMOA announces new chair of the board – The Trademark Owners Association (TMOA) has announced that Charlie Cannell has been appointed as the chair of its board of directors. Cannell was previously digital director at private Equity firm Inflexion and co-founder of wireless charging platform Chargifi, and continues as chairman of Moteefe. Cannell said: "I'm excited to be joining TMOA. I share their vision to democratise intellectual property and make services, previously only available to large corporates, available to everyone – affordable, accessible, and predictable. We live in an age of ideas and ingenuity where the availability of customisable digital tools means more people can turn their ideas into reality and develop exciting new products and services. The challenge today is protecting those ideas. TMOA helps do exactly this, and I'm thrilled to be involved." (TL)
Kilpatrick strengthens life sciences patent litigation team – Kilpatrick Townsend has onboarded a national life sciences patent litigation team with hires in New York, San Francisco and Seattle. April Abele Isaacson has been appointed to partner within the San Francisco office, while Abby Markeson has joined as counsel in Seattle. Brian David O'Reilly and Michael Enzo Furrow have joined as partners in New York and Erica W Kuo has been appointed to counsel. Isaacson, O'Reilly, Kuo and Furrow all join from DLA Piper. The team specialise in biopharma patent services. (BD)
Taylor English adds intellectual property partner in North Carolina – Phil McCann has joined Taylor English's intellectual property practice in North Carolina as a partner. McCann counsels clients on patent and trademark infringement and patent licensing issues and also helps with the management of patent and trademark portfolios. (BD)
And finally...
Leading corporate trademark teams recognised – This month the winners of the WTR Industry Awards 2020 were announced in a series of online ceremonies. Among those honoured were teams from 3M, Amazon.com, Daimler, Entertainment One, MF Brands Group, Tommy Hilfiger, Unilever, Verizon and Western Digital. Now in their 14th year, the WTR Industry Awards recognise the vitally important work carried out by in-house trademark counsel and identify those teams and individuals that are performing their functions to the highest possible standards. The winners reveal usually takes place following an exclusive champagne reception during the INTA Annual Meeting but this year everything is, of course, different. Therefore, today we hosted a series of virtual awards ceremonies online. While the format was different, the winners – and indeed the teams that made the shortlist – deserve the greatest celebration for the high level of work that they have undertaken and the contributions that they have made to both their enterprises and the wider trademark environment. This year's In-house Leader of the Year was Ali Buttars, head of trademarks at Netflix. The recipient of this year's other individual award, the Lifetime Achievement Award, was Mary Boney Denison, who retired from her position as USPTO commissioner for trademarks at the end of 2019. The full winners list is available here.