Marillyn Hewson named world's best brand guardian, but ranking remains dominated by men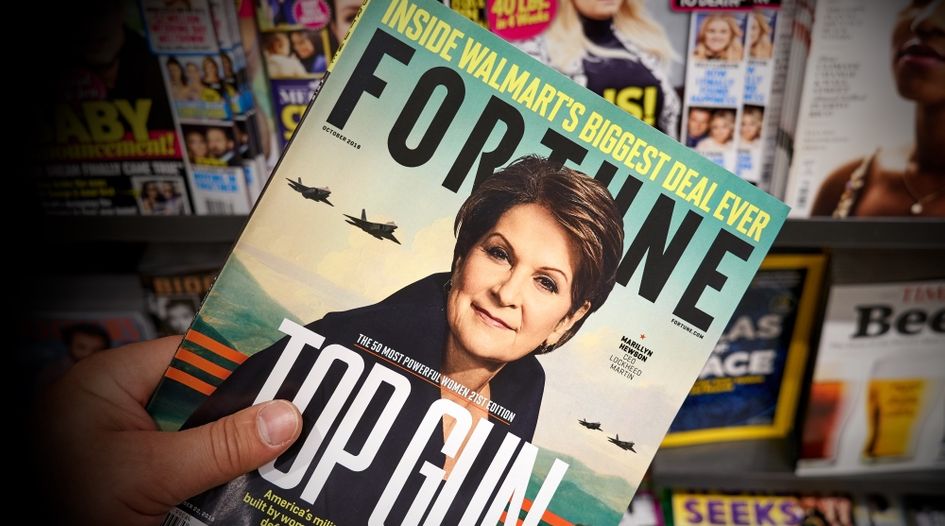 Brand Finance list ranks CEOs of high value companies as 'brand guardians'
CEO of Lockheed Martin one of just four women in top 100 list
Amazon CEO Jeff Bezos sees ranking plummet over last 12 months
The CEO of Lockheed Martin, Marillyn Hewson, has been named the "world's best brand guardian" in a new report from Brand Finance. While a notable jump (Hewson did not make the list last year), she is one of just four women on the top 100 ranking – highlighting the stark gender disparity that exists at the higher echelons of company management.
The Brand Guardianship Index (BGI) is released today at a World Economic Forum event in Davos, and scores CEOs on such factors as their success in investment, guardian equity and business performance, providing an overall BGI points total. The top 20 is as follows:
Marillyn Hewson, Lockheed (BGI score 72.2)
Bernard Arnault, Louis Vuitton (72.1)
Michael S Dell, Dell (69.6)
Ma Huateng, Tencent (69.2)
Tim Cook, Apple (68.9)
Christopher J Nassetta, Hilton (64.6)
Reed Hastings, Netflix (63.2)
Satya Nadella, Microsoft (62.6)
Arne M Sorenson, Marriott (62.4)
Akio Toyoda, Toyota (61.3)
Mark Zuckerberg, Facebook (60.9)
François-Henri Pinault, Kering (60.6)
Jean-Paul Agon, L'Oreal (60.4)
Emmanuel Faber, Danone (60.1)
Takahiro Hachigo, Honda (59.1)
David P. Abney, UPS (57.9)
Fabrizio Freda, Estee Lauder (57.6)
Volkmar Denner, Bosch (57.4)
Daniel Zhang, Alibaba (57.2)
Ben van Beurden, Shell (57.0)
Topping the list is Hewson, who joined Lockheed Martin more than 35 years ago as an industrial engineer and has subsequently held several executive and operational leadership positions at the company, becoming CEO seven years ago. In 2019, Time magazine identified her as one of the "100 Most Influential People in the World," and Fortune magazine ranked her at the top of its list of "50 Most Powerful Women in Business" for the second year in a row. Brand Finance's report notes that, over the past seven years, she has presided over a 14% increase in Enterprise Value and "led the charge for the defence brand's position as a leader in security, aerospace, and technology".
As such, it should not be a surprise that she tops the list. David Haigh, CEO of Brand Finance, states: "Great brands need great leaders. They set and direct brand purpose and balance short and long-term financial returns. Their role is to gauge the mood of external stakeholders and ensure that all internal stakeholders behave in a way that is consistent with optimising purpose and profit. They may be technical experts, but the moment they become CEOs they must rise above technical specialism to lead and inspire the whole team."
Hewson clearly ticks all of those boxes. However, what will also perhaps not be a surprise – yet remains a depressing reality – is that she is one of only four women on the top 100 list. Therefore, while Haigh characterises her placement at the top as "a formidable achievement", it should not be taken as a sign that gender disparity at the upper echelon of company management is being addressed.
Last year, three women appeared in the top 100 – IBM's Ginni Rometty, Mary Barra of General Motors and KPMG's Lynne Doughtie. This year, the former two retain their places in the top 100, with another new entrant being healthcare services brand Anthem's president and CEO Gail K Boudreaux.
As noted, 4/96% gender split at CEO level is a depressing ratio but is unfortunately not divorced from the current reality of management staffing. In the most recent Fortune 500 list, published last May, the headline was that a new record had been achieved in terms of the number of the highest-grossing firms being led by female CEOs. That was the good news. The bad? That number was just 33 – or 6.6% of the total (up from 24/4.8% the previous year).
The Brand Finance ranking does not focus specifically on the Fortune 500 list, and is not a definitive list of the world's top CEO brand ambassadors – it is focused on a finite universe of brands, specifically those that boast the most valuable brand portfolios. However, it can only reflect reality and, until CEO leadership becomes more diverse, it will be fated to remain a male-dominated list.
As to other notable trends on this year's list, we are able to track the impact of personal life upheaval on CEO perceptions. Last year, Amazon CEO Jeff Bezos topped the BGI list. Subsequently, he went through a high-profile divorce, having to reassure employees that he was "as engaged and focused" on the company as ever. However, this year he plummeted to 55th place on the list – showing how external dimensions can impact the perception of brand leaders, even if not the brand itself (Amazon becoming the first brand to exceed $200 billion in brand value this year).
Turning to the geographical breakdown of the top 100 CEOs, by country of incorporation, this was as follows: United States (46), Greater China (11), France (8), Germany (6), Japan (6), Netherlands (4), Canada (3), Sweden (3), United Kingdom (3), India (2), Italy (1), Belgium (1), Russia (1), Spain (1), Switzerland (1), Malaysia (1), Saudi Arabia (1), UAE (1).
This represents a jump for the US (last year the top 100 boasted 37 CEOs from companies incorporated in the country) and a drop of 12 for China. Regionally, while CEOs from MENA  companies were absent 12 months ago, two join the ranks this year - Dr Sultan Ahmed Al Jaber, group CEO for Abu Dhabi National Oil Company (who the report notes has "overseen a significant business transformation", unifying the groups operating companies under a single corporate brand and embedding digital technology initiatives across the organisation) and Amin Nasser, CEO of Saudi Aramco, the world's largest publicly traded company after the oil brand raised US$25.6 billion through its IPO in early December 2019.
The list provides insight into the importance of brand vision, engagement and example-setting at the highest levels of company management, illustrating how this can impact ultimate brand perception and value. However, it also shines the spotlight on the gender disparity that exists at this level. Unfortunately, that won't change overnight but the hope is that projects like Brand Finance's BGI ranking and the Fortune 500 list will go some way to at least keeping that disparity in the headlines until the day when it no longer needs to be.