Mariah Carey trademark dispute; Mars Wrigley signs deal with Brand Central; Nigeria counterfeits update – news digest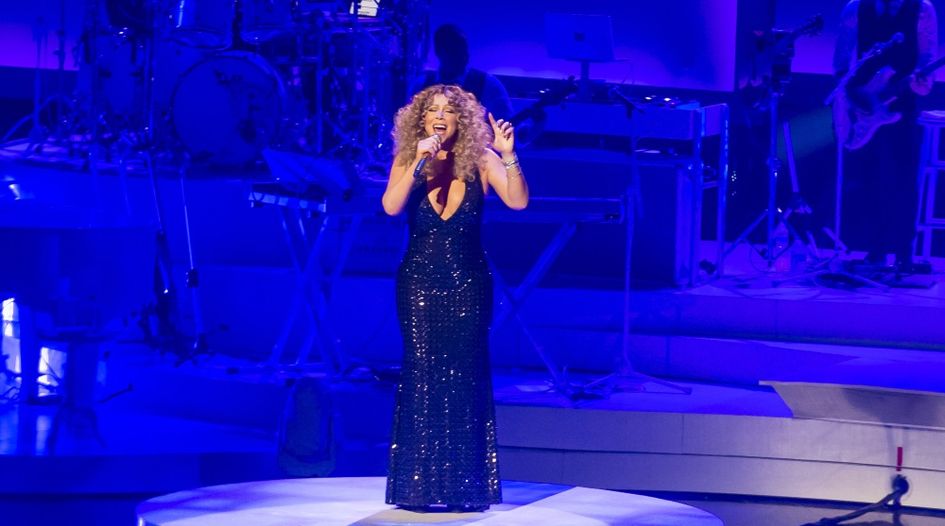 Every Tuesday and Friday, WTR presents a round-up of news, developments and insights from across the trademark sphere. In our latest round-up, we look at China seeking comments on a new judgement standard, the Ayla trademark dispute being revived by the Ninth Circuit, the Costa Rica IP office aligning with CP6, and much more. Coverage this time from Victoria Arnold (VA), Bridget Diakun (BD), Tim Lince (TJL) and Trevor Little (TL).
Market radar:
Nigerian food and drug administration calls for stronger counterfeit deterrent – The Nigerian National Agency for Food, Drug Administration and Control (NAFDAC) has appealed to the judiciary for stronger penalties against counterfeiters and to the National Assembly for the Counterfeit Medical Product Bill to be passed to ensure that such penalties serve as an effective deterrent. According to NAFDAC Director General Moji Adeyeye, illicit traders capitalise on the weakness of the current law through the sale of falsified and expired medicines, cosmetics and unwholesome food products. Adeyeye has therefore appealed to the judiciary to take a stricter stance and apply the maximum penalty under the law to deter counterfeiting activity. The NAFDAC seized and destroyed over N5 billion-worth of offending products – including fake antibiotics, antihypertensive drugs, antimalarial drugs, herbal remedies, controlled substances and food products – in the space of five months, Adeyeye reported. The crackdown is part of an effort "to mop up expired drugs and unwholesome food products with a view to safeguarding the health of the Nigerian people", she said, before appealing to community organisations and the media to continue to educate the public on the dangers of counterfeit goods. (VA)
China seeks comments on judgement standard – King & Wood Mallesons' Zhou Xiaoli and Shen Jinjie have taken a deep dive into the draft judgement standard for general trademark violations, which has been published for comment by the China National IP Administration (CNIPA). The standard aims to strengthen operational guidance on trademark enforcement and unify enforcement standards. Among other things, it refines the criteria for the prohibition of use as a trademark and provides that the general awareness of the Chinese public will be used as the standard of judgement in determining whether an unregistered mark is "a sign that may not be used as a trademark". The comment window closes on 1 October 2021. Xiaoli and Jinjie's full analysis of the standard is available on Lexology. (TL)
Fiji looks to the future – Also on Lexology, Davies Collison Cave's Nick Holmes has posted an update on the new Fijian Trademarks Act 2021, which was gazetted on 20 August 2021. The new act introduces a raft of updates, including the adoption of the Nice Classification of Goods and Services. Characterising the move as "a very welcome update to intellectual property law in the South Pacific", Holmes concludes: "There is no certainty regarding its commencement date, but trademark lawyers will be hoping that it is sooner rather than later." (TL)
Brand radar:
Mars Wrigley signs deal with Brand Central – Mars Wrigley has chosen Brand Central to extend its brands into new food, beverage and merchandise consumer product categories, reports License Global. "After a thorough search, we are thrilled to select Brand Central as our licensing agency," said Leslie Philipsen, director, local brands and licensing at Mars Wrigley. "We feel that Brand Central has the strategic initiative and expertise to bring new opportunities to our brands." Commenting on the agreement, Brand Central CEO Ross Misher said: "It is the dream of any licensing agency to represent Mars Wrigley – a portfolio of some of the world's favourite brands with enormous brand affection. The opportunities are tremendous and the demand is high. We are thrilled to help them extend into strategic new food and beverage categories and on-trend merchandise that will expand brand footprint and enhance brand love." (BD)
Kool-Aid and PUMA team up for footwear and apparel collaboration – Kool-Aid and PUMA have joined forces to launch a series of new footwear and apparel products. The footwear collection includes PUMA's Clyde, Suede and Wild Ryder shoes with vintage Kool-Aid colours. The apparel collection features tie-dyed t-shirts and sweatshirts with the PUMA logo printed on the front and Kool-Aid Man on the back. (BD)
ESPN seeks sports-betting licensors – ESPN, a subsidiary of Walt Disney, is looking to license its brand to major sports-betting companies as it seeks to take advantage of the high-growth online betting industry. It has held talks with Caesars Entertainment and DraftKings, but a deal is not guaranteed. (BD)
Legal radar:
"All the expenses of the proceeding" excludes expert witness fees, rules Federal Circuit – "All the expenses of the proceedings" in civil litigation under Section 145 of the Patent Act does not include expert witness expenses, the Federal Circuit has ruled in Hyatt v Hirshfeld. Relying on the recent Supreme Court decision in Peter v NantKwest Inc, which outlines the longstanding American Rule presumption against fee-shifting without "explicit and specific" Congressional intent to the contrary, the court found no such indication in Section 145 or its legislative history. Therefore, it affirmed the district court's denial of an award of USPTO expert witness fees, ruling that – despite the longstanding practice of awarding such fees – the USPTO's arguments were not persuasive enough to overcome the high bar absent "explicit and specific" intent. (VA)
Ayla trademark dispute revived by Ninth Circuit – Australian skincare company Alya Skin must face revived US claims that it infringed trademarks belonging to San Francisco-based beauty brand Ayla, reports Reuters. In a decision reversing a California federal court dismissal of the case, the Ninth Circuit has ruled that Alya's commercial activity in the United States justifies federal jurisdiction, given that 10% of its sales are to US consumers, its only distribution centre outside Oceania is in Idaho and it advertises the fact that its products have been approved by the US Food and Drug Administration. Alya's marketing, sales and operations therefore "reflect significant focus on the United States", the court stated, reviving the dispute over likelihood of confusion between the brands. (VA)
Mariah Carey puts pressure on Irish drinks company over Black Irish cream liqueur – Irish drinks company Darker Still Spirits Co is having to defend itself against claims of lack of genuine use of its trademark BLACK IRISH, following the release of Mariah Carey's Black Irish Cream Liqueur. The team behind Carey's new product reportedly approached Darker Still – which took over the BLACK IRISH EU and UK trademarks (first registered in 2015) on its establishment in 2020 – in an attempt to acquire the mark but failed to secure a deal. "It is unprecedented that we are defending our position against a US company, within an Irish industry that we have helped support for over 30 years," stated Darker Still director David Phelan. The company's Black Irish product was launched in 2020 and blends two of Ireland's most famous exports: stout and whiskey. Carey's Black Irish Cream Liqueur was announced on Instagram this month and takes its name from the singer's dual heritage. Irish Cream is also an EU GI, which must be produced in Ireland and must contain Irish dairy cream and Irish whiskey. This begs the question of how Carey could produce her product in Ireland without the relevant EU trademark permissions, argues Phelan. "What is certain is that we will continue fighting any trademark objection whilst also engaging with the European Commission in regards to specific legalities surrounding Irish cream production," he said. (VA)
Office radar:
(For the latest coronavirus-related updates from national IP offices, please read our dedicated article, which is being continuously updated.)
Costa Rica IP office aligns with CP6 – The National Registry of Costa Rica (RN) has published a practice paper on the graphic representation of industrial designs. The EUIPO explains that the paper comes after the organisation found common ground with the criteria developed under the Common Communication on the Common Practice – Graphic Representation of Designs (CP6). It states: "The practice paper provides a clear and comprehensive explanation of the principles on which the practice of the RN and the IP offices of the European Union Intellectual Property Network is based, particularly on how to use appropriate disclaimers, types of views and how to represent designs on a neutral background. The publication of the practice paper will serve as a reference to users and examiners of the IP offices involved, but also to any other interested parties." (TL)
Philippines filings rise by 23% – The IP Office of the Philippines (IPOPHL) has revealed that trademark filings rose by 23% in the first half of 2021 compared to the previous year. The IPOPHL received 19,649 trademark applications in the first six months of the 2021, compared to 15,969 the previous year. Most of this year's applications related to pharmaceuticals, health and cosmetics (5,786), agricultural products and services (5,473), scientific research and information and communication technology (4,204), management communications, real estate and financial services (3,614), and textiles, clothing and accessories (2,865). The increase "is a strong indication that some businesses in the Philippines are recovering and seeing the importance of IP as a competitive tool," said IPOPHL director general Rowel Barba, responding to the growth. (TJL)
Domain Radar:
A good six months for Radix – TLD company Radix experienced a surge in demand for premium domains in the first half of 2021, its related revenues up 40% compared to the same period last year, reports Domain Name Wire's Andrew Allemann. The company generated approximately $2.91 million in retail premium domain revenue in the first half of the year – the most that it has ever generated in such a period, Allemann writes. In terms of the TLDs themselves, '.store' accounted for the highest number of new premium registrations, while '.tech' generated the biggest retail premium registration revenue; its 314 premium registrations sold for an average of around $1,150 each. (TL)
ICANN to discuss future financials – ICANN has announced it will run a webinar on the planning process for its FY23-27 Operating and Financial Plan and FY23 Operating Plan and Budget on 15 September. "During the webinar, the ICANN Planning team will discuss the FY23 planning assumptions, process, and timeline," it notes. "There will be an opportunity to ask questions. In addition to the webinars, the community has further opportunity to participate in this planning process. The draft plans will be published for public comment in early December 2021." (TL)
Law firm radar:
Greenberg Traurig adds shareholder to IP team – Greenberg Traurig has appointed John P Sullivan Jr as shareholder within its IP and technology practice. "We're absolutely delighted that John has chosen to join Greenberg Traurig, especially for this market," said Curtis B Toll, managing shareholder of the Philadelphia office. "Given this region's dynamic growth in the education and life sciences industries, John provides exciting opportunities for growth for the Philadelphia office. John will be a great conduit, directly plugging our local, national, and global clients into our firm's top tier corporate and IP practices." Sullivan previously practised at Buchanan Ingersoll & Rooney. (BD)
Tailored Brands' in-house counsel joins Hopkins & Carley – Lynn Humphreys has joined Hopkins & Carley as of counsel. Humphreys will become a member of the firm's IP group, with a focus on trademark and copyright matters. Before joining the firm she acted as senior corporate counsel for intellectual property at Tailored Brands Inc, the parent company of the Men's Wearhouse brand, and of counsel at Morrison & Foerster in San Francisco. (BD)
In-house vacancies radar:
Treasury Wine Estates – Treasury Wine Estates, which last week was named Asia-Pacific Team of the Year at the 2021 WTR Industry Awards, is seeking an IP and trademark specialist. Reporting to the global director of intellectual property and with oversight from the global IP portfolio manager, the successful candidate will provide technical support to the IP team by advising and assisting in the prosecution and management of its IP portfolio, as well as providing general administrative support to the broader legal, company secretary and insurance teams. The company is therefore seeking candidates with deep experience as trademark administrators or IP specialists within a top-tier law firm. (TL)
And finally...
WTR events to take place in Europe and the United States – WTR is hosting a series of one-day events in London, San Francisco, Chicago and New York this December. WTR Live: The Future of Trademark Management and Brand Protection will facilitate discussion, benchmarking and the sharing of best practice around key topic areas and challenges facing brand leaders. Crucially, it will offer a glimpse into what industry leaders expect the future of trademark practice to look like. Registration is free to in-house brand professionals. Spaces are limited and should we be unable to host the event, registration fees will be fully refundable. While on site, we will be adopting the All Secure Standard to ensure that all attendees can continue to do business effectively and network with their peers safely. For full details, and to reserve a place, see the official event page.