Maradona trademark dispute; Afghanistan IP office resumes operations; Ghana joins Geneva Act – news digest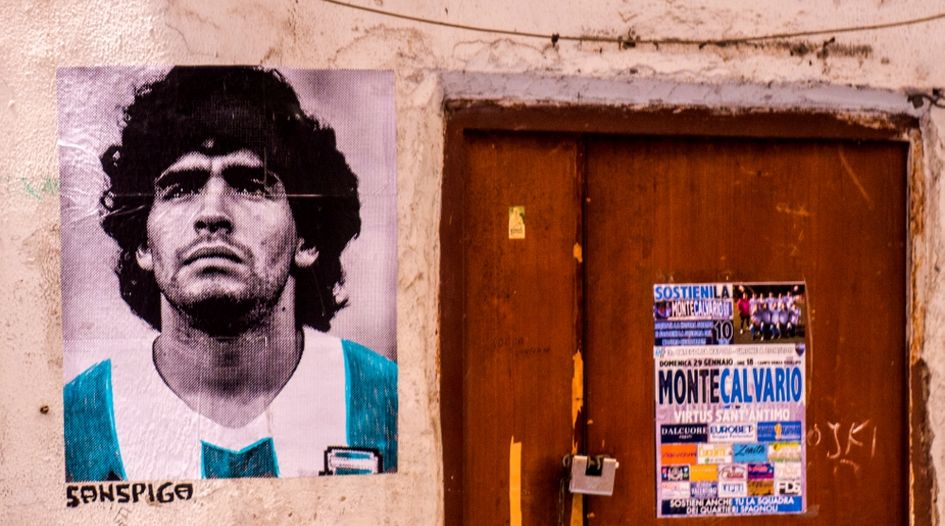 Every Tuesday and Friday, WTR presents a round-up of news, developments and insights from across the trademark sphere. In our latest round-up, we look at Chinese buying agent WeGoBuy launching an offer to users of a counterfeits forum, how independent fashion brands are combatting fake goods, PepsiCo being ordered to cease use of its 'Rise' name, and much more. Coverage this time from Victoria Arnold (VA), Bridget Diakun (BD), Tim Lince (TJL) and Trevor Little (TL).
Market radar:
WeGoBuy launches offer to users of replica forum – Chinese buying agent WeGoBuy has launched an "exclusive 11/11 offer" to users of the 'FashionReps' forum on Reddit, the largest online message board for buyers of counterfeit goods. The official WeGoBuy account claims that the offer is a $1 million giveaway (with a maximum of $90 per person) for anyone making an order on WeGoBuy from 1 November 2021. "Hi rep families, this is the 2nd formal year of WeGoBuy celebrating the Chinese Marketing Holiday with r/fashionreps," the WeGoBuy representative said. The exclusive offer follows concerns that WeGoBuy is "helping to make buying counterfeits more convenient for international consumers and therefore worsening the battle against fakes", according to a recent WTR article. (TJL)
How independent fashion brands are combatting fakes – Vogue has taken a deep dive into how smaller fashion companies are "struggling to prevent the flow of counterfeits and lookalikes" of their bestselling items. With limited budgets and anti-counterfeiting resources, some independent brands are being canny in their attempts to fight back against fakes. For example, South Korean streetwear brand Goodboy changes its logo each season "to create an element of surprise", which has "proven to be a useful anti-counterfeiting strategy". Further, independent brand House of Sunny – a "social media favourite with more than 620k followers on Instagram" – is reportedly "making its designs more intricate to deter counterfeiters". Specifically, the brand "is using mixed media, including leftover cuttings from past collections, to add patchwork details to its knitwear that are harder to replicate, particularly at a low price point". One House of Sunny representative explains: "We can't really stop [the lookalikes], but they are going to look like trash in comparison." (TJL)
Cambodia massive counterfeit destruction – The Cambodian Commerce Ministry's General Department of Consumer Protection, Competition and Fraud Repression has destroyed 50 tonnes of seized counterfeit goods, according to the Khmer Times. The fake goods were "burned and buried", with items including fake sanitisers, methanol, wine and other chemicals. At least three people have died from drinking counterfeit wine (with a high methanol content) in the past month, according to Consumer Protection spokesman Seng Thai. "Our authorities confiscated 347 plastic bags and 76 plastic containers equal to 4,275 litres as well as 358 kilogrammes of bad-quality food seized from markets and warehouses," Thai added. (TJL)
Maradona trademark dispute set to spill over into videogame world – An ongoing trademark dispute could see Diego Maradona removed from EA's popular FIFA 22 game, reports Argentinian news website Infobae. As The Gamer expands, EA had negotiated a deal to use Maradona's name and likeness rights with his former manager, Stéfano Ceci. However, Ceci could not prove that he possessed the legal powers needed to sign such an agreement in a trademark dispute with Sattvica, a company established by Maradona's lawyer, Matias Morla, to protect the brand. As a precautionary measure, the judge has asked EA to cease use of the Maradona brands on specific offerings, including FIFA 22 and FIFA Ultimate Team. (TL)
LuxFi announces asset-backed NFT marketplace – LuxFi has launched an asset-backed non-fungible token (NFT) marketplace, which it states will introduce a new way of unlocking the true value of luxury assets. The platform "makes luxury assets more accessible than ever before, providing an alternative purchase method that has the consumer in mind", a press release from the company states. There are also anti-counterfeiting benefits, it adds. "Counterfeit items contribute to various price fluctuations and a general lack of information regarding different products, which is not ideal for any party involved. NFT technology helps avoid counterfeit items through immutable identification. When a luxury item is registered on the LuxFi blockchain, its information records and trading history ensure counterfeit items have no place in the ecosystem… Of course, all digital assets are represented by their physical counterparts in the real world. As an asset-backed NFT, this blend of digital and physical technology, otherwise known as 'phygital', can help create a new, more accessible and seamless experience for all." Thus, after buying an asset-backed NFT on the marketplace, users can redeem an authenticated physical asset that is tied to their NFT through product fingerprint technology. By scanning the unique product fingerprint or anti-forgeable NFC chip in the items, buyers can view the product history and information securely stored on the blockchain. (TL)
Brand radar:
Moose Toys accelerates consumer products licensing programme for Magic Mixies – Moose Toys is looking to elevate its Magic Mixies Cauldron brand through the acceleration of a global consumer products licensing programme with agents across key territories, as well as enacting a content plan through strategic entertainment partnerships, reports License Global. "Magic Mixies will be the next mega franchise to launch from a hit toy," says Paul Solomon, co-owner of Moose Toys. "We're looking forward to seeing the magic our partners bring to a vast array of consumer products through our world-class global licensing and entertainment programs." Moose Toys has enjoyed phenomenal success since it launched its Magic Mixies Cauldron products this autumn. "The worldwide excitement surrounding Magic Mixies has been extraordinary," says Solomon. "We planned an incredibly aggressive forecast, but sales have far exceeded what we imagined. We tripled our forecast knowing this product was going to strike a chord with kids and their parents." The company is even expecting a complete sell-out given the high number of preorders and early sales. (BD)
Le Creuset partners with Warner Bros for Harry Potter cookware collection – Le Creuset has teamed up with Warner Bros consumer products to launch a limited-edition Harry Potter-inspired cookware collection. "The experience of cooking and sharing a memorable meal with loved ones is pure magic," says Paul van Zuydam, owner of Le Creuset. "We are thrilled to team up with Warner Bros Consumer Products to bring that magic to life through an extraordinary collection that combines the adventurous culinary world with the fantastic imaginative Wizarding World. Chefs and Harry Potter fans alike will now be able to express their inner creativity as they transform humble ingredients into spectacular dishes." (BD)
Legal radar:
PepsiCo to cease use of Rise name amid ongoing caffeine dispute – PepsiCo must cease use of its Mtn Dew Rise name for morning energy drinks due to an ongoing trademark dispute with canned-coffee maker Rise Brewing, a US federal court has ruled. The court held that Rise Brewing's bid for a preliminary injunction was likely to succeed on claims that PepsiCo's product, launched in March, would cause customer confusion and poses an "existential threat" to Rise Brewing's business. The decision prohibits PepsiCo from using the Mtn Dew Rise name commercially and from selling products under any other name that would be confusingly similar to Rise Brewing's RISE trademarks until the dispute has been resolved. PepsiCo argued that expert survey evidence showed that confusion between the marks was unlikely as Mtn Dew Rise is a fruit-flavoured energy drink, rather than a coffee product. However, the court questioned PepsiCo's evidence, stating that "survey results may be particularly unreliable" where the disputed marks have only been simultaneously used in commerce for a short period. Instead, the court found that both trademarks highlight the single word 'Rise', are displayed on the drinks packaging in similar ways and are used on similar products – namely, canned, caffeinated drinks. The court also held that Rise Brewing had proven that it would suffer substantial harm without an injunction, noting that an investor had ceased investing in the company due to the likelihood of confusion with PepsiCo's product. The ongoing dispute has created a significant roadblock to PepsiCo's recent efforts to tap into the energy drink market, which has experienced steady growth for more than a decade. The ruling is a reminder to litigants that survey evidence must be substantial if it is to carry any weight. (VA)
Office radar:
(For the latest coronavirus-related updates from national IP offices, please read our dedicated article, which is being continuously updated.)
Afghanistan IP office back to full operation – The Afghanistan Trademark Office has resumed full operation following an interruption due to the political situation in the country, according to law firm Saba IP. The registry "follows the 10th edition of the Nice classification, and trademark examination is performed on formal, absolute, and relative grounds", the firm notes. It is now accepting new trademark applications and has resumed the processing of pending applications. (TJL)
SME initiative reveals take-up and demand for trademarks – The EUIPO has revealed that its Ideas Powered for Business SME Fund initiative, which grants financial aid for IP matters, has provided support to 12,989 SMEs across all 27 EU countries since its launch in January 2021. The joint effort between the EUIPO, the European Commission and EU national IP offices has resulted in more than 2,000 trademark and 5,000 design grants being requested at national, regional and EU level. The largest number of applications have come from companies based in Germany (1,401), Spain (1,365), Poland (1,348) and Italy (1,295), the office notes. The application period for the SME Fund is now closed, but the EUIPO is working on an expanded multi-annual programme that will continue to offer support into the future. (TL)
Ghana joins Geneva Act – Ghana has joined the Geneva Act of WIPO's Lisbon Agreement on Appellations of Origin and Geographical Indications. The act will enter into force in Ghana on 3 February 2022. Accession will enable Ghanaian producers to protect GIs such as Bolgatanga baskets, Dzomi red palm oil, shea butter and cocoa. The instrument of accession was deposited with WIPO Director General Daren Tang by Attorney General and Minister for Justice Godfred Yeboah Dame on 3 November. (VA)
Domain Radar:
ICANN73 to be virtual, but ICANN74 aims to go hybrid – ICANN has announced that ICANN73, originally scheduled to take place in Puerto Rico, will now convene as a virtual community forum meeting due to the continuing impact of the covid-19 pandemic. "While there has been progress that might make it feasible to plan for and convene a meeting in San Juan, Puerto Rico, in March 2022, the current risks and uncertainties remain too high to proceed with an in-person meeting or with an in-person component," the organisation stated. "This uncertainty also prevents ICANN org and the community from conducting the pre-planning activities necessary to hold an in-person meeting, and it prohibits any travel to conduct on-site technical and logistics planning that must begin months before the actual event." However, the board of directors has reaffirmed its intent to hold the ICANN74 policy forum in The Hague, Netherlands in June 2022, with a mix of in-person and virtual participation. (TL)
And finally...
WTR's latest Special Report explores how to manage the brand balance sheet – The ability to measure and record brand value is crucial for a host of business reasons: to gain a 360-degree insight into an enterprise's worth; to measure a company's health or product offerings; to calculate licensing royalties; to determine potential reputational hits and damages in dispute scenarios; to underpin M&A decision making. The list goes on. WTR's latest Special Report takes a deep dive into brand valuation, the reporting of intangibles and strategic best practice for brand leaders. As well as tracking recent developments in the industry and presenting a guide to the fundamentals of valuation practice, we focus in on key trends, the companies that own the most valuable brands and their financial performance. In addition, we present a rundown of the most valuable brand acquisitions since 2000. WTR subscribers can access "Managing the brand balance sheet" here.