Manchester United targets Football Manager; Alibaba cooperation call; new gTLD use rising – news digest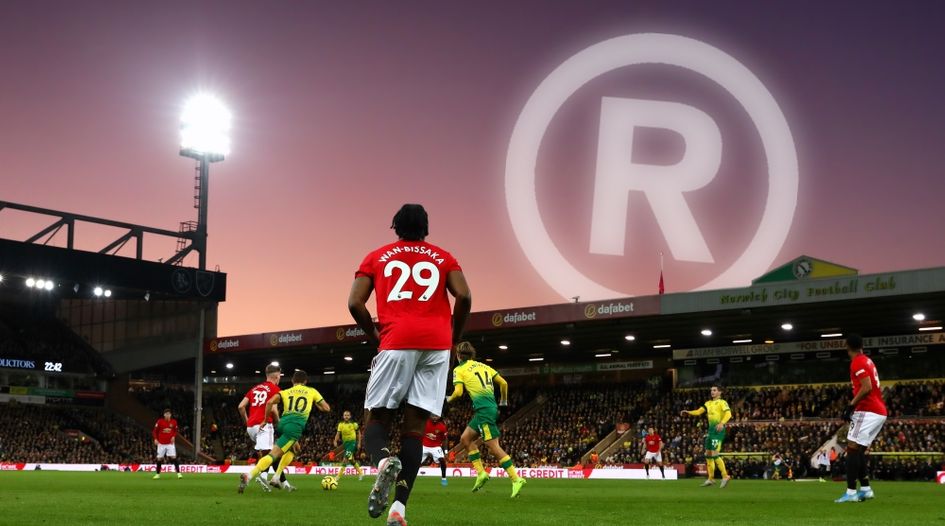 Every Tuesday and Friday, WTR presents a round-up of news, developments and insights from across the trademark sphere. In our latest edition, we look at China hitting back at covid-19 infringers, Off-White continuing to seek a red zip-tie trademark, IP complaints now digital in Bahrain, and much more. Coverage this time from Trevor Little (TL), Bridget Diakun (BD), Jonathan Walfisz (JW) and Tim Lince (TJL).
Market radar:
Alibaba executive speaks up about IP protection – In a new column posted on its Alizila platform, Alibaba's chief platform government officer and chief risk officer Jessie Zheng has answered questions on the company's crackdown on counterfeits. In the questionnaire, she explained why IP protection has been a focus for Alibaba in recent years, and revealed some of the future plans the company has in this regard. On that latter subject, Zheng stated that Alibaba plans to "enhance our copyright protection capabilities, especially the protection of other digital assets, such as images, videos and other original works in digital form". Finally, she offered advice to other online marketplaces to tackle counterfeiting, and suggested that "working in isolation" is not conducive to IP protection – and called for more partnerships to establish industry standards and "reach a consensus" on tackling counterfeits on e-commerce platforms. (TJL)
Manchester United kicks ball into court in "novel" claim – Late last week the mainstream media pounced on the news that Manchester United is suing the makers of the Football Manager video game series for allegedly infringing its trademark by using the club's name "extensively throughout the game". The club launched legal action against Sega Publishing and Sports Interactive (SI) over the game, arguing that the two parties have infringed its trademark by not using the official Manchester United crest in the game - instead "replacing the club crest with a simplified red and white striped logo". As reported in The Guardian, the Premier League club claims this "deprives the registered proprietor of its right to have the club crest licensed". The companies have accused the club of trying to "prevent legitimate competition in the video games field by preventing parties not licensed by the claimant from using the name of the Manchester United football team within such games". At a preliminary remote hearing on Friday, the club's barrister argued that "consumers expect to see the club crest next to the name Manchester United ... and this failure to do so amounts to wrongful use" – acknowledging that this argument was "somewhat novel".  Sega and SI say the use of the club's name is "a legitimate reference" to the Manchester United football team in a football context and has been used in the game  (and its predecessor) this way for almost thirty years without complaint. The day before the hearing, The Guardian also reported that Manchester United's net debt increased by £127.4m to £429.1m in the 12 months to 31 March 2020, financial pressure which could go some way to explaining why it is laser-focused on the protection and exploitation of its brand. (TL)
China hits back at covid-19 IP infringers, according to court numbers – A report presented by the Supreme People's Procuratorate (SPP) at a session of the National People's Congress (NPC) in China said that the country was prosecuting large numbers of IP infringers relating to the covid-19 crisis, reports the Straits Times. The country arrested 3,551 people between February and April for crimes relating to the outbreak. Among the crimes considered, IP infringement including unauthorised manufacture of face masks was noted. Over 85% of IP infringement cases involved counterfeit or sub-standard face masks in the last month. During the NPC session, the SPP also noted that it will continue to place more emphasis on IP rights to protect both foreign and local businesses. (JW)
Legal radar:
Off-White continues to fight for the registration of its red zip tie – Off-White filed an application for the registration of its red zip tie in July 2018, but a USPTO examiner has not budged in her opinion that the mark is functional and not distinctive, reports The Fashion Law. In her third office action from 7 May, Verna Ririe asked Off-White a number of questions to get some additional information about the use of the proposed mark. This included asking for clarity on how the streetwear brand intends to use the red zip tie on its products, whether anything is printed on the tag before its given to products, how the shape of the tag differs from that of other in the market and what features the red tag has that distinguishes it from others of similar nature. Positively for Off-White, in this office action Ririe did withdraw her refusal on the basis that "the proposed mark is a non-distinctive colour mark". However, she maintained two previous refusals, regarding functionality and non-distinctiveness, despite Off-Whites rebuttals against them. The streetwear brand made an argument for secondary meaning, and also responded to the point on non-distinctiveness by pointing out that the tie is classified as product packaging, which can be inherently distinct. Ririe has not responded directly to this point but it is likely that she will address this later. (BD)
IP complaints now digital in Bahrain – From 20 May 2020, Bahrain's Directorate of Industrial Property of the Ministry of Industry, Commerce, and Tourism can now receive trademark, patent and industrial design infringement complaints through its website. The move follows the launch of an online system for trademark applications in Bahrain back in 2017, and is a significant step forward for the digitisation of prosecution actions in the country. (TJL)
Outcome of Dior's J'adore fragrance bottle trademark case to set precedent in China – A lawsuit focusing on the three-dimensional trademark for Christian Dior's J'adore bottle has been added to list of precedential cases in China, according to The Fashion Law. In 2014 Dior sought to extend its international trademark registration for the shape of the fragrance bottle to include China, but was rejected by the China Trademark Office in July 2015 because it "did not meet the standards of a trademark". The decision was appealed to the Chinese Trademark review and Adjudication Board (TRAB) by Dior's legal counsel, who argued that the shape of the bottle was distinctive and had already received trademark protection with WIPO and the USPTO. The TRAB rejected Dior's argument, which led to an appeal to the Supreme People's Court. In April 2018 the highest trademark body sided with the luxury brand, ordering the TRAB to review the application again and ultimately holding that the Chinese Trademark Office may have made an error in denying the trademark. The Judicial Committee of the Supreme People's Court has further added this lawsuit to the list of "Guiding" cases, meaning that the outcome of the case "will now be binding on all Chinese courts". The status of Dior's three-dimensional trademark for the fragrance bottle given the TRAB's second review is still not known. For it's part, the luxury brand is hoping that the perfume's long-standing presence in China will result in a win. (BD)
Doxy.me files trademark suit against Doximity – Telemedicine platform Doy.me has filed a suit against Doximity, a social network platform for doctors after it allegedly entered Doxy.me's market of video conferencing technology for medical professionals, reports Reuters. According to the complaint, Doximity originally threatened to sue Doxy.me for creating confusion in the market, however Doxy.me says it has operated in the space for far more time than Doximity's relatively recent entrance. (JW)
Office radar:
(For more of the latest coronavirus-related updates from national IP offices, please read our dedicated article which is being continuously updated)
Domain Radar:
New gTLD use is hidden but happening – Over on Domain Name Wire, Andrew Allemann has reported on a trend he has observed that registration numbers are masking actual use, with "more and more companies using new top level domains". He states that the inevitable decline in registration numbers as new gTLD registrations dropped is masking a steady increase in end users registering and using new TLDs. He argues: "Consider the millions of domain registrations this year. A business looks for its ideal domain. If it's in the US, the registrant likely starts by looking for '.com'. If they don't find what they want, they might consider an aftermarket domain. A subset of people decides to use a new TLD instead. Thus, there is a growth curve for new TLDs. It's not a hockey stick like some people predicted. But it's there. Actual use by actual end users will increase over time. Slow and steady, but up and to the right." (TL)
On the move:
Helen Macpherson leaves Norton Rose Fulbright for Baker McKenzie – Helen Mcpherson has joined Baker McKenzie's Sydney office as a partner within the firm's IPTech practice. She has over 20 years of experience as a litigator with a particular focus on patent litigation. Mcpherson was previously a partner at Norton Rose Fulbright. (BD)
Lawrie IP strengthens bench (and turnover) – Lawrie IP, an independent Scottish intellectual property firm, has announced it will strengthen its trademark practice with the addition of a Chartered Trade Mark Attorney, Rachel Denholm, on 1 June 2020. Denholm is joining from a large, multinational IP firm where she worked in its London and Glasgow offices, and boasts more than 18 years of IP experience. The news came as the firm announced the growth of its total turnover to £2.6 million from £2.2m in the last year. Dr Donald Lawrie launched Lawrie IP in 2010 and it has expanded steadily with an increase in turnover of almost 200% in the last five years - from £880,000 in 2014/15 to £2.6m in the year to the end of April 2020. (TL)
And finally...
Free-to-view anti-counterfeiting intelligence now available – WTR has published the 12th edition of Anti-counterfeiting: A Global Guide, which provides comprehensive guidance on anti-counterfeiting laws, procedures and strategies in key jurisdictions around the world. Presented in a simple, easy-to-use format, this indispensable publication analyses the anti-counterfeiting frameworks in place in 18 jurisdictions, with a regional chapter identifying wider trends and best practices in the Western Balkans. In addition, an industry insight section offers guidance on protecting brands in the digital world, as well as industry-focused pieces offering insight into anti-counterfeiting strategies and best practice in the electronics and consumables, and luxury goods sectors. To access the new edition, click here.