Manchester United crowned trademark world champions, as Erling Haaland obtains first marks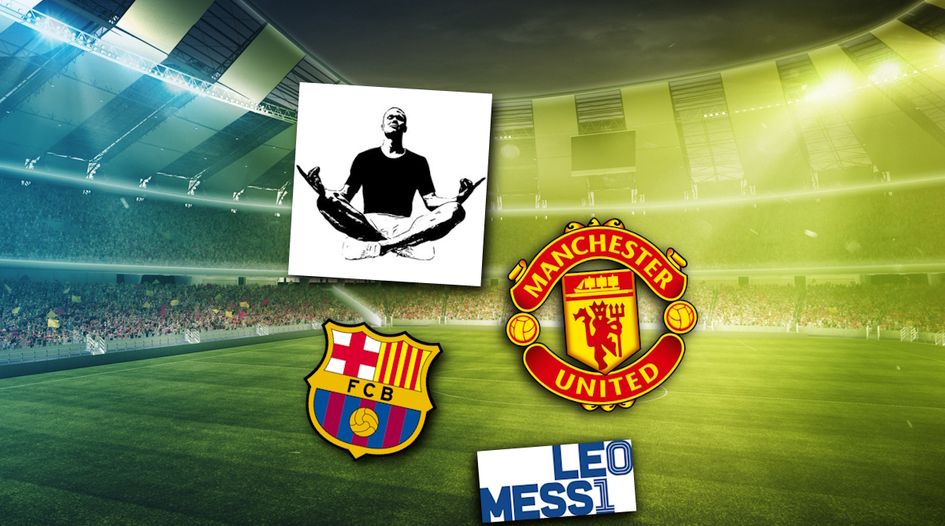 With over 650 marks, Man Utd have football's biggest brand portfolio
Record-breaker Erling Haaland recently filed first trademark applications
Newly-promoted Wrexham AFC amassing significant trademark portfolio after being purchased by actors Ryan Reynolds and Rob McElhenney
Manchester United continues to hold the biggest trademark portfolio in world football, followed by Tottenham Hotspur, FC Barcelona and Real Madrid, new research from WTR reveals. In the player space, superstars Lionel Messi and Cristiano Ronaldo reign supreme, while goalscoring maestro Erling Haaland recently filed for his first trademark applications – including for his autograph and celebration pose.
For the eighth year in a row, WTR has compiled data on the trademark activity of all 20 English Premier League clubs, as well as the most valuable non-UK clubs and a selection of the leading football players (see below for the full results). The research includes filed and registered trademarks recorded through the TMview search engine (which tracks the trademarks across more than 100 countries) using their primary applicant names. Last year's research saw Manchester United pull even further ahead of league rival Chelsea (in the first edition of our research in 2016, the clubs had near-identically sized trademark portfolios). Trailing significantly behind were Tottenham Hotspur, Arsenal, and Liverpool, with current league leaders (and reigning champions) Manchester City even further behind.
This year's results sees Manchester United remain at the top of the ranking (with a total of 677 active trademarks around the world). However,  its portfolio saw a drop for the first time since we began our annual analysis. That fall is revealed after a 12 month period that saw the club's owners pledging to sell the club, the club registering its lowest points total the Premier League era, the sale of superstar player, Cristiano Ronaldo after a public spat, and a significant drop in its brand value in Brand Finance's 2022 Football report. Nonetheless, no other club in the world holds more trademarks in its portfolio than Manchester United, illustrating the commercial juggernaut it remains to be despite recent setbacks.
In fact, among English Premier League clubs, it was a relatively modest 12 months in terms of trademark filing activity. Half of the 20 either filed for no new trademarks in the past year or saw a drop in their total active trademark portfolio, suggesting some marks lapsed, expired or were cancelled.
There was some significant growth seen by English clubs, however. Mid-table Brentford led the way, with a 69% growth in its portfolio (from 13 to 22), while relegation battlers Leeds United grew its portfolio by 27% (from 22 to 28 active marks). Other significant rises were seen at Liverpool (rising by 17% to more than 200 marks), Everton (+15%), Crystal Palace (+14%) and Newcastle United (+11%).
Elsewhere in English football, it is worth taking a look at Wrexham AFC. Next season the club returns to the English Football League after a 15-year absence. This follows the takeover of the club by actors Ryan Reynolds and Rob McElhenney in November 2020, who have propelled the club onto the world stage through a US-made TV documentary series 'Welcome To Wrexham' airing on Hulu and Disney+, appearances in the FIFA video games, and a partnership with social network TikTok. All of this has seen the club – which was recently promoted after a nail biting title race – massively grow its global fanbase, especially in the US. Unsurprisingly, Wrexham AFC has therefore been relatively active in building its trademark portfolio compared to other lower-league clubs (see Table 4 below). In total, the club currently has 19 active trademarks, spanning the UK, US, Canada, China, and the EU – with marks including the Wrexham AFC emblem and the phrases WREXHAM IS THE NAME and IT'S ALWAYS SUNNY IN WREXHAM.
Turning to major clubs outside of England (see Table 5 and 6), FC Barcelona continues to lead the field (with 503 active marks), with arch-rivals Real Madrid just behind (with 454 total marks). There was, again, relatively stagnant trademark growth among the major clubs of the world – with only two (Flamengo and Atlético de Madrid) seeing portfolio growth of more than 10% over the past 12 months and a number seeing a drop (including Paris Saint-Germain, Inter Milan, RB Leipzig, and Celtic).
Looking at the major football stars (see Table 7), both Lionel Messi and Cristiano Ronaldo –often regarded as the two greatest players of all-time – continue to lead the way in total trademark activity, with 138 and 91 marks respectively.
However, when it comes to the player that has filed the most trademarks in the past 12 months, that accolade sits with a player that has been breaking numerous football-related records this year: Erling Haaland.
In the past two years of our coverage, the Norwegian – who already had a transfer value of over £100 million – had filed no trademark applications to protect his name. That has changed now, with the Manchester City star filing for three trademarks (all filed in February 2023) for his name, his EBH 9 autograph, and one of his signature goalscoring poses. At present, he has filed the applications in Norway, suggesting his brand priority is his place of birth rather than the country he is playing in (the UK) or to take a more international approach (with a WIPO application). Time will tell whether Haaland's trademark portfolio will one day surpass Messi or Ronaldo, or if his approach to brand-building is more more modest.
The results (published in full below) reveal the significant trademark portfolios of the world's football clubs and players.
Table 1: English Premier League, ranked by filed or registered trademarks
Table 2: English Premier League, trademark portfolio by year and annual change
Table 3: English Premier League contenders (including newly-promoted clubs)
Table 4: Wrexham FC trademark portfolio
Table 5: Leading non-English clubs, ranked by filed or registered trademarks
Table 6: Leading non-English clubs, trademark portfolio by year
Table 7: Leading football players, ranked by filed or registered trademarks