Manchester United crowned champions of trademarks Premier League; Messi tops player ranking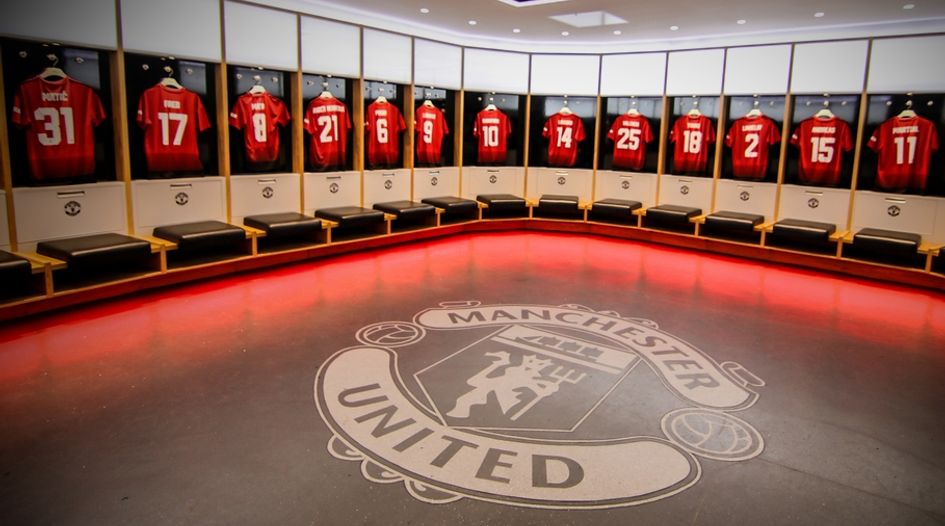 Exclusive WTR research reveals football teams with biggest trademark portfolios
In the UK, Manchester United sits atop league, followed by Chelsea and Tottenham
In Europe, Barcelona beats out Real Madrid; Lionel Messi largest player portfolio
New research conducted by WTR has once again found that Manchester United has the biggest trademark portfolio of any global football club – with rivals Chelsea and Spanish clubs Barcelona and Real Madrid also boasting a significant number of brand registrations. Meanwhile, international superstar Lionel Messi – regarded by many as the greatest footballer of all time – has a trademark portfolio larger than some of the biggest clubs in the world.
For the fifth year in a row, we have compiled data on the trademark portfolios of all 20 English Premier League clubs, as well as the most valuable non-UK clubs and footballers (by estimated transfer value). The research includes filed and registered trademarks recorded through TMview (therefore excluding some jurisdictions, including China) using the club's primary applicant name. Last year's research saw Manchester United pull even further ahead of league rival Chelsea (in 2016 both clubs had nearly identical trademark portfolios), with brand expansion at many clubs taking place in Latin America.
This year, though, has seen the number of trademark assets being sought by major football clubs largely settling down. Of all the Premier League clubs, only Manchester United – which is now leading the field significantly – and Arsenal filed more than 10 trademarks applications in the past 12 months (Table 1 below). For both of these clubs, many of the filings were in Canada – a trend that we saw across the research, with clubs clearly identifying a protection gap in North America.
Another interesting note is that the trademark portfolios of the clubs track very differently to results on the pitch. As Table 2 reveals, this year's Premier League champions Liverpool have the fifth largest portfolio in the league – although it did see the third biggest year-by-year growth (with 10 new filings over the past 12 months). That same data table also reveals the massive growth in trademark portfolios at Premier League clubs since 2016 (when WTR first started this annual project). Manchester United, for example, had a portfolio of 202 trademarks that year – a figure that has nearly tripled in the four years since. Other significant growth can be seen at Leicester – the 2015/16 Premier League champions had only eight trademarks in 2016, one of the smallest portfolios in the entire league. Today it has 34 (including nine international registrations).
Outside the United Kingdom, four other clubs boast a trademark portfolio exceeding 100 marks (Table 4 below): Barcelona (with 396), Real Madrid (321), Juventus (195) and Paris St Germain (180). These figures are particularly interesting when compared to the Brand Finance Football 50, an annual report released this week which reveals the brand value of the world's biggest football teams. The two Spanish clubs, Real Madrid and Barcelona (both with a brand valued at €1.41 billion), share the top spot, followed by Manchester United (valued at €1.31 billion) and Liverpool (€1.26 million). Interestingly, German club Bayern Munich – one of only six clubs in the world with a brand value of over €1 billion – has a trademark portfolio of 88, only a few ahead of arch rivals Borussia Dortmund (which has a brand value of €487 million).
When it comes to the world's leading footballers, the trademark portfolio of Barcelona's Messi remains significantly ahead of the rest of the field. In fact, with 163 trademarks around the world (57 more than last year), Messi's portfolio is bigger than most of the clubs we looked at. We also found that some of the most expensive players in the world – Kevin de Bruyne, Mohammed Salah, Jadon Sancho and Erling Haaland – appear to have no trademark protection for their names.
Ultimately, though, the major trend this year is that – compared to previous years – there was little trademark activity as most major clubs. Two years ago, in our 2018 analysis, all the clubs we looked at (in the English Premier League and the 10 leading international teams) had a year-to-year growth of more than 370 trademarks in total. The following year, there was a total annual growth of more than 300 trademarks. This year, though, there has been a total rise of just 134 trademarks between all 30 clubs.
Why could that be? It would be easy to blame the ongoing pandemic – indeed, in the Brand Finance Football 50, which saw a total brand value decline of €751 million (or 3.7%) across the top 50 clubs, covid-19 was seen as a major factor. "Top-level football has been confronted with the largest existential threat since the Second World War," comments Richard Haigh, managing director of Brand Finance. "Loss of income, coupled with health concerns about mass gatherings, have raised question marks about the future of the industry and the financial resilience of clubs across all levels. The full damage of the covid-19 crisis has yet to unfold and it is not inconceivable there will be casualties in the form of club bankruptcies and changes in ownership."
For that reason, perhaps expanding trademark protection has been an unnecessary financial cost during a difficult time. Further, with the coronavirus crisis continuing across Europe (and a 'second wave' of the virus feared on the continent), many clubs may be holding off on significant legal spend for the time being – especially with the full monetary impact of the pandemic yet to be felt.
Of course, such a ranking is compiled with a sense of fun competition, fully acknowledging that the quantity of trademarks does not necessarily equal a quality scope of protection. But the results (published in full below) do reveal the significant sums that football clubs and players are worth in terms of brand value and the need for registered trademarks to protect those assets.
–
Table 1: English Premier League: ranked by filed or registered trademarks
Table 2: English Premier League: trademark portfolio by year
Table 3: English Championship clubs (promoted): ranked by filed or registered trademarks
Table 4: Leading non-UK clubs: ranked by filed or registered trademarks
Table 5: Leading non-UK clubs: trademark portfolio by year
Table 6: Leading football players: ranked by filed or registered trademarks