Manchester United and Tottenham Hotspur top global trademark league table, data reveals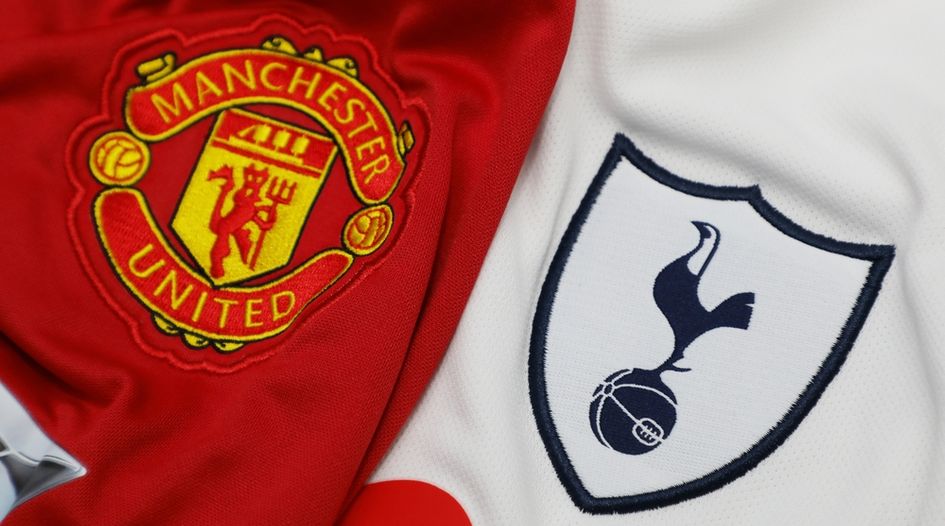 Manchester United owns most trademarks of any major football club
London club Tottenham Hotspur overtakes rival Chelsea in ranking
Many major players, including Manchester City's Erling Haaland and Liverpool's Mohamed Salah, have no registered trademark rights
Exclusive WTR research can reveal that English football clubs Manchester United and Tottenham Hotspur hold the largest trademark portfolios of any in the sport. On the player front, superstars Lionel Messi and Cristiano Ronaldo continue to trump any rivals in terms of trademark activity.
For the seventh year in a row, WTR has compiled data on the trademark activity of all 20 English Premier League clubs, as well as the most valuable non-UK clubs and a selection of leading football players. The research includes filed and registered trademarks recorded through the TMview search engine (which tracks trademarks across more than 100 countries) using their primary applicant names. Last year's research saw Manchester United pull even further ahead of league rival Chelsea (the two clubs having had almost identically sized trademark portfolios when our research began back in 2016). Trailing significantly behind were Tottenham Hotspur, Arsenal and Liverpool.
This year's results (Table 1 below) sees major shifts in the ranking, spurred primarily due to TMview adding trademarks from the China National IP Administration (CNIPA) to its database. For some clubs – including Chelsea, Manchester City, Newcastle and Southampton – this has led to a significant increase in the total size of their trademark portfolios. China is a lucrative commercial market for English clubs, the Premier League being the most popular football league in the country. Therefore, it is unsurprising that many clubs have looked to secure their rights there.
The biggest beneficiary is Tottenham Hotspur. With over 300 active trademarks in China (more than any football club in the world), it has overtaken Chelsea in the trademark ranking of English teams (Table 1 below) and even surpassed Spanish giants FC Barcelona and Real Madrid in total portfolio size (Table 3). This represents a clear strategy to expand the club's presence in China, including through a recent summer tour and the launch of official e-commerce stores on Tmall, WeChat and, most recently, Douyin.
That is not to say that Tottenham's portfolio is wholly dominated by Chinese filings. A look at its UK portfolio reveals that the club – which has not won a major trophy for the past 14 years – takes brand protection seriously across all facets of its business, including its name, logo, nickname, stadium name, motto, fan programme and the names of its stadium restaurants.
While this has significantly closed the gap between the size of Tottenham's portfolio and that of brand leader Manchester United's, Tottenham's global spread pales in comparison. Tottenham's portfolio spans 16 IP offices, led by the 303 marks in China, followed by active marks in the United Kingdom (99), Malaysia (42), the EUIPO (38), WIPO (22), Brazil (16), Argentina (15) and Canada (10). On the other hand, Manchester United has nearly 700 active marks at 33 IP registries, led by the United Kingdom (100), Malaysia (70), China (54), Brazil (53), Argentina (44), Jordan (40), the EUIPO (35), Mexico (33), Peru (30), WIPO (30), Laos (28), Japan (19), Canada (14), Chile (13), India (13), Thailand (13), Cambodia (12), Costa Rica (12), Australia (10) and Israel (10).
Yet Manchester United's portfolio growth of 17% year-on-year (primarily through the addition of active marks in China) is relatively small compared to that of other clubs (Table 2 below). For example, arch-rival and current English Premier League champion Manchester City saw its trademark portfolio grow 59% year-on-year, while Newcastle United – which was taken over by a Saudi-led consortium in October 2021 – has increased its trademark portfolio by 48%. Positively, our research found that no Premier League clubs have seen a decline in the size of their trademark portfolio over the past 12 months.
Turning to major clubs outside England (Tables 3 and 4), FC Barcelona continues to lead the field with 493 active marks. However, rival Real Madrid (ranked as the most valuable football brand last week) has closed the gap between first and second place, thanks to its larger portfolio of active Chinese marks (448 marks in total). Analysis of major clubs from Argentina (River Plate) and Brazil (Flamengo) reveals that both hold significant trademark portfolios, which surpass all European teams except Barcelona and Real Madrid (with 405 and 245 active marks, respectively). However, unlike their European counterparts, the Latin American clubs primarily own domestic trademarks. For example, of River Plate's 405 active marks, 393 are single-class filings in Argentina, while only 12 are filings in other jurisdictions (Mexico, Peru, Uruguay and the United States).
Looking at major football stars (Table 5), both Messi and Ronaldo – often regarded as the two greatest players of all-time – continue to lead the way when it comes to trademark activity. Messi now owns 138 active trademarks, an annual increase of 23 (and nearly double the size of his 2018 portfolio). This comes in a year when both Messi and Ronaldo shocked the football world by moving clubs to Paris Saint-Germain and Manchester United, respectively. WTR analysed the brand implications of Messi's move back in August 2021, determining that it would be "a commercial boon" for the Paris club.
Elsewhere, there has been little change among other players. Shockingly, one-third of the most successful global players (including new Manchester City recruit Erling Haaland and Liverpool star Mohamed Salah, worth a combined €200 million) own no registered trademark protection for their name or personal brand.
Arguably the major finding from this year's results is the importance that many major Europeans clubs are placing on China. This mirrors the fact that many international brands are increasingly eyeing and entering the Chinese market.
 With brand growth found at most major clubs, the rankings also show that the football industry has swiftly recovered from the massive blow caused by the global pandemic, which led to the postponement of most football tournaments and leagues, with matches played in empty stadiums for months on end.
The results (published in full below) reveal the significant trademark portfolios of the world's biggest football clubs and players, and the importance of those assets for each of them.
Table 1: English Premier League, ranked by filed or registered trademarks
Table 2: English Premier League, trademark portfolio by year and annual change
Table 3: Leading non-English clubs, ranked by filed or registered trademarks
Table 4: Leading non-English clubs, trademark portfolio by year
Table 5: Leading football players, ranked by filed or registered trademarks