Maintaining operations during a pandemic: EUIPO executive director on office's covid-19 response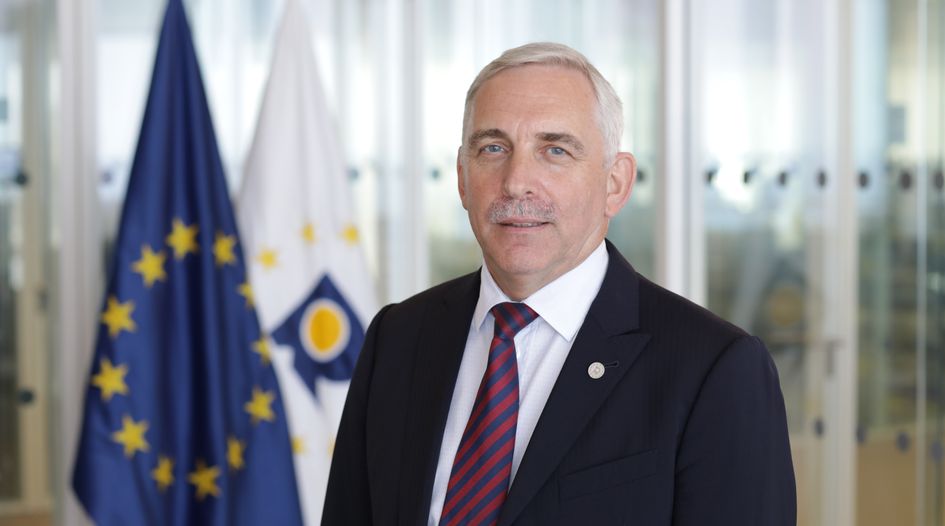 EUIPO initiates two-phase plan to return staff to Alicante HQ
Executive director reflects on how the office has responded to covid-19 pandemic
Aspects of remote working expected to become permanent in office environment
Today, the EUIPO is taking the first steps towards a return to its Alicante building, with around 60 volunteer staff heading to the office after 12 weeks of remote working. Speaking to WTR, EUIPO executive director Christian Archambeau expands on this return, how the office is handling a "tsunami" of trademarks and the ways in which remote working could give rise to new working practices.
On 14 March, the Spanish government activated a state of alarm due to the spread of covid-19 across Spain, imposing restrictions on movement among Spanish citizens and residents. As a result, the EUIPO instantly initiated its business continuity protocol, with all Alicante-based staff instructed to work from home. The same day, the first of the two extensions of timelines was announced (the second coming to an end on 18 May).
Reflecting on the response, Archambeau says: "The challenges were huge, but we needed to do this in order to help our customers, who have really been suffering. [So] We extended all time limits in all proceedings before the Office, from 9 March initially until 1 May and subsequently until 18 May. Information about the extensions was provided on our website, and through our Information Centre. Dealing with phone and email inquiries from users went well, with interactions at, or even higher than, normal levels. After the end of the extension of time limits the first line dealt with almost 1,000 calls in a single day, which is double what we usually expect. We also organised an online webinar and gave guidance on how to request further extensions under 'exceptional circumstances'. Remember, our staff were all working from home at this time."
Dealing with a trademark tsunami
Of course, extensions eventually must come to an end and Archambeau notes: "From 18 May onwards the office has been coping with a 'tsunami' of 21,000 registered trademarks that needed to be published over a period of weeks to avoid technical issues. This, combined with the publication of almost 5,000 international registrations, delayed re-examination tasks due to the extensions, and a large accumulation of new opposition, cancellation and invalidity requests created a huge increase in the examination workload."
Such workloads will inevitably affect the timeliness of registrations of both direct and international trademarks, which will likely be pushed into 'red' in the EUIPO Service Charter measurements. However, Archambeau expects the office to maintain its other timeliness standards and to get back on track for trademark registrations towards the end of the summer.
This is not to say that efforts have failed. From the moment of lockdown in mid-March to the end of May, staff examined more than 30,000 new EU trademark applications and more than 15,000 new designs. In regard to applications and cancellations, the pace of decisions was actually 3% above normal levels.
The office has also sought to adapt its systems to assist users who are often working remotely as well. Today, for example, in light of the difficulties that customers have reported when working from home, the EUIPO announced that it has accelerated work on e-communications, so that all communications sent to the office can now be carried out online. Among other things, the reply button is now available for all e-communications where a reply is permitted. Further, a 'fax alternative' option has been added as an additional fall-back solution. Meanwhile, eComm users, who make up the vast majority of EUIPO customers, can now reply to all e-communications – where a reply is permitted – directly from the communications tab in the User Area by clicking on the reply button. 
Back to the office (and new ways of working)
As it stands, most of the office's workforce is still working remotely. Once all staff are back in the physical office, though, some aspects of remote working will likely find their way into permanent practice. For example, Archambeau explains: "The office has had to acquire new software licences to restore phone access to examiners who do not normally telework and allow the call-back service to resume, as well as the existing system of scheduling calls with the information centre. We are looking at extending the possibility of scheduling calls directly with examiners."
Additionally, while videoconferencing is not ideal for everything, it could see increased use in the long term: "Combined with other online and digital tools, video has encouraged a level of interaction that probably would not be possible otherwise, even if things go back to 'normal'. We will certainly be factoring this into our exchanges with users, and the meetings we have both internally and externally. Video participation has proven itself during this crisis, and the message we get is that users and other stakeholders will want to hold onto that as an option for the future."
This could also extend to internal communications and staff engagement, with weekly emails and video messages proving essential over the past few months to keep internal colleagues up to speed with the latest developments and monitor wellbeing. "The deputy executive director, Andrea Di Carlo, and I made between us more than 300 individual telephone calls to staff members in order to keep our fingers on the pulse and understand how they were coping. This increase in communication appears to be very well received. We will have to make sure that the atmosphere of flexibility and trust created, which has produced such good results, is not lost, and is factored into our future plans."
That future is now in sight. While around 1,400 staff have been logging on from their homes for an extended period, today marks the first in a two-phase return to the office. Around 60 volunteers – who have been tested to ensure that they are free of covid-19 – will now be returning to the office's Alicante HQ. Wearing masks, socially distancing and continuing to use videoconferencing for meetings, Archambeau explains: "These volunteers have agreed to spend at least four hours a day at the headquarters in order to test our systems for a full return in September. We will have to see what the medical advice is at that time, but it may be occupancy of the headquarters will continue to be limited for safety reasons. That could mean that staff work one week on campus followed by one week teleworking. Our plan is to get back, by the end of the year at the latest, to a situation where working in the office is the norm. Teleworking will continue to be an option, but it should be the result of personal choice and based on an assessment of the needs of the office."
The full interview with Christian Archambeau will appear in the next issue of WTR, out early July, as part of our extended coverage of EUIPO operations and the European trademark landscape.