"Lucky finally gets lucky" as Supreme Court issues defence preclusion decision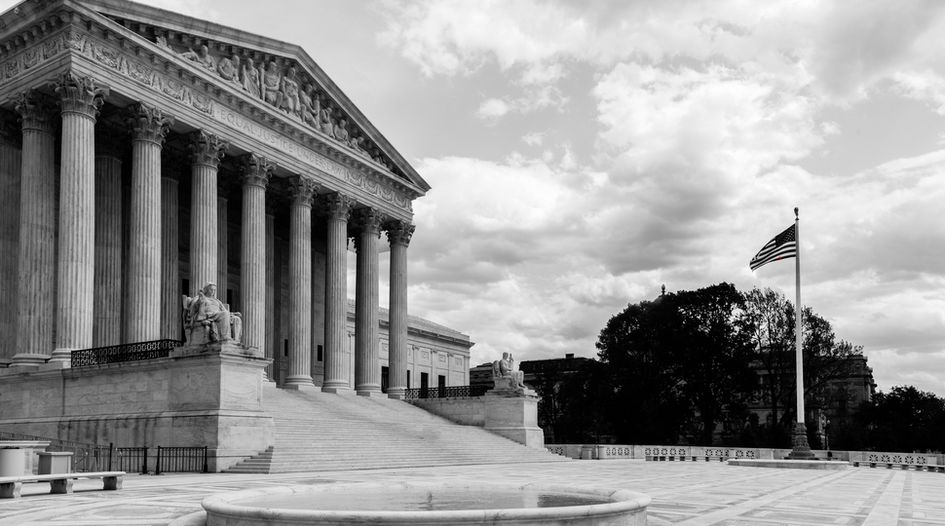 Supreme Court issues decision in Lucky Brand Dungarees v Marcel Fashion Group
SCOTUS reverses Second Circuit's dismissal of Lucky Brand's motion to dismiss
Legal experts identify learnings and practical takeaways for trademark litigants
The Supreme Court has issued its decision in Lucky Brand Dungarees v Marcel Fashion Group, the dispute centring on the issue of whether res judicata in the form of claim preclusion can also apply to defenses. One expert reflects that, with this decision, "Lucky finally gets lucky and nearly 20 years of trademark trench warfare continues".
The litigation back and forth between Lucky Brand and Marcel commenced in 2001, when the latter initiated action over the GET LUCKY mark, which Marcel had a prior registration for. In 2003 Lucky Brand agreed not to use the mark and Marcel agreed to release certain claims it might have in the future arising out of its trademarks. The scope of this settlement became the focus of subsequent disputes. Marcel contended that it only released infringement claims occurring prior to the execution of the 2003 agreement, while Lucky Brand contended that Marcel released any future claim it may have related to any registered trademark as of the execution of the agreement.
Further disputes ensured over use of the mark. In a 2005 litigation Lucky Brand asserted that Marcel had released it from the new asserted claims of trademark infringement in the 2003 settlement agreement, but did not pursue that defense and the court entered an injunction against Lucky Brand to not use the GET LUCKY mark. When Lucky Brand attempted to assert the defense in 2011 litigation, when Marcel sued Lucky arguing its use of certain trademarks violated the injunction from the 2005 action, the Second Circuit concluded that a novel type of res judicata, which the Second Circuit dubbed "defense preclusion," applied to bar Lucky Brand's assertion of the defense.
As K&L Gates partner Susan Kayser wrote on WTR in January: "The specific issue before the Supreme Court as phrased by Lucky is whether, when a plaintiff asserts new claims, federal preclusion principles can bar a defendant from raising defences that were not actually litigated and resolved in any prior case between the parties."
Yesterday, then, the Supreme Court issued its decision, reversing the Second Circuit's dismissal of Lucky Brand's motion to dismiss and reinstating Lucky Brand's release defense.
Christian W Liedtke, attorney at law at acuminis, reflects: "Legal realists may sympathise with the Second Circuit for trying to put an end to this protracted battle fought by savvy litigants who are represented by sophisticated counsel. But the Supreme Court was unwilling to see the facts in the same light as the Second Circuit judges." And in the decision, the facts were all-important, with the court stating: "Put simply, the two suits here were grounded on different conduct, involving different marks, occurring at different times. They thus did not share a "common nucleus of operative facts"."
It expanded: "This Court is asked to determine whether Lucky Brand's failure to litigate the defense in the earlier suit barred Lucky Brand from invoking it in the later suit. Because the parties agree that, at a minimum, the preclusion of such a defense in this context requires that the two suits share the same claim to relief - and because we find that the two suits here did not - Lucky Brand was not barred from raising its defense in the later action."
The focus on the operative facts means that the court did not need to take a definitive stance on the issue, a footnote authored by Justice Sotomayor noting: "Here… this Court need not determine when (if ever) applying claim preclusion to defenses may be appropriate, because a necessary predicate - identity of claims - is lacking."
Liedtke expands: "In other words, the Supreme Court refused to definitively position itself on the issue of defense preclusion. However, from the Court's unanimous opinion it seems as though the court is at least sympathetic in principle to the idea of applying the concept of claim preclusion (which prevents parties from raising issues that could have been raised and decided in a prior action, even if they were not actually litigated) to defenses. That is if recognised requirements for claim preclusion are met, which simply was not the case here."
For Andrew Avsec of Brinks Gilson & Lione: "The court appeared to reject 'defense preclusion' as a standalone category of res judicata, but found that defenses may be precluded only if such defenses satisfy the strictures of traditional issue preclusion or claim preclusion principles"
While that is the case, Avsec does identify a number of takeaways for trademark litigants: "First, the decision makes clear that traditional principles of res judicata apply to defenses; however, the court did not adopt a new 'defense preclusion' test. Therefore, trademark litigation plaintiffs must appreciate that asserting new claims will open the door for defendants to assert new defenses. Defendants in trademark litigation should likewise view the assertion of new claims as an opportunity to reassess their defenses, even if those defenses may have been previously available."
A second takeaway focuses on footnote three in the decision: "In that footnote, the court suggests that after securing a final judgment, a trademark plaintiff may be able to pursue supplemental relief in the original action without opening up the plaintiff to new defenses. Thus, rather than filing a new lawsuit, plaintiffs should consider whether contempt proceedings in the original action are available, and if so, if a contempt proceeding might provide a better vehicle to enforce their rights." 
While the decision is specific in scope, any time that the Supreme Court decides a trademark matter it is worthy of note. As to the companies in question, the stakes are high. As Liedtke observes: "Just like with many actual two party battles, the benefit of today's decision for the (civil litigation) community as a whole is limited to say the least". However, he adds that it will not matter to Lucky Brands, noting: "Lucky finally gets lucky and nearly 20 years of trademark trench warfare continue."