Lego infringement sentences upheld; The Mandalorian tops piracy list; counterfeit face masks seized – news digest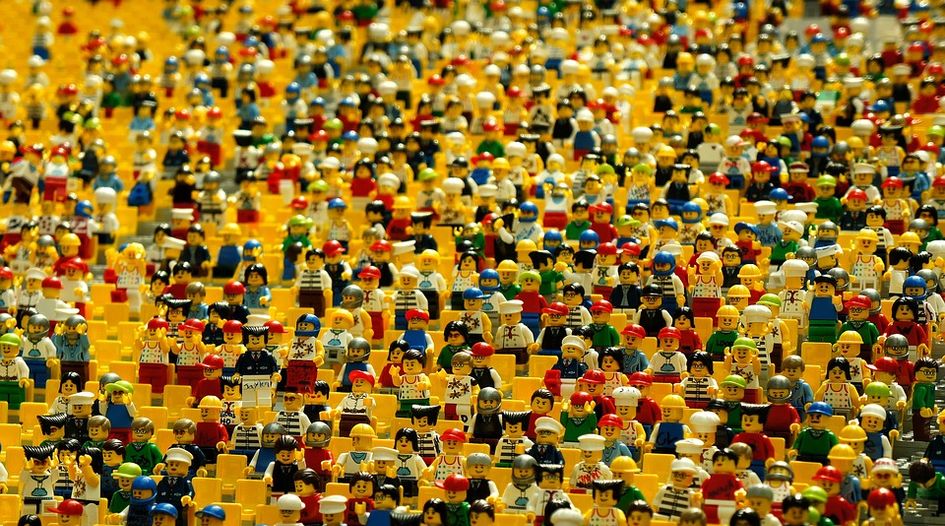 Every Tuesday and Friday, WTR presents a round-up of news, developments and insights from across the trademark sphere. In our latest round-up, we look at a new technology aiming to combat fake whisky, Novagraaf acquiring Thomsen Trampedach, how 2020 was a good year for purchasing well-known retail brands, and much more. Coverage this time from Trevor Little (TL), Bridget Diakun (BD), Jonathan Walfisz (JW) and Tim Lince (TJL).
Market radar:
New technology aims to combat fake whisky – UK blockchain company Everledge has partnered with the University of Glasgow to launch an innovative tool to verify the age of whisky. According to the Robb Report, the tech is primarily aimed at combating counterfeit premium whisky. "This research has been carried out in response to a growing interest in these whiskies that, if genuine, can be worth tens of thousands of pounds per bottle, which may encourage fraudsters to attempt to fake the more expensive brands," says Gordon Cook, head of the SUERC Radiocarbon Laboratory. "We're proud that we are now able to provide the first and only fully secure whisky age verification service in the world with the support of Everledger." (TJL)
Novagraaf acquires Thomsen Trampedach – NovumIP extended its reach into the legal tech space with Novagraaf's acquisition of Thomsen Trampedach from Key-Systems and the founding partners. A year ago we reported that Novagraaf and PAVIS had joined forces to create a new IP service provider, NovumIP, and in an interview with WTR in October, Lutgarde Liezenberg, CEO of the Novagraaf Group, revealed that acquisitions could be in its future. In December came the first, with Thomsen Trampedach (which offers online brand protection and anti-counterfeiting, as well as the new gTLDs and domain name services)  becoming the IP service provider's latest step towards a more complete integration of technology and legal consultancy. "We at Novagraaf are firmly committed to meeting our clients' IP needs as they navigate a fast-growing global online environment that provides both opportunities and threats,", states Liezenberg. "Today's brand owners have to battle an increasingly sophisticated army of counterfeiters and online fraudsters. By combining the technology, enforcement knowledge and legal consultancy of both Novagraaf and Thomsen Trampedach we are now even better positioned to provide smart solutions that protect and maximise the value of our clients' brand, product name and domain assets. We are delighted to welcome our new colleagues at Thomsen Trampedach and look forward to further building our position in the essential space of legal tech services." (TL)
The Mandalorian tops piracy list – Star Wars spinoff series The Mandalorian has been named 2020's most pirated TV programme of the year by TorrentFreak. The analysis is based on torrent downloads, and therefore does not track streaming piracy. However, Disney will not welcome the leap from third place in 2019 to the top of this year's list. TorrentFreak's Ernesto Van der Sar writes: "For several years in a row the list was headed by Game of Thrones but, just like the series itself, this reign has now come to an end. With the title up for grabs, there were several contenders for the crown. The Mandalorian eventually came out as the winner… The competition for the top spot was fierce with three titles standing out among the rest. Prime Video's The Boys eventually settled for second place, one spot higher than HBO's Westworld." Reflecting on the top three, Van der Sar notes that it illustrates how fragmented the online entertainment industry has become: "In order to watch all three series, one needs three separate subscriptions. That's a cost not everyone may be able to afford, which can explain part of the piracy problem." (TL)
Counterfeit face masks seized – A report from KIRO7 has revealed that over 200,000 counterfeit surgical-grade face masks have been confiscated by customs officers. In an announcement, the Department of Homeland Security claimed the masks had a retail value of more than $1 million. The move reflects the growing problem of fake goods related to the covid-19 pandemic. "These seizures illustrate the ongoing efforts of HSI, CBP and private industry in keeping our communities and medical staff safe and free from counterfeit products," said Scott Brown, special agent in charge for Homeland Security in Phoenix. "Often, this battle is fought behind the scenes and unknown to the general public, but they can be assured that our mission remains firmly committed to protecting the health and safety of our medical workers, no matter what."
2020 was a good year for acquiring well-known retail brands – As bankruptcy numbers rose throughout the year so did the availability of, sometimes discounted, intellectual property. Brand acquisition and licensing companies have had a field day picking up well-known brands and relaunching them as online offerings. Over the years Marquee Brands has bought 11 brands, six of them out of bankruptcy. It took over kitchenware retailer Sur La Table, which filed for Chapter 11 during the pandemic, mother-to-be clothing lines Motherhood Maternity and A Pea in the Pod, as well as Italian luxury leather brand Bruno Magli and the women's apparel brands BCBGMaxazria and BCBGeneration in bankruptcy sales over the past few years in deals worth at least $280 million, reports The Wall Street Journal. Last year Retail Ecommerce Ventures spent over $40 million building up their brand portfolio with insolvent retail brands. New York-based investor Saadia Group spent about $80 million in 2020 snapping up bankrupt brands such as the names and online divisions of department store chain Lord & Taylor, retailer New York & Co, as well as its plus-size sister brand Fashion to Figure. (BD)
OLN IP consultancy unveiled – OLN Oldham, Li & Nie Solicitors has announced the expansion of its intellectual property services with the creation of OLN IP Services (OLN IP). OLN IP is a consultancy providing commercially-driven advice to IP owners, from assisting with technology-based IP, trademarks, copyright, patents and designs to managing IP portfolios on an ongoing basis. The new venture is led by Benjamin Choi (as managing director) and Vera Sung. "Intellectual property often forms a company's largest value component. Corporates require advice from professionals who are deeply knowledgeable on all aspects of IP so they can safeguard and create value, especially given the complexity of today's multi-jurisdiction and technology driven business environments in which our clients operate," stated Choi. "OLN IP is perfectly positioned to provide strategic counsel and practical assistance to clients to maximise the value of their IP assets." (TL)
Legal radar:
Apple and Prepear seek to settle controversial trademark dispute – Tech giant Apple and meal planning app Super Healthy Kids are trying to settle a dispute involving a pear-shaped trademark at the USPTO. According to AppleInsider, Apple "raised eyebrows" in August after lodging an objection to a trademark application for a pear illustration used for the Prepear app. In its objection, Apple claimed the pear image bore "too close a resemblance to its famous Apple logo" and "creates a similar commercial impression". A similar objection was subsequently lodged in Canada. In response, Prepear accused Apple of "engaging in bullying tactics that cost the company many thousands of dollars and resulted in the layoff of at least one employee". Its co-founder and COO, Russell Monson, launched a petition to "end Apple's aggressive opposition of businesses with fruit logos" that has garnered over 250,000 signatures. Now, it appears the two sides have settled their differences, with the Trademark Trial and Appeal Board (TTAB) announcing that trial proceedings have been "suspended" as the two parties discuss a detente – with a deadline set for 23 January 2021. (TJL)
Court upholds Lego infringement sentences – A six-year prison sentence for a Chinese entrepreneur who made unlicensed copies of Lego toy blocks valued at 300 million yuan ($46 million) has been upheld by the Higher People's Court in Shanghai (which also upheld a 90 million yuan fine imposed on the individual). It also upheld sentences imposed on other defendants, who had set up a factory that made copies of Lego bricks and toys and sold them under the brand name Leping. (TL)
Bidi Vapor laments burden of enforcement against illegal actors – Bidi Vapor, manufacturer of the Bidi Stick vape pen, has issued a press release highlighting a Southern District of New York judge granting a temporary restraining order and asset freeze against 24 defendants - most based overseas in China - selling counterfeit Bidi-branded products through the wholesale website, DHGate.com. The company states that the federal lawsuit is a part of an anti-counterfeiting programme designed to combat the sale of counterfeit and infringing products. "The manufacture and sale of counterfeit goods hurts all responsible suppliers of quality products," said Niraj Patel, president and CEO of Bidi Vapor. "It's a shame that independent manufacturers like Bidi Vapor have to shoulder the burden of pursuing wholesalers and retailers dealing in these illegal products, but our goal is to provide high-quality, electronic nicotine-delivery systems to adult consumers who are 21 and older." (TL)
Inter Milan is one-to-nil against Inter Miami in trademark match – Inter Milan has been embroiled in a trademark head to head after US team Club Internacional de Fútbol Miami adopted the name 'Inter Miami' in 2018. Inter Milan filed a trademark for its name at the USPTO in 2014 and quickly filed an opposition to the new trademark in 2019. As Inter Miami is part of the centrally owned Major League Soccer (MLS), the case was against MLS. It argued that INTER is merely descriptive and there was a likelihood of confusion as a number of clubs use INTER in their names. However, the USPTO dismissed the claim of likelihood of confusion in 2019. In December 2020, the USPTO once again ruled that Inter Milan's likelihood of confusion count must be thrown out as MLS failed to provide sufficient links to show there would be any consumer confusion. Now Inter Miami is only left with its claim of INTER as merely descriptive if it goes to trial. (JW)
Office radar:
(For more of the latest coronavirus-related updates from national IP offices, please read our dedicated article which is being continuously updated)
On the move:
Christopher Burrell returns to Faegre Drinker – Christopher J Burrell has rejoined Faegre Drinker as a partner within the IP practice in Washington after spending nearly seven years with Samsung Electronics America. In his previous role he served as senior director and senior counsel, head of appeals. The last time Burrell practiced at Faegre Baker Daniels (prior to its merger with Drinker Biddle & Reath in 2020) was between 2007 and 2013 in the firm's Minneapolis office. "Chris is a skilled IP litigator who has a clear understanding of what clients expect from their attorneys," co-chairs Tom Froehle and Andrew Kassner said in a joint statement. "Having helped direct legal operations at one of the world's leading technology companies, he brings an eye towards efficiency, collaboration and results. His client-centric approach perfectly aligns with our firm's commitment to client service." (BD)
Copyright litigation lawyer Paul Fakler leaves Orrick for Mayer Brown – Paul Fakler has left Orrick to join Mayer Brown as a partner in the IP team. "Paul is widely recognised as a go-to, first-chair litigator in bet-the-company copyright disputes on behalf of major digital music service clients and others, and we are thrilled to welcome him to our preeminent team," said Lisa Ferri, a co-leader of Mayer Brown's global IP practice. "His extensive and unique experience with rate-setting proceedings before the Copyright Royalty Board and federal courts, as well as administrative proceedings before the US Copyright Office and the US Department of Justice, will be invaluable to our clients in the digital media, computer software and telecommunications industries." Fakler also advises clients on matters pertaining to copyright, trademark, right of publicity, entertainment, computer and Internet law issues. (BD)
Jones Day announces partner promotions – On 1 January 2021 50 lawyers at Jones Day were admitted to partnership, including five members of the IP division. Guoping Da, Edouard Fortunet, Joshua R Nightingale, Alexis Adian Smith and Stuart W Yothers have all been promoted. They are based in Shanghai, Paris, Pittsburgh, Los Angeles and New York, respectively. (BD)
Cole Schotz announces five new members – Cole Schotz has announced that five attorneys have been elevated to members of the firm, including Timothy J Craddock, a member of the Intellectual Property Group. Craddock primarily focuses on IP litigation involving a broad variety of technologies including computer chipsets, data communications hardware, software-based appliances and applications, and mechanical devices. (TL)
Saul Ewing Arnstein & Lehr welcomes life sciences expert – Patent attorney Alireza Behrooz has been appointed to counsel at Saul Ewing Arnstein & Lehr's Washington DC office. He has over 15 years of experience helping clients protect intellectual property connected to their inventions in the life science, biologics/pharmaceutical and biotech sectors. (BD)
Finnegan bolsters its IP partnership – Washington DC-based IP firm Finnegan has welcomed six new attorneys to its partnership. The new partners are Arpita Bhattacharyya, Daniel G Chung, Karthik Kumar, J Preston Long, Ryan P O'Quinn, and David C Reese. The group brings with it experience in litigation before federal district courts and the US International Trade Commission as well as the USPTO. (JW)
And finally...
WTR Connect returns this spring with five days of strategic content – The second WTR Connect series of digital events will take place the week commencing 15 March 2021. The event will offer more than 20 interactive digital sessions, each designed to facilitate discussion, benchmarking and the sharing of best practice around key topic areas and challenges facing trademark and brand leaders. The theme for the event is 'exchanging cost-effective and resource-efficient best practices' and each day will start with a keynote address from a major industry figure, which is followed by live breakout discussions lasting for a maximum of 60 minutes. Registration is free for WTR subscribers and participants can register for as many sessions as they like across the week, building their own schedule. For event timings, and to sign up to attend, please click here.