LA City Attorney's high-profile counterfeiting victory highlights benefits of working with local prosecutors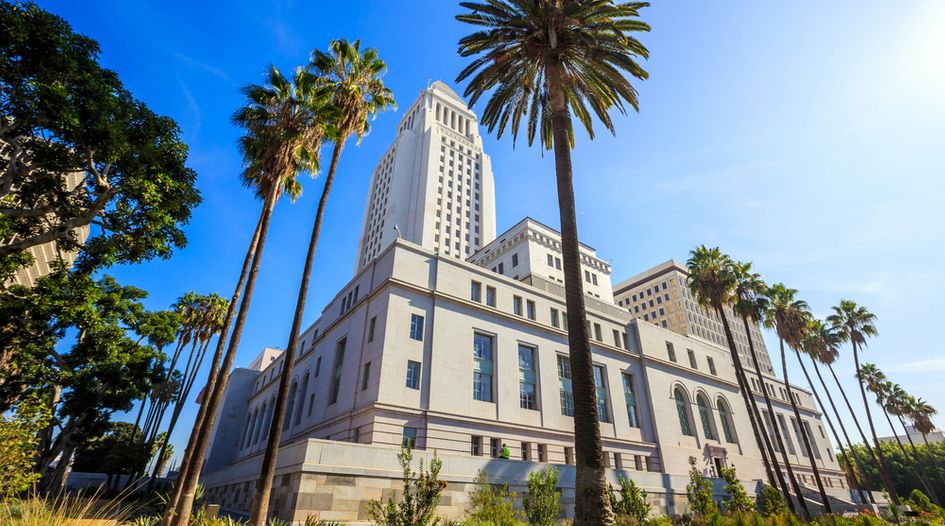 The Los Angeles City Attorney's Office has secured a 10-year permanent injunction and $3.6 million in civil penalties against six large-scale sellers of counterfeit clothes and accessories, all of whom are alleged gang members or gang affiliated, it announced this week. As well as being notable for its innovative approach, the decision evidences the link between counterfeiting and other criminal activities, and highlights the benefits of working with local prosecutors to bring IP cases.
Using California's Unfair Competition Law, and alleging violations of California Penal Code 350a (which covers those who wilfully manufacture, intentionally sell or knowingly possess for sale any counterfeit mark registered with the Secretary of State or the USPTO), the suit (in case 20STCV39902) alleged that six individuals sold items purporting to be from brands including Burberry, Chanel, Coach, Fendi, Gucci, Louis Vuitton and Tory Burch. The sales took place in LA's Fashion District, using a rotating variety of storefronts, sidewalk stands, storage units, stairwells, parking lots and car trunks.
This week the Los Angeles City Attorney's Office announced that the defendants – none of whom lived in the Fashion District or had a legitimate job there – had been enjoined by a 10-year permanent injunction, ordered to stay out of the district and instructed to pay a total of $3.6 million in civil penalties.
The action lodged with the California state court was the result of coordination between LA City Attorney Mike Feuer's office, the Los Angeles Police Department, the Los Angeles Sheriff's Department and private investigators, and is notable for a number of reasons.
The power of a civil approach
The first is that it illustrates the impact that civil enforcement cases can have.
Kevin Gilligan, supervising assistant city attorney of the IP prosecution section (who secured the judgment and injunction on behalf of the People of the State of California), tells WTR that the Los Angeles Fashion District has been a hub of counterfeit activity for well over a decade. However, while the Los Angeles Police Department and the Los Angeles Sheriff's Department have arrested hundreds of counterfeit sellers in the district, many receive light sentences and return to selling counterfeit goods almost immediately – despite the best efforts of prosecutors in criminal court.
"Consequently, we choose to use a civil enforcement action as our legal strategy to deal with chronic IP offenders," Gilligan explains. "When prosecutors file a civil enforcement action under Section 17200 et seq of the Business and Professions Code in the name of the People of the State of California, they can allege violations across multiple brands, document criminal history going back many years and seek sweeping equitable relief such as a 10-year ban from being present in the Fashion District. Such remedies and cross brand actions are not typically available under state criminal law or in an action by a single trademark owner."
In this instance, the ban was the big win. "Banning the worst offenders was the goal of the litigation from the outset," he notes. "The money was always secondary. One defendant answered and stipulated to a reduced penalty of $10,000 and a 10-year ban from the Fashion District. The other five failed to answer and we sought, and were awarded, the maximum penalty against the defaulting defendants. All were banned from the Fashion District for 10 years and are subject to additional restrictions."
When it comes to end results, a civil approach can be critical, as recent criminal law reforms by the California state legislature have reduced the impact of criminal penalties. For example, AB-3234 recently made most misdemeanours, including trademark infringement, divertible over the prosecutor's objection. Against this backdrop, civil enforcement takes on new importance. And as this case shows, the outcome can be powerful.
Counterfeiting's connection to other crimes
Another reason why the case is notable is that it documents a tangible link between the sale of counterfeit goods and organised gangs and individuals that are involved in other illicit activities. The six defendants were all alleged to be gang members or gang affiliated, some with violent histories. The Los Angeles City Attorney's Office stated that one defendant "clearly displayed a handgun and bullets on his social media page, which is frequently used to advertise counterfeit Rolex watches", while another told undercover investigators that he was a member of the Malditos gang. In fact, a number of the defendants openly claimed gang membership. What is more, one had previously been convicted of armed robbery and assault with a deadly weapon, with a second convicted of possession of a sawed-off shotgun and separately of armed robbery. The court filings claimed that the defendants had offered to sell Xanax and large quantities of marijuana, as well as counterfeit goods.
In a press release announcing the verdict, Feuer reflected: "Selling knock-offs is a source of income for some criminal gangs, who can use that money to fund other illicit activities. Moreover, fakes often are made by victims of labor trafficking. It's vital to continue to disrupt gang-involved counterfeit rings in LA."
"Many people do not understand how deeply gangs and organised crime are involved in the sales of counterfeit goods," Gilligan adds. "This case documents that gang members and affiliates do routinely sell counterfeit goods."
The case also tackles the perception that counterfeiting is a victimless crime head on. In addition to the economic losses suffered by legitimate businesses and the city itself (with citizens deprived of "a stable tax base, and revenues that could be used for courts, libraries, parks, public safety and street repairs"), the court filings paint a picture of legitimate sellers being intimidated by gang members.
The refrain of 'counterfeiting only hurts big brands' and the perception that such activity is isolated from other forms of criminal behaviour is a big frustration for rights holders. Cases such as this add to the body of evidence pointing out the fallacy in such views.
A local approach to a big problem
Finally, the case highlights the benefits of working with local prosecutors to bring IP cases.
"Brand owners often focus on getting their cases prosecuted by US attorneys who have powerful remedies and a long reach," Gilligan observes. "There are some cases that have international connections and a local prosecutor simply cannot bring that case for lack of jurisdiction and/or resources. Unfortunately, for brand owners, though, very few cases will merit consideration and prosecution under federal guidelines."  
IP counsel may therefore benefit from initiating a discussion with their local prosecution office about its willingness to prosecute such cases. Unlike the Los Angeles City Attorney's Office – which has been focused on IP cases for over a decade and has two dedicated full-time prosecutors to handle such matters – not every local office will have dedicated IP resources. However, even "if there is not a dedicated prosecutor in your jurisdiction, it might be worth reaching out to a section of the prosecutor's office that handles white collar crime or fraud to see if they would be interested", Gilligan explains.
Federal IP cases, particularly those involving national and international crime rings, remain an important option for rights holders. They also matter to federal prosecutors. However, many IP cases could be handled by local prosecution agencies, which outnumber their federal counterparts. Local experts can also provide important support to brand owners. "Best practices could include a brand hiring a local investigative agency to do surveys and undercover buys, then having the investigative agency bring the case to the local law enforcement agency to investigate, serve search warrants and bring the case to the local prosecutor," Gilligan suggests.
At present, funding to combat IP crime at the US local, state and federal level is failing to keep up with the danger to consumers or the need for private industry to protect its intellectual property. Cases such as this, however, prove how effective prosecution can be.