KFC dragged into UK politics, identifying a trademark bully, and EUIPO on long applications: news digest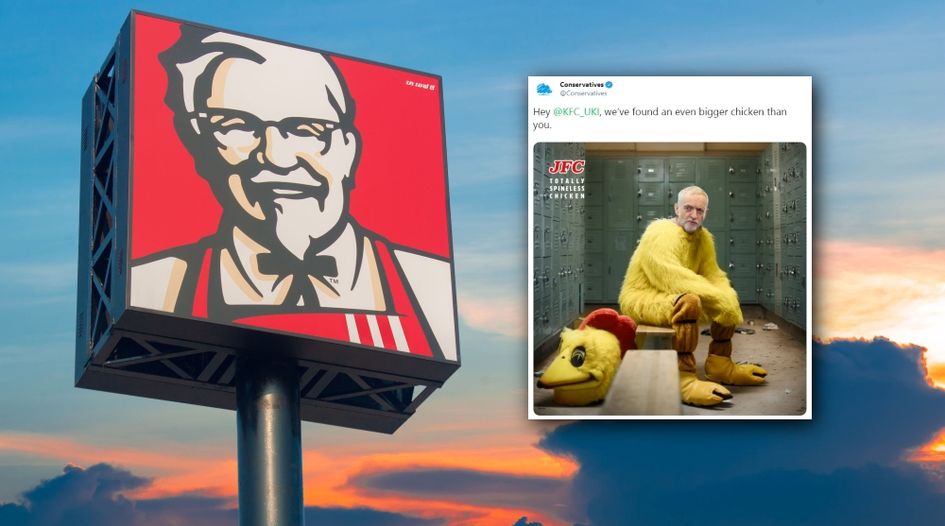 Every Tuesday and Friday, WTR presents a round-up of news, developments and insights from across the trademark sphere. In our latest edition, we look at the CEO of WeWork returning a "trademark payment" to the company, Ariana Grande suing Forever 21, debate over dropping wordmarks, Capital One losing a cybersquatting dispute, and much more. Coverage this time from Trevor Little (TL), Bridget Diakun (BD), Jonathan Walfisz (JW)  and Tim Lince (TJL).
Market radar:
KFC becomes embroiled in UK Conservatives political campaign – Earlier today on Twitter, the official account of the UK's Conservative Party publicly contacted KFC UK & Ireland on Twitter with a message that it has "found an even bigger chicken than you". The tweet contained an image of opposition leader Jeremy Corbyn photo manipulated into a chicken costume, with a mocked up logo with the term "JFC – Totally Spineless Chicken" (Corbyn's middle name is Bernard, so 'JFC' does not stand for his full initials). It's also been reported that the Conservative press office sent "actual chicken breasts" to journalists in a bag with the mocked-up JFC logo on it. The stunt follows Conservative leader and UK prime minister Boris Johnson calling Corbyn a "chlorinated chicken" earlier this week, with ring-wing tabloid The Sun featuring a 'Corbyn in a chicken costume' image on its front-page the following day. Reaction to the tweet has been broadly negative, with even members of the Conservative Party criticising it. For example, Tory MP Alistair Burt tweeted: "Please stop this stuff. We are better than this." WTR has written before about the careful risk management that brands need to implement when they are dragged into the political sphere, especially following numerous brand-related incidents during the 2016 US presidential election. With Johnson often compared to Trump (NPR noted that they are "remarkably similar figures"), and a UK general election looming, such brand related incidents could be on the rise in the United Kingdom. For KFC UK & Ireland, though, it appears that the fast food brand doesn't mind being political – earlier this week, it tweeted an image of Conservative political Jacob Rees-Mogg lying down in the Houses of Parliament with the quip "when you try to take on a Bargain Bucket all by yourself…". Indeed, it has also responded to today's tweet, stating "This is KFC not [UK talk radio station] LBC don't @ me". The main lessons for brands, then, is that if a political party drags you into the political domain, an effective response is to come up with a 'zinger'.  (TJL)
Zara is the latest Western brand to fall victim during Hong Kong protests – Zara has faced heavy criticism after some of its stores were closed on a day of expected protests in Hong Kong. Thousands of individuals on Chinese social media are calling for a boycott, saying that the retailer supported its employees who may have wanted to join the strike. The fashion retailer dismissed these accusations, saying that it had shut some of its stores in case there were staffing issues caused by transport disruption. The company further made a statement that it was not involved in the protests and respected the existing political system. This has done little to assuage users who want the store to issue a formal apology. It is not the first time a Western brand has been caught in a political crossfire (as the round-up above proves), and it is essential for companies to do damage control in these highly charged situations. (BD)
WeWork CEO returns "trademark payment" to company – Adam Neumann, CEO and co-founder of WeWork, has recently returned about $5.9 million worth of stock which he received for the "We" trademark. Neumann came under fire when he was paid for the trademark after the company changed its name to "The We Company". Some argued that it showed WeWork's corporate governance was not working appropriately. (BD)
GI status 'done little' for Koh Trong pomelo sales – An article in the Khymer Times has looked at sales of Koh Trong pomelos following the fruit receiving geographical indication (GI) status. Cambodia's Koh Trong pomelo, a citrus fruit grown in Kratie's Koh Trong commune, became the nation's third product to obtain GI status last year. But the GI status has done little since then. "The fruit has not gained much in popularity outside the province since, according to the Koh Trong Pomelo Producer Association," the article notes. "Most of the pomelos grown in Koh Trong are still consumed within Kratie." The association states that it must "find ways of improving its marketing and promotion activities". (TJL)
Premier League confiscated £5 million worth of counterfeits this year – England's Premier League has reported the seizure of 160,000 fake merchandise items worth over £5 million for the 2018/2019 period. The organisation has an anti-counterfeiting programme which targets online and offline marketplaces that sell unauthorised Premier League merchandise. It removed over 270,000 listings, accounting for more than £740,000, during the last football season. The anti-counterfeiting programme has seized nearly £30 million worth of counterfeits since it was implemented in 2007. Last year the league had its largest takedown since the programme was founded, with Seoul Customs uncovering 400,000 fake products in a shipment from China. These stats, then, show the value of employing active enforcement strategies. (BD)
Legal radar:
EUIPO responds to mystery over long lists of goods and services – Two weeks ago, WTR reported on a new trend of "unusually long" lists of goods and services on EU trademark applications (EUTMs). At that time, the EUIPO warned that lengthy lists of goods and services can lead to disadvantages for brand owners, including "delays in publication and registration of the EUTM", "an increased risk of conflicts with other trademarks" and "an increased risk of a trademark being eventually cancelled". Our research found EUTMs with gigantic lists of goods and services, many of which had word counts longer than classic novels. At that time, one expert suggested that there appeared to be a common element between many of the applications with long goods and services lists. "They seem to lose the plot in Class 35 in particular," said CompuMark director of custom & manager solutions Robert Reading.  "It appears, then, that these applications were filed with specifications compiled by the EUIPO goods and services builder's Class 35/37 assistant." However, earlier this week, the EUIPO got in touch with WTR about some data deep-diving the office had conducted in regards to these long list EUTMs. "Our analysis shows that the Goods & Services Builder (and the Class 35/37 assistant in particular) is not the cause of the long lists that have been generated in [recent] applications," an EUIPO representative notes. "Just as an example, looking at the 30 largest files we received during the month of July, we find that most were filed in Classes 8, 12, 20 and 21. One application alone contained nearly 105,000 words." Expanding on the findings, the EUIPO representative said that, while the Class 35/37 assistant can "sometimes generate longer lists", the advantages far outweigh the negatives. "The tool gives us greater efficiency and consistency, and it helps increase clarity and predictability for our users in that they know the terms they are using are already pre-approved," they further explained. "We actively encourage our users to use only the terms they need when creating lists of goods and services, through messages in our e-filing system. We intend to continue reinforcing this advice through further communication and outreach." (TJL)
Ariana Grande sues Forever 21 for use of "lookalike model" – Pop star Ariana Grande is suing clothes retailer Forever 21 for $10 million in damages for false endorsement, trademark infringement and copyright infringement. She alleges they have used her likeness in a branding campaign, suggesting an affiliation between the popstar and the retailer. Additionally, Grande's suit claims that Forever 21 had originally asked her for a partnership which she declined. The lawsuit notes that Grande's Instagram posts have individual worth in a six-figure range. Although Forever 21 agreed to remove the unauthorised posts in February, the images remained on social media until mid-April. (JW)
Israel Supreme Court dismisses Nestlé case – The Espresso Club, an Israeli company, was sued by Nestlé and its subsidiary Nespresso for trademark infringement, after Nestlé claimed they had used a look-alike George Clooney in advertising campaigns. The Tel Aviv District Court has rejected their arguments, and Nestlé appealed to the Supreme Court. The Supreme Court dismissed the case, stressing that Nestlé had no rights over Clooney's image, or his public image as tied to the Nespresso brand. The Supreme Court also rejected the argument that Espresso Club's advertising campaign diluted its reputation. This was in line with Israeli law that protects parody or satire in advertising and emphasised that if the satire is "stinging", the burden is on the plaintiff to provide factual infrastructure to prove negative influence on consumers. (JW)
Media watch:
INTA opens nominations for 2019 President's Awards and Service Awards – The International Trademark Association (INTA) has opened nominations for the 2019 Leadership Meeting and the newly revised INTA Service Awards (formerly known as Volunteer Service Awards). The President's Award recognises individuals belonging to an INTA member organisation who have, over the course of a career in trademark and related IP law, made "a lasting impact on INTA and its mission". The INTA Service Awards recognises individuals and organisations that provide "exemplary service to INTA". The nominations period is open until September 13. (TJL)
Newcastle United fans react badly to anti-counterfeit conference – Yesterday we published an article covering the latest 'Football Against Fakes' conference held in the Emirates Stadium in London. The event, hosted by the Premier League, sought to help football clubs, brands, and enforcement professionals better protect themselves and consumers against the proliferation of fake and counterfeit football goods. That same day, football club Newcastle United released this article, covering their involvement in the event. Following publication, Newcastle United fans reacted in uproar by targeting chairman Mike Ashley, as noted by a local newspaper. (JW)
How to identify a trademark bully – Over on iPelton, the blog of trademark attorney Erik Pelton, a simple formula has been created to determine whether the actions of a brand owner constitutes so-called "trademark bullying". Pelton explains in the post: "There is no formal or legal test for 'trademark bullying', although it is a topic of great conversation, and an important discussion." The formula requires asking whether a brand owner's claims of infringement and tactics are unreasonable. If the answer is 'yes' to both, then the actions should be determined as trademark bullying. The formula could be a handy tool for media outlets that often jump to the 'bullying' claim when reporting of trademark enforcement. (TJL)
The opportunities and risks of dropping a word mark – The Drum has spoken to marketing experts on the increasing trend of major companies dropping their brand name from their logo. Recent examples include snack brand Doritos and banking giant Mastercard. It was also noted that Starbucks "prefers to use the logo by itself without its word mark". In theory, such a move can only be implemented by major brands, and can be advantageous. "Extreme, telegraphic simplicity is very useful in the small and rapidly moving spaces of a device-dependent world," one of the experts says. "So, if words get in the way, remove them." However, there are risks. "Names communicate, so the dropped name makes more sense if the brand is very well understood already – and there's always the risk of ending up nameless," another expert said. "Prince can drop his name and become a symbol. But not all brands are Prince." For brands considering such a bold move, it appears the question they need to ask is – are we Prince? (TJL)
Domain radar:
Capital One loses domain name cybersquatting dispute – Domain Name Wire has reported on finance brand Capital One's recent domain dispute loss following their data breach. Capital One had a data breach in mid-July. On July 30, a Georgia man registered 'capitalonedatabreach(.)com'. Capital One filed the dispute under the Uniform Domain Name Dispute Resolution Policy (UDRP) on August 6. The defendant argued that he had no intention of monetising the site and only intended on providing public information on the breach. Although he admitted he might run ads on the site, he was not currently running adverts on it. The panel determined it was a case of nominative fair use, highlighting the difficulty filing a UDRP against a newly-registered domain name that has potential to grow and begin monetisation. (JW)
On the move:
Fetherstonhaugh & Co rebrands – Long-running Canadian IP law firm Fetherstonhaugh & Co has changed its name to Smart & Biggar IP Agency Co. The rebrand was announced earlier this week, with the firm's executive committee chair, Steven Garland, saying: "The name Smart & Biggar is well known and highly regarded for intellectual property in Canada and globally. This name change is a natural evolution and part of our long-term strategic focus on efficiency, further streamlining our operations, and wrapping our services under one banner – Smart & Biggar." (TJL)
Loeb & Loeb promotes IP attorneys – An announcement on Loeb & Loeb's website reveals the promotion of four attorneys to partnership, two of which are versed in handling IP matters. C. Linna Chen and Frank D. D'Angelo, both members of the litigation practice in New York, manage IP litigation. (BD)
Stibbe expands IP practice – Stibbe has appointed IP lawyer Philippe Campolini to its Brussels office, according to a press release on the firm's website. Campolini specialises in life sciences and his practice focuses on patent, trade secrets and copyright matters. (BD)
Katten elects 11 associates to partner – Katten has elected 11 attorneys to partner. Of those elevated to partnership are Christopher B Ferenc and Jeffrey A Wakolbinger who are members of the intellectual practice group in Washinton, DC, and Chicago, respectively. (BD)
Patent lawyer joins Jenner & Block – Jenner & Block have hired Amr O Aly, a patent lawyer, who joins the firm as partner in the patent litigation and counseling practice. Aly will be working out of the firm's New York office. His practice focuses on patent litigation and counseling matters, but he is also experienced in handling trademark and copyright issues. Aly was formerly at Mayer Brown. (BD)
DLA Piper grows Irish presence – DLA Piper has bolstered its recently opened Dublin office with the appointment of four new partners, according to a press release on the firm's website. John Magee, formerly a partner at William Fry, has joined the IP and technology (IPT) practice. He focuses on matters relating to technology, data privacy, data breach and cybersecurity. The IPT practice also gained a new legal director, IPT lawyer Treena Dunlea-Peatross, who had been working at Bird & Bird's London office. (BD)
Dilworth Paxson makes IP hire – Ted Oyphanith has been appointed to associate to Dilworth's IP department, according to an announcement on the firm's website. Oyphanith focuses his practice on electrical, mechanical, and financial business process patents. He has a specialty in 5G networks and software. Oyphanith will be working out of Dilworth's Philadelphia office. (BD)
Greenberg's Minneapolis office gains shareholder – Greenberg Traurig has added additional manpower to its Minneapolis office with the appointment of Alexander J. Kim to shareholder in the IP and technology practice, according to a press release. Kim's expertise lies in the prosecution of US patents, and he is also experience in counseling clients on international patent matters. He was formerly a partner at Hamre, Schumann, Mueller & Larson, P.C. (BD)
And finally…
Get the inside track on brand protection online – WTR is pleased to announce that, following a sold-out debut in Chicago, its Brand Protection Online event is heading to London on 14 October. A unique forum for brand professionals to discuss solutions to the challenges that arise when protecting trademarks online and share insight on how to prioritise enforcement efforts, the event programme will cover:
Developing a state-of-the-art online brand protection strategy
 Fighting infringement on e-commerce sites
Brand protection strategies for social networks and apps
Managing the changing domain name landscape
Data privacy and GDPR: working within the rules
Delegate places at the event cost £495 (excluding VAT) but – until 6 September – a saving of £100 is available when using the following code: BPO100. To register for Brand Protection Online Europe, click here.