John Oliver UFC trademark brawl; Brighton FC criticised over filing; Nestlé rebrand – news digest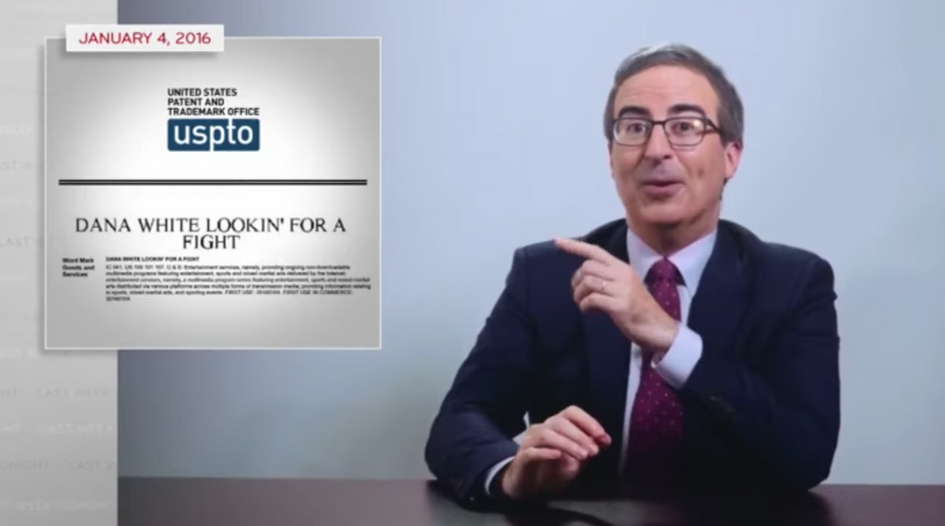 Every Tuesday and Friday, WTR presents a round-up of news, developments and insights from across the trademark sphere. In our latest edition, we look at Amazon's latest pharmaceutical trademark bid in Australia, an NBA player's IP lawsuit seeking $2 million in damages, the USPTO and the JPO issuing a joint statement, and much more. Coverage this time from Trevor Little (TL), Bridget Diakun (BD), Jonathan Walfisz (JW) and Tim Lince (TJL).
Market radar:
Nestlé to re-brand plant-based burger over trademark challenge – Nestlé is to re-brand its plant-based Incredible Burger to Sensational Burger after US manufacturer Impossible Foods cried foul. A Dutch court ruled that the Incredible Burger had infringed Impossible Foods' trademarks and was likely to cause confusion among consumers. According to the lawsuit, Nestlé had been in contact with Impossible Foods about a potential licensing or partnership deal in 2018 before it announced plans to launch its own plant-based product. Impossible Foods is not yet available in the European market, although it is seeking approval to sell its burgers there. According to reporting by the Financial Times, which was re-published by the Marketing Week, the judge stated that the Swiss multinational "tried to frustrate Impossible Food's entry into the European market by offering its own plant-based foods under a similar name". Nestlé is now prohibited from using the term "Incredible" in Europe and has four weeks to remove the existing products from the shelves or risk a fine of €25,000 a day. The Swiss food giant is appealing the decision. Notably, Nestlé has already launched its plant-based burger in the US, where it is called the Awesome Burger, rather than the Incredible Burger. (BD)
Legal radar:
Amazon fights back with new pharmaceuticals mark – Amazon has filed an application with IP Australia – the country's IP office – for the trademark 'BasicCare' referring to Amazon-branded medication. The application comes after the ecommerce giant faced backlash for its 'Amazon Pharmacy' mark applied for in January. The Pharmacy Guild of Australia objected to the Amazon Pharmacy mark on the grounds that Australia's pharmacy operation regulations mean that such a designation should be limited exclusively to trained pharmacists, explains the Sydney Morning Herald. The Pharmacy Guild of Australia has until Thursday to provide official grounds to IP Australia for objecting to the trademark. (JW)
NBA player files trademark suit seeking $2 million in damages – Giannis Antetokounmpo, an NBA player for the Milwaukee Bucks, has filed a trademark suit seeking $2 million in damages. The player has routinely sought to protect his Greek Freak' brand and has filed a total of 13 lawsuits in the past year to do so. The NBA MVP's latest suit is against website Fan Closet and alleges that the site has been producing and selling unlicensed phone cases, hoodies, bodysuits and baby onesies with the Greek Freak brand. Despite Fan Closet removing the merchandise from the site after a cease-and-desist letter from Antetokounmpo, the star has continued with legal action as they apparently did not cooperate "in good faith". (JW)
Office radar:
(For more of the latest coronavirus-related updates from national IP offices, please read our dedicated article which is being continuously updated)
USPTO and JPO release joint coronavirus message – The United States Patent and Trademark Office (USPTO) and the Japan Patent Office (JPO) have issued a joint message pledging to work together "to advance initiatives for promoting investment and innovation" in the wake of the challenges caused by the ongoing covid-19 outbreak. The letters points to various measures implemented by both offices, including flexibilities for procedural deadlines, and stated that the crisis has highlighted how innovation is crucial for humanity to overcome crisis situations (noting that developments in teleworking and online services has become a "major foundation of our economy and daily lives" during the outbreak). (TJL)
Mexico IPO hosts international IP protection seminar – The Mexican IP Office (IMPI) has held an online seminar dedicated to the Madrid and Hague systems, in an effort to promote the international registration of trademarks and industrial designs. The seminar was organised jointly with WIPO, and was broadcast on Facebook on 26 and 27 May 2020. During it, WIPO and IMPI experts gave practical information to entrepreneurs in Mexico on how to effectively use both systems. (TJL)
UKIPO updates tables in annual data – The UK Intellectual Property Office's (UKIPO) has updated its patent, trademark, design and hearing data for 2019. Last week we reported on the data, but the figures for the tables on top applicants for trademark applications and registrations has now been amended. Now the top 10 filers for applications in 2019 were: Huawei, L'Oreal, NOVARTIS, Independent Vetcare, Apple, Samsung, Unilever, Google, Microsoft, and Glaxo Group. The top 10 filers of registrations were: L'Oreal, Independent Vetcare, NOVARTIS, Huawei, British American Tobacco, Unilever, Samsung Electronics, Apple, Google, and Microsoft. (JW)
Media Watch:
Mixed reaction to Brighton's trademark plan – This weekend The Telegraph reported that Premier League Brighton seeking trademark protection for the word 'Albion' in a move designed to protect supporters against fake merchandise. The club – Brighton and Hove Albion – is reportedly hoping to join forces with other clubs that use the term in their name to reinforce their hopes of – in the words of The Telegraph "copyrighting the word". The mixing up of IP terminology notwithstanding, other outlets jumped on the story. Albion is an alternative name for the island of Great Britain, and this has caused some criticism, including from some of the club's own supporters. Wearebrighton.com opines: "Quite how Brighton can claim ownership of a word dating from the 6th century BC is anyone's guess. Albion is the ancient Celtic name for the island of Great Britain, used for over 500 years before the Romans invaded. It is intertwined with myths about giants who used to walk the land and appears in numerous poems and writings referring to Britain… There are countless other football clubs across England and Scotland who use the term Albion in their name. Where they will stand should Brighton be able to trademark Albion remains unclear… To try and trademark as its own a 2,600-year-old word that the club took from elsewhere in the first place as seems a completely bonkers idea." Trademarks and football intersecting invariably causes media waves (exhibit one, Liverpool FC's ill-fated bid to register 'LIVERPOOL'). As a trademark-focused platform, WTR would usually cut though the online chatter and criticism, and provide a balanced perspective on the club's motives. However, with this author being a lifelong fan of Brighton's arch-rivals, Crystal Palace, any sense of journalistic integrity has been momentarily paused and the online discussion can continue unchecked… (TL)
Footballers protect brands - as they should… – Staying in the world of football, a piece in The Mirror, titled 'Top footballers like Dele Alli trademarking personal logos to flog their own brands" has focused on the Tottenham Hotspur star Alli's new double-D trademark, registered to "to create his own commercial imprint". The piece goes on to examine the brand efforts of other players, including Manchester United striker Marcus Rashford, who "has ringfenced his signature and initials so they cannot be re-used", and who is keen to "flog hundreds of items including cosmetics, car accessories, watches and even toilet paper". WTR has written extensively on the brand building activity of soccer stars the world over, as players seek to capitalise on their profile and secure a revenue stream that may outlast their career on the field. Arguably, a bigger story would be 'major footballing celebrities don't get protection for their brands' (TL)
John Oliver trademark brawl with UFC's Dana White – Last week, we reported on the UFC filing four new trademark applications for the term UFSEA. The move followed the UFC filing trademark applications in April for the term FIGHT ISLAND after UFC boss Dana White announced a private island dedicated to UFC matches while the United States is in quarantine due to covid-19. The existence of 'Fight Island' was subsequently featured in an episode of Last Week Tonight with John Oliver, in which the comedian mocked the name and suggested an alternative, 'UF-SEA'. Two days after the episode, the UFC had indeed filed trademark applications for that term. Over the weekend, White told ESPN that the new filings did indeed come due to Oliver's suggestion. "I told my lawyers after that [episode], see if the trademarks are there for 'UFSEA'," White said. "So obviously it did and you guys know about them. I think we got it. Thanks, John Oliver. I'm not giving you a cut either." That isn't the end of that, though. Oliver returned to the subject on last weekend's episode, and it seems a 'trademark brawl' may have erupted between the pair. In the segment, Oliver suggested new names for other UFC events, and also delved into the UFC's trademark portfolio. "I think Dana White is looking for a fight here, in fact I'm certain of it. He's literally trademarked the phrase DANA WHITE LOOKIN' FOR A FIGHT, he remarked. "And as we learned when looking at his filings at the UFC, it's one of many phrases he has trademarked in the past. There's FIGHT LIBRARY, which is excellent, CHICKEN MONSTER, which is somehow even better, and BADDEST MOTHERFUCKER." In finishing the segment, Oliver revealed an expired application from UFC for the term YOU WILL SUBMIT, which had been registered and since lapsed on goods and services including "baby booties", "fanny packs", and "walking canes". In ending the show, Oliver said, "since Dana took something webcam up with, we're going to return the favour", and revealed that his show had filed a trademark application for the term YOU WILL SUBMIT and is now selling a baby onesie with that term emblazoned on it on an online store (at 'tugslabmeatsbabypalace.com'), presumably in an effort to prove use in commerce. Time will tell whether Dana White will react with a counterpunch to this cheeky jab from Oliver. (TJL)
Call from Māori community to update traditional knowledge IP rights ­– A recent article in the Te Ao Māori News has focused on the need for global intellectual property protections for how Māori objects and symbols are used globally. While Māori objects are protected by traditional cultural knowledge and expression protections in the culture's native New Zealand, however these protections do not extend internationally. AJ Park principal Lynell Tuffery Huria was quoted as saying: "Some of the paintings I've seen that have depicted our tūpuna, they're not really appropriate or culturally appropriate, they're not consistent with kawa and tikanga". She continued to explain that intellectual property rights currently don't take 'tikanga' – or culture expression – into account. "There's a real need to update our laws to take into account those cultural protocols and practices that we would undertake in a Māori context." (JW)
On the move:
HGF expands Edinburgh team – Caroline Pigott has joined HGF in the Edinburgh office. Pigott is a Scottish IP solicitor as well as a chartered trademark attorney. She advises clients on the development of their trademark strategies, including freedom to operate and opposition proceedings, as well as the filing and prosecution of trademarks. Pigott has particular expertise within the tech and food and drink sectors. (BD)
Harbottle & Lewis appoints new partner – London firm Harbottle & Lewis has announced the appointment of Kostyantyn Lobov as a partner. Lobov advises on all aspects of intellectual property, advertising and related regulatory issues. He has a particular focus on the games industry and IP rights through online distribution platforms. (JW)
And finally...
Free-to-view anti-counterfeiting intelligence now available – WTR has published the 12th edition of Anti-counterfeiting: A Global Guide, which provides comprehensive guidance on anti-counterfeiting laws, procedures and strategies in key jurisdictions around the world. Presented in a simple, easy-to-use format, this indispensable publication analyses the anti-counterfeiting frameworks in place in 18 jurisdictions, with a regional chapter identifying wider trends and best practices in the Western Balkans. In addition, an industry insight section offers guidance on protecting brands in the digital world, as well as industry-focused pieces offering insight into anti-counterfeiting strategies and best practice in the electronics and consumables, and luxury goods sectors. To access the new edition, click here.