"It was like covid never happened" – GLINTA returns with a bang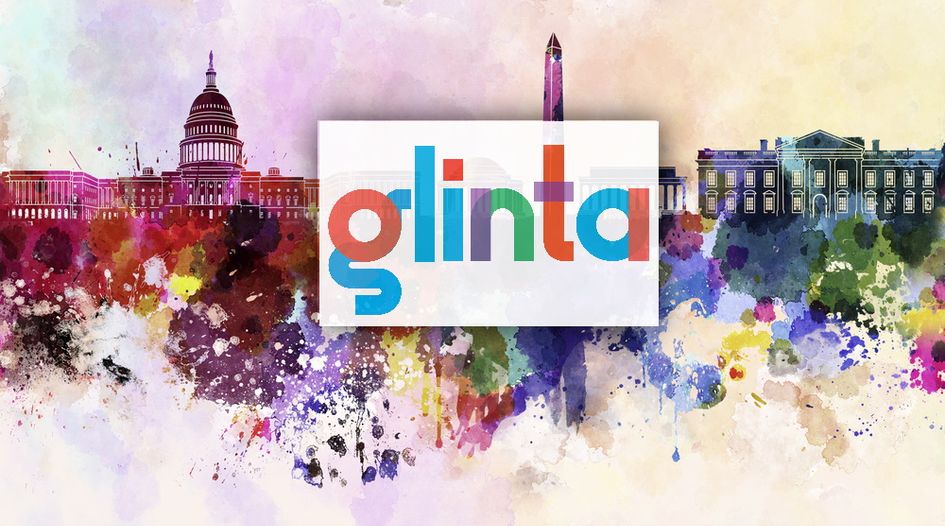 GLINTA hosts first in-person Annual Meeting reception since 2019
Group provides private networking and fundraising opportunities for LGBTQ+ members
Future aims include regular Leadership event and additional charity partnerships
The great and the good of the trademark community have descended on Washington DC this week for the first in-person INTA Annual Meeting in almost three years. With members, colleagues, clients and friends catching up at receptions and dinners around the city, venues are abuzz with people happy to be reunited once more.
This was particularly the case at Sunday night's GLINTA gathering.
GLINTA is a private group of LGBTQ+ INTA members from around the world set up over 20 years ago. Every year, GLINTA hosts an invite-only reception of drinks and entertainment at the INTA Annual Meeting for members and a select group of allies to get together, network, support charities and generally have fun.
Between 250 and 300 people attended the event this week to network and reconnect after years apart. "It was like covid never happened," said Emily Murray, chief strategy officer at Winterfeldt IP Group, which hosts the evening. "We were thrilled to have an event that captured the energy and enthusiasm our events originally had."
As an early member of the group, Brian J Winterfeldt has seen the organisation grow considerably over the years. "GLINTA grew primarily through word of mouth as a means to hold social events, and after several years a few of us decided it would be helpful to create a directory of members and add some more structure to our events," he recalls.
As awareness around the importance of LGBTQ+ diversity has grown, GLINTA has attracted the attention of senior INTA staff and volunteers and increased significantly in size and profile.
"Seeing GLINTA grow by leaps and bounds over the past two decades – from an informal social group of a handful of LGBTQ+ attorneys to a large organisation that has hundreds of members and attendees at its events – has been an ongoing achievement," Winterfeldt reflects. "We have an organisation that people are excited to be a part of and for which they very much look forward to attending events, an organisation that supports immensely worthwhile charities, and that is well-regarded by senior members of the INTA community."
GLINTA's core goals are to maintain a directory of LGBTQ+ members of the trademark community who wish to self-identify for the purposes of networking and support, and to organize social events during each INTA Annual Meeting and some INTA Leadership meetings that allow members and key allies to spend time together in person.
Members have used the GLINTA directory to find new jobs, recruit employees and discover new clients, counsel and vendors. "Keeping up that momentum so that members can continue to rely on GLINTA as a source of connections (and fun!) is our definition of success," Winterfeldt says.
As well as being fun, GLINTA events also have a charitable component through which members raise funds and awareness for organisations connected to the LGBTQ+ community and other worthy causes. This includes a long-standing sponsorship of The Trevor Project, a charity that provides suicide prevention and crisis intervention services for LGBTQ+ youth.
"This charity is incredibly meaningful to GLINTA because LGBTQ+ youth are at much greater risk of suicide than their peers, and we want to ensure that young members of our community have the chance to grow up and live happy, productive lives," Winterfeldt says.
Meanwhile, keeping the GLINTA directory of members private ensures that the group remains a private, personal space. Members must specifically opt in to be listed in the directory, while GLINTA membership is limited to those who self-identify as members of the LGBTQ+ community, to ensure that the organisation's primary focus remains on the community itself. "While we do have great interest in our events, they are offered on an invitation-only basis to ensure that they are a safe and supportive space for members and certain allies," Winterfeldt explains.
The covid-19 pandemic put a stop to these kinds of events. And members are excited to be meeting in person again now. Although GLINTA pivoted to virtual networking during the pandemic, there is no substitute for meeting face to face.
GLINTA also has its eye on future opportunities for growth. The organisation is considering adding more programming in areas such as diversity and structured networking. It also hopes to increase the number of charitable organisations that it partners with and to make the GLINTA reception at the INTA Leadership Meeting a recurring date for the calendar.
"Through GLINTA, we always want to create an atmosphere that is highly festive and a bit less sedate than many business-oriented receptions and events," Winterfeldt explains. "We want to break down the barriers of formality in order to build a community that can remain tight-knit even though we are dispersed nationally and internationally throughout much of the year in between our in-person events."
For that reason, GLINTA aims to ensure that its events are a memorable highlight of every guest's INTA meeting. "To put it simply, GLINTA events are lively, spirited, and great fun!" Winterfeldt enthuses.
Anyone who is interested in joining GLINTA – or in learning more about the organisation for allyship or sponsorship purposes – can contact [email protected]
"We would be glad to hear from everyone – whether you would like to be listed in the GLINTA Directory, want to volunteer to help with future events, or are interested in learning more about sponsorship opportunities and benefits," Winterfelt says. "And of course, getting involved in LGBTQ+ diversity matters in your own organisation – whether as a member of the community or an ally – is also always encouraged. The more we can grow our larger community, the greater impact GLINTA will be able to have."
GLINTA members enjoy reuniting in person