IPOS unveils new IP resources; THE trademark battle paused; Sony goes on PlayStation filing spree – news digest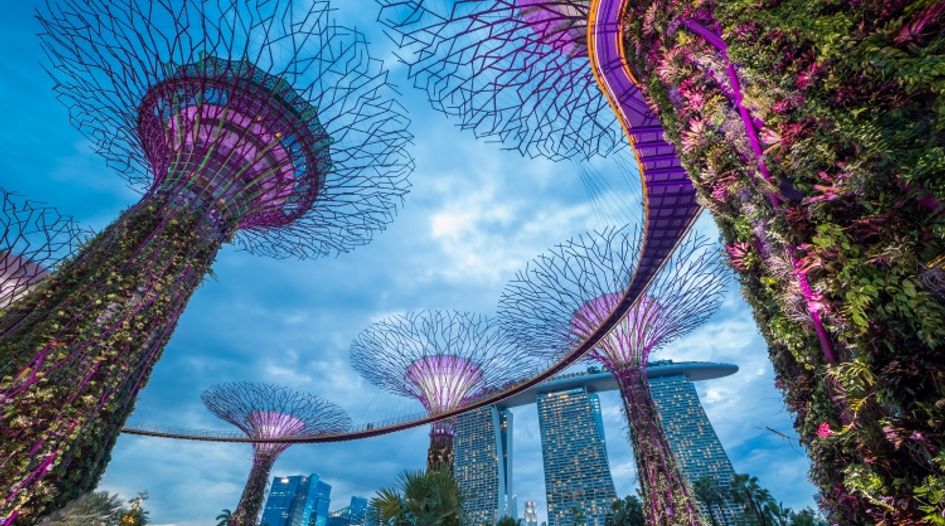 Every Tuesday and Friday, WTR presents a round-up of news, developments and insights from across the trademark sphere. In our latest round-up, we look at the EUIPO releasing a new design examination tool, a Supreme counterfeiter expanding on their production process, the staggering cost to get information on trademark scams, and much more. Coverage this time from Tim Lince (TJL) and Trevor Little (TL).
Market radar:
Chinese authorities clamp down on efforts to capitalise on Olympic athletes' rights – With the Tokyo Olympic Games in the rearview mirror, the China National IP Administration (CNIPA) has revealed that it had to swing into action to prevent third-party applications for trademarks relating to the names of Chinese athletes. The country was second only to the United States on the Olympics medal table, boasting 38 gold, 32 silver and 18 bronze medals. The CNIPA has since announced that it has rejected 109 applications relating to the games, including for the names of athletes such as Yang Qian, Chen Meng and Quan Hongchan. The office notes that these applications aimed to improperly use the market reputation of others and infringe on their names and legal rights. "Applicants who seek improper interests and their entrusted trademark agencies shall be dealt with strictly in accordance with laws and regulations," it stated. (TL)
Information on trademark scams available – for a hefty fee – Trademark scams have long been the scourge of the industry and this week Erik Pelton of Erik M Pelton & Associates has presented evidence that points to the sheer scale of the problem. After lodging a Freedom of Information Act request with the US Postal Inspection Service, he was informed that it could furnish the requested documents for the bargain price of $949,284 to cover the time and expenses involved, Pelton reveals on his blog. The estimated 22,600 hours required would equate to 12 full-time equivalent federal employees for a full year, attorney Sean Flaim calculated on Twitter. Pelton reflects: "Given such an expense, it seems that they must be sitting on a mountain of such documents. If so, how can there have been so few arrests or prosecutions over the years (a handful) while the scammers keep operating and even proliferating and moving into new means of scamming online?" What is more, this is only a US freedom of information request; trademark solicitation scams are operated the world over. Clearly, there is significant money to be made by fraudsters, while there is little in the way of a deterrent. As Pelton concludes: "Millions of dollars per year are likely to be flushed away to these scammers – while trust in the legitimate trademark system and providers erodes, and businesses that were duped have less money to invest in real trademark protection." (TL)
FDA approval of Pfizer vaccine brings Comirnaty brand to United States – The US Food and Drug Administration (FDA) granted full approval to the Pfizer/BioNTech covid-19 vaccine yesterday – the first to be issued to a covid-19 vaccine in the United States. The approval will see Pfizer begin to market the vaccine under the brand name Comirnaty, which it has already attempted to use in Europe. As WTR wrote earlier this year, the name Comirnaty (pronounced 'koe mir na tee') is intended to replace the current common name, 'the Pfizer vaccine'. The word is a combination of community, immunity, mRNA and covid, the marketing company behind the name says, and is "meant to evoke the word community". However, with 'the Pfizer vaccine' so widely used, it will be interesting to see whether Pfizer can get 'Comirnaty' to break through into consumer lexicon. (TJL)
New Mexico AG throws support behind INFORM Consumers Act – New Mexico Attorney General Hector Balderas has considered the problem of organised retail crime and called for legislative action to accompany law enforcement efforts – particularly online – in an op-ed in Business Insider. In a bid to "ensure the legitimacy of third-party sellers or products", he points to the proposed INFORM Consumers Act, which he writes "will provide online shoppers the transparency they deserve before making an online purchase, while also helping legitimate businesses – a win for all except those looking to profit from stolen goods. A national measure such as the INFORM Consumers Act will support the efforts of law enforcement officials across our state, giving them an additional tool to better track and take down dangerous retail theft rings." The act has been the focus of much discussion in brand protection circles due to its potential to aid the fight against fake goods online. (TL)
Brand radar:
Sony goes on PlayStation filing spree – Sony Interactive Entertainment has filed a number of trademarks at the Japan Patent Office (JPO) for the terms PS6, PS7, PS8, PS9 and PS10 in an effort to secure protection for future PlayStation consoles. According to Gematsu, the filings follow Sony's traditional pattern of securing IP rights well in advance of releasing the related product. For example, the company secured the PS4 and PS5 trademarks in 2006, even though PlayStation 4 and PlayStation 5 were not released until 2013 and 2020, respectively. According to current timelines, the PS10 trademark relates to a product that may not be released until around 2045. (TJL)
Legal radar:
Hostilities paused in THE trademark battle – Ohio State University and fashion brand Marc Jacobs have paused their trademark battle over the word 'the', reports Dennis Romero of NBC News. A university spokesperson confirmed that an agreement has been reached that allows both parties to use THE on products until the USPTO rules in the dispute, which arose after both sides filed for the mark. "Ohio State and Marc Jacobs have agreed to suspend opposition proceedings while awaiting further rulings from the Patent and Trademark Office," the spokesperson expanded. "Marc Jacobs' THE branded products are associated with high-end/contemporary fashion [while] Ohio State's THE branded products are associated with and sold through athletics and collegiate channels." (TL)
Office radar:
(For the latest coronavirus-related updates from national IP offices, please read our dedicated article, which is being continuously updated.)
EUIPO unveils new designs examination tool – The EUIPO has launched a new tool for examining international design registrations designating the European Union. Developed in collaboration with WIPO and part of the back office of EUIPO examiners, the tool includes specific features to assist in the assessment of the consistency between design views. In addition, when the office accepts an international design designating the European Union, it will now send the owner a cover letter confirming the new protection granted within the European Union via WIPO. The office states: "This is one of many initiatives that the EUIPO is undertaking to support small businesses and that are part of our 2025 Strategic Plan. Designs are a powerful driver for improving economic indicators. In fact, design-intensive industries account for 30.7 million direct jobs and contribute 16.2% of the EU's total GDP according to the IP Contribution study." (TL)
New IP resources unveiled in Singapore – A number of IP resources have been announced to coincide with Singapore's annual IP Week. Minister for Culture, Community and Youth and Second Minister for Law Edwin Tong stated: "In line with the Singapore IP Strategy 2030, which we launched earlier this April, we are introducing a suite of resources to help enterprises maximise the value of their intangible assets (IA) and intellectual property. We hope that these initiatives will provide continued growth opportunities for Singaporean enterprises and IP professionals and in turn strengthen Singapore's position as a global IA and IP hub. This has also taken on added importance as enterprises position themselves to emerge stronger from the pandemic." The latest moves include expanding the practitioner panel available to users of the IP Office of Singapore's (IPOS) complimentary IP business and legal clinics and partnering with the Singapore Management University's Yong Pung How School of Law to pilot a mentoring IP leaders programme. Elsewhere, IPOS has put together a list of Singapore-based IP expert witnesses who can assist in court or arbitration proceedings relating to IP and technology disputes and launched Brand Search, a four-in one search function on the IPOS GO mobile app, which allows simultaneous searches for business names, trademarks, available domain names and social media usernames. (TL)
Media Watch:
Supreme counterfeiter expands on production process – A popular counterfeiter that goes by the pseudonym 'Repsbrothers' has written an expansive Reddit thread (with photos) on how to create "high quality and detailed" Supreme brand fakes. The counterfeiter claims to have purchased an authentic retail version of a Supreme Box crewneck jumper, before spending 12 months researching how to make a replica version. In doing so, they claim to have purchased "dozens of different colours of thread from the world's leading embroidery thread brand suppliers" (photo) to find one that is the closest match to the thread used on the Supreme item. "In order to pursue perfection", they then claim to have "made more than 100 changes and samples (with each sample preparation will take more than an hour)" and have uploaded a photo of some of these samples. "In order to achieve the same hardness and feel as retail embroidery, I searched a lot of materials, and finally I found retail embroidery lining paper in the United States," they continue (photo). They conclude by claiming that the high-quality Supreme fake will be available "within a month" for Y328 (approximately $50). The post is interesting for a number of reasons. First, it suggests that the fashion counterfeits industry is moving towards higher-quality fake goods due to market demand. Second, it shows the research process that some counterfeiters undertake to produce their illicit products. Finally, it reveals the marketing techniques that some counterfeiters employ to stand out from the crowd. Indeed, the post received more than 1,500 up-votes and more than 200 overwhelmingly positive comments on Reddit. (TJL)
In-house vacancies radar:
Olaplex – The legal team at Olaplex is seeking a senior counsel, director of intellectual property to lead all IP and brand enforcement-related matters. In a remote role reporting to the deputy general counsel, the successful candidate will counsel the business on all IP-related matters, oversee global IP litigation and manage contracts and agreements relating to the company's brand advocates, ambassadors, marketing and creative services. The company is seeking candidates with at least five years' in-house or law firm experience focused on IP and brand enforcement matters for a product company, as well as experience and demonstrated success working in a remote environment. More details are available on LinkedIn. (TL)
And finally...
WTR events to take place in Europe and the United States – WTR is hosting a series of one-day events in London, San Francisco, Chicago and New York this December. WTR Live: The Future of Trademark Management and Brand Protection will facilitate discussion, benchmarking and the sharing of best practice around key topic areas and challenges facing brand leaders. Crucially, it will offer a glimpse into what industry leaders expect the future of trademark practice to look like. Registration is free to in-house brand professionals. Spaces are limited and should we be unable to host the event, registration fees will be fully refundable. While on site, we will be adopting the All Secure Standard to ensure that all attendees can continue to do business effectively and network with their peers safely. For full details, and to reserve a place, see the official event page.