IP Hall of Fame nominations open; USPTO reflects on future of designs; Philip Morris prevails in Korea – news digest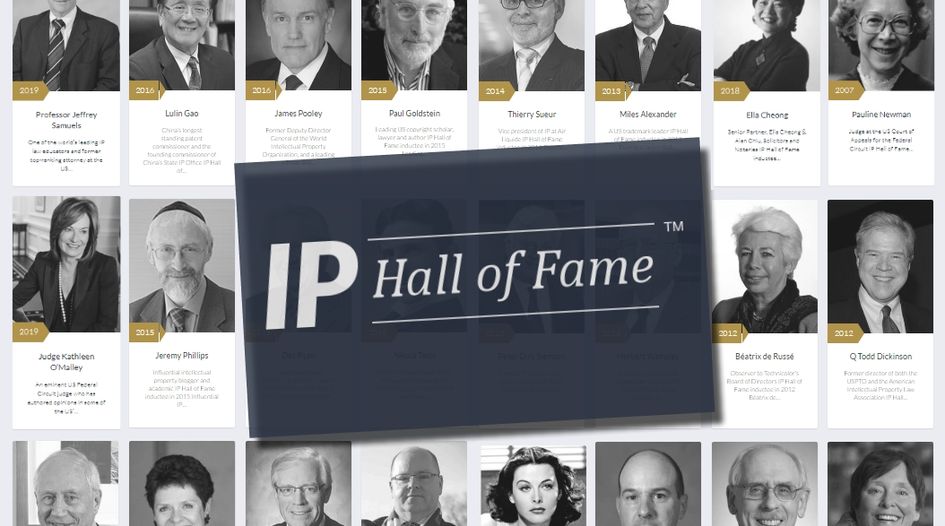 Every Tuesday and Friday, WTR presents a round-up of news, developments and insights from across the trademark sphere. In our latest round-up, we look at Mr Potato Head going gender neutral, Beyond Meat signing new licensing deals, Pink Lady owner defending its trademark, and much more. Coverage this time from Trevor Little (TL), Bridget Diakun (BD), Jonathan Walfisz (JW) and Tim Lince (TJL).
Market radar:
IAM opens search for 2021's inductees into the IP Hall of Fame – IAM has announced that the annual search to identify outstanding individuals to induct into the IP Hall of Fame is underway. Established in 2006, the IP Hall of Fame honours individuals – living or dead – who have had a major and positive impact on the IP landscape, whether as a corporate executive, dealmaker, lawyer, academic, policy maker, administrator, or in any other capacity. Nominations can be made here until 14 April. Once the nomination window closes, all valid nominations will be sent (anonymously) to the IP Hall of Fame Academy, whose members – composed of past inductees and celebrated IP thought-leaders – will vote on which of the nominees to induct this year. Additionally, the IAM team has announced that 2021 will see the launch of a new annual award. Named after one of  the IP Hall of Fame's greatest supporters, who sadly passed away last year, the Q. Todd Dickinson Editor's Award will honour one individual each year who has made an outstanding contribution to IP's development as a business asset. Click here to make a nomination. (TL)
Mr Potato Head goes gender neutral – Hasbro has decided to drop "mister" from the Mr Potato Head brand in order to make the toy gender neutral and "appeal to a broader base of consumers", reports Bloomberg. In the fall Hasbro will begin to sell "Potato Head" family kits which will include two non-gendered adult potatoes and one baby potato, as well as 42 accessories. Despite the name change shoppers will still be able to purchase the traditional Mr and Mrs Potato Head dolls. They will "live on as part of the brand," Hasbro said. The toy line was first introduced in 1952 and has undergone changes to keep up with society as it evolves. For instance, a pipe accessory was dropped in 1987 amid tobacco concerns, and in 1992 the brand's backstory was rewritten to "embrace a more active lifestyle" and move away from references to "couch potatoes". (BD)
Beyond Meat signs major deals with McDonald's and Yum Brands – Beyond Meat has announced partnerships with McDonald's and Yum Brands that will bring its products to fast food menus. The agreements will result in "craveable and innovative" new menu choices the company said, including McDonald's upcoming McPlant burger as well as new toppings and alternatives for Yum Brands' restaurants KFC, Taco Bell and Pizza Hut. Beyond Meat's deals come a few weeks after it announced a partnership with PepsiCo. The company's brand recognition will undoubtedly get a boost from its relationships with major brands and restaurants. (BD)
China IP court releases latest figures – China Daily reports that the Intellectual Property Court in Beijing has accepted 5,121 cases, with 4,220 of them concluded since its establishment in 2019. The latest data from the courts show that the number of cases accepted by the court jumped 63% in 2020. At a press conference, He Zhonglin, first deputy chief judge of the court, noted that it has selected 39 professional judges across the country, with 36% of these boasting technical and legal interdisciplinary backgrounds. He is quoted as saying: "It took about a year for a technology-related IP appeal to be settled by high courts before the IP court was established. But now the IP court only takes an average of 123 days in 2020 for one case to conclude." (TL)
Hasbro and Epic Games announce continuation to their licensing partnership – Hasbro and Epic Games have announced a five-year extended contract which will see an expansion of their 'Fortnite' product licensing deal, reports License Global. The deal extends a to-year agreement between the pair in which Hasbro was granted a license to integrate the 'Fortnite' brand into its NERF and Monopoly products. Now the partnership will allow Hasbro to launch new products such as collectible action figures as well as in-game experiences. "Hasbro's expertise in the realm of collectible figure and role-play segments has yielded incredibly positive results for our long roster of entertainment-based action brands," says Adam Biehl, senior vice president and general manager at Hasbro. "We've had tremendous success collaborating with Epic Games and the 'Fortnite' brand over the past few years, and his expanded product licensing partnership allows us to deliver an amazing line-up of 'Fortnite'-inspired toys and collector items that we're confident fans will be excited to experience." (BD)
Champion inks deal with owners of the Muhammad Ali brand – Champion has signed a multi-year partnership with the owners of the Muhammad Ali brand that will include "limited-edition drops and collections over the next two years," reports License Global. The partnership is set to launch with the Champion x Muhammad Ali Collection. "The 'Greatest of All Time' and Champion are a natural fit for a partnership and we are proud of the Champion x Muhammad Ali collection," said Marc Rosen, president, entertainment at Authentic Brands Group (ABG). ABG acquired the Muhammad Ali intellectual property rights in 2013, and it owns the Muhammad Ali Enterprises trademark in conjunction with the boxer's widow as trustee of the Muhammad Ali Family Trust. (BD)
Pinterest sells IP portfolio to Irish arm for $670 million – The Pinterest parent company, Focus I18n Holding Unlimited, sold off its IP portfolio to the Dublin-based arm of the company in December 2019, according to newly filed accounts. Pinterest Europe acquired the IP portfolio for $631.5 million, and still owes a total of $672.5 million to the group companies having not paid for the transaction as of when the accounts were lodged. In 2019, Pinterest Europe's revenue more than doubled from $49.1 million to $107.3 million, which boosted pretax profits from $549,000 to $2 million that year. (JW)
Legal radar:
New IP protections come into effect in Shanghai – New regulations on the protection of intellectual property rights have come into effect in Shanghai this Monday. The regulations are the city municipality's first comprehensive local regulations and were adopted on 30 December 2020 to cover IP rights including patents, trademarks, copyrights, GIs, trade secrets, and plant varieties. The authorities will build a unified mechanism for the application of the law, via the publication of typical cases, the complication of case guides to promote unified law application, writes Global Times. (JW)
Pink Lady owners defend their trademark – Australian owners of the Pink Lady Apple variety, Apple and Pear Australia Limited (Apal) has defended its trademark against the UK grown 'Flanders Pink' apple. Developed by AC Goatham in Kent, the company obtained a trademark for the name in 2020, but has now surrendered the name and rebranded as 'Reveille'. Apal has also taken action against a Scottish distillery's attempt to name its new gin after the Pink Lady of Stirling Castle, a ghost claimed to still haunt the historic site. (JW)
Philip Morris prevails in fight against trademark fees – International tobacco company Philip Morris has won a legal battle in Korea related to trademark usage fees and the country's tax authority. The Seoul Administrative Court ruled yesterday that a tax imposed by Seoul Main Customs worth over $8 million should be cancelled. The ruling confirms that royalties paid by the company included trademark fees as well as tobacco leaves and business secrets, and there – therefore – the tax would need to be recalculated and, in result, reduced. (TJL)
Office radar:
(For more of the latest coronavirus-related updates from national IP offices, please read our dedicated article which is being continuously updated)
USPTO reflects on designs for the future – In a blog post on the USPTO website, Drew Hirshfeld, who is performing the functions and duties of the Under Secretary of Commerce for Intellectual Property and Director of the office, and Mary Critharis, Chief Policy Officer and Director of International Affairs, have highlighted the growing importance of international cooperation to the protection of industrial designs. The post reflects on the activity of the Industrial Design 5 Forum (ID5), which was convened in 2015 by the China National Intellectual Property Administration, the EUIPO, Japan Patent Office (JPO), Korean Intellectual Property Office (KIPO), and USPTO. The ID5 committed to "promote and further the development of user-friendly, highly efficient and interoperable industrial design protection systems", and among the key developments of the last five years are the implementation of the World Intellectual Property Organization (WIPO) Digital Access Service for designs, an agreement between the JPO, KIPO, and USPTO on a set of common recommended design formalities practices, and the completion of 16 projects and comparative studies providing applicants with numerous new comparative reference manuals to help them more easily navigate the global design patent system. Looking ahead, the ID5 partners are to undertake new studies and also plan to engage in further discussions regarding the use of new technologies in examining and issuing industrial design rights. The authors conclude: "More than ever, industrial designs are being used around the world to create intuitive interfaces that turn complex technologies into useful tools. Facilitating their development and protection within a workable, international framework will be important to meeting the needs of the international design community. The USPTO is hard at work with its ID5 partners to meet this collective challenge." (TL)
Domain Radar:
ICANN terminates registrar accreditation agreement with Net 4 India – In February we reported that the Internet Corporation for Assigned Names and Numbers (ICANN) had issued a third breach notice against Net 4 India for its repeated and ongoing failures to comply with the Registrar accreditation agreement (RAA). This notice, as with the first two issued by ICANN against Net 4 India over the past two months, addresses numerous RAA violations detected through the processing of complaints submitted to ICANN contractual compliance, with ICANN noting that the organisation had failed to respond in a timely manner to registrant requests to transfer, renew, and/or update domain name registrations. This week ICANN announced the termination  of the RAA – the notice can be found here. (TL)
On the move:
Vorys names new chair of the IP practice group – Carey Jordan, a partner in Vorys, Sater, Seymour and Pease's Houston office, has been named as the chair of the firm's intellectual property practice group. The Vorys IP team includes nearly 30 professionals across the firm. In her own practice, Jordan advises clients on agreements, licenses, transactions and does risk consulting in the chemicals, energy and materials science arenas. (BD)
And finally...
WTR Connect returns this month with five days of strategic content – The second WTR Connect series of digital events will take place the week commencing 15 March 2021. The event will offer more than 20 interactive digital sessions, each designed to facilitate discussion, benchmarking and the sharing of best practice around key topic areas and challenges facing trademark and brand leaders. The theme for the event is 'exchanging cost-effective and resource-efficient best practices' and each day will start with a keynote address from a major industry figure, which is followed by live breakout discussions lasting for a maximum of 60 minutes. Registration is free for WTR subscribers and participants can register for as many sessions as they like across the week, building their own schedule. For event timings, and to sign up to attend, please click here.