International Anti-counterfeiting Coalition relocates annual conference to Rome; WIPO election heats up; BlackBerry dispute – news digest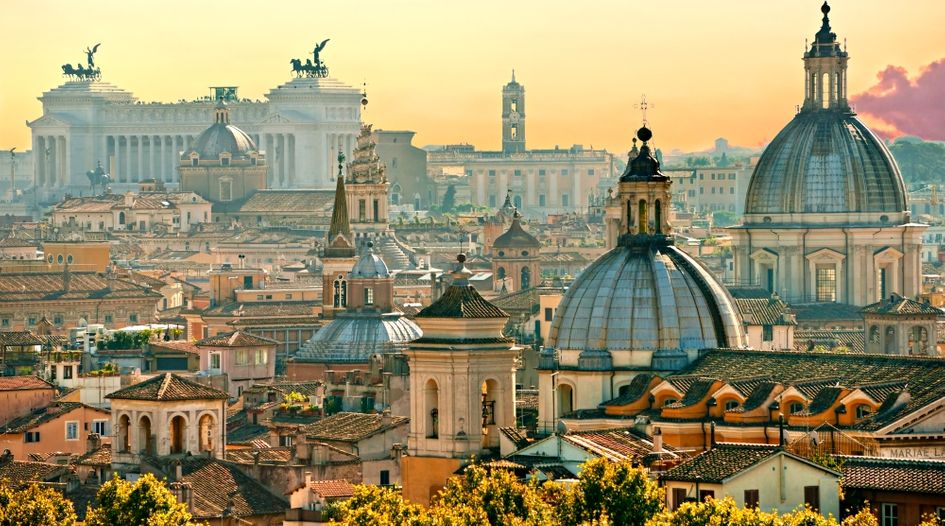 Every Tuesday and Friday, WTR presents a round-up of news, developments and insights from across the trademark sphere. In our latest edition, we look at unauthorised SUSSEX ROYAL trademark applications being filed across the globe, PepsiCo purchasing a Chinese snack brand, an Italian trademark event being cancelled due to coronavirus fears, the USPTO giving an update on its engagement efforts, and much more. Coverage this time from Trevor Little (TL), Bridget Diakun (BD), Jonathan Walfisz (JW) and Tim Lince (TJL).
Market radar:
Italian trademark event cancelled over coronavirus concern – An event run by Italy's AICIPI, titled 'Aesthetic Creations: Strategie di Protezione tra Design, Non-Traditional Marks, Trade Dress e Copyright' and due to be held in Milan this week, has been called off due to a spike in coronavirus cases on the country. As reported by The Guardian, 11 towns across Lombardy (where the outbreak emerged suddenly on Friday) and Veneto have been quarantined for at least the next 15 days as Italian authorities scramble to contain the worst outbreak of the virus in Europe, with a number of Serie A football matches cancelled and schools and universities closed. Yesterday AICIPI was due to host it's trademark-focused event but late on Friday made the decision to cancel it. Due to speak at the conference was Venable partner Andrew Price, who told WTR: "The coronavirus challenges what trademark lawyers have long taken for granted: the ability to have face-to-face meetings with clients, colleagues and foreign associates from around the world at conferences and other group events. The coronavirus has affected more than just the INTA Annual Meeting, with smaller non-INTA events affected as well. Less than 48 hours before more than 100 of us were to assemble in Milan, Italy, for a day-long event on non-traditional trademarks like trade dress, the event was canceleddue to the outbreak in northern Italy." That the event was cancelled with less than one business day's notice illustrates how quickly a coronavirus outbreak can escalate (in Italy the number of cases jumped from three on Friday morning to more than 200 by Monday). Given the situation in Italy, AICIPI made the responsible call and it may not be the last trademark conference organiser to be faced with that type of last minute decision. (TL)
IACC announces rescheduled annual meeting in Italy – The International Anti-Counterfeiting Coalition (IACC) has announced that its rescheduled 2020 Annual Conference will take place in Rome, Italy at some point in October or November. The previous event, which was scheduled for April 22-24 in Singapore, was called off due to the rising health risks posed by the novel coronavirus. In its announcement post, an IACC representative said: "Since our announcement on February 14 cancelling our conference in Singapore, the IACC worked with EUROPOL and the Italian Guardia di Finanza (GdF) to make this important decision taking into consideration the attendees' health and safety, as well as the desire to ensure productive and well-attended events." (TJL)
PepsiCo purchases Chinese snack brand – PepsiCo has agreed to buy Be & Cheery, a Chinese snack brand made by Haoxiangni Health Food, for $705 million. The American food and beverage giant said the acquisition was driven by its desire to increase its presence in China. Be & Cheery sells various snacks, including nuts and dried fruits, on Chinese e-commerce platforms. It is one of the largest online snack companies in China, with revenues of about $711.7 million in 2019. PepsiCo is hoping that the local name will increase the company's direct-to-consumer capabilities and lead to more growth in e-commerce. Haoxiangni, for its part, said that it agreed to the deal because it wanted to focus on its jujube business. (BD)
Unauthorised SUSSEX ROYAL trademarks continue around the world – Yesterday, WTR reported on the Duke and Duchess of Sussex announcing that they have withdrawn their SUSSEX ROYAL trademark applications following negotiations with Buckingham Palace. It followed a long-running saga of the royal couple seeking trademark protection in the Sussex Royal brand they launched in mid-2019. However, since Meghan and Harry confirmed last month their intention to step back from Royal Family duties, interest in the Sussex Royal brand peaked – and led to a slew of third-party trademark applications around the world. In the weeks since, unauthorised trademark applications for SUSSEX ROYAL continue to be lodged around the world. To date, there have now been applications filed in Austria (applicant: kitzVenture GmbH; filing date: 19 February), Hungary (Dr GáspárdyPálAndrás; 5 February), Romania (SC ICOS TRADING; January 29), Switzerland (Dr Raphael Nusser; 23 January), New Zealand (Sarah Charge; 23 January), Spain (Laura Pradede Martinex; 21 January), Canada (Juice Marketing Inc; January 15) and various in Germany (Jan 22, Jan 22, Jan 24, Jan 30, Feb 2) and the United States (Jan 8, Jan 13, Jan 13, Jan 14, Jan 15, Feb 4, Feb 11). Time will tell whether the legal representatives for the royal couple will seek to challenge some or all of these applications. One thing is for certain though – when Meghan and Harry announce the new name of their venture, unauthorised trademark applications are sure to follow. (TJL)
The Office of Naval Research enlists Anaqua –  IP management solutions service provider Anaqua has announced that the US Office of Naval Research (ONR) has selected its AQX platform for managing its global patent and trademark portfolio. ONR is responsible for coordinating, executing and promoting science and technology programs for the US Navy and Marine Corps, and has maintained operations of the intellectual property docketing system requirements for the Department of Navy's Office of General Counsel attorneys and support staff. ONR selected Anaqua's AQX platform to streamline its IP management processes for patent and trademark docketing and agreement tracking, with Bob Romeo, CEO of Anaqua, stating: "The Office of Naval Research has been a pioneer in the public support of science and technology research that benefits both the naval services and the nation with accelerating technology maturation. They have a legacy  in innovation and our AQX platform will help IP portfolio managers at ONR ensure they maximize the effectiveness of their IP assets." (TL)
Legal radar:
BlackBerry calls out Baby Bunting for alleged trademark infringement – Australian-based baby retailer Baby Bunting has been accused of trademark infringement by technology multinational BlackBerry, reports the Brisbane Times. Baby Bunting first filed its application with IP Australia in November 2019 for its 'BB' logo representing "the silhouettes of two pregnant women". BlackBerry filed an opposition to Baby Bunting's trademark in January and posted the grounds for the opposition in February. (JW)
Office radar:
The USPTO director has got game – USPTO director Andrei Iancu has taken to the office's blog to provide an update on the office's engagement efforts at the CES consumer technology event in Las Vegas, which drew more than 180,000 attendees and thousands of exhibitors. The office used the event to reach current and future entrepreneurs to drive home the importance of securing IP protection, with its booth themed 'Get in the (intellectual property) Game.' During the event Iancu announced the 2020 inductees to the National Inventors Hall of Fame (along with NIHF Executive Vice President Rini Paiva) and was interviewed by the Consumer Technology Association's Michael Petricone on the topic of US IP and innovation policy. Iancu concludes: "CES made abundantly clear, once again, that innovation is driving the next generation and the future. IP is the necessary ingredient that fuels such innovation at accelerating rates. As the guardian of our intellectual property system, the USPTO looks forward to helping entrepreneurs and inventors protect these exciting new technologies." (TL)
Media Watch:
Economist assistant to Trump publishes editorial attacking China's WIPO candidate in the FT – The US continues to argue over the political implications of Chinese candidate Wang Binying being elected as director general of WIPO. Peter Navarro, an economist currently serving as the assistant to the president and director of trade and manufacturing policy, has published an editorial in the Financial Times critical of the Chinese government's IP policy. Navarro claims that "the US believes that giving control of WIPO to a representative of China would be a terrible mistake." He then goes on to highlight China's role as the originating country of 85% of counterfeits seized by US border officials, as well as the dramatic cost to economies of IP theft and infringement. Navarro claims that "China's WIPO gambit is part of a broader strategy to gain control over the 15 specialised agencies of the UN", noting that the country already leads four of the UN specialised agencies – the only country to do so at more than one. Over the next two years, seven of these agencies will have elections for their leadership positions, including the World Health Organisation (WHO). Navarro believes that although China hasn't put forward any candidates for these positions yet, the country is likely to do so. He further claims that China uses its aid to influence African countries into winning UN elections. The Navarro editorial follows statements by the USPTO director Andrei Iancu advising caution over a China director general of WIPO, reported by our sister publication IAM. Neither Iancu or Navarro directly named Wang Binying. WTR, has previously spoken to Tove Graulund, an ex-consultant for WIPO, who argued that this politicising of the WIPO election was distracting from the individuals and their respective proposals. She said: "Media coverage is saying that China is not good for IP. But what does that have to do with her? She has been in WIPO for years. And maybe if she got elected, she could help change that, raising the focus back home. There is too much noise and politics. It's an agency meant to do specific work around specific treaties. It isn't about politics." (JW)
Yorkshire Tea decries brand use by politicians – Last week, Conservative MP (and UK Chancellor) Rishi Sunak posted a Twitter image in which he posed with a bag of Yorkshire Tea, a popular British hot drink brand. The response was swift, with thousands of anti-Conservative users calling for a boycott of Yorkshire Tea, and the topic trending on Twitter throughout that afternoon. Yesterday, the Twitter account of Yorkshire Tea posted a thread describing the difficulty faced when it was unwittingly dragged into the political fray – especially at a time when the UK is divideddue to Brexit. "On Friday, the Chancellor shared a photo of our tea," the account tweeted. "Politicians do that sometimes (Jeremy Corbyn did it in 2017). We weren't asked or involved – and we said so the same day. Lots of people got angry with us all the same. We've spent the last three days answering furious accusations and boycott calls. For some, our tea just being drunk by someone they don't like means it's forever tainted, and they've made sure we know it. It's been pretty shocking to see the determination some have had to drag us into a political mudfight." The thread then revealed it was being written by "the person who's been answering these [angry] tweets", who explained: "I know it could have been much worse. It's easier to be on the receiving end of this as a brand than as an individual. There's more emotional distance and I've had a team to support me when it got a bit much. But for anyone about to vent their rage online, even to a company – please remember there's a human on the other end of it, and try to be kind." Those final two words appear to be a reference to the #bekind hashtag that recently trended following the suicide of popular British TV presenter Caroline Flack, which promotes empathy on social media. Of course, WTR has written before about "when brands and politics collide", and the brand protection considerations that IP practitioners must consider. But Yorkshire Tea's social media thread is an important reminder of the human aspect of 'brand boycotts'. At the same time, it's also a reminder of the implications of brands being unwittingly used by high profile politicians, especially in these particularly divisive, divided times. (TJL)
On the move:
Armstrong Teasdale grows St. Louis office – Armstrong Teasdale has hired two new attorneys to the firm, Andrew B Whitehead and Nicholas A Cammarata. Whitehead has joined the firm as a partner within the IP practice group. He draws on his in-house experience to counsel clients on IP portfolio management, brand protection and data privacy. Whitehead's practice focuses on patent and trademark clearance, prosecution and enforcement. He also handles advertising challenges. (BD)
AAFA unveils new hires – The American Apparel & Footwear Association (AAFA) has announced the hirings of Beth Hughes as vice president, trade & customs policy and Megan Balkovic as director, membership experience & industry engagement. Both are new positions that expand the association's policy and membership divisions. "When I took on the role of President and CEO earlier this year, I tasked the AAFA team with enhancing member value in everything we do, each and every day," said Steve Lamar, AAFA president and CEO. "With Beth and Megan joining the team, we are providing AAFA members with a subject matter expert in a strategic policy area at a critical juncture for the industry, and an individual with a broad knowledge of the industry and a deep understanding of what our members need." (TL)
And finally...
WTR returns to Chicago next week for Managing Trademark Assets and Brand Protection Online – WTR is bringing Managing Trademark Assets USA and Brand Protection Online USA to the windy city next week. The back-to-back events on 3 and 4 March 2020 will provide an opportunity for attendees to hear best practice and insight from leading in-house counsel from the world's biggest brands as they discuss their approaches to critical areas, as well as share their own insights with peers and colleagues. The sell-out events' return to Chicago is not one to be missed. To sign up to attend Managing Trademark Assets USA, click here, and to sign up to attend Brand Protection Online USA, click here. (JW)