INTA president lays down the gauntlet, puppy love, baffled by Brexit, and avoiding spoilers: INTA 2019 day two report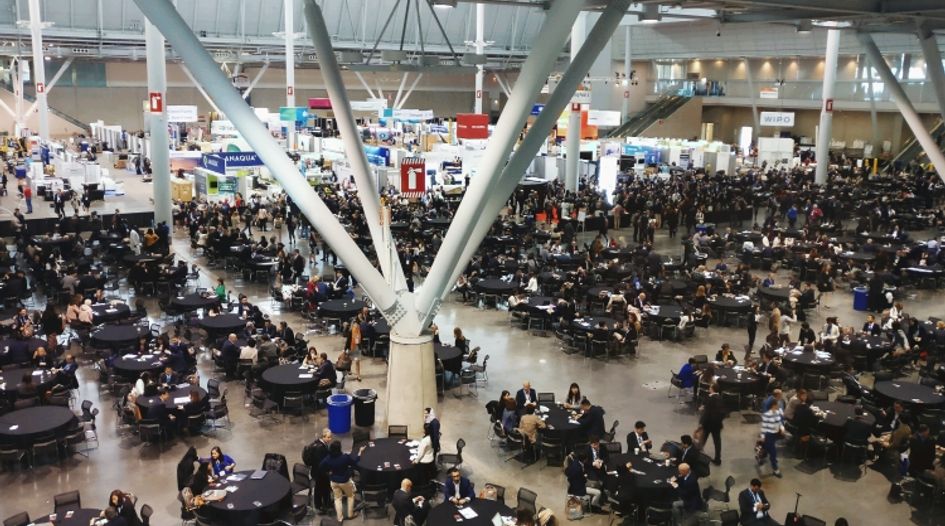 As well as often being the busiest day for attendees, with proceedings having kicked off on Saturday, the Monday of the INTA Annual Meeting marks the halfway point of the event. Trying to keep up with the rapid pace of activities, the WTR editorial team of Trevor Little (TL), Joff Wild (JW), Bridget Diakun (BD) and Tim Lince (TJL) present some of their highlights from the second jam-packed day of the event.
In case you missed it, you can read our highlights from Sunday's activities and sessions here, and don't forget you can meet the WTR team, as well as pick up the latest hard copy publications, at stand 918-920 in the exhibition hall.
INTA president lays down the gauntlet – At the Annual Meeting official opening ceremony yesterday, INTA president David Lossignol set out a challenge for the global trademark community – to help end the proliferation of counterfeit products and commit to participating in the association's Unreal Campaign. In an entertaining, football-themed presentation, centred on making impossible dreams a reality, he pointed to the need of proactively educating young consumers about the dangers of fake goods – noting that combating counterfeiting "is an impossible undertaking if we only address the supply; it is critical but we must also fight this battle on the demand side". As part of this effort, he announced the 'Unreal Challenge'. Specifically, he urged INTA members to commit to becoming volunteers and give a student presentation on the dangers of counterfeiting. He noted: "If only one hundred of you signed up and each reach 20 students, that is 2,000 students whose attitudes we will have changed. But imagine if you all sign up." Continuing the football theme, he added: "As a Manchester United fan, it pains me but I want to take a leaf out of Liverpool's book. Their motto is 'you'll never walk alone'. INTA is a community and we never walk alone – the fight against counterfeiting starts with us. I am calling on you to rise to the challenge." To truly change consumer perceptions of counterfeit goods is an ambitious and admirable task, and one that the trademark community needs to embrace. It is so admirable that this Crystal Palace-supporting writer can almost forgive Lossignol for making his presentation while wearing a Manchester United shirt. Almost… (TL)
Keynote address reminds practitioners that change is needed - and quickly – This year's keynote speech was delivered by Michael Haddad, an inspirational world record holder who consistently overcomes his disability to better the world around him. For Haddad, the message for brand holders was simple: success is found in a collective identity. He reminded the audience of the impending risks of climate change and the need to act quickly and with determination in order to ensure a better future for other generations. Haddad acknowledged that sometimes there are difficulties which are hard to overcome, but as his achievements show nothing is truly impossible. Haddad struggled for years to overcome his own disability, which has left his body 75% paralysed. He says that even when he falls, he does not let this be a detriment to his efforts, and he instead takes it as a learning opportunity, which in the end makes him a better person. The message for brand owners is clear, companies need to work better to uphold their commitments to social responsibility and have the interests of community at heart. (BD)
A new game of (avoiding) thrones – At the opening reception last night, INTA attendees were treated to a playground, with Connect Four, see-saws and swings available to those seeking an alternative to trademark chat. However, while popular amusements, there was one game that a larger number of delegates were playing – let's call it 'avoid Game of Throne finale spoilers at all costs'. While we are aware of some delegates who had gathered to watch the final episode of HBO's blockbuster series unfold live, others were attending law firm dinners and receptions, while trying to avoid accidentally overhearing discussion of the episode. Anyway, for those that haven't yet seen it, what I hear happened is that…. (TL)
EUIPO directs focus to anti-cybersquatting efforts – While the EUIPO leadership has engaged with the trademark community in Boston, the office also launched a new service – in collaboration with EURid, the registry manager of the '.eu' and '.ею' country code top-level domains – aimed at helping EUTM applicants tackle cybersquatting and bad faith domain name registrations. It is not an uncommon occurrence for third parties to register domains related to trademark applications once the latter are published. As of today, the team-up means that rights holders and applicants can opt-in to receive alerts as soon as a '.eu' or '.ею' domain name identical to their EUTM application is registered.  The organisations state that the notification allows rights holders and applicants to take appropriate action more quickly than if they had to conduct a search themselves, adding: "It might also mean that third party registrations with other domain names can be detected quickly, if multiple bad faith registrations are made". As the EUIPO looks to expand its activities and join the dots between IP and non-IP spheres, it would be no surprise to see further forays into the online space. (TL)
Brexit panel conundrum – This afternoon's session dedicated to the never-ending Brexit saga was a challenge to put together for the panel, according to moderator Gordon David Harris from Gowling. "The INTA wanted a practical session with very helpful tips on how to handle the various potential forms of Brexit," he said. "Our outlined proposal was based on an expectation that Brexit would occur on March 29 2019 – but it didn't, it still hasn't, and we don't know if it will happen at all with any certainty. That's posed this panel with many problems." Furthermore, whilst most moderators are happy to see a packed room, Harris took a rather different approach: "As someone from the UK, I can only apologise – just think of what you could be doing this afternoon if we hadn't voted for this. And think what the UK government could have been doing for three years if this hadn't happened. Not that I have any sympathy for them, it's been a complete shambles." Nonetheless, the session had a host of handy insights for practitioners hoping to prepare for the potential upheaval when, or if, the UK leaves the EU. One aspect discussed was that many UK law and attorney firms may not be able to act on EU trademark matters post-Brexit. Speaker Nadine Jacobson, from Fross Zelnick, said that the EUIPO required firms to operate a "real and effective establishment" in the EU to practice, a hurdle that could be an issue for UK entities. "It can't just be a PO box or something like that," she said. "You will need to show a practitioner is actually located in the EU practicing law." Indeed, she revealed that Fross Zelnick has conducted research about such preparation; of 35 UK law firms surveyed, 14 have well-established EU offices, six have newly-created offices, seven have 'informal or temporary' EU offices, and seven have nothing and thus are at risk. What was clear by the end of the session is that, while some are bemused over the delays, Brexit is no laughing matter. (TJL)
Baseball lesson – WTR headed to Fenway Park on Sunday afternoon for the final part of the Red Sox v Astros series, with some mighty fine barbeque being enjoyed courtesy of law firm Winston & Strawn. There was also another reminder of what strong trademark protection can deliver to an owner. The start of the game was delayed thanks to a series of heavy rain showers that had not featured in the weather forecast. Around the streets surrounding the old stadium, scores of fans unprepared for the downpours wore thin plastic rain ponchos coloured red and emblazoned with the Red Sox B. They were selling like hot cakes in the various club stores. The price? A mere $10. Given that making them must have cost, at most, a handful of cents, the mark-up that trademark-protected Boston B earned for MLB can be measured in the thousands of percent. But here's the thing: no-one was complaining. Owning a brand that generates huge, long-term goodwill is a licence to print money - just as long as your trademark people have done their job. And no-one does a better one than the team at MLB. As for the game, the Red Sox won 4-3 with the sun shining and late afternoon shadows spreading across the hallowed green turf. It turned out the ponchos were hardly needed. (JW) 
Change in China – Last year, the Chinese trademark registry SAIC was folded into the newly-created China National IP Agency (CNIPA), under the leadership of Shen Changyu, who had previously been the head of the Chinese patent office, SIPO, which also became part of the new agency. According to EUIPO executive director Christian Archambeau, the reconfiguration has led to a significant uptick in the relationship between the office and China's trademark authorities.  Speaking yesterday at his first press briefing since taking on his position, Archambeau noted that the EUIPO had always maintained a good relationship with SIPO, which as an independent agency had leeway to forge its own way. By contrast, it often struggled to work closely with SAIC, which operated as an arm of the Chinese government and had less room for manoeuvre. Since CNIPA's formation last year, though, Archambeau said "we do see a change and it has been positive for us". As WTR editor Trevor Little reported yesterday, he expressed hopes that Chinese trademark data might now become available on TMView, and so free to access and search (design data, which was under the auspices of SIPO pre-CNIPA, is already available) and that, more generally, Shen's objectives and beliefs are very similar to his own: there is a need for a more efficient trademark system, it's vital to listen and engage with users, and IP can no longer be dealt with on a regional basis – rather, it is a global issue. Archambeau and Shen have known each other for a while; the Belgian was a senior official at the EPO before moving to the EUIPO, and both of them, he noted, are engineers. But this is not about personal relationships, he continued, as improved levels of cooperation are happening at an institutional level. And it's a similar story with the USPTO. Since Andrei Iancu became its director last year, Archambeau stated, the signs are that there is going to be enhanced progress on a number of projects taking place within the context of the TM5. For trademark owners and their advisers this all sounds like very good news. (JW)
Puppies galore – "This is the best INTA Annual Meeting ever!" was a common statement heard over by the puppies at the back of the exhibition hall earlier today. This year, the association decided to bring in some pups to help alleviate the stress from what is, of course, another busy meeting. The three dogs were brought in from the Great Dog Rescue New England, an organisation which works to settle homeless and abandoned dogs in permanent homes across the New England area. For exhausted practitioners, the sweet-tempered puppies were a welcome distraction from the hustle and bustle of the past few days. (BD)
Europe's conundrum – Now that SAIC and SIPO are part of one agency, it is only in Europe where the two main registries remain separate: with the EUIPO looking after trademarks and designs and the EPO responsible for patents. Complicating matters even further is that while the former is an EU body, the latter is a standalone operation whose membership includes a large number of non-EU member states. That makes developing a single European voice on IP complicated, to say the least. Given that the EUIPO and EPO are generally regarded by users as best in class, it is a shame for Europeans hoping that this excellence might give the continent the opportunity to lead the world on IP. That said, over recent years the two have begun to work more closely together and the pace at which this happens is only likely to increase in the future, given that EUIPO executive director Archambeau is a former EPO man and the current president of the EPO, Antonio Campinos, was the Belgian's predecessor. However, as Archambeau noted in his Sunday press briefing, the actual extent to that this happens will ultimately depend on the shape of the next European Commission, which is due to be constituted later in the year. The EU is currently framing a new industrial policy, part of which involves innovation and patents. We will have to wait to see how much of a role it will be comfortable giving to a non-EU entity in helping to shape that (especially if EPO member state the UK has left the EU by then) and how much it will want to keep in-house. With the unitary patent system still a live possibility, despite Brexit and multiple delays, there are some in Brussels who believe the EUIPO itself should take on a patent role. That is highly unlikely to happen, of course, but for European IP policy overall, we're currently in a holding pattern. In the meantime, those friends in the high places in Munich and Alicante will do all they can to deepen ties. (JW)            
One for the cyclists in the trademark community… – The INTA Annual Meeting is often used as the launch pad for new products and services. Occasionally, brands are even conceived and developed against its backdrop. Last year in Seattle, WTR's commercial director John Eborall canvassed key contacts for advice on his proposed mark, and in the time since has been working to establish a new brand. So, time to unveil Incline Nation, a UK-based company offering a range of premium cycling stickers designed to celebrate climbs. Based on the iconic KM milestones you find going up most alpine climbs, each sticker highlights the exact profile of your chosen (and hopefully conquered) climb, and can be brandished on your bike box, bike or, well, anywhere you want. Active cyclists in the INTA community should check it out (for transparency, despite the shameless plug, this writer has no skin in the game – he does, however, hope that his colleague obtained all of his brand-building savvy by avidly reading WTR!).  (TL)
Law enforcement agencies need a little more help to stamp out counterfeits – The ongoing issue of counterfeit goods is a prevalent theme at INTA conferences and was the topic of president David Lossingol's opening speech. In a subsequent session on 'Best Practice Sharing on International Enforcement Strategies', Novartis' Stanislas Barro highlighted the fact that, despite significant efforts, illicit product availability continues to rise and, in his own industry, there was a 33% growth in fake medicines between 2017 and 2018. There is no easy way to crackdown on the trade of fake products and one thing the panel speakers continuously raised was the need for transparency and collaboration. Steven Shapiro, an agent in the FBI's IP unit, stressed that the agency considers counterfeits as a priority but struggles sometimes because lawyers are often hesitant to draw attention to suspected counterfeit issues. He hopes that in the future, lawyers will become more comfortable engaging with the FBI, as earlier communication and a higher frequency of collaboration will make for more effective investigations. (BD)
Prepping for Singapore – By the exhibition hall, there is a dedicated stand for Visit Singapore for those that was to prepare for next year's Annual Meeting. We asked one of the representatives about what delegates are asking most often, and it is the allotment of hotels that is the top priority. The 2020 INTA Annual Meeting will be held at the Marina Bay Sands Hotel, and numerous delegates are asking how they book one of the allotted rooms at that location. "The INTA has reserved 1,600 rooms and we're telling everyone that these can be booked when registration opens in January." Other questions are on potential reception venues and where the Grand Finale could be held. "It will probably be in the Singapore Botanic Gardens," the representative revealed. (TJL)
Stay tuned – Don't forget you can keep up-to-date with the latest INTA Annual Meeting news and insights on our Twitter feed.