INTA 2021 speculation, blockchain TLDs, '.sucks' new approach, and brand protection the Amazon way: INTA 2019 day three report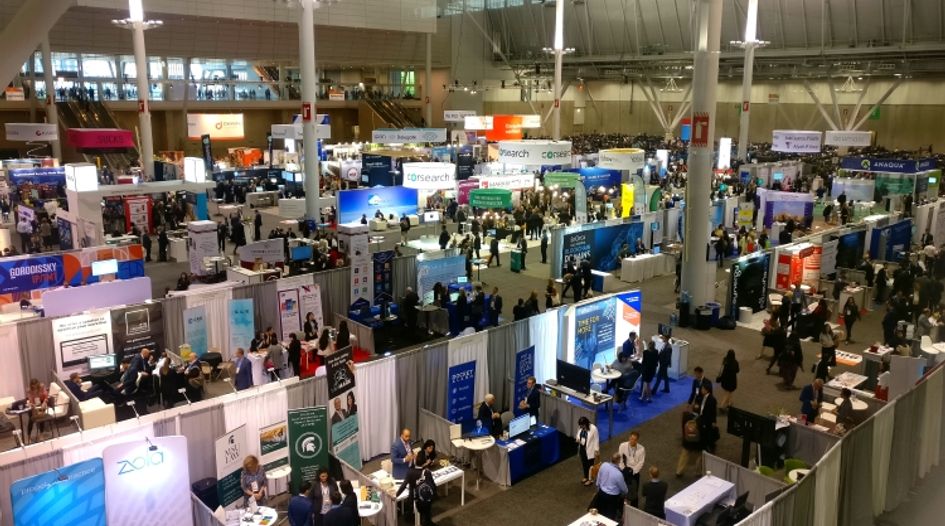 We're over the halfway mark of the INTA Annual Meeting, and the WTR editorial team of Trevor Little (TL), Joff Wild (JW), Bridget Diakun (BD) and Tim Lince (TJL) have been running between sessions, the exhibition hall, meetings and receptions – with a few stops along the way for coffee – to bring you the latest stories and insights from Tuesday's proceedings.
In case you missed our previous dispatches, you can read our highlights from Sunday and Monday here and here. Don't forget you can meet the WTR team, as well as pick up the latest hard copy publications, at stand 918-920 in the exhibition hall.
What hath God wrought? – Away from the convention centre, online brand protection company Incopro organised an informative seminar focused on the topic 'Search Engines Can Do More to Protect Your Intellectual Property', with the company due to issue a white paper on this hot topic. For the opening presentation, Michael Moore, general counsel, IP at Mattel Inc, provided insight into how the toy brand giant has evolved its online brand protection strategy. He opened by observing that in four days, on 24 May, it will be the 175th anniversary of the first telegraph ever sent in the US, by Samuel Morse. Moore observed: "The first message was 'what hath God wrought?'. When you look at the internet today and infringement, I've been thinking that very thought. What a prescient thing to say back then." A few years ago, then, the company noted that online counterfeiting was having an impact and Moore decided to focus on one brand on one platform – specifically Uno on Amazon.com. Over a two month period, working with Incopro, more than 2,000 listings were taken down – with the ROI quickly becoming clear: "As we continued to take down infringement, people were driven to our product and we could tell that our profitability was going up – there was a clear effect. And the business was thrilled." The programme was then expanded to include the Power Wheels brand, with data gathered on the top five infringers. "We could then decide what to do. Take down? Sue? Some we sued and we won a good amount of money, which went back to our programme," Moore said. The takeaway? Sometimes you need to speculate to accumulate, but business will be supportive if the ROI can be tracked. (TL)
GLINTA welcomes members of the LGBT community – INTA, which is celebrated for its inclusive and friendly atmosphere, was also the backdrop for a reception for its LGBT members to catch-up with one another. The event is hosted by Brian Winterfeldt's firm, Winterfeldt IP, and this year attracted around 200-300 practitioners. While the event is open to allies of the community, it is generally kept quiet with an invite-only policy to ensure the reception is personal. It took place this year at the Ritz-Carlton and was a celebratory evening of both drinking and dancing. (BD)
Using WhatsApp to ease counterfeit enforcement budgets – Taking a tough approach to counterfeit goods is an important task for all in-house practitioners, especially those in sectors most affected by the scourge of fake goods – eg, fashion, pharmaceuticals and technology brands. But to be effective within the constraints of a tight budget is a significant challenge. Monday's session on this topic, entitled 'The Cost of Combating Counterfeits: How to Maximize Your Return on a Limited Budget', brought together experts on how to get a bang from every enforcement buck. Delegates were left with plenty of takeaways, including strategies they could practically use when they get back to the office. For example, Paola Piccoli from Maus Frères said that Lacoste has developed a 'matrix system' to determine where valuable counterfeit enforcement budget will be allocated. "The idea is simple: to identify some criteria for objective and subjective metrics, with a principal to allow us to allocate the global budget among different countries," she explained, adding that metrics (with a weighted ranking) include the number of counterfeits in previous years, volume of transit, number of tourists and the visibility of counterfeits (the latter, she noted, can be "difficult to quantify" and involves enlisting local distributors and outside counsel to see how visible fakes are in local marketplaces and shops). Elsewhere, Angela Lynnette Wilson from Hallmark Cards said that external data on fakes can help to get buy-in from the business to tackle counterfeits in different countries. She noted that the USTR's notorious markets report had proven particularly helpful. Wilson also mentioned the IACC releasing an app in Latin America that allows customs officials to check details on products at a glance ("it helps customs representatives, who see thousands of goods a day, to remember your brand and products"). There was also the use of WhatsApp to cut down on the need for brand owners to be present at raids. "We realised if there were, for example, 20 companies involved in a raid, only two actually needed to be there on the ground," explained Wilson. "We've arranged a WhatsApp group so those present can send photos from the raid and everyone can check the progress and use the photo and information as needed." What was clear in the session is that there are canny ways to ensure each dollar for counterfeit enforcement is used efficiently and effectively – and sometimes it's about thinking outside the box. (TJL)
Questel announces acquisition in run up to INTA –  According to a press release, Questel has acquired a majority stake in IP services company Brandstock. Miguel Iglesias, COO of Questel, spoke with WTR of the purchase and what it will mean for the company going forward. Iglesias says that the acquisition will help fulfil the company's strategic vision of providing end-to-end services in IP. Overall, Brandstock adds depth and breadth to Questel's offerings and complements its platform. Importantly, the acquisition also builds the company's presence in Germany and the European market more generally. (BD)
Brave new world – Every event has its buzzwords and terms, and this year's INTA meeting is no exception. Among the ones you hear most frequently are Big Data, AI and machine learning – with frequent discussion of what these mean for corporate and private practice trademark professionals, as well as those who provide services to them. The potential disruption to the way in which work is currently done undoubtedly worries many, but according to Jayne Durden, senior vice-president of strategy for law firms at CPA Global, it doesn't have to be that way. INTA delegates, she said when I spoke to her this morning, should see opportunity instead. Having single sources of clean data available to multiple users at a depth of granularity that up until now has been unthinkable, Durden explained, will give practitioners the chance to undertake much more detailed analysis of issues and will give them a much greater ability to identify potential problems in advance of them occurring – or to solve those that do arise without litigation. This, she says, will lead to greater collaboration between in-house practitioners and their outside legal advisers, something that will cement relationships, rather than loosen them. Data democratisation, Durden concluded, will allow lawyers to do what they went into the law to do: make a real difference. "I am a brave new world kind of person," she conceded. The truth is that with what is coming down the track, we will all need to be. (JW)
'.sucks' takes a different approach – Vox Populi, the operator of the '.sucks' new gTLD, has been one of the most controversial vendors at the INTA Annual Meeting over the past few years. When it first came to the event at the 2015 meeting in San Diego, the company brought '.sucks'-branded condoms and a sign was transported around the city declaring 'INTA.sucks'. A year later, in Orlando, the company offered '.sucks'-branded candy, this time targeting law firms (including Bird & Bird, DLA Piper and Finnegans). Outside of the meeting, Vox Populi had previously caused fury with a large proportion of the trademark community due to its $2,499 price tag to register a trademark-related '.sucks' domain. Now it's 2019 and Vox Populi appears to be taking a very different approach. Talking to WTR earlier today, its CEO John Berard said that his focus now is convincing brand owners that have a '.sucks' domain to actually use it. "I spoke with one in-house counsel who had registered a 'sucks' defensively, and the domains sits in their portfolio. She said 'I don't like having an inactive asset', so I told her, at the very least, if you were going to deploy a website, who in your company would have to be involved? Why don't you arrange a lunch meeting with those people, bringing six or seven people into a room, put the domain name on a whiteboard, and ask 'what can we do with this?', and it's possible you'll come up with a great answer." With less controversial signage and freebies, it appears that Vox Populi wants to take a more collaborative approach – and Berard's hope is that more brand-related '.sucks' domains become active in the weeks and months ahead. (TJL)
The rise of the blockchain TLDs? – Trademark professionals long ago got to grips with the nuances of the new gTLDs programme and what it means for trademark protection. But how about blockchain TLDs? In the exhibition hall, Encirca is promoting the '.ZIL' blockchain name trademark and sunrise application, which runs to mid-June. Trademark validation costs $150 and the annual domain name fees run to $30. As MarkMonitor has previously written, blockchain TLDs don't use the ICANN-coordinated DNS and do not resolve to content in the traditional sense – but they do allow for other activities among cryptocurrency holders, such as connecting directly to their 'wallets'. Encira's Thomas Barrett told WTR that such domains are "a new brand identifier" and offer stability as "once something is added to the blockchain, you can't undo it – it is irreversible". Given their nature, mechanisms like the UDRP and URS do not apply. "This is the main opportunity to protect your trademark," Barrett stated. In terms of the trademark protection offering, the validation process will consider common law marks and variants. Blockchain TLDs have not received as much exposure as their more traditional peers, but they are worth considering as part of the brand protection mix. (TL)
What being part of INTA means – This year's annual meeting has a blank wall for practitioners to fill with sticky notes, the topic of discussion being: 'What does belonging to INTA mean to you?' The responses are varied, with some saying "sore feet" and others commenting on the amount of steps they've accumulated during the day. Overall the theme is that people are happy to be in Boston to see their friends and network, with some saying that it is "lit" and has "good vibes". One practitioner also noted that they will have "1,000 business cards to bring back home" – something many delegates will no doubt be able to relate to. (BD)
Brand protection the Amazon way – In a session on the promise of big data, Amazon.com's Michael Kelly pulled back the curtain on the platform's proactive policing programme. "One of the problems that Amazon faces is abusive listings on our sites, so we use machine learning to address these abuse issues at the scale Amazon faces," Kelly said. "[To give a sense of scale] five billion changes are made to the Amazon site on a daily basis and our automated scanning technology is scanning six million images an hour. And we take down far more listings proactively than we do reactively: we took down three billion abusive listings in 2018 before a customer even saw them." One way for brands themselves to get proactive is to join Amazon.com's Brand Registry – and for that programme, Kelly revealed that the company is one of its own customers, stating: "We use the Brand Registry to protect our own IP on the Amazon site." One problem it faces is users misusing its 'smile logo', using an altered version on their pages. The company therefore utilises its brand protection technology to clamp down: "We use the Brand Registry scanning tools to find misuse of our own logo. It gives us a list of all of the listings using the smile so we can find the ones that are problematic and take them down."  (TL)
Perspectives of an Uber driver – With meetings and receptions all over the city, and the taxi queue outside the convention centre often unwieldy for those in a rush, Uber has been particularly popular here in Boston. We've heard from numerous attorneys about issues they've had with Uber in the city though – indeed, even the WTR team had a driver take us to the wrong hotel from the airport (and charged us nearly double for the privilege). But for the drivers on the ground, they are enjoying this swell of new customers. "I have certainly noticed they're here," said one Uber driver last night. "Mondays, for instance, are normally just a regular day, but today it's been incredibly busy with a lot of surge pricing. I think it's because these lawyers don't like to walk." Of course, another reason for Uber's popularity is Boston's unpredictable weather in the past couple of days – with rain and sunshine often occurring in quick succession. Positively, of the countless INTA delegates he has picked up since Friday, he said that each one has been polite and generous – even more so than attendees of other conferences held at the Boston convention centre. The only downbeat note was that the INTA Annual Meeting will be ending on Wednesday – and so too does this new 11,000+ customer base. (TJL)
The trademark reality of virtual reality – On Tuesday morning, delegates – some clearly nursing headaches from last night's Chadha & Chadha antics – gathered on the second floor for a session on new technology, entitled "Reality Check: Adapting Brand Strategies for AR and VR". A majority of the session was dedicated to giving examples of how brands are using both augmented and virtual reality to transform how consumers see and interact with advertising. Later on, it also delved into the potential trademark issues. For example, Matt Stratton from Snap Inc said that his company has "a front row seat to trademark analysis of augmented reality from both user generated and sponsored content", expanding: "The main issues are to do with likelihood of confusion, in respect to which entity is putting out content and who consumers think is putting out the content." This point is especially interesting, he continued, when AR marketers turn a logo, a building, or a billboard into something else. Furthermore, in the US and other places, there are issues related to fame, especially with regards to distinctiveness and tarnishment – the latter being the most tempting thing, with advertisers already using AR to literally tarnish their rival brands. One example of the latter – dubbed 'conquest advertising' – occurred in Brazil earlier this year when Burger King created an AR app for users to point their phone at McDonald's billboards, which would then create imagery of the signage burning ("symbolizing that Burger King burgers are made using fire and not a microwave"). Stratton noted: "Does McDonalds have a claim here? In my view, it depends how consumers are doing it; is it genuinely confusing anyone? I don't think it is. On brand tarnishment, maybe there's a claim there." Nonetheless, the session made clear that trademark cases involving the use of brands in AR and VR could be more pressing issues in the future. For now, marketers will continue to push the boundaries. (TJL)
Cutting through the cannabis mark confusion – The INTA Annual Meeting provides a prime opportunity to unveil new products or highlight recently-launched offerings. One that caught our eye is Corsearch's cannabis industry search tool. On WTR we have written extensively on the complex legal and regulatory environment facing brands in the cannabis space. Corsearch's cannabis industry search product was the first to market and covers a broad scope of goods and services related to the industry. As well as searching industry-specific websites and marks registered at state level, it identifies possible conflicts with strains and dispensaries. Corsearch's Emily Casaccio told WTR: "It's a product that came directly from the market and what we were seeing. There was clearly a need for this so we set about educating ourselves internally, for instance on key terms. It's tricky as the industry is a grey area – people have different theories about how to go about registering and clearing these marks. We worked closely with Mary Shapiro at Evoke Law [who earlier today took part in a Q&A on cannabis marks] and she told us what she would need and looks for." Corsearch is also currently developing an informational course to help clients navigate the complex environment for this type of mark, which it hopes will also qualify for CLE credit. She concludes: "It is a polarising topic. Some people are ready to take on a new industry and others won't touch it. But it is an exciting time in IP and I couldn't imagine not being part of it." (TL)
Exhibiting lawyers – I have been coming to INTA meetings off and on since the mid-1990s. As one of the dwindling band of old-timers who can remember how things used to be I can tell you that 25 years ago it was all very different. The attendance numbers were much lower – though still measured in the thousands – and delegates were largely from North America (the US mainly, of course) with a large sprinkling of (western) Europeans, a decent number of Latin Americans and a handful from Asia and Africa. Leap forward to 2019 and how times have changed. The US delegates are now a minority and the number of Asian attendees has soared – the Chinese representation especially. Another place where you notice the difference is in the exhibition hall. Back in the old days it was really just a big room, mainly filled with pretty basic booths taken by service providers, book and magazine publishers, and the odd trademark attorney firm. In the here and now, though, we really are in a large exhibition space in a major convention centre, with all-singing, all-dancing stands, offering every kind of service imaginable with all kinds of treats designed to lure the punters in. Most noticeable of all, though, is just how many law and attorney firms are now represented. From almost none back in the day, this year I counted more than 60 on a tour round the hall, out of a total of just over 160 exhibitors – that's close to 40%. The largest proportion of the exhibiting firms come from Asia, with China being the top country represented. And looking at the pricing, it's quite an investment. The smallest booth area costs exhibitors $3,100 for INTA members and $4,100 for non-members, rising to $26,400/$34,600 for the largest available space. And that's before you throw in furniture, goods, shipping and the not inconsiderable handling fees that get charged for set-up, cleaning and take-down – not to mention the cost of flying staff in too. Clearly, though, a lot of firms see this as a very sound investment. And I guess it does make sense. If you are a lawyer or an attorney in an emerging market that most trademark professionals do not know well, putting yourself in a fixed place while 11,000 plus potential clients amble past is not a bad idea. In fact, it's probably the quickest way to make meaningful connections there is. The question, though, is with so many of your competitors doing the same thing, how do you differentiate? There are freebies, of course, but probably the best way is if you are named in the WTR Trademark 1000. Point that out to those who drop in to say hello and you have a high quality calling card to offer immediately. (JW)    
The INTA Annual Meeting location rumour-mill is in full swing – In years past, the future locations for INTA Annual Meetings were known years in advance. As well as for curiosity's sake, having an early heads up did allow event organisers to scope out potential venues early. Of course, sometimes plans do change (having been announced as Vienna, the 2017 gathering later switched to Barcelona) but delegates do like to speculate on where future events will take place. At present Singapore in 2020 is the only confirmed location, so where next? A number of people have mooted Washington DC for 2021, although that would break the previous trend of moving the US events between the east and west coasts. Thus, the other suggestion we have heard – San Diego in 2021 and Toronto in 2022 – more closely follows the usual pattern. Toronto in 2022 was mooted back in 2014 and Open Calendar also states that Canada will be the destination we are flying to for 21 May 2022 (it also suggests dates for a San Francisco meeting in 2021 and a San Diego gathering in 2025), so there could be something in that rumour. Of course, INTA could throw a curveball and gather the trademark community somewhere wholly unexpected. What is certain is that the rumour mill will remain in full swing until an official announcement is handed down. (TL)
Stay tuned – Don't forget you can keep up-to-date with the latest INTA Annual Meeting news and insights on our Twitter feed.