Innovation, globalisation, mobile apps and jazz – takeaways from Singapore IP Week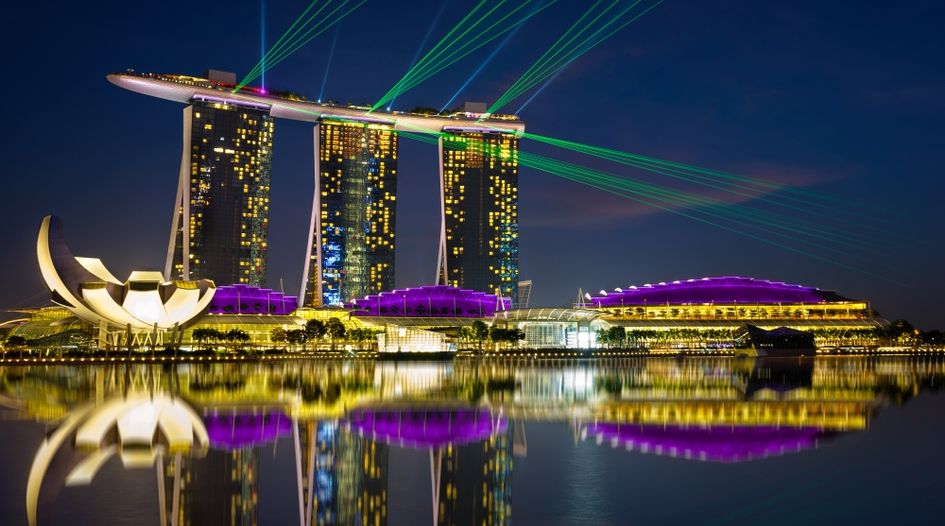 Delegates from 45 countries head to Singapore for annual IP Week events
IPOS unveils series of initiatives to help country attain goal of being a regional IP hub
Institute of Singapore Trademark Agents launches; mission to advance the profession
This week the Singapore IP Office (IPOS) has hosted a series of events to mark the country's annual IP Week. With "close to 4,000 people from over 45 countries participating", as revealed by IPOS chief executive Daren Tang, there was an international feel to proceedings. Crucially, the event saw the launch of a new institute for trademark professionals and shed new light on how the government is seeking to leverage IP to position the country as a regional hub for businesses. WTR was on hand at the Marina Bay Convention Centre to bring you the key takeaways from Singapore's biggest IP event (at least until next April, when the INTA community descends en masse).
Why becoming a regional IP hub is important to Singapore – Providing the opening address, Chan Chun Sing, Singapore's Minister for Trade and Industry, expanded on why Singapore becoming a regional IP hub is so important to the country. His speech was based on two propositions: "First, that intangible assets, including IP, will increasingly drive the next wave of global growth. Second, that in a fragmenting world, Singapore must redouble efforts to build itself as a trusted global hub for IP… Since independence, we have always asked the question 'how does a city state thrive in a fragmented world and transcend the constraints of physical size and geography?' We used to focus on connectivity – land, air and sea. We have done well for 50 years and want to continue, but our challenge is to connect in five new dimensions: data, finance, technology, talent and regulations." Thus, the plan is to connect innovation and business as a way of fostering economic growth. This means helping institutions to create IP and subsequently monetise it ("We must find a way to translate research outcomes into commercial outcomes. Too many companies in too many countries are able to translate money into research but few can translate research into money"). It means developing expertise in IP valuation and marketplace services, and connecting the disciplines of business, technology and the law ("Only when the three intersect do we find the sweet spot to grow IP"). And it means strengthening international networks and learning from partners. For Singapore, then, becoming a regional IP hub secures a strong economic future – hence the government standing full square behind the mission. Speaking to attendees at the event, it is clear that this is more than 'political speak'. There appears to be a strong commitment to, in the words of the minister, leverage the opportunities in IP to propel the country to the next level of economic growth. 
How Singapore will develop IP skillsets – In his opening address, Singapore's Minister for Trade and Industry outlined a four-pronged strategy for the country to become an IP hub: "To build a local talent pool, organise ourselves better, strengthen international networks and learn from our international partners." To help with the first prong, he officially announced a new skills framework, "which will provide information on career paths as well as offering training and support." Billed as the world's first national-level framework for IP manpower development, the Skills Framework for IP aims to raise the overall competencies of IP professionals, helping them identify career development opportunities and develop the skills needed to succeed in high-value roles across the public and private sectors. The programme covers 11 job roles, and 60 technical and general skills, across five tracks (IP commercialisation, IP legal, IP management, IP strategy, and patent prosecution), and aims to build "a pool of competent and industry-ready IP professionals to support enterprises as they take their ideas and IP global".
IPOS International is set to help organisations go global – Singapore's Minister for Trade and Industry also used this week's event to launch IPOS International. This subsidiary of the IP office has been created to support enterprises and industries with the commercialisation of their intangible assets and intellectual property, including overseas expansion. To achieve this, the new entity brings together over 100 IP professionals with experience in IP strategy and management, patent search and analysis, as well as IP education and training. Drawing on their expertise, IPOS International will provide customised programmes and advisory services tailored to specific business needs. An initial offering is Illuminate for Enterprises, a free tool designed to help businesses assess their IP management status. The office states: "In ten minutes, businesses will receive key insights on potential IP gaps and risks, as well as tips and recommendations for further actions." Daren Tang, who takes on the role of chairman of IPOS International, explained: "As Singapore's economy transforms, enterprises will increasingly turn to innovation to drive business growth. To support them on this challenging journey, we have decided to bring together over 100 of our IP experts under one roof to provide new solutions and tools for these enterprises. We will also work closely with partners in government and the private sector, in Singapore and overseas, to offer holistic solutions to innovative enterprises as they scale up into the region and beyond."
The Singaporean trademark profession just got institutionalised – Today (28 August) saw the official launch of the Institute of Singapore Trademark Agents (ISTMA). The new organisation aims to represent those professionals protecting the rights of trademark owners. Speaking at its kick-off event, president Murgiana Haq (managing partner of hslegal LLP) explained: "ISTMA is a professional, members-only organisation of high caliber service providers in Singapore, comprised of trademark agents, lawyers, consultants and advisers." As to why the community needs another IP organisation, she explained: "There are other organisations in Singapore but these are primarily fraternity in character. ISTMA is different – we are an institute. One involved in the advancement and development of the trademark profession." Crucially, she observed, until now there has not been an association specific to the trademark profession in the jurisdiction. As well as networking and social platforms, the institute seeks to assist with continuing education and skills development, Haq stating: "We need to raise the next generation of trademark practitioners and institutionalise education… We will develop education-specific programmes… hope to collaborate with IPOS to work towards a system of raising and safeguarding standards of rules and certification". At the end of the launch ceremony, Haq concluded: "Whether you practice in this field or aspire to, we would welcome you to join us."  
What the IP office of tomorrow will look like – The above reports have illustrated how IPOS is expanding its remit, going beyond being 'just' a registry of intellectual property rights. While notable, this is likely to be the norm in future. One of the plenary sessions at this week's Global Forum on IP focused on the likely role of IP offices in the future. Reflecting on the development of IPOS, chief executive Tang stated that, while it seeks to "continue being the best registry we can be, we want to broaden our understanding in the office beyond IP - to understand intangible assets and… help grow intangible rich companies". Two areas in which all IP offices can take up this mission, according to David Lossignol, INTA president, is in fostering a pro-IP environment and reaching out to small businesses: "There is a real opportunity for IP offices to educate policy makers about the basics of IP and its contribution to social welfare and economics. Offices can also engage SMEs and entrepreneurs to the early adoption of IP rights. At present, for SMEs, IP is not a priority." Presenting an African perspective, Fernando Dos Santos, director general of the African Regional Intellectual Property Organization, noted that his region – while needing to go further – has taken up the cause of education and outreach. One example is the creation of specialised training, including the launch of masters degrees in IP in Zimbabwe, Ghana and Tanzania – which to date has graduated 324 students. Ultimately, then, it is about increasing education and outreach, developing new tools and offerings and – crucially - working with other stakeholders to create a pro-IP ecosystem. As Tim Moss, CEO of the UK Intellectual Property Office (UKIPO), concluded: "Although I am chief executive of an IP office I don't like the term 'intellectual'. It conjures up images of elitism. The challenge for us as IP offices is how we make IP mainstream. It's about every business. It's about everyone that is creative… We may have set an unachievable goal – making infringement socially unacceptable. There is a role for business but it is in collaboration with government and society. The future is about collaboration. We need to work better together."  
Why it is time for the UKIPO to ramp up its global profile – Present in Singapore and participating in both official IP Week proceedings and offsite events, was the aforementioned Tim Moss, CEO of the UKIPO. Inevitably, when on stage questions about Brexit were thrown his way. Moss explained that, should Brexit occur on 31 October, on 1 November the holders of EU Trademarks will find themselves in possession of equivalent UK rights at no cost. In the event of Brexit, expect to see more of Moss and the UKIPO at international events. As one delegate WTR spoke to opined, once that transfer of rights occurs and EUTMs no longer automatically apply in the UK, the office will need to ensure it is even more visible than previously, raising its profile and ensuring that the global community does not overlook the jurisdiction on the mistaken presumption that new EUTM applications will give them coverage.
An app developed by the experts – WTR previously reported on the launch of the world's first mobile app for trademark registration, developed by IPOS. The app, called IPOS Go, allows those seeking trademark protection in Singapore to file directly with IPOS via their mobile devices – with the office stating that the process can be finished in less than 10 minutes, compared to the current average of 45 to 60 minutes. Speaking at this week's event, Daren Tang, IPOS chief executive, stated: "The businesses of the future are our teenage kids – if they are used to taking ten minutes to do their banking, they won't spend an hour filing a trademark." While in Singapore, WTR informally caught up with Isabelle Tan, director of the registry of trademarks at IPOS, and learned that the office's examiners were given a central role in developing the application. All too often tech development is led only by those with IT know-how, rather than those with insight into how customers will actually use the finished product. Kudos, then, to IPOS for ensuring that – alongside local users – those tasked with actually handling examinations, and therefore boasting a nuanced understanding of the process, were empowered to lead the development efforts and work with their IT colleagues to create a user-friendly offering.
A Razer sharp organization recognized – As part of the opening proceedings for IP Week, the winners of the WIPO-IPOS Intellectual Property Awards 2019 were revealed. These accolades focus on companies which have integrated IP strategies into their business models and achieved outstanding growth as a consequence. A big winner was Razer, the lifestyle brand for gamers taking home three trophies: the WIPO Enterprise Trophy, the WIPO Users Trophy and an IPOS Award for IP Champions. As of June 2019, Razer had filed over 3,000 patents, trademarks and registered designs in Singapore and globally since its founding in 2005. Amongst its innovations are the Razer Chroma lighting system for gamers, its Razer Blades gaming laptops and Razer Gold, virtual credits for gamers. The company has been a mover and shaker in the esports industry, successfully helping to lobby for the inclusion of esports as a medal sport for the first time in history at the Southeast-Asian Games 2019 (Dec 2019). Reflecting on the company's awards success, Choo Wei-Pin, chief legal officer, said: "From pioneering gaming hardware categories to building the world's most popular virtual credit system for gamers, these achievements were made possible through the robust IP framework of Singapore and other nations."  The other winners at the ceremony were Biolidics and Durapower, which both also received an IPOS Award for IP Champions.
A musical conclusion – Many in the trademark community know Daren Tang as chief executive of IPOS. What is less known is that he is an accomplished jazz pianist. However, during the IP Week official dinner celebration he tickled the ivories with aplomb, accompanied by WIPO Singapore Office's Candra Darusmanon. Should he ever decide to leave the IP field, he clearly has a fallback career option.