Increased need for disability support in IP profession, shows IP Ability survey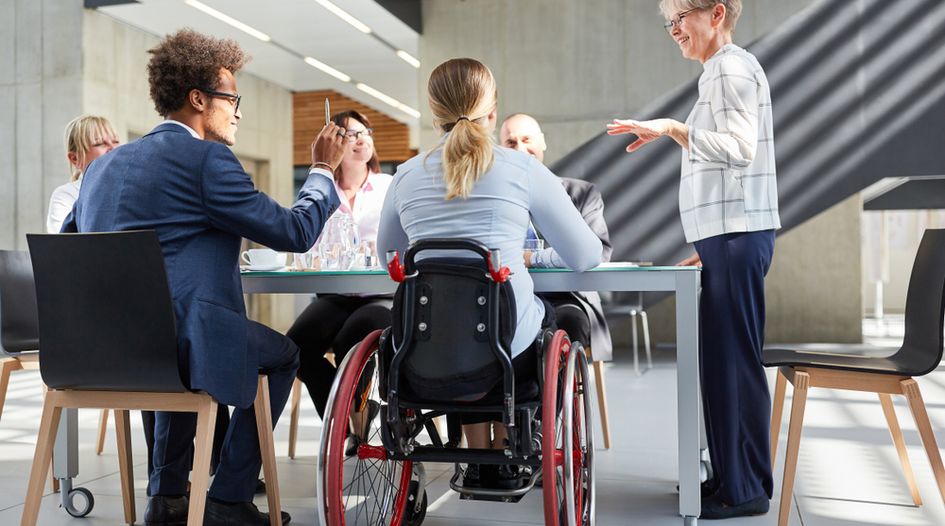 IP Ability has received the first results from its inaugural survey on disability in IP
Respondents felt supported but not always fully included or empowered by teams
Committee also asked for suggestions on how it can serve the IP community best
IP Ability is the newest community within IP Inclusive's diversity network, which was founded by Andrea Brewster to improve diversity and inclusion across the IP profession. Chris Clarke, a senior patent attorney at Vectura Ltd and IP Ability committee member, provides WTR with a first look at the results of IP Ability's inaugural industry survey. The responses reveal the extent of issues faced by those in the IP profession, and points to how firms and companies can adapt and improve.
Guest analysis
In IP Ability, our aim is to provide a supportive and informative network focusing on the issues relating to disability and long-term health conditions of all kinds, be they mental or physical, visible or invisible, permanent or temporary, sudden onset or progressive.
We were formed in Summer 2019 and decided to begin our work by getting a better idea of current levels of support in the IP sector for disabled people (including those with long-term health conditions and invisible disabilities) and carers. We wanted to know how much awareness and understanding there is, among both employers and employees, about suitable workplace adjustments; whether people feel comfortable asking for support; and generally how 'disability-confident' our organisations are.
We launched our inaugural survey in November 2019 and have used the information to help shape our 2020 plans, allowing us to target support and awareness-raising to the areas where they are most needed.
The survey was open to all IP professionals, whatever their role and career level. Importantly, it was just as much for people who do not have disabilities or caring responsibilities as for those who do: this will give us valuable information about the extent of any problems that the responses identify. We are extremely grateful to everyone who took part.
Seventy people responded, of whom about 35% have a disability and 30% have caring responsibilities for a disabled person. Less than half have told their employer/line manager about their disability/caring responsibilities. The reasons for this varied: some respondents were worried about discrimination or stigma; others choose not to advertise their situation, but also not to hide it, or only disclose it to the extent that it was relevant in the work context; and some took the view that work actually provides respite from health issues, which could be lost if the employer and colleagues became aware.
The survey asked about the extent to which people were appropriately supported by their line manager and valued by their colleagues. Most people were – but the comments showed that this was sometimes rather passive (eg, "I think I would be supported if it was needed") or done in an unhelpful way (eg, "the focus is on trying to fix the situation, rather than adjusting to it"). Almost everyone felt valued and included by their colleagues, but some respondents felt that their colleagues sometimes excluded them, albeit unintentionally. Very few employers actively made information available to employees about how to support disabled people/carers or had networks for disabled people/carers and their allies.
A significant proportion of the respondents have workplace adjustments in place. The most common adjustments by far were in working patterns (eg, flexible working, home working or reduced hours) or specialised equipment (eg, a desk, a chair, computer hardware or software). However, it was clear that getting these adjustments had not been straightforward in every case. Many employers had policies and procedures which made it relatively easy to obtain adjustments. However, other respondents have had to overcome barriers (eg, the organisational culture, their line manager's attitude or a lack of understanding of an employer's legal obligations) or have faced delays or have needed to justify the business case for the cost of specialised equipment. A small number needed to move to a different employer in order to obtain adjustments.
Similarly, most respondents' colleagues were supportive of their adjustments. However, a small number have had difficulties, such as colleagues not making small changes in their behaviour or having the attitude that everyone should be treated exactly the same way (eg, having the same furniture); this seemed to stem from ignorance/lack of awareness.
Career development opportunities were generally perceived as being accessible to those with disabilities and caring responsibilities, although some respondents commented that requirements (eg, billing hours targets) could present a barrier. 
The final questions in the survey asked what IP Ability could provide that would be helpful for disabled people, carers and their employers, and the responses provided lots of great ideas which will help us to shape what IP Ability does in 2020 and beyond. These can generally be grouped into five areas:
providing information on the IP Ability website, in relation to employment law, links to resources and support organisations for specific disabilities;
providing case studies (eg, on best practice for workplace adjustments and personal stories);
raising awareness (eg, disability awareness training/webinars for allies), especially about invisible disabilities;
facilitating peer-support networking and mentoring; and
providing information for potential entrants to the IP profession, which would help them to decide whether the profession is right for them, and information/guidance for employers on how to recruit and support people with disabilities and carers.
Workplace adjustments was probably the most frequently mentioned topic, and we are planning to run an event later this year dedicated to this. We are also due to publish on the IP Inclusive website a page of links to useful resources, which we will seek to keep updated as support organisations and their offerings evolve.
Of course, the survey took place before the covid-19 pandemic. Many people in the IP profession have been working from home in a flexible manner and often with additional caring responsibilities over recent months. As one of the disabled members of the IP Ability Committee said in a recent committee meeting (by Zoom, of course): "Welcome to my world."
In common with businesses across the United Kingdom, my employer has been planning for how we will emerge from the pandemic and what the new normal will look like. The company view is that agile working can lead to improved job satisfaction, better work-life balance and increased productivity – and that empowering and trusting everyone to think about how and where we work in future will deliver the best outcomes for the business. Other members of the IP Ability committee have said that their employers are planning and thinking along similar lines.
I hope that, were we to run the survey again in a year's time, we would find that this experience has banished any remaining negative attitudes to flexible working, and that this brings an improvement to the lives of people with disabilities and long-term health conditions and carers.