In-house lawyers lend their support to Brand Action event in Singapore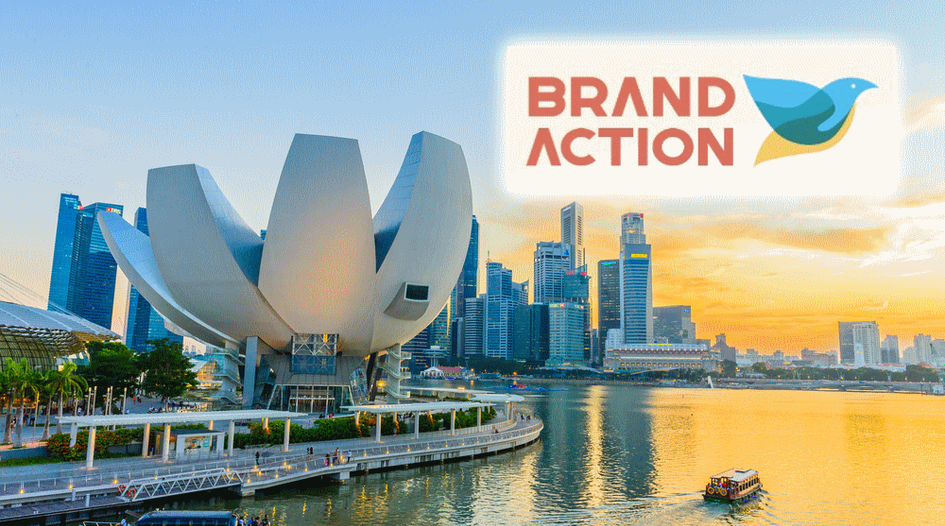 Myrtha Hurtado Rivas (general counsel at Nestlé), Jeremy Roe (general counsel at Ferrero) and Daniel Zohny (head of intellectual property at FIFA) are among the in-house lawyers who have lent their support to Brand Action's upcoming event in Singapore.
Brand Action was first launched in April 2022 in response to Russia's full-scale invasion of Ukraine. The initial focus was a fundraising event in Washington DC during the 2022 INTA Annual Meeting, which raised over $80,000 for the group's selected charities. Now, the focus has shifted to keeping the momentum going and drawing attention to wider crises, including the devastation caused by recent earthquakes in Syria and Turkey.
As WTR reported in March, Brand Action will be hosting a fundraiser once again at INTA's Annual Meeting, this time in Singapore on 18 May. Those unable to attend the conference will also be able to support the cause as a participant in an online 'Bracelet Colour Challenge'. Money raised will go to the World Central Kitchen (WCK), which delivers chef-prepared meals to communities impacted by natural disasters and humanitarian crises, and the Leleka Foundation, which delivers critical medical supplies to Ukrainian civilians and defenders.  
WTR reached out to Hurtado Rivas, Zohny and Roe to discover more about how they have been working to raise the profile of Brand Action's Singapore event and social media challenge – and why other members of the international trademark community should also show their support.
Discovering Brand Action
All three in-house practitioners were first made aware of Brand Action through personal or professional connections, they tell us.
It was Anna Ostanina, head of legal affairs at the European Communities Trademark Association (ECTA) and a Ukrainian citizen, married to Taras Kulbaba, one of the Brand Action founders, who first pointed Hurtado Rivas to the group. As a member of ECTA herself, Hurtado Rivas had known Ostanina for several years and was keen to find out what she could do to help Ukraine.
Hurtado Rivas says that the covid-19 pandemic has made her and the wider trademark community more aware of how "tightly knit" and "well connected" it is at the international level. "With news of major natural disasters and conflicts like the war in Ukraine spreading faster than ever before, I believe it's incumbent upon those of us who are privileged to not be in a crisis zone to find ways to contribute and give back," she says.
Zohny was inspired to support Brand Action after hearing that Kulbaba (a professional connection) was hand-delivering medical supplies to the Ukrainian border. "I had met Taras Kulbaba several years ago and saw his efforts regarding medical supply runs on social media and immediately knew that direct support by somebody affected from our trademark community was something I wanted to get behind," Zohny recalls.
Zohny attended the fundraising event in Washington DC last year and is determined to keep the Brand Action ball rolling. "The war in Ukraine continues, people continue to suffer. Therefore, support must continue," he stresses. "It is also great that Brand Action has expanded its efforts to support other people in need, such as the victims of the earthquake in Turkey and Syria," he says.
Roe, meanwhile, had Brand Action brought to his attention by one of its lead organisers, Jackie Stelling, who also happens to be a good friend and neighbour. "Like many people, I was looking for ways to contribute to those affected by the conflict in Ukraine," he tells us.
Mobilising the community
After Brand Action's successful event in Washington DC last year, Hurtado Rivas, Zohny and Roe have all been busy using their professional networks to rally support for this year's event in Singapore.
All three lawyers have been spreading the word through social media, predominantly LinkedIn.
"I challenge my connections to 'bring' at least one other person to the event," Hurtado Rivas urged her network two weeks ago, reminding them of the event details and even tagging some connections to encourage them to spread the word.
"I understand that the week of May 18th is busy due to the INTA Annual Meeting," she added, "but your contribution can make a difference in the lives of those who need it most".
Zohny and Roe have also been promoting the event on their social media platforms.
"Happy to attend! Hope to see many of my dear colleagues and friends there!" Zohny typed to his LinkedIn followers last week, alongside a link to the official Brand Action event page.
Roe, who describes the group's Washington DC event as his "favourite" of last year's Annual Meeting due to its "focus and humility", has also been active on Instagram promoting its parallel 'Bracelet Colour Challenge'.
"I'm representing #BATeamBue in their #brandactionchallenge," he reveals, brandishing his bright blue wristband.
The response from the trademark community has been "overwhelmingly positive", says Hurtado Rivas. And Zohny agrees.
 "We have been able to secure some sponsors, as well as additional donations from individuals who are passionate about these causes, many purchased tickets to the fundraiser and joined the colour challenge," Hurtado Rivas says.
"I am particularly proud of the fact that many people have expressed an interest in learning more about Brand Action," she continues. "It has been a great opportunity to share information about the importance of giving back and making a positive impact in our communities, both locally and globally."
Meanwhile, the people that Zohny has spoken to have been "very receptive and see the necessity of continued support for Ukraine but are also interested to see that Brand Action's efforts have moved beyond a single crisis", he tells us.
Strengthening relationships and showcasing values
"It is important to recognise that everything in our world is interconnected," says Hurtado Rivas, reflecting on the reasons why the international trademark community should offer its support to Brand Action causes.
"To achieve sustainable growth, we must ensure that the most vulnerable among us also have access to it," she adds. "As IP lawyers, we have a unique opportunity to demonstrate that our work is not solely focused on protecting and defending assets, but also about the people who are an integral part of any economic ecosystem."
As well as making a "significant impact on the lives of people in need", Brand Action's event in Singapore offers trademark practitioners the opportunity to "strengthen their relationships with colleagues and clients and to showcase their commitment to making a difference in the world", Hurtado Rivas concludes.
"Providing aid concerns us all," Zohny concurs, adding that the trademark community "is typically very compassionate and generous and therefore a great hotbed to raise funds for humanitarian purposes".
The INTA Annual Meeting is singled out as an especially great vehicle for bringing the trademark community together over causes that could otherwise feel distant to some.
"INTA's Annual Meeting is an excellent platform for charity fundraising," Hurtado Rivas says. "It brings together a diverse group of professionals from around the world who share a common interest in intellectual property. By leveraging this community, charities and non-profit organisations can raise awareness and funds for their causes."
Roe, who also serves on the INTA Board of Directors, says that "building a strong international community is exactly what INTA is about."
"I'm excited to participate in this year's [Brand Action] event," he says.