Improving gender equality in the IP industry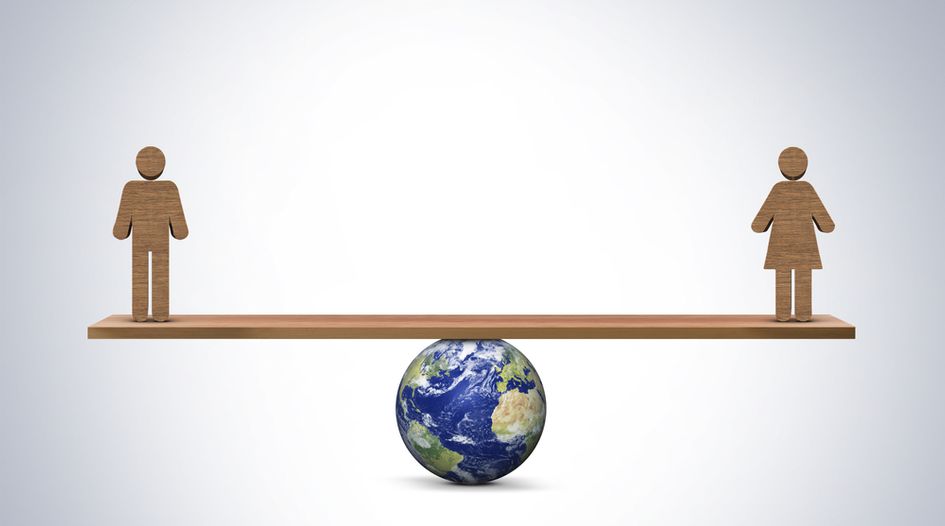 Diversity should be at the centre of conversation for every law firm, company and institution that focuses on intellectual property, with one spotlight firmly focused on gender equality. As Women's History Month 2021 draws to a close, Anaqua's Aileen Buchanan (AB), Jayne Durden (JD) and Karen Taylor (KT) discuss key areas that the IP industry needs to address.
Guest analysis
The IP industry is attempting to bridge the gender gap but so much more needs to be done. Here, we explore four areas that the industry needs to address to help close the gap: challenging assumptions of gender roles, improving underrepresentation, career resources and building a mentoring mentality.
Challenging perceptions
Those within the industry must challenge behaviour and systems that maintain gender inequality, including the perception that the absence of a conventional background or education leads to a lack of success. We must also challenge assumptions of what women want or do not want in their home lives and their careers, as well as the perception of gender-based roles within the workplace.
AB: "My take is to push beyond the perceptions that the absence of a conventional background and education equates to the inability to be successful. Many women need to make hard choices where the needs of the family come first, often at the behest of our own education or professional development."
JD: "It's important that we learn to challenge behaviour and systems that maintain gender inequality. That means standing up and challenging why things are done the way they are when they adversely impact women and others. This could be something as simple as questioning why the image of a law firm partner in an article is a man or helping to ensure that all voices are heard in a meeting where male colleagues have traditionally spoken over some of their female colleagues."
KT: "There is still a tendency both in education and at work to steer women into 'humanities' or roles with a people focus. Some of the best CFOs, strategists and technology leaders I have ever worked with were women. There is absolutely no reason why women cannot thrive in such roles and I would like to see more women coming into the pipeline in these types of functions and being promoted to the most senior executive and board levels."
Where are the women?
According to WIPO, 2058. is the year that gender parity among Patent Cooperation Treaty-listed inventors is expected to be reached. In 2020 only 16.5% of inventors named in international patent applications were women.
Although the number of women being recruited into the STEAM (science, technology, engineering, arts and math) workforce is increasing, the higher up the ladder you look, the less women you find. We are losing out on a huge amount of talent and value; guaranteeing equitable participation of women in the sector from the start to ensure that they remain engaged and progress in seniority is crucial.
JD: "Despite the efforts of many organisations over the last few years, women are still underrepresented as innovators, both in pure numbers as named inventors and in more subtle ways like being less likely to be the first named inventor when there is more than one inventor."
KT: "There are many impressive women in the IP industry; however, like many industries, the higher you go up the ladder, the thinner the proportion of women becomes. In some aspects of intellectual property (eg, R&D) this is compounded by the lower numbers of women going into STEAM roles at the start of the pipeline. However, even in areas where women are well represented in higher education and join their professions in equal numbers to men, the numbers drop over time."
Laying the path
One way to improve gender equality is to help connect women with other women so that they have a clear sense of career paths available within the industry.
AB: "Employers need to take strong measures to remove gender bias in the workplace by being crystal clear about the qualifications and skills sets needed not only for the role but also career progression. Those overlooked skill sets may not only be what you need to make your company successful today but what you need to stay competitive tomorrow."
KT: "All educational institutions, governments and companies involved in driving intellectual property and innovation could do more to ensure the equitable participation of women in the sector right from the very start and ensure that they stay engaged and move up in seniority throughout their careers. Intellectual property is a hugely valuable asset class, not just for individual companies, but for societies."
Mentoring mentality
Rising women should be able to call on a breadth of female role models. Mentoring women to challenge themselves and others to make a change is an important role in improving gender equality. 
JD: "As part of our innovation team, we are looking at the power of our technology to help even out the gender gap. We're ensuring our product innovation group is as diverse as possible. The more eyes and input, the more we can ensure that we are innovating to help promote equality. Within our team, I am mentoring several women who are looking for guidance and help in thinking through how they can start to challenge themselves and others to make changes."
AB: "I have a family and I work full time and I am fairly unapologetic about both. When asked, I feel you need to be practical about it given it is a balancing act and neither one is easy. Inevitably one or the other has to give every now and then—and that is ok. I do not think women hear that enough, but it is important that they do as we are hard enough on ourselves as it is!"
Much like the theme of the 2021 International Women's Day, #ChooseToChallenge, choosing to challenge is exactly what we must do. It is clear that sitting quietly and hoping that things will improve does not work. Everyone, from the senior board to the newest employee, must challenge the status quo and push for equality. It is only then that we will have real change.