"I feel like I've been swindled" – concerns grow over 'Holly Mariella' trademark campaign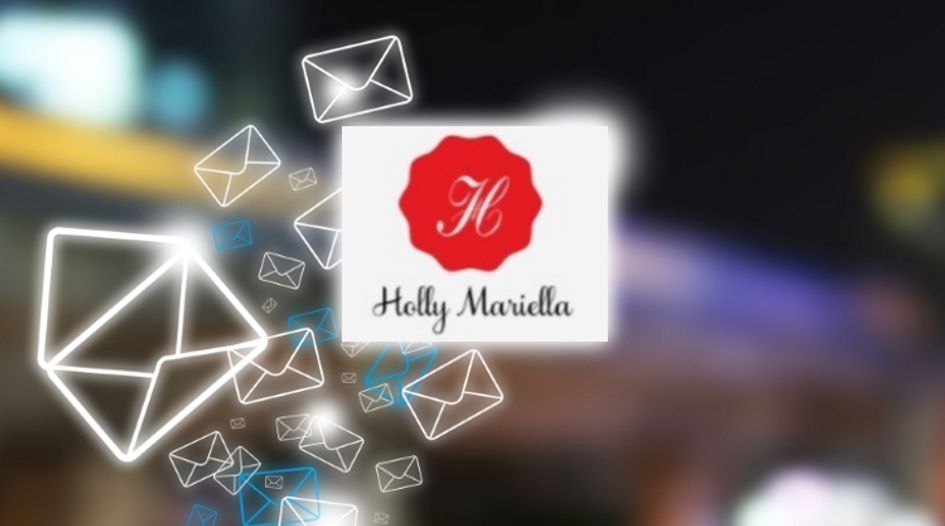 Small business owners contact WTR about marketing campaign by 'Holly Mariella'
Campaign offers IP services, but person appears to have hijacked attorney details
Business owner claims to have been "swindled" due to "bogus" work on application
A number of small business owners have reached out to WTR in recent days over a trademark marketing campaign conducted by a person who appears to have hijacked the details of a California-based attorney. The suspicious campaign has led to calls for the US Patent and Trademark Office (USPTO) to crackdown on instances of attorney details being misused on trademark applications and in marketing for IP services.
Last week, WTR reported on the USPTO being urged to fix its search capability so attorneys can more effectively monitor whether their personal details are being used for fraudulent purposes. It followed reports of a trademark services marketing campaign that allegedly used the details of another active attorney, 'Holly Mariella'. The alarm was actually raised by Holly C Mariella, who works for the California Department of Justice and penned a letter to the USPTO to report that her details had been used improperly on a trademark application (the letter subsequently followed by others). While few details were identifiable last week, more information has emerged in the days since.
The 'Holly Mariella' marketing campaign has been sent to trademark applicants around the United States since at least April 2020. In copies of the email, seen by WTR, 'Holly Mariella' claims to be a "trademark attorney" and boasts of "filing and prosecuting many hundreds of trademarks to registration", with a "95%" success rate. The email claims to be sent only to trademark applicants that do not list an attorney-of-record on their application, with a promise of "the lowest fees" due to "a disability" and not having "a bricks-and-mortar office".
While the email does not claim to be from an attorney at a law firm (it uses a red 'Holly Mariella' logo), it is sent from an '@doniplaw.com' email address. The website located at 'doniplaw.com' is currently inactive ("under construction"), but a Google snapshot from 14 June 2020 reveals it was active earlier this month. At that time, the website used default text on nearly all pages – although it does have a 'Don IP Law' logo and in the 'Our Team' section on the homepage, it includes three attorney names: 'Donna Rose', 'Matthew Kelly' and 'Holly Mariella'. No more information is included on the website archive and the WHOIS information is private.
At the time of writing, a search on the USPTO website reveals 'Holly Mariella' to be the attorney of record on at least four trademark applications at the USPTO – specifically the applications for 99% PEACEFUL 1% WILD, BLUE ANGEL FARM, BLUE ANGEL FARM THE HALAL HEALTH COMPANY, and FLODANCER. In the past few weeks, the USPTO has received letters from California attorney Holly C Mariella on three of those applications claiming that her "name, electronic signature, bar membership information and/or correspondence information" has been used "improperly" on office actions. In the letter, Mariella specifically states that she:
Does not practice trademark law;
Does not presently represent any party in any matter before the USPTO;
Does not (and has never) owned the '@doniplaw.com' email address used in the marketing;
Has never worked with any law firm known as 'Don IP Law';
Does not have any association or connection to the owners of the listed applications or registrations.
At least one of the trademark registrations has now received a suspension notice from the USPTO, with the registry stating it "has reason to believe that the attorney of record was appointed without his knowledge or permission". Curiously, following Mariella's letter to the USPTO, another of the trademark registrations was the subject of a 'change of address form', with the proposed new attorney being 'Holly Mariella' but with a different address (from a street in San Francisco to a location in Gardena that appears to be a mail-forwarding centre).
WTR has attempted to reach out to Holly C Mariella but she has so far not responded to our enquiries (we will update this article if she does).
Fears and frustration
Despite the letters to the USPTO, WTR has been contacted by multiple small business owners who confirm that the person behind the marketing campaign in question continues to claim to be 'Holly Mariella'. In recent email chains seen by WTR, a link to Holly C Mariella's California State Bar profile was sent to prospective clients who asked for information on her legal credibility. In other correspondence, a "hearing impairment" ruled out the scheduling of phone calls, a claim that was described as a "red flag" by one business owner. In another example, a prospective client was asked to pay (via PayPal) a fixed price before any contract or agreement had been executed. When challenged, they again sent a link to the California State Bar profile to prove they are genuine.
One small business owner described how they paid a fee to the person behind the 'Holly Mariella' campaign, and admitted that it came as a surprise when they found the letter to the USPTO from Holly C Mariella. "At the beginning I wasn't suspicious since the person provided me with the FLODANCER trademark case number and their name appears in the documents," the business owner told us. "However, after I read the WTR article last week, I started to connect the dots when she never reached out on the phone. She seems savvy on trademark law though; maybe she could be a paralegal or a former law student, I do not know."
Indeed, it remains unclear who is behind the 'Holly Mariella' campaign. WTR has attempted to reach out numerous times to the person behind the campaign, to give them the opportunity to respond to the allegations and questions that have arisen. We have not yet received a response.
What is clear, however, is some small business owners feel duped. For example, in one email to a prospective client, the person behind the 'Holly Mariella' campaign sent a Justia link to a US trademark application that they claim to have recently filed. The application in question is for the term IMPAIRMASTER and was filed on 12 June 2020. A week later (and three days after WTR first mentioned the 'Holly Mariella' campaign in an article), a change of representative form was submitted, with 'Holly Mariella' removed as attorney of record and replaced by the trademark applicant, John Schmidt.
After being contacted by WTR, Schmidt looked at the details on the trademark application and said, "it looks like I'm just another person who got swindled". Going into more detail, he claimed he'd been sent the marketing email shortly after the first office action related to a trademark application he filed himself, for the term IMPAIRMASTERS in February 2020. After being told of potential problems with the application, he paid a fee to the person and – a short time afterwards – was asked to pay another fee as it was claimed the trademark needed to be re-filed. However, after looking at what was actually filed in the USPTO's TSDR system earlier today, Shmidt claims the legal work they did "was completely wrong" – including the trademark being incorrect (IMPAIRMASTER instead of IMPAIRMASTERS) and an incorrect specimen being submitted on both applications (a screenshot of another company's website). Indeed, due to the latter issue, the USPTO recently issued an office action to the original February 2020 application with a provisional refusal because "the mark on the specimen does not match the mark in the drawing because the specimen shows the mark without an 'S' at the end". Furthermore, Schmidt was not aware of the change of representative form submitted on 19 June.
Clearly frustrated, Schmidt told WTR he will now seek an alternative legal representative to address the issues with the applications. "Even if this was a legitimate person, what they did is completely bogus," he says. "This is not just lousy work, this is completely off the mark. They just submitted an application and used the information of some other business. It looks like they took my money, submitted some 'BS', and then they seem to have bowed out."
Another small business owner who also paid a fee to the person behind the marketing told WTR that "the USPTO needs to address this immediately to avoid any scandal that could affect consumers". That point was reiterated by another business owner, who told us: "I believe that the USPTO should provide a portal where trademark attorneys can contact potential clients. This portal should verify an attorney's certifications and their contact information to ease the client's concerns."
When asked about the issue of attorney information being improperly used by third-parties, a USPTO representative told WTR last week that it is "a relatively new behaviour and involves a relatively small number of cases". However, they confirmed that they plan to introduce a "log-in system that will require an account and credentials to file application or registration documents", adding: "When the final phase of the log-in procedure is completed, the system will include an identity verification element to help reduce unauthorised use of attorney names and credentials, and only the attorney of record and parties that he or she has authorised will be able to submit filings for his or her clients."
It is hoped, then, that the misuse of attorney details could be combated when the USPTO introduces its log-in system. However, until then, it appears that attorney details are at risk, and they are advised to monitor for misuse of their personal information on a regular basis. Also at significant risk are trademark applicants who self-file, as they often receive marketing emails offering trademark services from people claiming to be attorneys. With an applicant's email details being publicly available on the USPTO website, such marketing is inevitable – and so too is the risk of fraud and attorney impersonation.
For those already affected, a future fix by the USPTO will come as little consolation. Schmidt laments: "First of all, this seems to be someone impersonating an attorney. Anything after that is a scam. It's not like this is the genuine Holly Mariella doing bad work; this is seemingly a person claiming to be someone they're not, emailing people, and doing bad work. From my point of view, this is fraud – I feel like I've been swindled, that's for sure."