"This is a huge deal" – Filipino brand owner speaks out after securing trademark linked to Prince Harry and Meghan Markle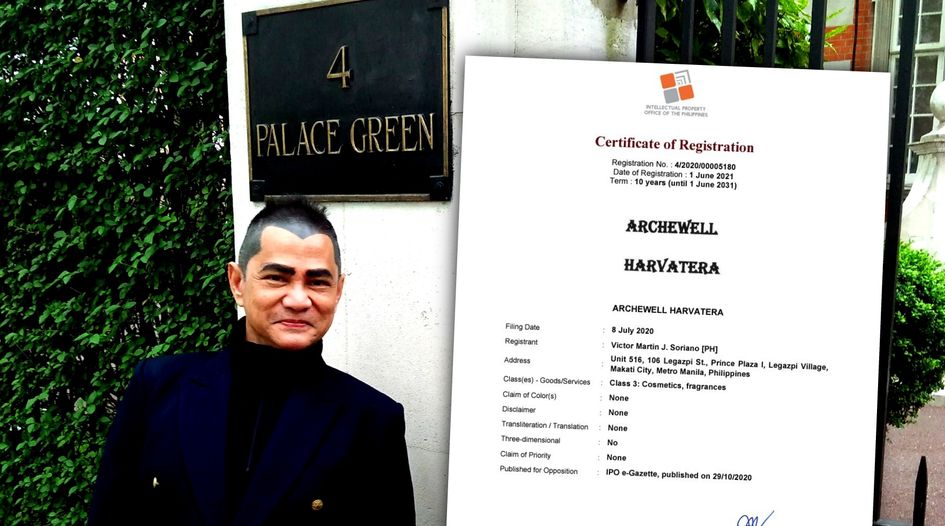 Small business owner in Philippines talks to WTR about legal fight with royal couple
He received Archewell-related trademark certificate this week after opposition threat
Reveals plan to sell Archewell-branded products on Amazon sometime in 2022
A small business owner in Manila, Philippines who became embroiled in a trademark dispute with Prince Harry and Meghan Markle – previously described as a "duel to the death" – has voiced his relief following the successful registration of his Archewell-related trademark. Talking exclusively to WTR, he reveals his plans to sell Archewell-branded products on Amazon, although adds: "If the Queen wants the trademark back, I will give it back."
Last year, the Duke and Duchess of Sussex sought legal protection for the Archewell brand after failing to secure trademark rights in a Sussex Royal-branded charitable foundation (including threatened oppositions and an intervention from the Queen). The couple's legal entity, Cobblestone Lane LLC, filed dozens of Archewell-related trademarks in jurisdictions including Australia, Canada, the European Union, the United Kingdom and the United States, as well as an international submission (designating China, India, Japan, Mexico, New Zealand and Russia). Unsurprisingly due to the couple's global fame (arguably peaking earlier this year with their Oprah interview), there were also a number of third-party attempts to obtain registered trademark protection for the Archewell name (including a filing in Germany that was eventually withdrawn by the applicant).
Curiously, though, it was in the Philippines where the couple had the most Archewell-related trademark headaches. One local resident, Gina Agnes Sarabia, filed a trademark for the term ARCHEWELL in July 2020 that reached registration at the IP Office of the Philippines (IPOPHL) in December 2020 (and was used by the applicant's company, Sarabia Jewelry, on a now-discontinued Archewell range of luxury products). Another application was filed in July 2020 for the term ARCHEWELL HARVATERA for cosmetics and fragrances by Manila resident Victor Martin Soriano. In this instance, the royal couple took action.
In November 2020, a month after Soriano's application was published by the IPOPHL, he received a letter confirming that an opposition had been lodged by Cobblestone Lane LLC. In the letter, the legal entity requested "additional time" to notarise relevant documents in the United States and have the original documents sent to the Philippines. At that time, Soriano did not shy away from a potential legal battle with the royal couple, claiming that it would be a "duel to the death" and pledging to "slug it out with them" in court.
Such a combative legal fight did not come to fruition, however, as WTR was informed that Cobblestone Lane LLC's extension to file an opposition was allowed to expire on 28 December 2020.
Now, WTR has learned that Soriano, who owns a small business called Cyclone Trading, received the registered trademark certificate this week (pictured here). Reflecting on the end of a bitter, albeit brief, legal battle with the duke and duchess, Soriano admits that he is "relieved" to have the certificate in his hand. "Although I previously sounded confident, I knew it could be easily overturned by a request from the British government – but thankfully there was none," he tells us. "I am so happy that my colognes will be famous. I will strive for quality, and I am already getting inquiries online. Therefore, I want to thank HRM the Queen and the British people for this. If the Queen wants the trademark back, I will give it back."
On top of that pledge, he reveals plans to sell Archwell Harvatera cosmetic products next year – both in the Philippines and further afield. "I have a sister in Los Angeles and we plan to sell there as the United States practises a 'first use' policy for trademarks," he says. "I have an FDA permit for the brand (I have a certificate), I just have to complete my notifications (lab analysis) before entering the market. So my brand in the Philippines will have international repercussions. For instance, I can sell Archewell on Amazon and I would not be taken down on the US platform. In my view, this could be a test case and a challenge to the trademark rules as the world has shrunk because of online shopping. That is a huge deal for me and could be an international landmark test for online shopping."
For now, Soriano says that the dispute has led to him softening his stance on Prince Harry and, in particular, Meghan Markle. Previously, he admitted to being "anti-Meghan", but he now claims to feel more of a kinship with the royal couple. "I had to stop criticising Harry and Meghan because at the end of the day, we now share the same name – how can I badmouth Meghan after all this?" he notes. "Ultimately, my trademark was inspired by Prince Harry, but with my own 'Harvatera' word added. Now I took something from Harry, but I want to give back a lesson to him: concentrate on business. Archewell is so famous because of you, now 'we' can sell anything to the world, so stop complaining."
As one legal dispute ends, another begins. Soriano reveals that he is also embroiled in a trademark dispute with Louis Vuitton over an 'LV' trademark that he filed at the IPOPHL in February 2021 (which he claims stands for 'Lopez Vito', an area in the Philippines in which he has family ties). He predicts that case will go "all the way to the Philippines Supreme Court" but suggests that the fashion brand "will have a difficult time because I am fully covered (including a certificate proving that I was in cosmetics before them)".
Could more trademark disputes between Soriano and well-known brands occur in the future? "No more, no more; enough with trademarks," he pledges. "It's time to go to work."
WTR has reached out to the Archewell Foundation for comment.