How WTR is connecting the global trademark community this October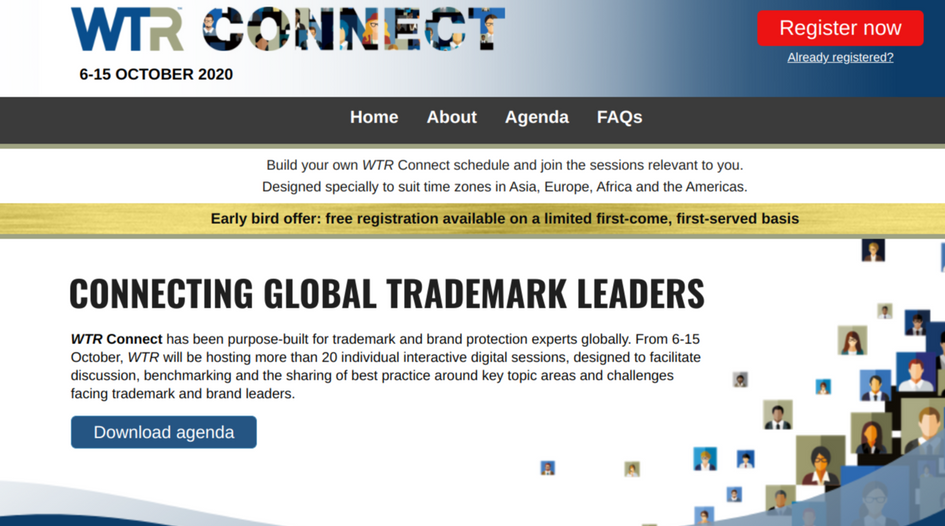 WTR is delighted to unveil WTR Connect, a series of high-level online events taking place across two weeks in October, with in-depth sessions timed to accommodate participation from around the world.
In March senior trademark professionals convened in Chicago for the Managing Trademark Assets and Brand Protection Online events. In the weeks and months that followed, the covid-19 pandemic resulted in the cancellation of numerous trademark conferences around the world. However, it also provided an opportunity for the community to seize upon the unique opportunities that reside in alternative forms of content delivery and interaction. With that in mind, we are excited to announce details of WTR Connect, a ground-breaking digital concept that offers a series of individual interactive digital sessions organised around major themes.
So how will it work? Rather than following the usual webinar or online conference model, WTR Connect is comprised of a series of hubs, each designed to facilitate discussion, benchmarking and the sharing of best practice around key topic areas and challenges facing trademark and brand leaders. These include:
the challenges and opportunities in key global industries;
managing brands through difficulties and change;
keeping the trademark function on point and on budget;
creating resilient, future-proofed brands;
using technology to transform in-house practices; and
managing the trademark lifecycle.
Rather than following traditional conference and webinar models, the hubs are built around content, connection and contribution. Each day will start with a keynote address from a major industry figure. This will be followed by live breakout discussions lasting for a maximum of 60 minutes. These will be in a variety of formats including masterclasses, open discussion forums, solution rooms and closed-door, invite-only boardrooms.
The sessions, taking place from 6-15 October, are timed to suit attendees in Asia, Europe, Africa and the Americas. Participants can register for as many sessions as they like, building their own schedule. However, to ensure maximum interaction and discussion, capacity within each hub will be limited.
An early bird offer means that free registration is available on a limited first-come, first-served basis. Again, this is based on specific quotas and participant numbers will be limited for particular hubs (more details are available here).
To find out more and to secure your place at WTR Connect, click here.