Holden brand retired; EUIPO coronavirus extension; Japan GI cancellation – news digest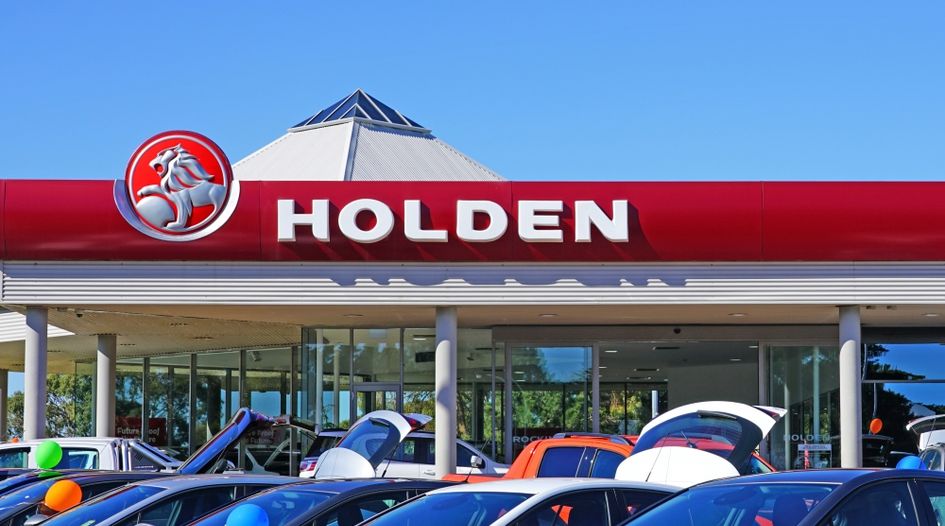 Every Tuesday and Friday, WTR presents a round-up of news, developments and insights from across the trademark sphere. In our latest edition, we look at Amazon car seat criticism leading to calls for legal reform, New Zealand being added to the TMview roster, US and China battling over the WIPO director general position, the 'era of fake goods', and much more. Coverage this time from Trevor Little (TL), Bridget Diakun (BD), Jonathan Walfisz (JW) and Tim Lince (TJL).
Market radar:
Japan announces GI cancellation – Japan's agriculture ministry has removed Aichi Prefecture's Nishio Matcha tea from its list of geographically protected names so that producers can be given the freedom to try more efficient growing methods, reports Japan Times. The move is reportedly designed to allow producers to cut the price of the tea, with the Nishio Tea Cooperative Association having requested the removal of GI protection (for the first time since the system was established five years ago). GI protection is usually viewedas a way to carve out competitive advantage, but in this instance the resulting high cost of production has led to sluggish sales levels – hence the request. (TL)
Amazon car seat criticism leads to call for legal reform – This week, the BBC reported on the discovery of suspect child car seats being sold on Amazon's UK store, with the seats lacking safety labels and priced at just £3.99. In a statement, Amazon told the Panorama TV programme: "Safety is extremely important to us and we regret that these products were available from third-party sellers using our stores. After a thorough investigation, we identified the issue and are removing these products, and we're also contacting each customer who purchased one of these products to explain the situation and issue a refund. We will continue to leverage and improve our tools and technology to ensure only safe and compliant car seats are available worldwide." Reflecting on the news story, Piers Barclay, chief strategy officer at Incopro, has called for the law to be changed so that online marketplaces are no longer exempt from liability if they are not aware of illegal content being sold on their platform: "There are millions of online listings and as the go-to sellers online, marketplaces must start taking responsibility. Search engines have already been found guilty of a lack of action when it comes to automotive safety online. A whitepaper investigation conducted by Incopro found that on average 6 out of the first 10 listings on Google were links to illegal traders and fake products with search engines clearly indexing websites containing dangerous counterfeit automotive parts… The industry must come together to fight the bigger evil at hand and protect consumer safety – otherwise we will continue to see stories like this crop up far too regularly." (TL)
GM to retire well-known Holden brand – General Motors will be putting an end to its Australia and New Zealand operations, as well as pulling its iconic Holden brand by 2021. The decision to retire the 160 year old brand was made as GM continues to withdraw from the Asia Pacific in order to focus more resources on the development of electric and autonomous vehicles. Holden is not the first casualty in GM's pursuit of a new international strategy. In 2017 it sold two European brands, Opel and Vauxhall, to PSA group for approximately $1.4 billion. It has been a difficult time for automotive manufacturers as they manoeuvre an increasingly difficult global economy while having to innovate and implement new-age technologies. Streamlining brand portfolios may become more common so these companies can free up resources to handle high priority concerns. (BD)
Office radar:
New Zealand added to TMview roster – The EU Intellectual Property Office (EUIPO) has announced the addition of the IP Office of New Zealand (IPONZ) to its trademark search platform TMview. The developments adds 685,000 trademark data to the TMview platform, meaning it has information on over 57 million trademarks in total. (TJL)
EUIPO extends Chinese party deadlines – Also at the EUIPO, the registry has announced the extension of deadlines in trademark and community design proceedings for Chinese applicants and registrants. The move follows the ongoing coronavirus epidemic, which has caused millions of Chinese people to self-isolate at home – meaning many activities and communications are severely limited. In a letter sent late last week, EUIPO executive director Christian Archambeau described the coronavirus outbreak as "an exceptional occurrence" that has caused significant disruption for IP owners. For that reason, the registry announced that any time limits expiring between January 30 and 28 February 2020 will now be extended until February 29. (TJL)
ARIPO, OAPI and WIPO meet – The African Regional Intellectual Property Organisation (ARIPO), the African Intellectual Property Organisation (OAPI) and the World Intellectual Property Organisation (WIPO) have conducted a meeting in Geneva, Switzerland as part of discussions on the IP implications of the African Continental Free Trade Area. According to OAPI, the roundtable offered each participant the opportunity to "to exchange their point of view on the importance of protecting and exploiting intellectual property assets to improve competitiveness and access to regional and global markets". (TJL)
Media Watch:
US v China battle over WIPO top spot continues – On WTR we have been covering the competition to succeed Francis Gurry as WIPO director general. Last week a third candidate for the role dropped out of the race, leaving seven individuals in the frame, and WTR understands that the candidate from Japan also pulled out this week. However, the election has become mired in backroom maneuvering and lobbying, with the US rallying support against Wang Binying of China. Recently, USPTO director Andrei Iancu added his voice to the debate about who should be elected as the next director general, telling an event in Washington DC that the head of the global body must come from a country with a strong record in IP. This weekend, a piece in the South China Morning Post covered the politicization of the competition, an editorial hitting back and arguing: "Under President Xi Jinping, China has dramatically increased its UN spending, and it is now the second-biggest contributor, behind the US, to the general budget and peacekeeping. As a rising and responsible power, there is no good reason to bar China from having a bigger stake in the global multilateral system. The UN, World Bank, International Monetary Fund and other key parts of the multilateral order were established by the victors of World War II, with the US and its allies setting the rules. Reforms are much-needed to reflect the changed world seven decades later, but pressure has been resisted. China and other rising nations should not be denied their rightful place at the international table." The race for the WIPO top spot if entering the final lap, with a candidate to be decided upon in early March. Expect the hostilities to continue. (TL)
Entering the 'era of fake products' – Over on Wirecutter, the rise of counterfeit goods has been described as the 'era of fake products'. "The rise of counterfeit goods and other phony products sold on the Internet has been swift – and it has largely gone unnoticed by many shoppers," writes reporter Ganda Suthivarakom. "But make no mistake: the problem is extensive." A key focus of the feature is fakes sold on Amazon, with SME owners describing products that have been counterfeited and sold on the mega-retail marketplace. The issue has infiltrated virtually every product sector, Suthivarakom notes, from fashion to bird feeders. Crucially, despite being no fault of the brands in question, consumers often target legitimate rights holders if they receive a counterfeit – with sometimes huge implications. "Angry customers who confuse fakes for the real thing can have a devastating effect on public perception of a brand," the article states. "For instance, the maker of Brush Hero, a hose attachment for cleaning, saw the listing for his product get undercut by sellers offering a much lower price for poor-quality counterfeits. In November, Brush Hero's business could not withstand the effect of counterfeits and would be laying off most of its US staff." Interestingly, consumers are also learning to speak out, with a significant rise in Amazon reviews with the words 'fake', 'counterfeit' or 'counterfiet' (misspelling intentional) – in 2015, less than 2% of products featured reviews with those words, and in 2019 it is over 4%. Indeed, if we truly are living in the era of fake goods, then trademark practitioners will need to play a role to defend against this onslaught. (TJL)
On the move:
Hall & Wilcox expands Sydney office – Hall & Wilcox has appointed John Gray to partner within the firm's Sydney office. Gray will be heading up the information technology and IP practice. The hire will strengthen the firm's technology and digital economy, and corporate and commercial practices. (BD)
Denton announces North America partner promotions – Dentons has elevated 42 of its attorneys to partnership in North America. Four of the newly-promoted attorneys are members of the IP and technology practice. Derek Auito focuses his practice on portfolio development and client counseling, with an emphasis on patent matters. Auito also advises on trademark and copyright issues, and is based in Washington, DC. Bumrae Cho, also from the DC office, is experienced in patent litigation and prosecution, as well as client counseling. He has particular expertise in the chemical, biotech and telecommunication industries. Parker Kuhl, a member of the Denver practice group, handles domestic and international patent prosecution, strategic counseling, and offers patent litigation support. Bruce B Vance, who joins Auito and Cho in the DC office, prosecutes domestic and foreign patent applications in a broad range of technical fields. (BD)
And finally...
WTR returns to Chicago in March for Managing Trademark Assets and Brand Protection Online – WTR is bringing Managing Trademark Assets USA and Brand Protection Online USA to the windy city. The back-to-back events on 3 and 4 March 2020 will provide an opportunity for attendees to hear best practice and insight from leading in-house counsel from the world's biggest brands as they discuss their approaches to critical areas, as well as share their own insights with peers and colleagues. The sell-out events' return to Chicago is not one to be missed. To sign up to attend Managing Trademark Assets USA, click here, and to sign up to attend Brand Protection Online USA, click here. (JW)