Hermès takes on NFT artist; Meta marks sold for $60 million; retailers push for INFORM Consumers Act – news digest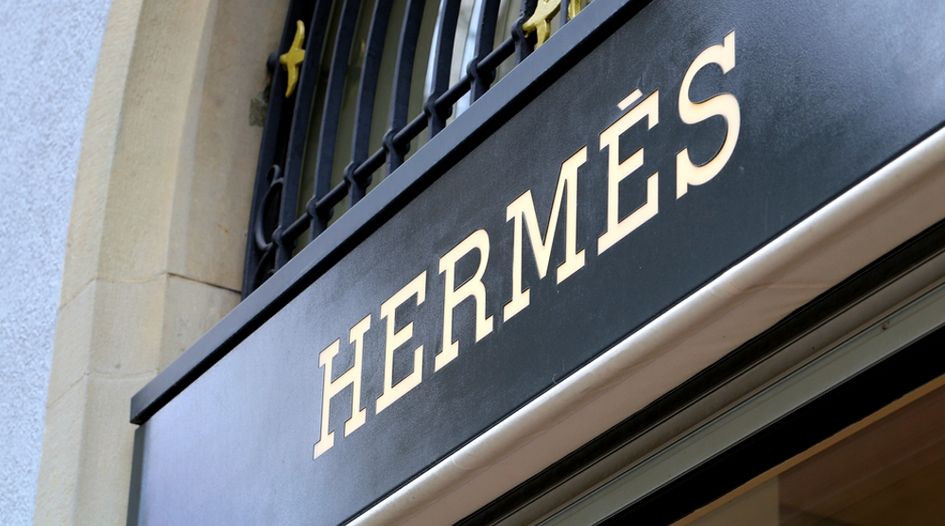 Every Tuesday and Friday, WTR presents a round-up of news, developments and insights from across the trademark sphere. In our latest round-up, we look at France.com being disappointed by a decision not to review a French government win, the Warhol Foundation requesting a writ of certiorari over a Prince artwork fair-use ruling, the US Copyright Office seeking comments on deferred examination, and much more. Coverage this time from Victoria Arnold (VA), Bridget Diakun (BD), Tim Lince (TJL) and Trevor Little (TL).
Market radar:
Retail CEOs team up to urge passage of INFORM Act – Twenty CEOs of major retailers have sent a letter to Congressional leadership expressing concern over the impact that organised retail crime has on employees and communities nationwide. The group – which includes representatives of Best Buy Co, CVS Health, Foot Locker, Levi Strauss & Co, Nordstrom, Target Corporation, The Home Depot and Walgreens Boots Alliance, as well as the Retail Industry Leaders Association – urges lawmakers to pass the INFORM Consumers Act, a bipartisan measure to curb the online sale of stolen merchandise. The letter states: "While we constantly invest in people, policies, and innovative technology to deter theft, criminals are capitalizing on the anonymity of the Internet and the failure of certain marketplaces to verify their sellers. This trend has made retail businesses a target for increasing theft, hurt legitimate businesses who are forced to compete against unscrupulous sellers, and has greatly increased consumer exposure to unsafe and dangerous counterfeit products. It is time for Congress to modernize our consumer safety laws so consumers, retail employees, and businesses are not targets of organized retail crime and dangerous counterfeit products. Implementing basic transparency and verification protocols is essential and will finally expose criminals who are selling consumers stolen, fake, and dangerous products." (TL)
Industry experts predict a chat commerce future – Mobile communications and chat commerce company Clickatell has forecast the rise of a new sector called 'chat commerce' when collaborating with industry executives to predict industry trends for 2022. "Chat commerce is the third wave of digital commerce, following on from e-commerce and app commerce," said Pieter de Villiers, CEO and co-founder of Clickatell. "More than 7.7 billion people use some form of chat several times a day, making chat the largest digital engagement channel in the world. With covid-19 accelerating digital commerce adoption and businesses fast tracking their digital transformation to meet consumers where they are, we can expect an increased demand for and deployment of chat commerce services and experiences." As consumers communicate and manage their lives via chat channels, the expectation is that brands will invest to serve their customers within the channels that they already use. Brett StClair, co-founder and chief evangelist officer at TeraFlow, reflected: "If brands are able to create customer journeys that are so deeply personalized, why would they miss the opportunity to deliver them over their customers' preferred channel? Choosing chat is the logical first step in a successful customer experience strategy." Brand voice and authenticity will be key as companies seek to add more personal, targeted and relevant communications to users. (TL)
Brand radar:
Facebook owner confirms $60 million deal to acquire Meta Financial Group trademarks – Facebook owner Meta Platforms Inc is behind a $60 million deal to acquire the trademark assets of US regional bank Meta Financial Group, Reuters has revealed. Meta Financial had said in a regulatory filing that a Delaware company named Beige Key LLC agreed to acquire the worldwide rights to its Meta name for $60 million in cash. "Beige Key is affiliated with us and we have acquired these trademark assets," a Meta Platforms spokesperson has now revealed. The spokesperson also said that the company engaged in discussions with Meta Financial before Facebook's name change was announced in October. In the filing, Meta Financial said that it had embarked on a brand strategy review earlier this year, but MetaBank refused to comment on the negotiations beyond the contents of the filing. The deal demonstrates how valuable the Meta name has become as Mark Zuckerberg and his team stake their claim on the metaverse. (VA)
UFC and Timex strike sponsorship deal – UFC and Timex have formed a global sponsorship and licensing partnership which provides an "ideal marketing opportunity for each brand to reach more fans and consumers". Timex will become an official licensing partner of UFC and will begin to offer UFC-branded products, including wristwatches and watch straps. The watch manufacturer will also become the first-ever official timekeeper partner and official watch partner of UFC. "Every fight fan knows the importance of time and clock management in this sport," said UFC President Dana White. "Every second counts, and the ticking clock adds to the drama and the fun of a great UFC fight. Now Timex is going to be associated with UFC's biggest moments as they're broadcast around the world. Timex is an iconic brand, and we're looking forward to having them as an official UFC partner." (BD)
Jazwares announces licensing programme to support Squishmallows expansion – Jazwares and its Kellytoy subsidiary have announced the details of a new cross-category consumer products licensing programme to make Squishmallows a global lifestyle brand. "As the Squishmallows brand evolves, we're focusing on impactful category collaborations that entertain and delight our millions of fans in authentic, meaningful ways," said Judd Karofsky, executive vice president at Jazwares. "Our licensing partners are embracing the Squishmallows brand DNA, and we can't wait to launch unique new merchandise to a wide range of retailers and consumers this year and beyond." The new product lines will include apparel, footwear, bedding and stationery items. (BD)
Legal radar:
Australian Leather founder hits out at "shock" Supreme Court move in UGG dispute – The ongoing trademark dispute between UGG boot maker Deckers Outdoor Corp and Australian Leather Pty Ltd came to an end earlier this month after the US Supreme Court denied a petition for review. Specifically, the court denied a review of the US Court of Appeals for the Federal Circuit's (CAFC) May decision to uphold a Chicago district court ruling that Australian Leather had wilfully infringed Deckers' UGG marks by selling Ugg boots to customers based in the United States, despite the company's claims that the CAFC had created a circuit split on when a term is ineligible for US trademark protection because it is generic in another country. Australian Leather founder Eddie Oygur has described the decision as a "shock" and revealed that he faces personal bankruptcy and the liquidation of his family business as a result of $3.4 million in penalties and legal fees – "all for selling 13 pairs of Ugg boots in the US". Nick Xenophon, former Australian senator and a member of Australian Leather's legal team, stated: "This is a bizarre travesty of justice. Despite a strong case and very compelling support from the Australian government, the US Supreme Court treated this important case with disdain by not even giving it an opportunity to be argued in open court. As a nation we have been treated with contempt by the highest court in the United States." The team expressed its gratitude to the Australian government for filing the friend of the court brief and for funding the US legal team's efforts to file the appeal. Xenophon vowed: "It may be the end of the road for Eddie in this case, but somehow we will all regroup and find another way to bring 'ugg' back home. Eddie won't be giving up, and neither will his Aussie legal team." (TL)
France.com disappointed by decision not to review French government win – France.com is said to be disappointed in the US Supreme Court's decision to deny its petition for review of a Fourth Circuit ruling that the French government was immune from trademark infringement claims. France.com had previously sued a Dutch company in Paris for infringing its trademarks, but the French government intervened, arguing that it had the sole right to use 'France' commercially. France.com went on to sue the French government in Virginia federal court on the grounds of cybersquatting, trademark infringement and unfair competition, among other things. The Fourth Circuit ordered the lower court to dismiss the case earlier this year based on France's sovereign immunity. In its request for Supreme Court review, France.com argued that sovereign immunity did not apply as the case was based on the country's commercial activity. France.com attorney Benjamin Barlow said that he and his client were disappointed in the Supreme Court's decision not to review the decision but "understood the long odds". "The Fourth Circuit pushed foreign sovereign immunity past discernible bounds – and it will have to correct that in the future," he added. (VA)
Warhol Foundation seeks writ of certiorari over Prince artwork fair-use ruling – The Andy Warhol Foundation has filed a petition for writ of certiorari with the US Supreme Court over the Second Circuit's ruling that a series of portraits of US pop star Prince does not constitute transformative fair use because the original photograph remains "the recognizable foundation upon which the Prince Series was built". In March the Second Circuit held that the US District Court for the Southern District of New York had erred in its assessment of fair use and that the Prince series works were substantially similar to photographs taken by photographer Lynn Goldsmith "as a matter of law". The Second Circuit held that the district court had improperly identified a bright-line rule when it reasoned that any secondary work is necessarily transformative as a matter of law. Although the court recognised that alterations to an original work are "the sine qua non of transformativeness", it stated that it does not follow "that any secondary work that adds a new aesthetic or new expression to its source material is necessarily transformative". The decision "creates a circuit split and casts a cloud of legal uncertainty over an entire genre of visual art", the Andy Warhol Foundation argues. The analysis essentially holds that even when a new work has an undeniably distinct message, it may not be transformative if it retains the essential elements of the source material. This creates a conflict with the Ninth Circuit and "threatens a sea-change in the law of copyright", the petition warns. "By focusing on visual similarities between the new and protected work, the Second Circuit has collapsed the transformativeness inquiry into the antecedent substantial similarity analysis," the foundation adds, potentially rendering a large number of works unlawful. (VA)
Hermès takes on NFT artist – Fashion brand Hermès has accused a well-known non-fungible token (NFT) artist of "ripping off" its designs and infringing its trademarks. Artist Mason Rothschild created a series of NFT virtual bags called 'MetaBirkins', which were inspired by Hermès famous designer bags. The MetaBirkins have sold for around $700,000 and have even led to fake versions being sold by scammers, according to the artist. However, Hermès has issued a statement accusing Rothschild of infringement. "Hermès did not authorise nor consent to the commercialisation or creation of our Birkin bag by Mason Rothschild in the metaverse," the company stated. "These NFTs infringe upon the intellectual property and trademark rights of Hermès and are an example of fake Hermès products in the metaverse." It further added that it has not created any NFTs itself as it "values the tangible expression of handcrafted physical objects". This position differs from that of other luxury fashion brands. Givenchy, for example, recently launched a collection of NFTs in collaboration with the artist Chito. (TJL)
Office radar:
(For the latest coronavirus-related updates from national IP offices, please read our dedicated article, which is being continuously updated.)
US Copyright Office seeks comments on deferred examination – The US Copyright Office is seeking public comments on the merits of deferring examinations of copyright applications until examination is requested by the applicant. The office has launched "a public study to evaluate the merits of providing an option to defer examination of copyright registration application materials until a later request by the applicant", according to a recent Federal Register notice. The notice comes in response to a letter from Senator Thom Tillis (R-NC) asking the office to complete ''a study regarding the feasibility, benefits, and costs of creating an option for deferring examination of an application" so that applicants can benefit from earlier effective filing dates. Comments must be submitted in writing via the regulations.gov system by 24 January 2022. (VA)
And finally...
WTR Special Report explores how to manage the brand balance sheet – The ability to measure and record brand value is crucial for a host of business reasons: to gain a 360-degree insight into an enterprise's worth; to measure a company's health or product offerings; to calculate licensing royalties; to determine potential reputational hits and damages in dispute scenarios; to underpin M&A decision making. The list goes on. WTR's most recent Special Report takes a deep dive into brand valuation, the reporting of intangibles and strategic best practice for brand leaders. As well as tracking recent developments in the industry and presenting a guide to the fundamentals of valuation practice, we focus in on key trends, the companies that own the most valuable brands and their financial performance. In addition, we present a rundown of the most valuable brand acquisitions since 2000. WTR subscribers can access "Managing the brand balance sheet" here.