Hendrick's defeats Lidl in lookalike gin dispute; INTA reveals Annual Meeting plans; Etihad launches sonic brand – news digest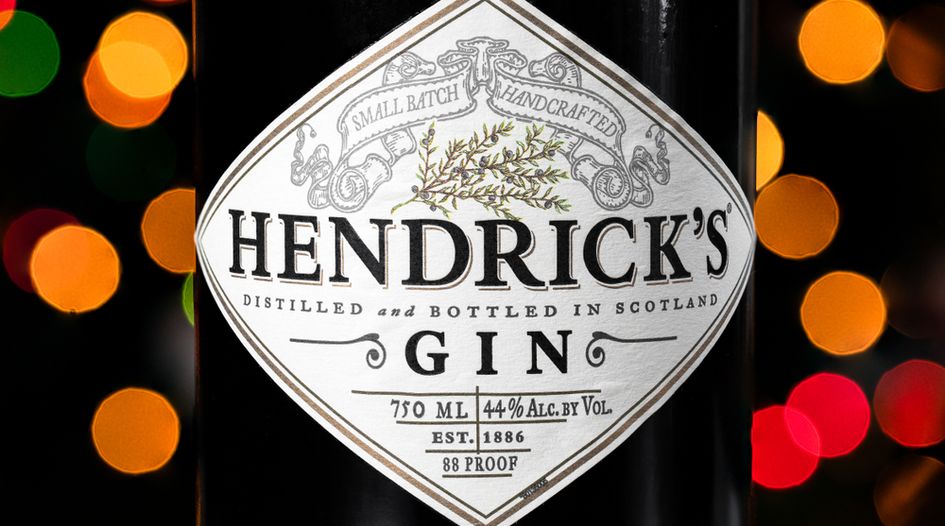 Every Tuesday and Friday, WTR presents a round-up of news, developments and insights from across the trademark sphere. In our latest round-up, we look at the EUIPO replacing email attachments with links, Authentic Brands Group planning a possible initial public offering this year, a stinky tofu restaurant trademark invalidated for satirising a football team, and much more. Coverage this time from Victoria Arnold (VA), Bridget Diakun (BD), Tim Lince (TJL) and Trevor Little (TL).
Market radar:
INTA releases more detail on its 'virtual+' Annual Meeting – Last month we reported on INTA's announcement that it will be holding its 2021 Annual Meeting as a 'virtual+' event on 15-19 November, rather than in person in Houston. This week the association revealed more details on its plans, including the cities that will have onsite events and the meeting's registration details. The 2021 Annual Meeting will be fully virtual for all five days, its educational sessions following five tracks that mirror some of INTA's key priorities: building a better society through brands; innovation and the future of intellectual property; the business of brands; regional updates; and enforcement and anti-counterfeiting. In addition, it will hold onsite, one-day mini-conferences in four cities in different regions throughout the week – in Hong Kong on 15 November, New York on 16 November, Berlin on 17 November and Los Angeles on 18 November. Registration for the Annual Meeting will open on 14 July, and participants must register for the fully virtual meeting in order to register for an onsite mini-conference, which will carry an additional fee. The price for early registrants is $775 for the Annual Meeting plus $300 for each mini-conference. (TL)
Authentic Brands Group plans possible initial public offering this year – Authentic Brands Group (ABG) has acquired more than 30 brands over the past decade, including the IP rights of Elvis Presley and Marilyn Monroe. At the beginning ABG's strategy was to buy up the intellectual property of iconic brands and bankrupt merchants, but in 2016 it teamed up with Brookfield Property Partners and Simon Property Group to pick up Aeropostale. Since then the trio have concluded a number of transactions, including the purchase of Forever 21. The pandemic has also proved to be a fruitful opportunity for ABG, adding struggling retailers like Brooks Brothers to its portfolio. Now, the company, which will not even consider deals under $1 billion these days, is exploring going public as soon as this year, reports Bloomberg. ABG was valued at more than $4 billion, including debt, in 2019. It could now seek a valuation of around $10 billion. (BD)
Buy Safe America Coalition escalates call for platform legislation – The Buy Safe America Coalition has stepped up its advocacy efforts for legislation that tackles the sale of counterfeit and stolen merchandise on e-commerce platforms, highlighting a range of media articles covering instances of counterfeit sales and criminal activity online. "While lawmakers have likely heard from both sides of the marketplace transparency debate, one fact still remains clear: criminals are using e-commerce platforms as a way to dupe consumers into purchasing knockoffs, dangerous items, and stolen merchandise," said coalition spokesperson Michael Hanson. "This is a real problem impacting retailers and online shoppers nationwide. Now is the time for Washington to act. Basic transparency and verification requirements will make it harder for bad actors to deceive consumers, while protecting legitimate businesses in the process. We urge lawmakers to enact common-sense measures that promote safety and accountability." (TL)
Finnegan prepares to welcome 2021 summer associate class in D&I initiative – On 1 June Finnegan will welcome its 2021 summer associate class. The programme is one of several programmes designed to recruit, mentor, develop and retain diverse attorneys. The incoming class is 80% diverse and 95% have a STEM background. During the nine-week programme, summer associates will experience the full range and diversity of an IP law practice. They will receive real work assignments involving litigation, PTAB proceedings, prosecution, licensing, and trademark and copyright matters. They will also receive specialised training in areas such as legal writing, patent application filing strategies and the drafting of opinions and briefs. During the nine-week corporate partnership programme, participants split their time at Finnegan and with a corporate sponsor. This year's corporate sponsors include Georgia Pacific, Intuitive and Raytheon Technologies. Ginny Kim, vice president and managing counsel at Raytheon Technologies, said: "Raytheon Technologies Corporation is proud to partner with Finnegan this summer, and we look forward to introducing the summer associate to the in-house practice as part of this program. We applaud Finnegan's tangible investment in the program which will create more pathways to the IP legal profession for diverse attorneys." (TL)
Etihad Airways launches sonic brand – Etihad Airways has joined up with audio branding agency Sixième Son to launch a new airline sonic identity. The sonic branding will accompany travellers through each phase of their journey via digital communication and TV commercials, throughout airport terminals and lounges, and onboard. According to a press release, the unique brand identity "helps the Etihad stand out in a competitive industry where brands are competing to inspire and entice travellers". The move into sonic branding aims to improve customer engagement through new forms of intellectual property and follows hot on the heels of Singapore Airlines, which last month unveiled its new sonic identity, 'The Sound of Singapore Airlines', suggesting that sonic branding could be the next new frontier for air travel. (VA)
Brand radar:
Warner Bros reveals largest Looney Tunes merchandise collection in decades – Warner Bros Consumer Products, part of WarnerMedia Global Brands and Experiences, will be launching the largest Looney Tunes merchandise collection in decades in anticipation of the Space Jam: A New Legacy movie, reports License Global. The company has collaborated with more than 200 partners and licensees, including General Mills, Kraft Heinz, Nike and Spalding. "The original 'Space Jam' was a cultural phenomenon when it debuted in 1996, so it's no surprise that premier partners around the world are inspired by 'Space Jam: A New Legacy' and excited to bring a new collection to a new generation of fans," said Robert Oberschelp, senior vice president, franchise management and marketing at Warner Bros Consumer Products. "We are excited to collaborate with such elite brands to deliver a robust line-up of merchandise that unites the singular style of LeBron James with the iconic fun of the Looney Tunes characters." (BD)
Barbie adds Helen Keller doll to Inspiring Women series – Barbie's Inspiring Women line includes representations of historical and female role models such as Billie Jean King, Florence Nightingale and Rosa Parks. Helen Keller is the latest name in the series. Barbies worked with the National Federation of the Blind to ensure that the doll and its surroundings are authentic, including elements that are accessible for the blind or low-vision community, such as having braille on the packaging. (BD)
Legal radar:
Another case of the caterpillars – A decision at the Court of Session in Edinburgh, Scotland, has sided with premium gin maker Hendrick's and ordered Lidl to cease selling its lookalike gin product, Hampstead Gin. In his ruling Lord Clark commented on the "visual and conceptual similarity" between the two gin bottles and noted that "bottle shape and colour are often intended as distinguishing features of gin products". In this case, the focus was on Lidl's decision to change the design of its gin bottle to include a diamond-shaped label and lettering that resembled that used on Hendrick's bottles. The decision comes only a month after discount supermarket Aldi hit the headlines for its dispute with Marks & Spencer, which accused Aldi's Cuthbert the Caterpillar cake of infringing its Colin the Caterpillar trademark. Reflecting on this week's decision, Laurie Bray, senior associate and trademark attorney at Withers & Rogers, stated: "It's another case of the caterpillars. Hendrick's was concerned that consumers would confuse the two products, because the design of the bottles was too similar. The company provided evidence to the court in the form of social media messages to show that some consumers thought there might be an association between the two products. Coming on the back of the recent Colin the Caterpillar case involving M&S and Aldi, it is clear that there is a pattern emerging. Low-cost retailers that are intent on producing their own brand copies of premium-branded products should expect to face legal challenges in the future." (TL)
Baileys owner calls closing time on MCBAILEYS – R&A Bailey & Co, a subsidiary of drinks giant Diageo and maker of Irish cream liqueur Baileys, has won a UK trademark dispute against a Scottish company looking to register MCBAILEYS in Class 33 for scotch whisky and cream liqueur. R&A Bailey claimed that the registration would take unfair advantage of, or be detrimental to, the distinctive character or reputation of its BAILEYS trademarks. In a 29-page ruling, the UK Intellectual Property Office said that the similarity of the marks was "likely to result in the average consumer concluding that the applicant's trade mark is a variant brand being used by the opponent, for example, to indicate Scottish origin or ingredients". The application was therefore refused and the applicant ordered to pay R&A Bailey £1,500 in legal costs within 21 days. (VA)
Stinky tofu restaurant mark invalidated for satirising football team – A popular stinky tofu restaurant in Beijing has had its trademark combining two characters that translate as 'slapping foot' invalidated on the grounds that it could be construed as satirising the Chinese national football team, reports the Global Times. Noting that the two characters together have the same pronunciation as 'national soccer', while the first character 'to slap' evokes violent connotations, the court stated that use of the mark in relation to stinky tofu (a type of fermented tofu traditionally sold as a snack or side dish in China) showed a tendency to "derogate and satirize China's national soccer team", who are often mocked for having 'stinky feet' whenever they lose a game. This could easily have a negative effect on the team, the court said, according to a report from The Paper. The restaurant owner admitted that the mark had originally been intended as "a bit of a tease" but argued that through use had gained a new meaning, as the restaurant now boasts nearly 1,000 stores across the country. The decision demonstrates the seriousness with which Chinese courts will take trademark registrations that are perceived to be satirical or offensive. (VA)
Office radar:
(For more of the latest coronavirus-related updates from national IP offices, please read our dedicated article which is being continuously updated.)
EUIPO to replace email attachments with links – The EUIPO has launched a six-month trial in which it will replace email attachments with domain links. The primary aim, the registry states, is to "reduce the risk of delivery failure and free up space on the hard drive", while "the environmental benefits for the EUIPO and for its customers are also significant". The pilot will end on 15 November 2021. If it is successful, the EUIPO will only provide links to attachments from that date. Through the links, users can then download or view documents via their 'user area' on the EUIPO website. (TJL)
On the move:
Lewis Roca adds associate to IP team – Chris Underwood has joined Lewis Roca's IP practice group as an associate. He focuses on trademark and copyright issues, as well as handling IP-related agreements, including assignments, licensing and non-disclosure agreements. He is based in the firm's Phoenix office. (BD)
Kenneth Matuszewski joins Goldberg Segalla – Goldberg Segalla has announced the hire of registered patent attorney Kenneth A Matuszewski, who will practise out of the firm's Chicago office. Matuszewski handles complex IP litigation in various federal district courts and before the US PTAB. (BD)
McKool Smith welcomes IP litigators – McKool Smith has announced that IP litigators Steven J Rizzi and Ramy Emad Hanna have joined the firm as principals in its New York office. The veteran trial lawyers focus on patent litigation, primarily in the technology, semiconductor and pharmaceutical sectors. "Steve and Ramy bring a wealth of experience trying cases in district courts nationwide as well as before the US International Trade Commission," said David Sochia, McKool Smith's managing principal. "They add depth to our national intellectual property practice along with valuable industry and technical expertise. We are very excited to welcome them to the firm." (TL)
And finally...
Latest edition of the WTR 300 now available – WTR is pleased to announce the publication of the fifth edition of WTR 300: The World's Leading Corporate Trademark Professionals. The publication identifies the individuals deemed to be the leading lights of the corporate trademark world. The full methodology for the publication is available here but, in summary, we ran a three-month campaign to elicit nominations from the trademark community. Individuals who received multiple nominations from outside their own organisation were long-listed and the editorial team then engaged in additional research and outreach before deciding on the final list. As a result, many nominees did not receive the requisite number of nominations or make it through the rigorous vetting process. Of those that did, Amazon, Apple and Facebook each have seven team members included this year, with Netflix's bench of expertise represented by six IP professionals. Close behind are 3M, L'Oréal, Louis Vuitton, Mars, Nike, Philip Morris and Red Bull. The full list is now available to view here.