Harry and Meghan ARCHEWELL trademark update; EUIPO malicious invoice; THUNDERPUSSY registered – news digest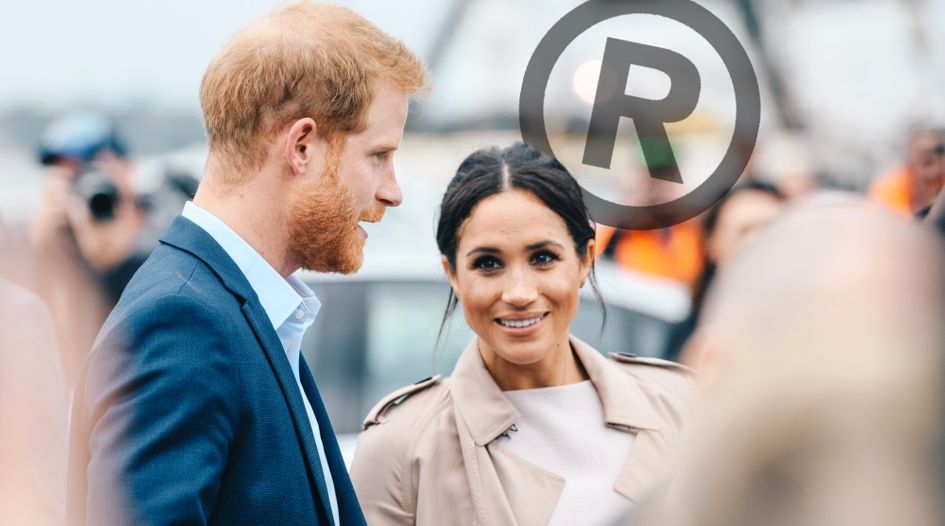 Every Tuesday and Friday, WTR presents a round-up of news, developments and insights from across the trademark sphere. In our latest edition, we look at how trademark applications have fallen sharply in the United States, Supermac's dispute victory, IACC and Amazon expanding their anti-counterfeiting programme, and much more. Coverage this time from Trevor Little (TL), Bridget Diakun (BD), Jonathan Walfisz (JW) and Tim Lince (TJL).
Market radar:
Activity in the US is down, but some industries showing filings growth – Trademark applications across registers fell sharply in mid-March as many countries went into lockdown to battle covid-19. According to a post published on LinkedIn by Robert Reading, director of custom and managed solutions at CompuMark, filing levels in the US fell by 13%. However, Class 10 (medical devices) saw an uptick of 33%, with applications relating to masks growing by 92%. Class 38 also experienced a jump of 17%, mainly due to increased interest in streaming services, particularly those related to fitness. (BD)
Indian customs on alert for counterfeit covid-19 treatment equipment – Officials in Hyderabad, India, have commented on how they are keeping the supply chain intact during lockdown whilst staying vigilant against counterfeit medical equipment and treatments for covid-19. The Times of India reports that customs officials are clearing all cargo on a priority basis at the inland container depots in Sanathnagar and the air cargo terminal in Shamshabad. These ports have already received 120 units of ventilators from the US. Worryingly, customs have noted the financial impact of the covid-19 crisis. From March 2019's figures Basic Customs Duty has reduced from nearly $30 million to $6.5 million, while Integrated Goods and Services Tax has reduced from $233 million to just under $20 million. (JW)
IACC and Amazon expand anti-counterfeiting programme – The International Anticounterfeiting Coalition (IACC) and Amazon have expanded their IACC-Amazon programme for allowing participants to access insights into the counterfeit sales volumes of known infringers. The move, available to IACC member brands, will allow users to "leverage the sales information to focus their enforcement efforts and more efficiently partner with both law enforcement and Amazon to target the most egregious counterfeiters", the organisation stated in a press release. According to Dharmesh Mehta, vice president of Amazon's Worldwide Customer Trust and Partner Support team: "Sharing bad actor information allows Amazon and IACC members to more effectively partner with law enforcement so they can hold counterfeiters responsible for their actions. We welcome the support of any brand, association, or enforcement agency to join us in combating counterfeits." For any rights holders interested in the program, more information can be found on the IACC website. (TJL)
Legal radar:
Battle over 'Deer Camp' heats up – Buck Baits, the producer of Deer Camp Coffee, has filed a trademark infringement suit against Bell's Brewery in January after one of its divisions, Upper Hand Brewery, began using 'Deer Camp' as the name of one of its beers. The company allegedly sent Bell's two cease and desist letters prior to filing a lawsuit, but that the brewer rebuked its efforts. The brewery has since denied any wrongdoing and filed a counterclaim in March in the US District Court Western District of Michigan. In this communication Bell's argued that the logos are not similar and that the companies are not catering to the same market, as one produces beer and the other coffee. It further reduces Buck Baits' suit as a means to generate licensing revenue . However, in the original complaint Buck Baits said it intended on making a coffee-infused beer, which is why it acquired 'www.deercampbeer.com'. After a telephone call between the co-owner of Buck Baits and owner of Bell's Brewery, Bell's claims that the former filed a trademark application to register Deer Camp for use in connection with a variety of products such as beer, insulating sleeves, drinking glasses and tumblers. Bell's has rejected Buck Baits statement that it had legitimate plans to use the terms "Deer Camp" in relation to beer. Notably though, Bell's had twice applied to register a trademark for "Deer Camp" in 2017 and 2018, but was denied because of a likelihood of confusion with Buck Bait's existing mark. (BD)
LeafedIn smoked OUT of trademark dispute with LinkedIn – A cannabis social networking platform has agreed to change its name after LinkedIn accused it of trademark infringement. According to marijuana news site Candid Chronicle, LeafedIn settled with LinkedIn and will rebrand as LeafedOut. In a press release, LeafedOut founder John Khainson said: "We are thrilled to be able to continue offering the LeafedOut community more value without sacrificing our values and dedication to the community that we serve as both a company and tool for marijuana activism." (JW)
Supermac's takes another bite at trademark infringers – Irish fast food chain, Supermac's, has secured another trademark victory for its restaurants, reports the Belfast Telegraph. The chain successfully blocked a London bar called 'Supermax' from registering its name with the UK Intellectual Property Office (UKIPO). While Supermax argued that its trademark application was in bar related services that Supermac's didn't cover, the UKIPO decided that the two companies were too similar in their marketplace offerings. The chain rose to prominence in IP media last year when during its triumphs against two of McDonald's marks at the EUIPO – the 'Mc' prefix and BIG MAC. The UKIPO's final decision will be contingent on the ongoing McDonald's dispute. (JW)
Thank FUCT, THUNDERPUSSY is registered – US rock band Thunderpussy has secured a trademark for its name at the USPTO after first applying in 2015, reports The Seattle Times. The mark was initially rejected due to the band's vulgar name, an acceptable reason for a rejection according to the Lanham Act in 2015. However, since then two highly publicised trademark cases have reached the Supreme Court of the United States. First Matal v. Tam which argued for the registrability of a mark for another band, The Slants, as well as last year's case Iancu v. Brunetti which secured the mark FUCT for clothes brand 'Friends U Can't Trust'. Both SCOTUS cases argued that rejecting trademark applications due to disparaging, immoral or scandalous content ran contrary to the first amendment's free speech clause. The band, represented pro bono  by Ben Kerr appealed after the two SCOTUS cases and was able to finally register the trademark. (JW)
Office radar:
(For more of the latest coronavirus-related updates from national IP offices, please read our dedicated article which is being continuously updated.)
EUIPO warns of malicious invoice posing as trademark decision – The EU Intellectual Property Office (EUIPO) is warning users about a new form of trademark solicitation scam doing the rounds. The misleading invoice (which can be viewed on the EUIPO's website) claims to be an EUIPO decision and demands a "registration fee" for users to secure trademark rights. However, that fee goes to a Polish bank account. These fake invoices use the EUIPO's name, logo, acronym and letterhead to mislead users. At the moment, the EUIPO has contacted the relevant Polish banks and lodged a criminal complaint in Warsaw, Poland. It is understood that a criminal investigation is currently pending, meaning these invoices are probably still in circulation. For that reason, the EUIPO advises users to warn clients of such fake communications (with other tips listed on the EUIPO's website). While the trademark community is used to receiving invoices using a similar name and logo to an IP office, this new scam is directly lifting the EUIPO's logo and details, meaning that it may not raise the same level of suspicion. (TJL)
Domain Radar:
Google takes out 'googlecoronavirus.com' – Over on Domain Name Wire, the swift work of Google's enforcement team has been reported on. Specifically, the domain name 'googlecoronavirus.com' was registered by a third-party on 13 March, with Google filing a cybersquatting complaint with the National Arbitration Forum only three days later. Rather than fight the case, the owner of the domain agreed to transfer the domain name to Google. The article is a reminder of the brand issues being faced during the ongoing coronavirus pandemic. According to DNW: "Companies have been registering domain names including their brands and terms like coronavirus and Covid-19 to protect against cybersquatting. For example, Facebook registered over 500 domain names including its brands and these terms." (TJL)
Media Watch:
IPOs: brace for 'Archewell' applications – Last week, we reported on Prince Harry and Meghan Markle bracing to launch a new brand to replace their Royal Sussex outfit. Last month, the couple withdrew their applications for a trademark for the term ROYAL SUSSEX following much media coverage (and numerous third-party trademark applications and oppositions) and, in the time since, have been busy relocating to California and rounding off their official Royal duties. Today, the couple announced the name of their new brand: Archewell. They further revealed the name is derived from the Greek word 'Arche', meaning 'source of action', a term that was also the inspiration behind the name of their son, Archie Mountbatten-Windsor. A search by WTR suggests the couple filed a trademark for ARCHEWELL at the USPTO last month, using the owner name 'Cobblestone Lane LLC'. No application can be found in the UK, EU or any other jurisdiction (to date). Interestingly, a trademark application was filed for the term ARCHEWAY a few days prior, but that application is now abandoned – suggesting the couple originally sought to move forward with the brand name 'Archeway' but subsequently changed it to 'Archewell'. Nonetheless, today's announcement will almost definitely lead to third-party trademark applications related to Archewell in the days and weeks ahead. (TJL)
On the move:
Three trial attorneys join Thompson & Knight – Former Haynes & Boone trial attorneys Phillip Philbin, Jamie McDole and Michael Karson have joined Thompson & Knight as partners within the IP group. Philbin is experienced across IP matters including patents, trademarks, trade dress, copyright, trade secret and unfair competition. McDole has worked as a trial lawyer for over 20 years and has counseled clients in litigation matters across industries. Karson has a broad practice, handling issues pertaining to patents, trademarks, copyrights and trade secrets. (BD)
Scott Mandir welcomed to Dinsmore & Shohl – Scott Mandir has joined Dinsmore & Shohl's IP team in Washington DC. He focuses his practice on patent law and is highly experienced in preparing and prosecuting patent applications. Mandir has a strong Japanese client base, and also advises foreign attorneys on US patent law and practice. (BD)
K&L Gates strengthens litigation bench – K&L Gates has appointed James A Shimota to partner within its IP litigation practice. Shimota handles general patent litigation and abbreviated new drug application litigation in the pharmaceutical space. He previously worked at Haynes and Boone where he served as the founding managing partner of the Chicago office. (BD)
And finally...
A free guide to trademark law in key jurisdictions now available – The 2020/2021 edition of the World Trademark Review Yearbook. Is now available, free-to-view, online. The publication is firmly established as an essential guide to trademark law, provides legal professionals worldwide with a simple, easy-to-use digest of the structure of trademark regulation across the globe. In this latest edition we present in-depth analysis of trademark law in 24 key jurisdictions, as well as a regional exploring how the EUIPO uses its discretionary power when deciding on trademark disputes. We also feature guidance offering eight tips to assist in managing a global trademark portfolio, as well as updates from INTA and MARQUES. The guide is available here. (TL)