Good news on costs but Brexit hearing suggests slow progress on issue of EUIPO representation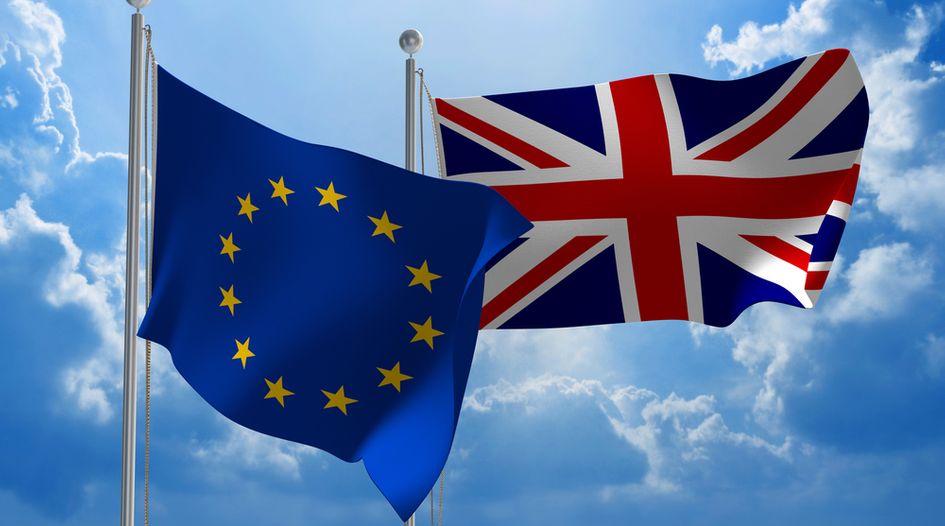 UK reconfirms 'no cost' transfer of EU trademark rights to national register
In 'no deal' scenario UKIPO would utilise publicly available data to facilitate transfer
Talks over UK attorneys practicing at EUIPO seemingly not at advanced stage
With time running out to agree terms for the withdrawal of the UK from the European Union, Brexit negotiations are seemingly on a knife edge. Whether as part of an agreed exit or in a 'no deal' scenario, questions remain about how trademark rights will be impacted. Today the UK House of Lords' EU Justice Sub-Committee held an evidence session on IP, giving members the opportunity to grill both Sam Gyimah MP, minister of state for universities, science, research and innovation, and Adam Williams, director of international policy at the UK Intellectual Property Office on just what the future holds for trademarks, designs and geographical indications.
In September we reported on the publication of a swathe of technical notices from the UK government, which outlined likely scenarios for businesses and citizens in the event of a 'no-deal Brexit'. In those, the UK government reiterated its intention that existing registered EUTMs and RCDs will continue to be protected and enforceable in the UK through the provision of an equivalent trademark or design registered in the UK. Meanwhile, those with applications pending on the day of exit will have nine months to apply in the UK for the same protections. Speaking earlier today, Williams confirmed that this remains the plan, and will take place whether or not an agreement with the EU is reached. Crucially, he also reconfirmed that this will be cost-free.
He explained: "If you have a EUTM, the remaining EU 27 rights will remain, and we will clone that right in the UK so you have the same rights. There will be no cost to business - which is important for SMEs. There will be notifications, as you have a new registration number, but the only area where you may have some administration is if you have a pending application. If you applied in February and we leave in March, for example, you will have nine months to apply, with priority in that period… This will all happen in 'no-deal' as well – the only change in future is that you will have to pay the UK a renewal fee to maintain the mark, as well as renewals for the EUTM. That is fair and right."
As to the preparedness of the UKIPO to manage such a project, Williams noted that "there is an IT project to go alongside the IP project" and  argued that this too would be achievable whether or not a negotiated exit was achieved: " The data we need is publicly available so we can extract data from that registry. We don't need permission to extract it. We are hoping to have future availability to that data through the negotiations, but we can do what we need to do from the publicly available data, Our IT leads are confident that we will have a viable project for that [leaving] date."
This clarification will be welcomed by rights holders, not least because the aforementioned technical notices didn't explicitly confirm the 'cost-free' dimension. However, some big questions remain. While the likely regional exhaustion regime was not raised during the session, the prospect of UK attorneys being able to practice at the EUIPO and the thorny issue of geographical indications (GIs) were. On both topics, however, the session was not able to put an end to current uncertainty.
Both Williams and Gyimah were asked why the EUIPO has not been named alongside other EU agencies, such as EUROPOL, that the UK government is keen to continue participation in. On this, Williams responded: "We do recognise the interests of stakeholders, but this is a negotiation and any decision on membership or participation in the EUIPO is part of that. That is where we stand but we hope to have that discussion in due course." He added: "Perhaps the named agencies have been able to make more progress, and can therefore be named. That would be my presupposition."
That statement, suggesting that there is still a way to go to ensure that UK attorneys are not shut out of the EUIPO, will be a concern to the legal community. As we noted last month, research has revealed that the financial toll of UK chartered trademark attorneys losing their right to represent clients at the EUIPO is likely to be between £789 million and £1.7 billion per year. It is unlikely that Gyimah's request that parties "don't read too much into it not being named" will ease those worries.
Efforts to gain clarity in the future treatment of GIs proved equally fruitless, in part because neither Gyimah or Williams has total oversight, the former noting: "The policy for agricultural products  is covered by the Department for Environment, Food & Rural Affairs (DEFRA)… [although] The technical notices say we will set up a scheme and my officials are working closely with DEFRA and the UKIPO on a new GI scheme and its relationship with other GI rights." While noting that "I'm confident it will be fine", deeper questions around the future of GIs were subsequently referred to DEFRA.
Given this, attention turned to the likely role of GIs in trade deals post-Brexit. As we have noted before, GIs proved challenging when the US, Canada and Mexico were negotiating the United States-Mexico-Canada Agreement. One question put to the panel today referenced that agreement, with Gyimah or Williams asked what would happen if an agreement is made with the EU, but GIs then prove a sticking point in negotiations with the US. In short, could the UK government potentially later perform a U-turn on commitments made to the EU? On this, Gyimah opined that – while the question is entirely hypothetical at this stage - the UK government "will want to prioritise the best deal", adding that "the one that maximises the economic opportunities to the UK would be the key consideration, as would the needs of rights owners… [But] We don't have a deal in front of us so I can't say which we would prioritise".
Should a 'no-deal' exit occur, that stance makes perfect sense but the notion that the UK could later tear up the GI portion of a trade deal with the EU will not be a message received warmly in Brussels. Whatever happens, GIs will remain an emotive issue on both sides of the Atlantic.
Overall, then, the session confirmed some of what we know, and left some big questions unanswered. Hence, in his closing statement, Gyimah's was keen to ease concerns, concluding: "The most important thing for the sector to know is that there is a lot of important work going on and - whether we get a deal or not - that rights holders will be protected. This is at a very advanced stage and we are very confident."