Gmerica trademarks stir up GameStop investors; Switzerland joins Geneva Act; Modelo dispute – news digest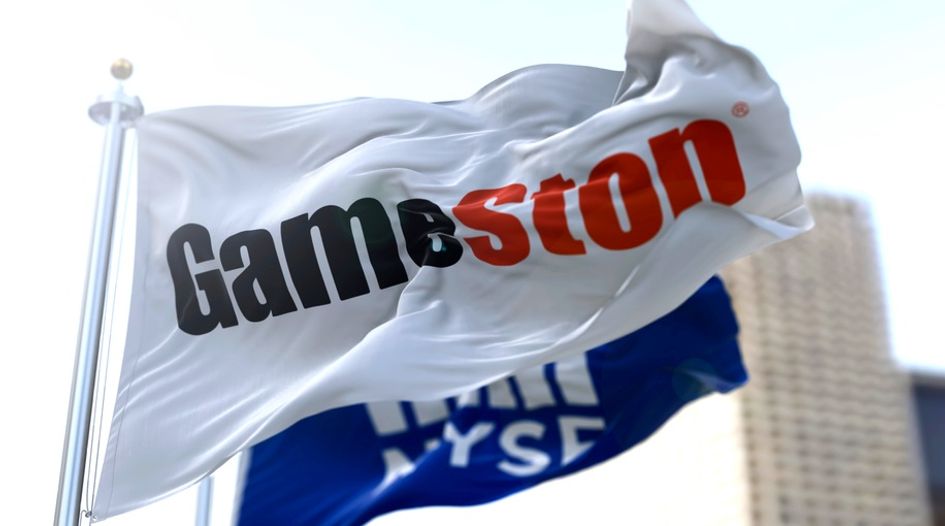 Every Tuesday and Friday, WTR presents a round-up of news, developments and insights from across the trademark sphere. In our latest round-up, we look at Alibaba's auction site launching patent price guidance, Pro Consumidor sweeping in on counterfeit food products, a California cookie maker pushing back on Hershey infringement claims, and much more. Coverage this time from Victoria Arnold (VA), Bridget Diakun (BD), Tim Lince (TJL) and Trevor Little (TL).
Market radar:
Counterfeit covid vaccine found in Africa and India – The World Health Organisation has identified and seized a number of counterfeit covid-19 vaccines in locations around Africa and India. The fake doses of the Covishield vaccine were seized between July and August, but were first reported this week by domestic media in India. (TJL)
IHMA chair welcomes report predicting expansion of brand protection packaging market – A new report, The Future of Anti-counterfeiting, Brand Protection and Security Packaging to 2026, calculates that the global market for anti-counterfeiting, brand protection and security packaging (currently worth an estimated $3.24 billion) will expand at a compound annual growth rate of 5.6% to more than $4.26 billion by 2026. Reflecting on the findings, International Hologram Manufacturers Association (IHMA) chair Paul Dunn stated: "This report clearly shows anti-counterfeiting solutions such as holography have a key role as an effective, highly flexible weapon in the ongoing battle to thwart counterfeiters and fraudsters. All involved in the supply will be reassured by the presence of holograms on products and recognise the benefits they provide as security packaging relies more on technologies to optimise traceability and usability." (TL)
Alibaba's auction site launches patent price guidance – WTR recently spoke to Inngot CEO Martin Brassell to find out how the company intends to change mindsets on IP value and empower more companies to financially capitalise on their investment in intangibles. This week the company announced the release of Intangio, a new tool developed in partnership with Rouse to help Chinese insolvency practitioners set a data-driven reserve price for patents sold on the auction platform operated by Alibaba's Taobao subsidiary. The first release of the Intangio API investigates the intrinsic quality of the patents and the level of market interest in, and appetite for, patents in the related field of technology. This is driven by analysis of historical Chinese sales of distressed assets at auction and incorporates data from local and international patent databases, as well as from Rouse's CIELA database of Chinese IP administrative appeals and civil infringement proceedings. Brassell explains: "The growing number of patent auction listings prompted Alibaba to investigate ways of providing trustworthy estimates of likely value at scale to support its users. In such a dynamic and fast-growing environment, this can only be done using a data-driven approach. The insights gained from historical sales and bidder behaviour, combined with intelligent analysis of the assets themselves, have enabled us to build an API which will help insolvency practitioners set a more appropriate base value for every lot they sell." (TL)
Firm Forward unveils new principal consultant for Latin America – María Fernanda Cornejo has joined Firm Forward, a marketing and business development agency for business-to-business law firms, as principal consultant, Latin America. Cornejo has served as communications director for companies such as Huawei Technologies and, after more than 10 years working in corporate communication, opened her own legal marketing boutique specialising in directory services, social media and websites. She now joins Firm Forward, where she will help firms in Latin America reach their marketing and communications goals. "We are thrilled to have María Fernanda joining the team," said company CEO and founder Elyssa LeFevre Chayo. "Her impressive background of law firm work in the precise areas that are the direction of the agency will help us better serve our clients, as well as expand throughout Latin America. She also gives us a trifecta for native-level communication in the region, adding Spanish to the group that already provides services in English and Brazilian Portuguese." (TL)
Pro Consumidor sweeps in on counterfeit food products – The Dominican Republic's National Institute for the Protection of Consumer Rights (Pro Consumidor) has seized thousands of counterfeit canned goods sold in supermarkets, grocery stores and warehouses throughout the country, reports Dominican Today. The outlet quotes the director of Pro Consumidor, Eddy Alcántara, who declared that those responsible would be punished for this "abusive and criminal" practice, explaining: "These products were marketed without the proper standard of quality, hygiene, standardisation, using labels of recognised brands, thus simulating that they are from the original manufacturer… This is a practice that threatens the health and safety of people, in addition to affecting the standardised national productive sector." (TL)
Brand radar:
Shiseido sells US cosmetics brands to private equity firm – Japan's largest cosmetics group, Shiseido, has reached a deal to sell three US cosmetics brands to private equity firm Advent International. The company is looking to refocus resources on its skincare unit, with the aim of becoming a global leader in skin beauty by 2030. Earlier this year it agreed to sell its skincare and toiletries business to CVC Capital Partners in a $1.5 billion deal. It is now offloading bareMinerals, BUXOM and Laura Mercier. Shiseido acquired the former two brands from Bare Escentuals in 2010 for $1.9 billion. It purchased Laura Mercier in 2016 for $248 million. Advent International has paid $700 million for the three brands, which it will host through a newly formed affiliate, AI Beauty Holdings Ltd. Pascal Houdayer, who will serve as CEO of the standalone business, commented on the deal: "We believe these brands have significant runway for growth, particularly as we see the large and growing colour cosmetics market benefitting from secular tailwinds. I look forward to helping expand these brands across new products, channels and regions, while enabling the new company to realise its full potential." (BD)
Legal radar:
AB InBev and Constellation return to court over Modelo beers – Anheuser-Busch (AB) InBev is suing Constellation Brands for the second time over its sale of Mexican beers in the United States – this time in relation to AB InBev's Modelo brand. Grupo Modelo, which has exclusive rights over the import and distribution of AB InBev beer in Mexico, claims that Constellation's launch of two Modelo Reserva beers breach US and Mexican legislation that limit the use of the word 'tequila' and Constellation's sub-licence to sell so-called 'Mexican-style' beer. According to AB InBev, the Mexican Tequila Regulatory Council (CRT) also demanded that Constellation cease its use of the word 'tequila' in marketing. Modelo took Constellation to court over its Corona Hard Seltzer earlier this year, arguing that their licensing deal only applied to the Corona name in relation to beer. "The new case is the latest in an increasingly litigious brewing market," notes Reuters. The CRT settled a four-year dispute over Heineken's tequila-flavoured Desperados beer in July. (VA)
California cookie maker pushes back on half-baked Hershey claims – California cookie maker the Cookie Department Inc has pushed back against claims by the Hershey Company that its use of a stylised chocolate chip teardrop on its product packaging infringes the famous Hershey's Kisses design. The Cookie Department, which has been using the "universally known" teardrop shape since 2009, argues that Hershey's claims are a "strategic ploy" in response to an outstanding dispute between the two companies over Hershey's use of the phrase 'Tough Cookies Only', which the Cookie Department claims infringes its own TOUGH COOKIE mark. The company goes on to state that Hershey's HERSHEY'S KISSES marks are inherently weak as they reflect the design and shape of chocolate chips used worldwide since the 1940s. Mediation between the companies is scheduled for 16 September. (VA)
Chinese banks avoid $150 million penalty in Nike case – Six Chinese banks have avoided a $150 million penalty for failing to freeze the assets of hundreds of Nike counterfeiters after a Second Circuit Court of Appeals ruling this week, reports Reuters. In 2015 Nike and Converse Inc won a default judgment against more than 600 Chinese entities and individuals on the grounds of trademark infringement, counterfeiting, cybersquatting and unfair competition, among other things. In 2017 Nike sold its interest in the judgment, including the rights to a $1.8 billion default award, to Next Investments LLC, which subpoenaed six Chinese banks with New York branches where the counterfeiters allegedly held accounts. Next held the banks in contempt for failing to comply with asset restraining orders and requested $150 million in compensatory damages. The case was rejected in 2020 on the grounds that US branches of foreign banks are separate legal entities. The appeal court has now ruled that Next failed to seek enforcement of the freeze for almost six years before filing its request. "We need not decide whether the separate entity rule bars enforcement," the ruling said. "It is enough that Next fails to identify a legal principle that clearly subjects the Chinese branches to the asset restraints." Commenting on the decision, Agricultural Bank of China representative and Greenberg Traurig shareholder Adam Hoffinger said that it "reaffirmed our conviction that our client had done nothing wrong and the action against it never should have been brought". (VA)
Office radar:
(For the latest coronavirus-related updates from national IP offices, please read our dedicated article, which is being continuously updated.)
Switzerland joins Lisbon Agreement Geneva Act – WIPO has announced that on 31 August Switzerland deposited its instrument of accession to the Geneva Act of the Lisbon Agreement on Appellations of Origin and Geographical Indications. The accession will allow Switzerland to protect its appellations of origin and geographical indications under the Geneva Act. The instrument of accession was deposited with WIPO Director General Daren Tang by ambassador Felix Baumann.The act will enter into force in Switzerland on 1 December 2021. (TL)
Media Watch:
Gmerica trademarks stir up GameStop investors – Dozens of viral threads have been published on Reddit this week in relation to trademarks filed by video game retailer GameStop for the term 'Gmerica'. The first post revealed a trademark application for GMERICA filed at the USPTO on 23 August 2021 and garnered over 1,100 comments and 20,600 upvotes. Further posts were published about GMERICA trademark applications in Australia, the European Union, Germany and Sweden over the following 24 hours. On Wednesday, a purported trademark expert penned a thread to explain what the trademark filings could mean. "Since Gmerica is a new word that GameStop hasn't used for very long, they'll have to prove its future use in commerce," they said. After analysing the classes, they added: "Gamestop filed for the exclusive right to make a bunch of Gmerica merchandise and put it online. They did not file trademark protection for a Gmerica logo, [which] implies they won't make it a separate company. However, they could do this in a future filing." The response to the post, which downplays what the trademarks could mean, was greeted positively. "Thank you," one user responded. "So many posts [talking] about Gmerica being an Amazon-killer, name of an NFT dividend, some massive development/catalyst, and I'm like, 'it literally says they want to put it on shirts'." The posts are a reminder of the buzz that trademark filings can cause and the speculation that can erupt from people who may not understand the nuances of IP law. (TJL)
Law firm radar:
Sari Depreeuw joins Crowell & Moring – Sari Depreeuw is joining Crowell & Moring's Brussels office as a partner in its technology and brand protection group, expanding the firm's capability to counsel clients on IP matters in the visual arts, digital and audiovisual sectors. Depreeuw plans to focus on copyright and digital law, building on more than 15 years of experience representing a wide range of Belgian, European and international clients on copyright, neighbouring and database rights, outsourcing and software contracts, and the acquisition and use of digital assets. "The European and national legislators are adopting new, complex systems to address technical and commercial evolutions, which challenge the roles of authors, performers, producers, and other rights holders," said Chris Cole, co-chair of Crowell & Moring's technology and brand protection group. "Sari's experience in copyright protection in the digital era bolsters our capabilities to guide clients through these new regulatory initiatives." (TL)
In-house vacancies radar:
Mattel – Global toy company Mattel is seeking an associate paralegal, intellectual property. The company is looking for an individual with excellent organisational and written/oral communication skills, as well as experience in connection with IP clearance, prosecution and disputes. The role, which will support Mattel's famous children's entertainment brands, including the expansion of its brands worldwide and into new categories, will be located at the company's headquarters in Los Angeles. (TL)
Under Armour – Under Armour is seeking a full-time brand protection manager to work remotely in identifying and investigating criminal activity relating to IP and trademark violations throughout the Americas. The primary focus of the role will be on current markets and those areas most immediately designated for future expansion, with key duties including performing market surveys to identify infringement, coordinating investigative efforts with private investigation groups, local law enforcement, customs agencies and corporate attorneys, and preparing case reports on such efforts. The ideal candidate will preferably have five-plus years' corporate investigative experience relating to brand protection, anti-counterfeiting, supply chains, logistics, manufacturing and e-commerce. Further details are available on LinkedIn. (VA)
And finally...
WTR events to take place in Europe and the United States – WTR is hosting a series of one-day events in London, San Francisco, Chicago and New York this December. WTR Live: The Future of Trademark Management and Brand Protection will facilitate discussion, benchmarking and the sharing of best practice around key topic areas and challenges facing brand leaders. Crucially, it will offer a glimpse into what industry leaders expect the future of trademark practice to look like. Registration is free to in-house brand professionals. Spaces are limited and should we be unable to host the event, registration fees will be fully refundable. While on site, we will be adopting the All Secure Standard to ensure that all attendees can continue to do business effectively and network with their peers safely. For full details, and to reserve a place, see the official event page.