Get the inside track on cost-effectively managing trademark portfolios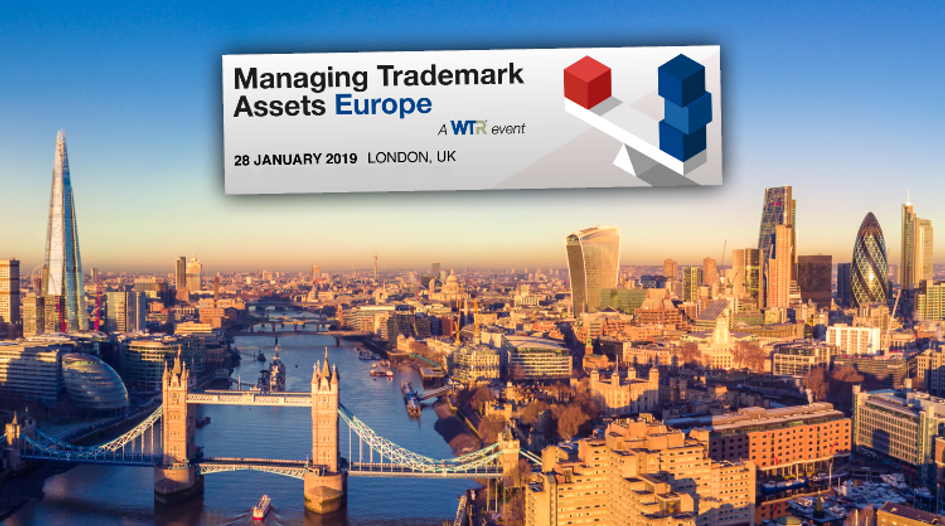 WTR is pleased to announce that Managing Trademark Assets Europe will be heading to London on 28 January 2019. Building on the success of previous editions in New York, Chicago and Munich, the latest Managing Trademark Assets branded event will present cutting-edge strategies for the creation, protection and monetisation of strong brands.
As brands grow, new markets open up, the online world expands and social media presence is enhanced, both opportunities and infringement inevitably result. But while responsibilities grow, for many resources and budgets do not. With that in mind, Managing Trademark Assets Europe will provide insights and best practice for cost-effectively managing trademark portfolios. Crucially, attendees will hear senior in-house counsel from a range of industries discuss how best to manage risk, ensure continued brand protection coverage and communicate the value of brands to the business in a bid to secure multi-stakeholder support.
This unique forum will once again bring together trademark counsel and brand experts from a variety of industries and provide a space in which to hear new insights, discuss best practice and share strategies. Over the coming weeks we will be announcing a stellar speaking faculty to tackle the following topics:
Cost-effective strategic management of trademarks
Driving efficiencies: from registration to enforcement and monetisation
Doing more with less: how to effectively prioritise budgets and resources
Political risk from Brexit and beyond – preparing for the unknown
Audits and reviews, and how to focus efforts without leaving protection gaps
Trademarks across the enterprise: communication and presentation
Meeting the needs of different stakeholders, products, locations and countries
Getting management and marketing buy-in: how to facilitate a collaborative relationship
Creating a brand toolkit – and making internal colleagues your eyes in the market
Ensuring awareness and brand consistency across the business, licensees and the supply chain
Fighting counterfeits with limited budgets
Assessing budgetary and business priorities when faced with infringement
New approaches to anti-counterfeiting, and enlisting the help of consumers and retailers
Tackling goods in transit and best practice for enhancing protection at the borders
Let it go, litigate or seek alternative means? Making the right enforcement choice
gTLDs, GDPR and the UDRP: navigating the ever-shifting online enforcement landscape
GDPR and beyond: what data privacy rules mean for WHOIS access and UDRP strategies
Rights protection in review: what the future online enforcement landscape will look like
News gTLDS round two: a headache or an opportunity for trademark owners?
Balancing cost and efficiency in online enforcement efforts: when do you turn a blind eye?
Ethically managing brand identity and enforcement on social media
Differing strategies across the various social platforms worldwide: Facebook, Instagram, Twitter, YouTube, LinkedIn, Weibo and beyond
Avoiding the corporate bully label: lessons in effective enforcement
When, why and how to make an example of infringement
What to do when enforcement efforts go viral and threaten brand reputation
Delegate places cost just £795 but registrants using the code ONLINEEB before 7 December can save £200 on this rate. Click here to register.