Get the inside track on brand protection and value creation strategies for China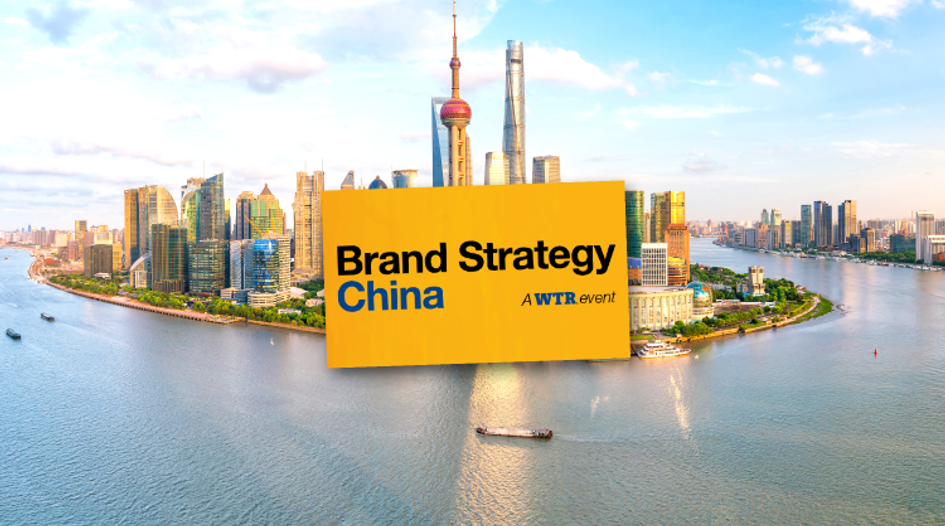 WTR is pleased to unveil the programme for the fourth annual Brand Strategy China event, which takes place at the Shanghai Marriott Hotel City Centre on 3 December 2019 and will provide attendees with critical insights into cutting-edge protection strategies, the latest enforcement know-how and an opportunity to exchange knowledge with both domestic and international brands.
With insights from both domestic and international brand owners, plus key government agency representatives, Brand Strategy China 2019 is a unique forum which drills down into best practice and draws on the unique perspectives of the visionaries at the forefront of the industry – both from across China and overseas.
The highly focused one-day programme will deliver practical, actionable takeaways for professionals tasked with protecting the integrity and maximising the value of their brands in the region, with all sessions being simultaneously translated into English and Mandarin translations. Speaker recruitment is currently underway and we will shortly unveil a stellar speaking faculty to tackle the following topics:
The view from the top: policy perspectives on the brand environment
In this interactive session, an industry thought leader hosts an onstage Q&A with one or two leading Chinese officials. The discussion will explore recent changes to the Chinese brand landscape and provide rights holders with critical insights into the future environment being created to domestic and international companies.
Brand building and bad faith: enhancing protection programmes
China's trademark office has been dealing with historically unparalleled levels of applications and, while many are legitimate, the issue of bad faith filings continues to pose challenges to brands. With that in mind, industry experts will assess efforts to regulate trademark applications, consider the rights portfolio strategies that can be employed to ring-fence brands and present the latest tactics for fighting back against bad faith filings.
How the authorities are coping with demand and tackling bad faith filings
Strategic considerations for rights holders faced with brand squatting
Clearance conundrums – developing and registering new and unique brand names
Administrative enforcement best practice: real world insights
Administrative enforcement remains a key part of the rights holders' armoury. Across a series of presentations focused on different stages of administrative action, an interactive discussion will explore and present tips for ensuring that actions are timely and effective.
Preparing for action: maximising the chances of success before initiating action
In the field: best practice for working with local enforcement authorities
After the case: the PR and politics of enforcement efforts
Litigating for success: top tips from market experts
Trademark litigation is not just about the rights and wrongs – employing the right strategy is key to maximising the chances of court success, from initial steps through to the enforcement of judgements.
Evidence gathering and preservation orders: building the case
Civil versus criminal: case studies in litigation best practice
Recovering damages awards – the tools and tactics available to rights holders
Online enforcement: platform perspectives
Building, managing and protecting identity online is a prerequisite for all brands doing business in China. However, the challenges of doing so is complicated by both the evolving methods of infringers and the reliance on platforms and other stakeholders to assist in these endeavours. Over the course of an hour, key platforms will provide updates on their enforcement tools and insight into how brands can more effectively collaborate with them, before fielding audience questions.
How rights holders can better enforce on key online platforms
Big data and how protection professionals can benefit from it in the real world
The new e-commerce law: game changer or business as usual?
Brand strategy knowledge exchange
Domestic and international brands are faced with the same opportunities and threats when doing business in China. In this high level dialogue, experts from a range of brand owners explain how they approach business marketing and messaging, explore collaboration opportunities and share best practice on reputation management.
Best practice in working with Chinese authorities and associations
Learning from each other: opportunities for cross-brand collaborations and sharing
What the future holds for domestic and foreign brands – and how to capitalise
For details on how to book your place at this must-attend event, click here.