Frozen 2 versus Christian Louboutin: could Anna's red-soled shoes lead to a trademark dispute?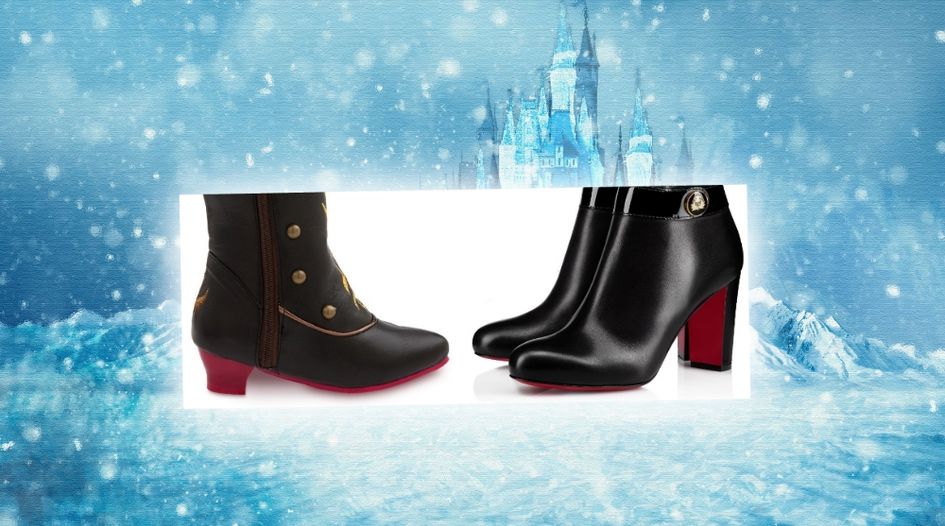 Disney hit movie Frozen 2 features character Anna in distinctive red-soled footwear
Debate sparked if boots could be infringing of Christian Louboutin trademark rights
IP experts say Louboutin will have many factors to consider, including full-red heel
Disney's smash hit movie Frozen 2 is currently on course to make over $1 billion at the box office, with related merchandise set to become popular Christmas gifts. But questions have arisen over main character Anna's red-bottomed boots in the movie and their similarity to the iconic red sole footwear from fashion brand Christian Louboutin. With the official Disney store now selling the character's boots, we speak with IP experts on the legal issues potentially at play.
As most parents will know, Frozen 2 is a follow-up movie to the massively popular 2013 film Frozen. The computer-animated musical fantasy has so far grossed $922 million worldwide, currently making it the eighth highest-grossing film of 2019. Earlier this week, eagle-eyed Jennifer E Rothman, professor of law at Loyola Law School in Los Angeles, asked on Twitter whether trademark practitioners had noticed that Frozen 2 character Anna was wearing "red-soled shoes" – with replies agreeing that she was, and debate sparked over whether the footwear could be inspired by (or even licensed from) luxury fashion house Christian Louboutin.
WTR has reached out to Christian Louboutin for comment, but the lack of (to date) public reference to a licensing deal suggests that one is not in place. In the meantime, WTR spotted that Anna's Frozen 2 boots are currently being sold on Disney's official store. Priced at $24.95, the footwear appears to have a red coloured sole and heel, and (as pictured below) somewhat resemble red-soled boots sold by Christian Louboutin for a less modest £785.
Frozen 2 boots (left) and Christian Louboutin boots (right)
Of course, Christian Louboutin has been notoriously stringent in the protection of its signature red sole, and has had mixed results when seeking registered trademark protection for it. In the past year, for example, the fashion house successfully registered the colour red applied to the sole of a shoe in China (with a victory at the Beijing High Court) and the European Union (with the CJEU ruling that it is a position mark and not a shape mark). However, there was a setback for the brand in India last year, with the Delhi High Court ruling that a single colour cannot be a trademark. However, that decision was set aside in May, with a further ruling expected in due course. Meanwhile, in the United States, Christian Louboutin has successfully acquired exclusive trademark rights to use "the colour red on the sole of non-red shoes" but, as we discussed in WTR magazine, it took "a long-term, patient strategy".
For that reason, questions have arisen over whether Christian Louboutin could take issue with Disney's Frozen 2 merchandise.
Talking to WTR, Lee Curtis, a chartered trademark attorney at HGF, claims that one specific element of the Frozen 2 footwear could be key for Disney. "Arguably the use of the red sole by Disney on a children's costume boot is use of a sign in the course of trade, so Christian Louboutin could argue that such use is infringement of its trademark registration for a red sole – a shoe is a shoe after all, and Disney are using a red sole to sell products in a commercial setting," he says. "However, looking at the Disney costume boot, it is not solely a red sole but it also incorporates a red heel. The US dispute between Christian Louboutin and Yves Saint Laurent over the red sole trademark suggests that, although the courts have found the red sole trademark registration valid and distinctive of Christian Louboutin, rights in the trademark are relatively narrow."
As well as the heel, Clare Mullarkey, associate at Williams Powell, says a key factor could be the specific shade of red being used by Disney. She explains that Christian Louboutin has protection in the colour Pantone 18-1663TP and that Disney is using "a distinctly different colour red that appears to be much darker than the specifically protected [shade]". That should, she adds, "be sufficient to dodge the wrath of Louboutin".
Those views are shared by Amy Reynolds, partner at Fieldfisher, who claims that Disney should consider making a change to the merchandise to avoid a potential legal issue. "I would not be surprised if Louboutin decided to take action against Disney, in the territories in which they have rights, if (a) the soles of the 'Anna' boots are a similar enough red colour for Louboutin to be concerned, and (b) if the completely red heel of the 'Anna' boot is not considered sufficient to differentiate the goods," she explains. "In the case of the 'Anna' boots, I think Louboutin are more likely to be worried about preventing red soles from becoming generic or the red sole trademark being diluted, rather than actual confusion by consumers. Therefore, a subtle colour change by Disney could be sufficient to distinguish the 'Anna' boots and avoid a dispute."
Even outside of the similarities and differences, Curtis further suggests there are equally important non-legal considerations. "Taking action against Disney in relation to a brand associated with a well-known children's character might not be the best public relations move," he says. "Furthermore, I have severe doubts that a children's costume boot being marketed for $24.95 are leading to lost sales for Christian Louboutin. Yes, there is an argument for enforcement action to build exclusivity around a brand, but IP owners have to be practical and take on board the commercial and PR aspects of trademark enforcement actions."
Of course, a high profile legal dispute will probably not occur, but there have certainly been more unlikely trademark disputes in the past few years: "I suspect the reality is that if Christian Louboutin has an issue, it will most likely be dealt with behind closed doors," Mullarkey adds. "Watch this space, perhaps the Anna red-soled boots will become this year's must-have Christmas gift before they quietly disappear from sale!"
Ultimately, with the commercial, legal and PR risks that could arise from taking enforcement action, Curtis is adamant that such a move would not be an effective strategy: "In my opinion, Christian Louboutin should probably 'Let It Go'."