"A frankly pointless step" – why Banksy pop-up shop could hinder trademark case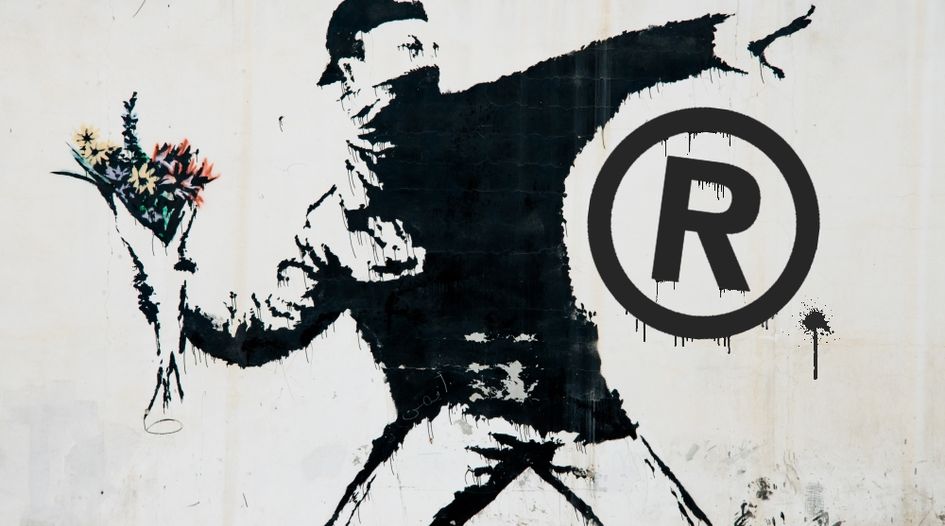 Artist Banksy has launched a popup shop in London in response to trademark dispute
Case involves card manufacturer Full Colour Black disputing Banksy applications
Attorney acting for the card company talks to WTR; says move hasn't helped Banksy
Anonymous street artist Banksy has opened a pop-up shop in London in response to an ongoing trademark dispute with a card manufacturer. While Banksy says the trademark revocation action is an attempt "to take custody" of the artist's name, the attorney representing the card company tells WTR that the pop-up store "doesn't stand up to scrutiny from anyone with a modicum of knowledge of trademark law".
The pop-up store, Gross Domestic Product, opened in Croydon yesterday and will reportedly trade for the next two weeks. The actual shop does not sell products on site, with all sales being conducted digitally. In a statement posted at the store, a Banksy representative said the motivation behind the venture is due to an ongoing legal action. "A greetings card company are trying to seize legal custody of the name Banksy from the artist, who has been advised the best way to prevent this is to sell his own range of branded merchandise."
It is understood that Banksy was advised to open the pop-up store by Mark Stephens, a lawyer and founder of the Design and Artists Copyright Society, who has been widely quoted by media outlets since it opened. He has described the case as "frankly ludicrous litigation", adding: "Banksy is in a difficult position because he doesn't produce his own range of shoddy merchandise and the law is quite clear – if the trademark holder is not using the mark, then it can be transferred to someone who will."
The case in question appears to be an invalidity action filed by card manufacturer Full Colour Black against an EU trademark of a Banksy artwork representing the so-called 'flower bomber'. The trademark in question was filed by Banksy entity 'Pest Control Office Limited' and reached registration in August 2014. The cancellation action was lodged in March 2019, with a key argument – according to a witness statement seen by WTR – being that Banksy is using the registration (and other related trademarks for Banksy artworks) to prevent unauthorised reproductions of his work and "to avoid the evidential requirements of a case under copyright law" (as "the ownership of copyright is difficult for Banksy to prove").
Representing Full Colour Black in the action is consultant attorney Aaron Wood of Keystone Law. Talking exclusively to WTR, he denies the widely-reported claim that the trademark dispute is related to Banksy's name. "This isn't accurate as we are not trying to 'take custody' of his name at all," he explains. "We are contesting the validity of one of his EU trademarks on the basis that he has freely permitted it to be reproduced such that it no longer functions as a trademark (if it ever did), on the basis that he never intended to use it as a trademark and that he is trying to register for collateral purposes (ie, to avoid evidential issues with copyright and to avoid having to file a 'statement of use' in the US)."
When it comes to the pop-up store, Wood expressed bafflement. "If it were a revocation case then the strategy would be ill-conceived," he claims. "The real error, however, is that this isn't a revocation case on the basis of non-use, so it's a frankly pointless step which doesn't stand up to scrutiny from anyone with a modicum of knowledge of trademark law. In fact, this has strengthened the arguments that the marks are a false attempt to monopolise his work in bad faith [and to] circumvent copyright law and trademark law.  Banksy may be a subversive character but the same law applies to him."
Debate continues
Unsurprisingly for such a high profile and unusual action, the opening of the pop-up has spurred debate from figures within the trademark community. "Whether such activities will be successful will likely turn on whether such use will be seen as 'genuine'," says Phil Bilney, senior associate at Cripps Pemberton Greenish to WTR. "There is much case law on what constitutes 'genuine use' and generally takes a common sense approach (ie, genuine use must be actual use of the mark and not merely token use), however it is decided on a case by case basis."
According to Lee Curtis, partner and chartered trademark attorney at HGF, the case raises a number of important issues. "This is a very interesting case, testing the limits of whether a 'work of art' can inherently act as a trademark, and also whether use made of that work of art prior to and at the time of filing and post filing of the trademark registration impacts on the ability of the work of art to be seen as a trademark," he tells us. "There is also a follow-on question of if the registrant knew that the work did not act as trademark but deliberately sought trademark protection to prevent others from using the work, there is an argument that the registration was in bad faith."
Beyond the question of whether a work of art can act as a trademark (Curtis noting that many logos are protected by artistic copyright), there is also the issue of whether the trademark in this case was arguably a well-known work of art – and how the use of the work post-filing impacted that. "Here the applicant has a much stronger case in my opinion with references to UK trademark cases such as LINKIN PARK and the Red Rose case of the English Rugby Union. Would the public see this work as a trademark, or would they presume it simply as a decorative piece of art?"
Now, of course, the pop-up store has opened to try and help Banksy's case – but Curtis is doubtful that it actually will. "I do not believe that use made of the work via the pop-up particularly helps the registrant in their defence of the invalidity action," he says. "Arguably this use appears to be a direct result of the filing of the invalidity action and one of the key questions is whether the public would have viewed the work as a trademark at the time of filing – not now."
On the other hand, Curtis says that the pop-up store could be helpful for future trademark challenges. "I am speculating, of course, but such use may be down to the fact that the registration at issue is now open to non-use attack, which it was not at the time of the filing of invalidity action," he says. "The registrant's actions may be an attempt to use the work clearly as a trademark now and thus forestall such a non-use attack, which to the best of my knowledge has not been filed to date by the applicant for invalidity. However, I very much suspect the applicant for invalidity will argue, if they do now file a non-use revocation action, that the pop-up store use and associated use on products is so-called 'token use' for the sole purpose to defend the trademark registration against non-use attack."
This is not the first time that Banksy has been in the centre of a particularly interesting trademark battle – in 2015, for example, the opening of art show called 'Dismaland' caused Disney's brand protection team quite a quandary. For now, though, a bitter battle between the street artist and a greetings card company continues – and many mainstream media headlines will focus on it.