France victorious in 'france.com' dispute; USPTO issues credential warning; EUIPO gets Green Apple award – news digest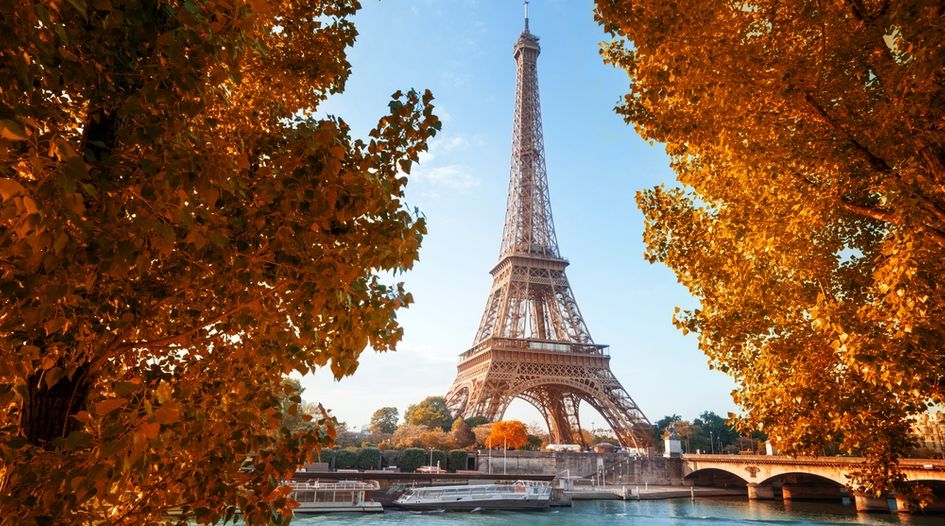 Every Tuesday and Friday, WTR presents a round-up of news, developments and insights from across the trademark sphere. In our latest round-up, we look at the UKIPO welcoming its position on the US Chamber 2021 Global Intellectual Property Index, a CBD trademark spat resolving in favour of Charlotte's Web, the Chilean IP Office updating its trademark renewal system, and much more. Coverage this time from Trevor Little (TL) and Tim Lince (TJL).
Market radar:
UKIPO welcomes position on US Chamber 2021 Global Intellectual Property Index – Last week, the US Chamber released its ninth annual International IP Index, evaluating IP rights in 53 global economies. In the latest edition, the United States, Japan and Europe remained at the top of the global IP rankings, while some emerging markets – including the United Arab Emirates, China and Mexico – continued to make progress. The United Kingdom ranked second on the list, behind the United States, with UKIPO CEO Tim Moss stating: "I am delighted that the UK is once again ranked so highly within the widely-respected Global IP Index. The report confirms the UK's world-leading position in the IP environment. It underlines our strength as one of the best locations for innovative businesses to grow and prosper. An effective IP system gives businesses the confidence to invest, which is at the heart of 'build back better'." Robert Reading, head of content strategy, IP Group at Clarivate, added: "The high standing of the UKIPO at the head of the European list is a reflection of the effort that has gone into making IP more accessible in the UK. It is remarkable that standards were kept high while the office was under pressure from a rising volume of applications and ongoing work to ensure a smooth post-Brexit transition." Elsewhere, China's score increased 18.34% year on year, in part due part to new legislation to strengthen its domestic IP framework. Reading reflects: "China deserves credit for continuing to improve while at the same time handling over 70% of the trademark applications filed globally and improving time to examination and registration." (TL)
Legal radar:
CBD trademark spat resolved in favour of Charlotte's Web – Hemp CBD wellness products company Charlotte's Web Inc has secured a successful resolution of its trademark infringement and false advertising claims against AAXLL Supply Co, owner of the Balance CBD brand. Charlotte's Web filed a complaint against AAXLL on 17 April 2020 in which it alleged that AAXLL infringed its rights in the CHARLOTTE'S WEB trademark and had misrepresented that certain AAXLL products shared a terpene profile with hemp cultivars developed by Charlotte's Web. In a press release, the company states that, under the stipulated judgment entered by US District Judge Yvonne Gonzalez Rogers, AAXLL acknowledged that "(a) the CHARLOTTE'S WEB mark is a valid and protectable trademark in connection with hemp, CBD products, and any products or services related thereto; (b) the CHARLOTTE'S WEB mark is not a generic term; (c) Charlotte's Web's State California and Colorado State trademark registrations for the CHARLOTTE'S WEB mark are valid and enforceable; and (d) Charlotte's Web owns all right, title, and interest in and to the CHARLOTTE'S WEB Mark." AAXLL also agreed to be permanently enjoined from using the CHARLOTTE'S WEB trademark in connection with advertising and promoting CBD products. "The Charlotte's Web trademark is a cornerstone of our intellectual property portfolio," said Deanie Elsner, CEO of Charlotte's Web Inc. "Today's judgment underscores our ongoing commitment to vigorously protect our intellectual property, and we will continue to enforce our rights where necessary." (TL)
France victorious in 'france.com' dispute – The US Fourth Circuit has held that France is immune from US trademark infringement claims brought by the former owner of 'france.com', reports Jurist. The dispute commenced when US travel services company France.com initiated a trademark action in France against a Dutch company that it claimed was infringing its French and EU FRANCE.COM marks. The French State intervened voluntarily, claiming that trademarks containing the term 'France' are contrary to public policy. The Paris Court of Appeal cancelled the contested French trademark registrations and ordered the transfer of the domain name 'france.com' to the French State. The EUIPO Board of Appeal and General Court also found that there was likelihood of confusion between FRANCE and FRANCE.COM due to high degree of phonetic and conceptual similarity. As Jurist reports, France.com Inc subsequently sued the French Republic in federal court for cybersquatting and trademark infringement. After a request to dismiss the case under the Foreign Sovereign Immunities Act was rejected because it "would be best raised after discovery has concluded", the French state appealed. On appeal, the Fourth Circuit said that the US Supreme Court had deemed sovereign immunity a threshold question that should be addressed "as near to the outset of the case as is reasonably possible". Additionally, it held that the French government did not engage in commercial activity that would negate its sovereign immunity when it won the rights to the domain name in French court from France.com Inc. (TL)
Office radar:
(For more of the latest coronavirus-related updates from national IP offices, please read our dedicated article which is being continuously updated.)
USPTO issues warning over bar credential solicitations – The USPTO has sent an email warning of third-party efforts to circumnavigate the US counsel rule. It states that it "recently learned that US attorneys are again receiving emails from unlicensed individuals offering to pay to use the attorney's bar credentials in trademark filings", adding: "Although we believe that only a small percentage of practitioners are engaging in this practice, the USPTO would like to remind U.S. attorneys that such an arrangement would likely be aiding the unauthorized practice of law and also a violation of federal rules, including the USPTO's Rules of Professional Conduct, 37 C.F.R. Part 11." Last week WTR reported on the latest solicitation effort doing the rounds, which seeks to pay to license the attorney details of willing lawyers. While experienced trademark professionals are unlikely to take up the offer, an ethics specialist told us that such outreach efforts are working, explaining: "These folks find unwitting attorneys that don't fully understand the rules or are not experienced trademark practitioners and offer them the opportunity to earn thousands of dollars a year. The people that fall for this are not the experienced trademark practitioners. Rather, we see new law graduates, or those who are struggling financially or with dire personal situations." Those that receive such an approach are asked to forward it to the '[email protected]' email address. (TL) 
Oman introduces efilings, with a 20% increase in fees for using the new system – NJQ & Associates has provided an update on the trademark landscape in Oman, where the Intellectual Property Department of the Ministry of Commerce, Industry and Investment Promotion has announced that it has started receiving trademark applications via its new online portal. The online offering began accepting applications on 7 March 2021, with the IP department aiming to discontinue paper-based applications. The firm adds that the department has also announced a 20% increase on the official fees for all trademark matters handled by the electronic system, with a minimum charge of OMR20 per application. (TL)
EUIPO gets Green Apple award – The EUIPO has again been recognised for its environmental practices by the Green Apple Environment Awards. The scheme is run by the Green Organisation, an international, independent environment group dedicated to recognising, rewarding and promoting environmental best practice. This year, the office has achieved Gold recognition in the Legal/Climate Change category for its overall achievements and efforts to reduce energy, paper and carbon consumption through its environmental project ('Reduction of EUIPO's environmental impact'). In 2019 (compared with 2015) the office reduced its consumption (per on-site worker) of paper by 73%, toner by 79%, water by 38%, electricity by 32% and gas by 74%. Waste generation dropped by 65% while greenhouse gas emissions were reduced by 33%. Additionally, 30% of the EUIPO's energy demand is now produced on-site from renewable sources and heating-related fossil fuel consumption was reduced to zero. (TL)
INAPI updates trademark renewal system – The Chilean IP Office (INAPI) is set to change the way that trademark renewals operate from 1 April 2021. Going forward, "rights holders who decide to present the request for the renewal of a trademark will have a new term that ranges from six months prior to six months after the expiration of the registration". The change, an INAPI spokesperson says, "is due to the adaptation and revision of the criteria applied based on exhaustive legal analyses by INAPI, which seek to benefit the quality of service aimed at users". (TJL)
Domain Radar:
Net 4 India subject to insolvency proceedings – In March we reported that ICANN had announced the termination of its registrar accreditation agreement (RAA) with Net 4 India after repeated and ongoing failures to comply its provisions (ICANN pointing to complaints centred on Net 4 India's failure to respond in a timely manner to registrant requests to transfer, renew and/or update domain name registrations). In its latest update, ICANN notes that Net 4 India is now subject to insolvency proceedings in India, stating: "As a result of Net 4 India's failure to address those complaints, along with other breaches of its RAA, ICANN issued three separate breach notices to Net 4 India. Net 4 India did not cure the breaches; but rather, the resolution professional (RP) appointed by the insolvency court to represent the interests of Net 4 India requested that the insolvency court prevent ICANN from finalising its termination of Net 4 India's RAA. ICANN continues to urge the insolvency court to issue its final ruling on, and deny the RP's request." ICANN has published a summary of proceedings and orally issued court orders on a dedicated litigation page. (TL)
On the move:
Akerman strengthens IP practice in Chicago – Akerman has announced the expansion of its IP practice group with the addition of Jeffrey Armstrong and Benjamin Urban in Chicago. Joining from McDonnell Boehnen Hulbert & Berghoff, Armstrong and Urban bring with them a broad range of experience in IP law, including patents, trademarks, unfair competition, copyrights and trade secrets. "Jeff and Ben are great additions to the firm. They add significant expertise and depth, further strengthening our ability to advise clients regarding IP strategies and help with a range of issues," said IP practice group chair Brian Bianco. "Jeff and Ben have built an impressive practice representing innovators in the electrical, software and telecommunications industries. Their business and technical experience across these fields, combined with their expertise in patent litigation, counseling, and prosecution, enhance the level of service that we can provide to clients." (TL)
And finally...
Tracking critical industry trends and challenges: WTR needs your views – WTR is inviting trademark professionals across the globe to participate in the latest benchmarking survey, which focuses on operational management to track the latest trends and identify how practice is evolving. There is no cost associated with taking part in the community project, which is designed to give brand experts – both in-house and in law firms – a benchmark for practice management. As well as revealing key trends in the organisation of the trademark function, including finance, structure and headcount, this year we will explore the impact of the covid-19 pandemic on trademark operations. Responses will be treated with full confidentiality. Only anonymised and aggregated information will be used for publication of the survey results by WTR, and your details will not be used for any commercial purpose, nor be shared with third parties.Completion of the survey should take around 15 minutes. The results will be presented on the WTR platform and respondents will receive key findings. The survey form is available here.