Four years of trademarks under Trump: political appointments, conflict and policy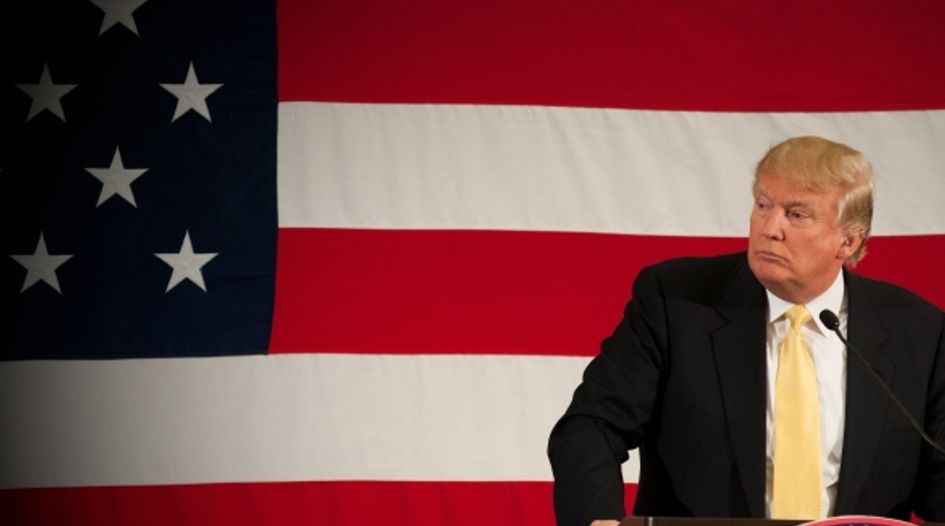 Today US citizens are voting in one of the most divisive polls in recent memory. While trademark policy is not a subject that will necessarily sway voting decisions, the past four years under President Trump have been notable for the way that brands have been catapulted onto the front pages and into the public consciousness. We therefore look back at the world of trademarks under the Trump administration.
Shaping USPTO leadership
One of the most direct impacts that President Trump has had on the USPTO has been with regard to its leadership. For the first period of his presidency, Michelle Lee continued in her role as director of the agency, before her surprise resignation in June 2017. While USPTO associate solicitor Joseph Matal filled the void on an interim basis, Andrei Iancu quickly emerged as a potential candidate after news broke that he had cleared security clearance protocols. Three months later, Iancu – who we noted boasted experience across the whole gamut of IP rights – was officially nominated by the White House. As is tradition, in the time since his appointment he has focused on operational matters rather than partisan politics, although he has occasionally messaged on issues that align the agency with the administration's policy aims. For instance, in July he called for industry and government to work in a systematic and sustained manner to fight back against the prevalence of counterfeit goods online – the comments made as political pressure builds for platforms to do more in the fight against fakes (of which more shortly). Last week, the USPTO had to respond to criticism after social media messages, posted less than a week before the US election and attributed to Iancu, appeared to praise President Trump. The office's response was to "disagree with those who would inject partisan politics into the message of the tweet" but the incident highlights the emotive nature of today's election. A Trump victory will likely see Iancu continue in the role for four more years, while under Joe Biden there will be the prospect of a new appointee.
Political pressure on social media and e-commerce platforms
Earlier this year concerns over the role of online platforms led a group of US lawmakers to introduce the SHOP SAFE Act 2020, a bipartisan bill which would amend the Lanham Act to make e-commerce platforms "contributorily liable for infringement by a third-party seller participating on the platform for use in commerce of a counterfeit mark in connection with the sale, offering for sale, distribution, or advertising of goods that implicate health and safety" unless certain requirements are met. This aligns with policy positions adopted by President Trump, who in April 2019 issued a Memorandum on Combating Trafficking in Counterfeit and Pirated Goods in a bid to get to grips with the scale and impact of counterfeiting and piracy. The memo was characterised as a "shot across the bows" of e-commerce sites and was followed by a Department of Homeland Security report that offered a range of best practices that e-commerce platforms should implement (and threatening action should they fail to do so) and a US Customs and Border Protection (CBP) administrative ruling clarifying the duty-free exemption status of certain low-value shipments sent to US fulfilment centres and domestic warehouses. Add in the Office of the US Trade Representative releasing its latest Notorious Markets report, which listed five Amazon platforms being added alongside Alibaba's Taobao marketplace (and was characterised by Amazon as advancing a "personal vendetta" of the Trump administration), and it is clear that counterfeiting – and the role of platforms in facilitating the sale of counterfeit goods – has become a central policy focus.
China trade (and IP) tensions
One consistent narrative through the past four years of the Trump presidency has been political and economic tension between the United States and China. In terms of IP issues, the focus has often been on patents and technology, but counterfeiting has bubbled up as an issue too. In January the two countries signed a trade deal aimed at bolstering sales between the superpowers and providing stronger protections for intellectual property – a key pledge being to improve procedures to combat online IP infringement, especially when it comes to piracy and counterfeiting. This included promises of "expeditious takedowns" for counterfeit goods being sold in the online environment, a stipulation that both parties will take "effective action" against major e-commerce platforms that "fail to take necessary measures against the infringement of IP rights", blocking the distribution of counterfeit goods that have a "significant impact on public health or personal safety" and strengthening border cooperation. Through the China-US trade war and negotiations, the treatment of intellectual property played a central role.
The importance of geographical indications in trade deals
Also included in that China-US trade agreement were some tough geographical indication (GI) stipulations, which are often a key component of any trade deal that the United States negotiates. An entire section of the full US-China deal is dedicated to procedures that China pledges to follow in connection with the "pending or future" protection of GIs. This has not been the only trade relationship in which GIs have proved to be a key negotiating chip. Late last year, for example, the Canadian, Mexican and US governments signed an amended version of the United States-Mexico-Canada Agreement (USMCA) – the move ending previous stalemates over the treatment of GIs – providing the United States with mechanisms for their denial, opposition and cancellation. As we noted at the time, the breakthrough on the agreement served as a signal to others (including a post-Brexit United Kingdom) of the type of concessions that the United States will expect from economic partners. Thus, it has been no surprise that the treatment of GIs in the Brexit negotiations between the United Kingdom and the European Union has been so key. Last month, the UK Intellectual Property Office released new information on how the country's GIs scheme would function after the end of the United Kingdom's transition period to exit the European Union in 2021, with one commentator noting the need for the country to "balance the level of GI protection between agreements with GI enthusiasts such as the European Union and maybe countries which are less enthusiastic such as the United States".
A brand owner in chief
Returning to China, in 2017 news headlines were centred on Trump's receipt of "gratuitous Chinese trademarks", with speculation that registrations in China were receiving preferential treatment in a bid to curry favour with the US president. In addition to China, speculation also centred on the granting of trademarks elsewhere – for example, reports highlighting Mexico trademarks as leaving him vulnerable to potential conflicts of interest, or at least the perception of that. Such registrations were actually reflective of a sprawling brand portfolio and in December 2019 WTR revealed for the first time the true scale of the Trump family's portfolio, with trademarks in 59 jurisdictions and approximately 80 countries. One Washington ethics watchdog told us that the activity is "unprecedented", adding: "It is absolutely unheard of for a president's businesses – or, in the case of Ivanka, a high-level White House official – to be granted so many trademarks during their tenure in the White House because no modern president has had a major business to which a foreign government could grant a trademark." The Trump administration, then, was making trademark headlines in a way that no predecessor has. 
Brands dragged in the political fray
In January 2017 the cover story on WTR focused on brands entering the political arena – whether by choice or because they found themselves dragged into the discussion. In the run-up to the last US presidential election, for example, Donald Trump Jr tweeted a now-infamous message comparing Syrian refugees to Skittles – with Wrigley forced to issue a statement on this use of its brand. It was perhaps a harbinger of things to come as, over the past four years, brands have often found themselves the focus of attention – whether due to the president 'promoting' them (eg, posts on Instagram of the president with Goya Foods products), using iconography on social media (eg, the president evoking a Game of Thrones reference in a tweet about impending Iranian sanctions, with HBO quickly responding by asking "How do you say trademark misuse in Dothraki?") or publicly criticising them (as was the case with, among others, AT&T, Boeing, Facebook, Merck, Nordstrom, T-Mobile, Toyota and Twitter). For brands, silence is rarely an option in such instances.
There are numerous other aspects of the trademark world that Trump has had impact on, including the judiciary (to date the US Senate has confirmed 220 judges nominated by Trump, including three associate justices of the US Supreme Court, 53 judges for the US courts of appeals and 162 judges for the US district courts). What is clear is that having a president who has himself long been a 'brand' has resulted in four years in which companies and the trademarks that they are built on have taken centre stage in new and unprecedented ways.