Four Seasons Total Landscaping: trademark lessons from a bizarre political event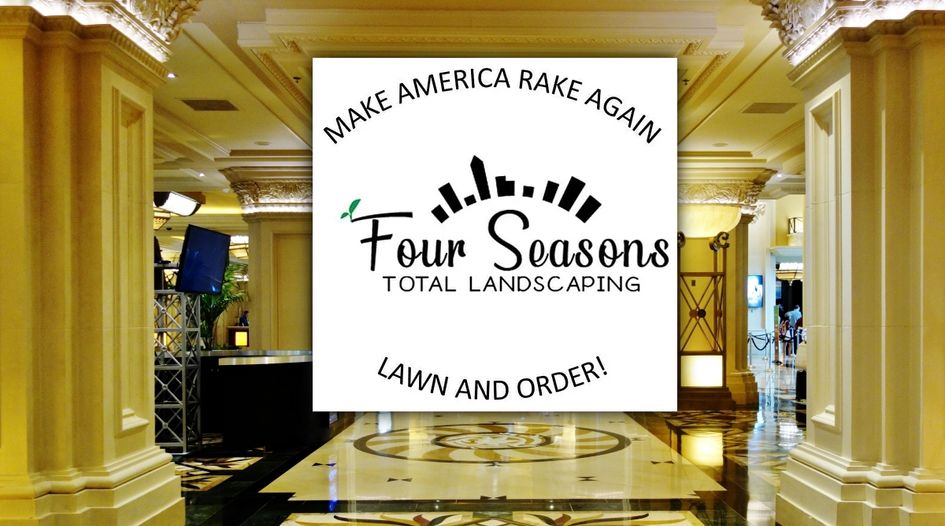 US president Trump announced a press event at a 'Four Seasons' garden centre
The famous hotel chain issued public statement distancing itself from the event
Trademark expert tells WTR that there are various learnings for brand owners
When US President Donald Trump announced a press conference at Four Seasons in Philadelphia, and subsequently clarified it was at a garden centre and not the famous hotel chain, it sparked a bemused reaction around the globe. Crucially, though, the weekend's unusual event offers some important takeaways for brand owners.
On Saturday, Trump tweeted that there will be a "lawyers press conference at Four Seasons, Philadelphia". Minutes later, he corrected the tweet, and clarified that it will be at 'Four Seasons Total Landscaping' – a garden centre in an industrial area of the Pennsylvanian city. Understandably, some reporters believed a mistake had occurred, and reached out to the luxury hotel brand to enquire about a press event. In response, the Four Seasons Hotel social media account publicly clarified: "President Trump's press conference will NOT be held at Four Seasons Hotel Philadelphia. It will be held at Four Seasons Total Landscaping – no relation with the hotel."
Eventually, the Trump Campaign revealed further details – noting that the event would be held in the garden centre's car park and included a map that revealed it was located next to an adult book store and across the street from a crematorium. It is unclear why the unlikely event location was chosen, with the presumed reason being that there was a mix-up between the hotel chain and the similarly-named gardening company. For their part, one Trump official appeared to suggest the location was intentional, and tweeted: "All great Americans in [Pennsylvania] use Four Seasons Total Landscaping. They love this country and are American Patriots."
While the event was ultimately overshadowed by the announcement of Joe Biden's election win by the major TV news networks (which occurred half an hour before the press conference), it has placed the global spotlight on a small landscaping business. In fact, the owners of the company appear to be eager to take advantage of the unexpected notoriety – on its website, a 'merchandise' section now sells hoodies and shirts with the brand name (along with an American flag) and a sticker with its logo plus two Trump-inspired slogans ('Make America Rake Again' and 'Lawn and Order').
Unsurprisingly, the whole affair has been a discussion point for the trademark community on social media. "Is Four Seasons Total Landscaping likely to be confused with the Four Seasons Hotel?" asked trademark examiner Marynelle Wilson, with lawyer Andrew Bernstein saying the event "will be used by trademarks lawyers for the next 10 years to explain what confusion looks like". In response, former lawyer Dan Flatt claims: "Four Seasons is a ubiquitous global hotel brand who zealously protects a trademark associated with luxury. If a local landscaping company uses the same name without facing legal challenges, that means the hotel chain's legal counsel didn't see a reasonable consumer mistaking them."
However, some attorneys feel differently. Talking to WTR, trademark attorney and founder of Gerben Law Firm, Josh Gerben, says that such confusion probably occurs on a day-to-day basis for both businesses. "I'd venture to suggest that this is not the first time that the hotel and the landscaping company have been mistaken for each other," he says. "So while the garden centre may get notoriety from this, on a daily basis, they must have people often calling their shop looking for the hotel, and that will ultimately waste the time of employees."
For that reason, Gerben says, the weekend's events will become a case study for a number of reasons. Firstly, it highlights how important it is for any company to have unique, protectable branding. "Four Seasons Total Landscaping for the name of a landscaping company is quite descriptive as it describes being able to do landscaping all year round. For that reason, I don't think there's much the hotel chain could have done about it from a legal perspective. However, beyond the legal considerations, I always tell clients that they have to be aware of what will be shown when they put a brand name into a search engine. So yes, they must be aware of trademark search results and how that could reveal any possible infringement concerns going forward. But they must also consider what the practical dimensions are, and what a consumer will actually see when they are searching for or interacting with their brand. So if a consumer will find it difficult to search for a brand, or if they could confuse it with another business, then that creates all sorts of equally-impactful problems."
There is also the response of Four Seasons Hotel, and why the trademark department must tread careful. According to Gerben, the new merchandise offering could – legally speaking – be a potential infringement as Four Seasons Hotel owns a federal trademark registration covering clothing goods and services. However, "practically it would be a very dangerous public relations move" to pursue legal action, he adds. "My suggestion would be to take it and move on, even knowing the owners of the landscaping company will probably have a windfall in their merchandise sales" – noting that he himself has purchased one as a souvenir of a notable trademark incident. "The hotel chain in general will want to remain politically neutral, and will not want to alienate customers that are Republican or Democrat. For that reason, I imagine that the brand will now be waiting for this to pass."
Of course, that wait could have implications for the Four Seasons hotel brand – search results for "four seasons" are currently dominated by the gardening company, which will be severely impacting any hotel-related SEO. Could this unexpected event change how the trademark department approaches trademark prosecution and enforcement? Probably not, says Gerben. "There are already several dozen FOUR SEASONS trademark registrations on the USPTO register that are not related to the hotel," he explains. "To date, then, it looks like the Four Seasons Hotel has not been hyper-aggressive in policing its trademark. That is not necessarily the wrong approach, but it means there appears to be a lot of other companies that hold trademarks related to the Four Seasons term in the US. Obviously the term 'Four Seasons' is distinctive in the hotel industry, but the argument for these other companies is that consumers are used to seeing the term in a variety of different contexts and industries. For that reason, there's not much the hotel chain can do to stop the phrase from being used in other sectors."
Going forward, Gerben expects the brand ecosystem to return to normal once the political storm passes. For the trademark community, though, he expects it won't go away any time soon. "This is such a rare and random event – no company could imagine all the stars aligning for this to happen. However, it is also one of these cases that highlights the importance of having a unique trademark and brand, and subsequently policing it so you don't run into an instance like this or, worse still, having confusion on a day-to-day basis. This event beautifully highlights that issue to clients in a real-world and quite comical way – and from that perspective, it's actually quite good for our profession."