Fake NHS anti-mask app; USPTO releases AI report; Eskimo Pie new name – news digest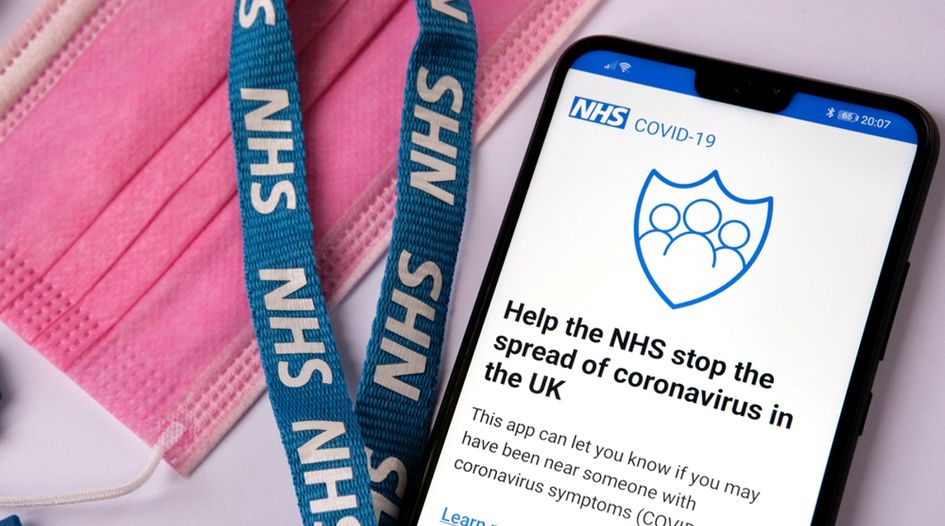 Every Tuesday and Friday, WTR presents a round-up of news, developments and insights from across the trademark sphere. In our latest round-up, we look at US Customs seizing thousands of counterfeit face masks, a new method to detect fake whisky, a new brand protection platform launched by a law firm, Aon breaking new IP financing ground, and much more. Coverage this time from Trevor Little (TL), Bridget Diakun (BD), Joyce Ng (JN), Jonathan Walfisz (JW) and Tim Lince (TJL).
Market radar:
Eskimo Pie rename announced – In the past few months, in the wake of the ongoing Black Lives Matter social movement, various brands and products have changed their names. For example, Mars Inc recently changed its Uncle Ben's brand name – which had faced accusations of stereotyping – to 'Ben's Original'. Now, another brand name has changed, with Dreyer's Grand Ice Cream announcing earlier this week that 'Eskimo Pie' would be changed to 'Edy's Pie', with the new name expected to be in stores in early 2021. Elizabell Marquez, head of marketing for Dreyer's, told USA Today that the move "is part of a larger review to ensure our company and brands reflect our people values", adding: We are committed to being a part of the solution on racial equality, and recognize the term [Eskimo] is derogatory." (TJL)
Trademark enforcement could tackle fake anti-mask NHS app – On Wednesday, Vice reported on an app that poses as the covid-19 tracking app released by the UK's National Health Service (NHS). The app, called 'Covid 1984', reportedly allows users with Android phones to avoid scanning a QR code when entering a pub or restaurant in the UK (currently a requirement to allow track-and-trace should anyone in the vicinity be subsequently found positive with coronavirus). According to Vice, "less than a week after the service went live, on 24 September, anti-lockdown activists and covid-19 conspiracy theorists were circulating details of a fake NHS mobile app that allows users to evade government contact tracers". This fake app is reportedly available on the Google Play store, and was developed by Welsh resident Louisa Haywood-Samuel, a herbal medicine practitioner (with the help of "a development team"). The fake app has so far been downloaded hundreds of times, and appears to use the branding of the NHS to add legitimacy to its generated fake QR check-ins. When reached for comment, a UK government spokesperson said: "Swift action will be taken if any apps are found to be improperly using NHS or DHSC branding to promote use of their app. We are investigating the legitimacy of the app referenced in this article, and we will take any appropriate action if determined to be necessary." Indeed, malicious uses of NHS branding has been a constant headache for the health service throughout the pandemic. In a previous WTR article, we looked at how the NHS has been working with Google to remove fake 'NHS guidance and advice' and also with Twitter to verify NHS organisations (after fake NHS accounts kept cropping up to spread misinformation). It's another reminder of the important role that trademark protection has during even the most devastating crisis events. (TJL)
US Customs have seized nearly 60,000 counterfeit face masks – US Customs and Border Protection officials say they have seized 58,846 counterfeit face marks throughout the Mid-Atlantic region, with 17,000 coming from the port of Pittsburgh alone. Often the masks would contain logos from consumer brands, sports teams, vehicle manufacturers, cartoon characters and more – estimating a total authentic value of $2.5 million. Alongside these seizures have been 916 tablets of covid-19 related medications from two seizures and 134 covid-19 test kits from six seizures. (JW)
Firm launches new brand protection information site – Rosenbaum Famularo has announced the launch of a new website, BrandProtectionAmazon.com, to assist Amazon brand sellers to protect their brands on the platform. The offering covers the concerns of brand sellers who need to stop actual unauthorised sellers from selling counterfeit products, with information to help navigate unauthorised seller claims and complaints. "Our years of experience working with sellers on the Amazon platform has allowed us to develop strategies and best practices for those seeking to protect their brands," said CJ Rosenbaum,founding partner at Rosenbaum Famularo. "There is great diversity in the needs of brand sellers today as seen by the explosion of the Amazon marketplace and the necessity for all involved to understand the issues surrounding brand protection." (TL)

Aon breaks new ground with IP financing initiative – Aon has announced the launch of an Intellectual Property Capital Market Solution, along with the close of a significant IP-backed lending transaction worth over $100 million, believed to be the largest such transaction ever consummated. The deal involves Indigo Ag, a high-growth, IP-rich agriculture technology company, which is borrowing over $100 million from a lender utilising its IP as collateral – with Richard Lloyd on IAM writing: "According to Aon's head of IP broking, Nick Chmielewski, the company has around 90 granted patents, 250 pending applications and more than 50 trademarks. That gave it a very healthy stockpile of IP to borrow against and gives a sense of where the Aon team sees the best chances for growth." As well as representing a world first, the inclusion of trademarks is notable. While lending backed by brand collateral is not a new phenomenon, this potentially takes the concept to a new level. (TL)

Physicists discover anti-counterfeit whisky detection method – University of St Andrews physicists have discovered a way to detect counterfeit whiskies without breaking the cap's seal. Using laser spectroscopy to scan the contents of the liquids from outside the bottle, the laser light scatters upon interacting with the liquid medium. The resulting range of colours then determine what materials are present, including bacteria, food or paint. The new research has found a way to determine the contents of the liquid only, without interference from the glass bottle. A 2018 EUIPO study shows that counterfeit drinks cost the UK economy over £200 million every year. This development is hoped to stem some of the problem of counterfeit whisky as the scientists say it can be set up easily for widespread use. (JW)
Office radar:
(For more of the latest coronavirus-related updates from national IP offices, please read our dedicated article which is being continuously updated)
USPTO publishes AI report – The USPTO has released a report titled "Public Views on Artificial Intelligence and Intellectual Property Policy." The document presents stakeholder views on the impact of artificial intelligence (AI) across the intellectual property (IP) landscape, including patent, trademark, copyright, and trade secret policy, as well as developing issues about database protection. Specifically on trademarks, most commenters agreed that AI would improve the efficiency of examination of trademark applications and, particularly, examination searching. However, a majority of commenters insisted that AI software should be used only to supplement human examiners' searches, not to replace their searches or make registrability decisions. As the examination and infringement test of likelihood of confusion is based on human perception, the human eye is necessary for evaluating search results because "humans inherently incorporate practical considerations into their arguments and decisions". "The USPTO has long been committed to ensuring our nation maintains its leadership in all areas of innovation, especially in emerging technologies such as artificial intelligence," said Andrei Iancu, under secretary of commerce for intellectual property and director of the USPTO. "We appreciate the thoughtful comments our stakeholders have made to assist the USPTO in this endeavor. We will continue to work closely with the innovation community and experts in AI to encourage innovation and to strengthen the predictability and reliability of IP rights relating to AI technology. We want to ensure that significant innovation in and around this critical area continues."  (TL)
INPI launches IP showcase – Over on Lexology, Daniel Law's Rafael Salomão Romano has posted an update on the The Brazilian National Institute for Industrial Property's (INPI) virtual showcase for IP owners to display and advertise their Brazilian assets. The project aims to facilitate technology transfer and IP licensing in Brazil. Hence, he writes, the new platform has the potential to help owners to monetise their IP by connecting them with those interested in acquiring or licensing it. While initially limited to patents and patent applications, INPI plans to gradually add designs, trademarks, computer programmes and circuit topographies to the platform over the next few years. (TL)
On the move:
Josh Pond joins Crowell & Moring – Crowell & Moring has appointed Josh Pond to partner within the firm's intellectual property group. His practice is focused on US International Trade Commission Section 337 investigations and IP enforcement. Pond further represents clients before the USPTO's PTAB, as well as US District Courts and the Federal Circuit. He also counsels clients on their IP portfolio strategy with focus on brand protection and enforcement challenges. Pond will co-lead the Section 337 practice with partner Katie Clune. He previously practiced at Kilpatrick Townsend where he served as the co-chair of its ITC Section 337 practice. (BD)
Lewis Silkin makes specialist hire – Lewis Silkin has announced the hire of Alex Rushent, further bolstering the firm's brands and intellectual property practice. Rushent joins as an IP tech consultant, having spent almost a decade at Corsearch as a commercial director where he managed a global IP tech team of sales, customer service and education consultants. Prior to working at Corsearch, he held roles with The Chartered Institute of Trademark Attorneys, Edwards Wildman Palmer and CPA Global. In his new role he will advise the firm on its use of non-legal IP products and technologies to ensure continued access to the IP data and analytics. He will also play a client-facing role, assessing the IP software needs of Lewis Silkin clients, helping them understand how their competitors use IP services and advising them on their own IP tech requirements. (TL)
Balch & Bingham expands intellectual property practice – James Roberstson has joined Balch & Bingham as of counsel in the firm's intellectual property and trademark practice in Birmingham. Robertson is a patent attorney with a broad remit. He focuses on intellectual property law with an emphasis on US and international patent rights including acquisition, enforcement and licensing. However, he also assists clients with developing, maintaining and enforcing domestic and international trademark portfolios. In addition to practicing at Balch, Robertson maintains his own practice, JM Robertson, LLC. (BD)
Wolf Greenfield strengthens New York team with three new attorneys – Robert Maldonado, Tonia Sayour and Norman Zivin have joined Wolf Greenfield as counsel in the firm's New York office. Maldonado and Sayour have become members of the trademark and copyright practice, while Zivin has joined the firm's litigation team. All three attorneys join from Cooper & Dunham. Maldonado handles enforcement and defense matters relating to patent, trademark and copyright issues. He has a particular focus on litigation, handling patent, trademark, copyright, false advertising and unfair competition matters in federal court. Additionally, Maldonado provides clients with strategic counselling and oversees their entire portfolios of both patents and trademark registrations. Sayour works across the spectrum of intellectual property law with an emphasis on trademarks and copyrights. She has a multi-faceted practice working with clients on litigation and prosecution matters. Intellectual property litigation, including patent, trademark, copyright and unfair competition cases are Zivin's bread and butter. In addition to his litigation practice he guides clients through the patent and trademark prosecution process. (BD)
Lewis Roca Rothgerber Christie makes patent attorney hire – Lewis Roca Rothgerber Christie has appointed Eric Kohli to of counsel within the firm's Las Vegas office. Kohli has over 20 years of experience in intellectual property law. He advises clients through patent and trademark development, prosecution, enforcement, business agreements, licensing and litigation. (BD)
And finally...
WTR Connect kicks off – WTR Connect, a series of high-level online events taking place across two weeks, officially got underway today. The ground-breaking digital concept offers a series of individual interactive digital sessions organised around major themes. Comprised of a series of hubs, each session is designed to facilitate discussion, benchmarking and the sharing of best practice around key topic areas and challenges facing trademark and brand leaders. The opening keynote was delivered by USPTO trademark commissioner David Gooder, who  provided an inside glimpse into how the office is tackling specimen fraud and trademark scams, as well as offering insight into efforts to ensure the integrity of the register. To find out more and to secure your place at WTR Connect, click here.